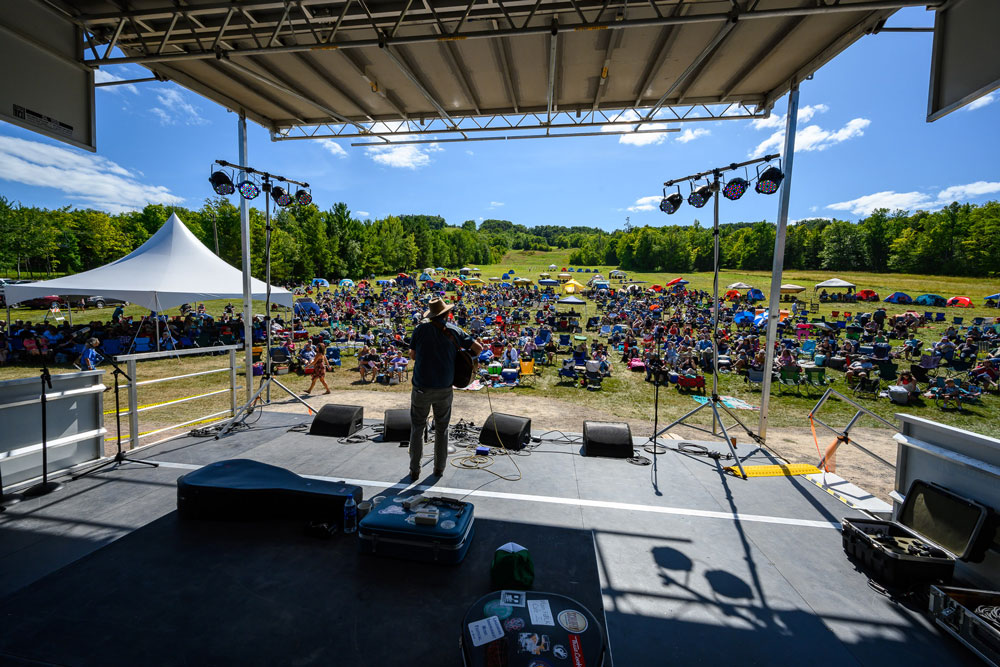 Follow the Music
Across the bridge, the U.P. music festival circuit awaits
Maybe you can't hear the music immediately after you cross the Mackinac Bridge into Michigan's Upper Peninsula.
Then again, maybe you can. After all, the U.P. is home to several music festivals that take place throughout summer, and there's no lack of opportunity to get together with a few (hundred) of your friends and take in the sounds of summer.
Those sounds depend on where you go; the Marquette Area Blues Society would suggest one genre, the Manistique FolkFest another, while the Farm Block Fest tries to be almost all things to all people.
Jack Conners says the festivals in the Upper Peninsula each have their own personality. A sound engineer who previously taught at Northwestern Michigan College, Conners has provided stage monitor sound for both the Marquette Area Blues Festival and the WoodTick Festival for a number of years. "Marquette is a pretty high-profile show. It has a reputation for hospitality," he says.
WoodTick, by contrast, is an earthier experience, both aesthetically and musically. "WoodTick is in the middle of the woods. You take a two-track to it. You think you're in Kentucky," says Conners. Here the music leans toward a country vibe with some rock and roll.
Then there's the Pine Mountain Music Festival which took place last month, featuring classical music.
Yes, in the U.P., you really can find it all.
The Start of a Tradition
The music festival tradition in the U.P. began with the Hiawatha Traditional Music Festival, now in its 45th year (though years 43 and 44 were precluded by the pandemic). "Happily, we can all gather again," says Susan Divine, Executive Director of Hiawatha Music Co-Op.
The festival attracts local musicians, regional performers from the Midwest, and international artists as well. "We don't have to go looking for performers. Word gets out that this is a decent gig. Performers come to us," Divine says.
Wherever they are from, the artists represent traditional music—but that means many things to many people. "Traditional music has changed, and we have too," Divine says. Hiawatha's focus is on folk music, but it encompasses Americana, bluegrass, Cajun, blues, Celtic, and other international roots music.
Whatever the music, the event is based around a joyful experience no matter the attendee's age. "It's really family entertainment. You have three or four generations at campsites. There are activities for all ages—children, tweens, teens all have performers," Divine says.
All about the Blues
Hiawatha may be the first festival, but it's hardly the only one. Music festivals take place throughout the 16,000+ square miles of the U.P., from large cities (Marquette has a population of more than 20,000) to holes in the woods.
Let's start with the big city, home of the Marquette Area Blues Fest. "It started when four guys were watching fireworks on the Fourth of July," says Mark Stonerock, the festival's entertainment coordinator. "On a whim, they said, 'Why couldn't we do a music festival?' I volunteered for the first one. Over the 16 years I've been president of the Blues Society or festival director."
Stonerock says the Friday night kick-off concert is always free and typically features the Wisconsin band The Jimmys. "The crowd keeps asking for them," he says. Headliner that night is Biscuit Miller, a Blues Award bass player of the year. Saturday's headliner is Carolyn Wonderland, and Sunday's is Vanessa Collier, with several other local and regional acts each day.
Stonerock says the festival, held in the downtown's Harbor Park, is always well attended, though he admits it can be a challenge to involve young people. "It's getting harder and harder to get young people to listen to blues music. They think it's depressing, some old guy on a porch," says Stonerock.
He argues the contributions of the genre's many accomplished visionaries—from BB King to Stevie Ray Vaughan to Robert Johnson—cannot be overlooked, despite or perhaps because of the fact some were on the scene for a relatively short time. "Early death brings them notoriety. Stevie was such a progressive guy. His music is still viable, but he left behind such a short collection. So did Robert Johnson," Stonerock says.
Let's Jam
Jim Newman is a veteran attendee of numerous festivals over the years. (He's already been at Camp Greensky in 2022). He says he and his friends had often discussed creating their own music festival. "Sitting around the campfire, saying, 'Wouldn't it be cool?'" he recalls.
Discussions coalesced when a friend called Newman as he was driving back from the Lower Peninsula. He told Newman they had gotten permission to host a music festival at the Lions Club Park in downtown Calumet. "I said, 'I'll be home in seven hours and we can get started.' We had four weeks (to pull it together)," Newman says.
Today, their Dam Jam festival (which ran July 1-2 this year) has grown from local talent to also featuring bands from downstate and even out of state. "It's been a slow build. The first couple years it was one day. Now it's two days, with camping," says Newman.
Stylistically, the performers tend to follow the jam-band aesthetic, and all the profits go toward the festival site. "It didn't exist 15 years ago," Newman explains. "It was private property—literally a junkyard when I grew up. Now it's a beautiful park."
Still on Tap This Summer
Here's where and when to find U.P. festivals this summer.
Hiawatha Traditional Music Festival | July 22-24, Marquette Tourist Park
As the name says, traditional music is the focus here. Artists appearing include Damn Tall Buildings, the Revelers, Ellis Dyson & the Shambles, The Quebe Sisters, and more. Plus acts for the Teen Scene and the Children's Area. HiawathaMusic.org
Woodtick Festival | Aug. 4-7, Between Hermansville and Powers on County Road 388, Menominee County
Billed as bluegrass, country, rock, blues, and folk, perhaps the emphasis here is on country. Performances can be found on both the main stage and the front porch, and the lineup includes the Descendants, Bad Axe Rodeo, Chasin' Steel, Runaway Train, River Valley Rangers, Heartland Express, and others. Woodtickfestival.com
Farm Block Fest, Aug. 5-7 | Allouez, on the Keweenaw Peninsula
Farm Block is a celebration of art, music, and the outdoors. The festival is held at the farm of retired school teachers John and Charmaine Parsons and is one of the primary fundraisers for The Dan Schmitt Gift of Music and Education Fund, named for aspiring musician Dan Schmitt, a close friend of the Parsons family who was killed in a traffic accident. This non-profit provides free instruments and lessons to youth in the Keweenaw and after-school creative empowerment programming in Kalamazoo. The eclectic lineup includes folk, Americana, experimental post-rock, jazzy soulful pop, hip hop, and much more. Among this year's artists are May Erlewine, Nashon Holloway, Breathe Owl Breathe, the Go Rounds, the Latin soul-fusion band Lalo Curia (with Spanish vocals), and saajtak, among others. Farmblock.com
Grand Marais Music and Crafts Festival | Aug. 11-13, Grand Marais Community Center Ball Field
The Thursday through Saturday festival features a variety of bands, including Whiskey Ryan, the Reveal, Soulshine, Tarnished, and headliners Daydreamers and Kyle Jennings. (Thursday evening's show with Iron Daisy is free.) Food, numerous vendors, and camping are available for festival attendees only. GrandMaraisMichigan.com
Porcupine Music Festival | Aug. 26-27, Porcupine Mountains Wilderness State Park, Ontonagon
An eclectic celebration of (mostly) rootsy music, artists for 2022 include the Irish/Scottish collaboration Jig Jam, jamgrass band Armchair Boogie, the heartland rock meets blue-eyed pop and soul of Ariel Posen, opera singer and classical pianist turned New Orleans folkie Lilli Lewis, and more. Don't miss the Busking Barn, an acoustic stage offering amateurs and professionals alike an opportunity to play in an intimate setting. PorkiesFestival.org
Marquette Area Blues Fest | Sept. 2-4, Lower Harbor Park, Marquette
World-class blues musicians come together alongside a wide variety of food vendors, a beer and wine tent, free workshops, and assorted arts and crafts booths. MarquetteAreaBluesSociety.org
For Next Year's Planning
Pine Mountain Music Festival | mid-June, various locations
Rather than the two- or three-day affair common to the above, this festival is similar to that of Interlochen Arts Festival or Bay View Music Festival. A number of different shows take place in June at venues in Crystal Falls, Marquette, and Houghton, all based in various forms of classical music. PineMountainMusicFestival.com
Dam Jam | Early July, Calumet Lions Club Park
For a taste of the jam, the 2022 lineup included local, regional, and national acts including the Marsupials, Outlaw'd, and Dead North. Festival co-founder Jim Newman said he was most excited about Saturday headliner Mungion from Chicago and Ann Arbor band Stormy Chromer. "I met them before they were in a band," he says of the latter. DamJamUP.com
Folkfest Manistique | Second weekend of July, downtown Manistique
The fest is billed as "two big days of music, food and fun for all," and follows through with a host of activities and vendors: There's arts and crafts, jewelry, clothing, food, and, oh yes, music. The 2022 lineup included the Angels and Outlaws Band, Mattisyn Hunkele, Blacklist, the Band Oz, the American Band and others. discovermanistique.com/manistique-folk-festival
Trending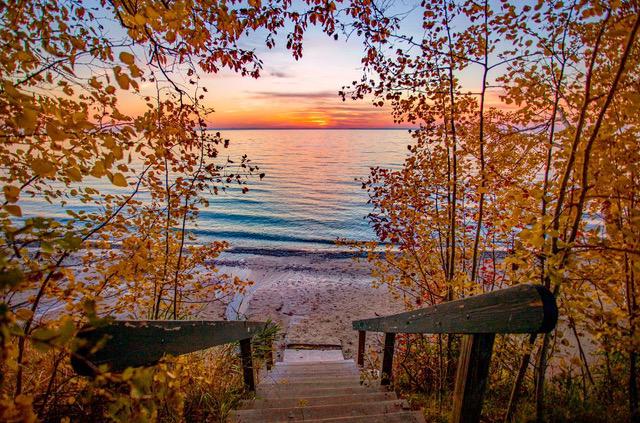 Cruisin' the Breezeway
Fall into East Jordan during the 15th Annual Autumn on the Breezeway! Choose from three different dates: Sept. 30, Oct. 7,...
Read More >>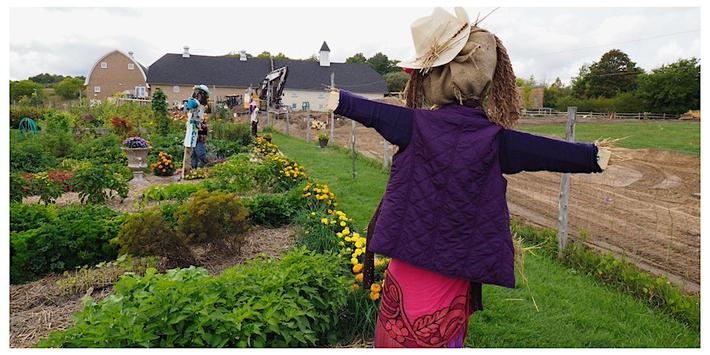 Scarecrow Szn
It may not be "spooky szn" (as the kids call it) just yet, but it does seem like it might be scarecrow szn. Th...
Read More >>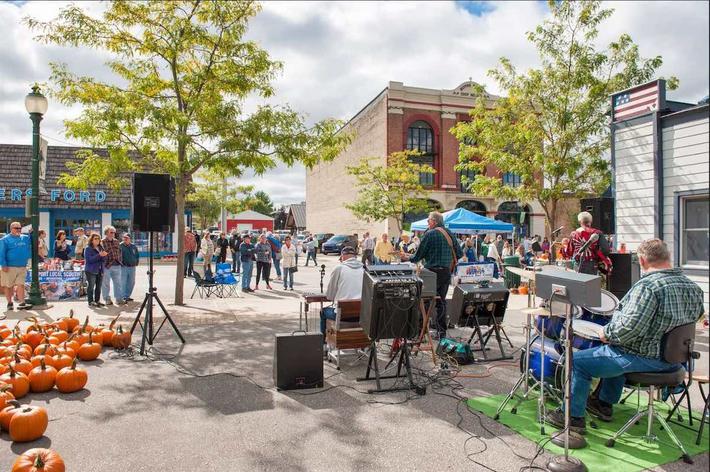 Celebrate the Harvest in Boyne City
Welcome to the season of harvest festivals! The days are getting shorter, the nights (and days) cooler, and it's tim...
Read More >>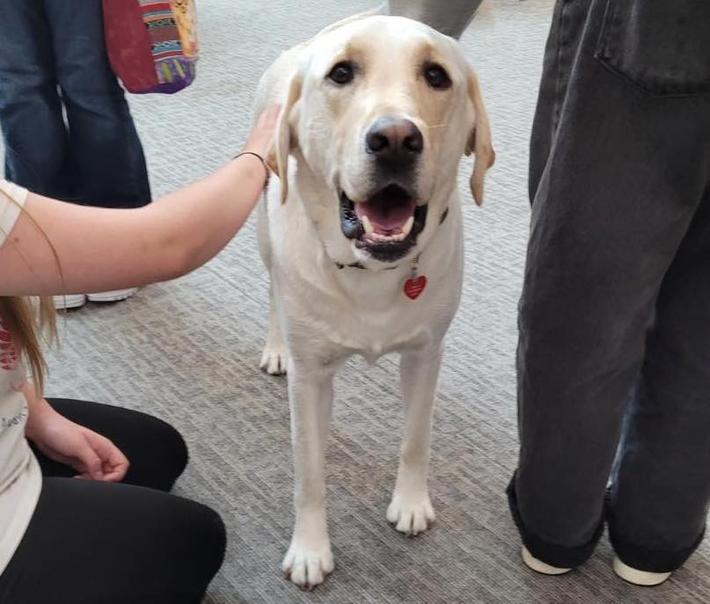 Pups on Campus
Traverse City West Senior High has brought on a very good boy as their newest staff member for the 2023-24 school year. Me...
Read More >>