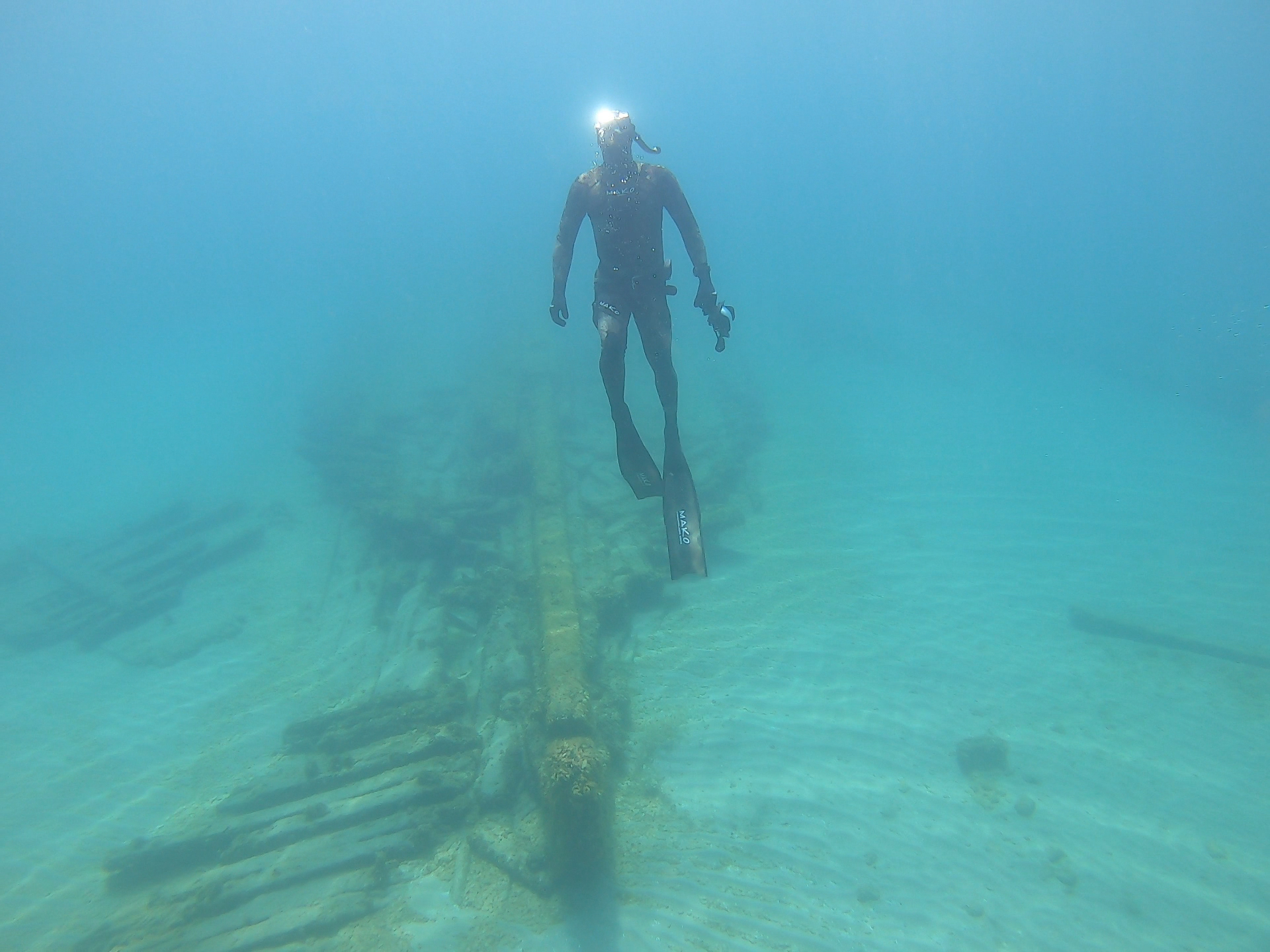 An Otherworldly Beauty
Diver Chris Roxburgh takes Northern Express on an underwater tour.
People come to northern Michigan for its natural beauty. Whether it is sparkling waters, rolling hills, steep sand bluffs, or dark green forests, there's no shortage of stunning vistas around here.

Chris Roxburgh, an electrician from Traverse City who got seriously into diving several years ago, has found a way to access an altogether other sector of the outdoors that few get to see with their own eyes.

He photographs the haunting scenes of northern Michigan underwater world.
Northern Express talked to Roxburgh about how he got some of his best shots.

The Eber Ward
Five crewmen lost their lives when the Eber Ward went down in northern Lake Michigan on April 20, 1909. She had just picked up a load of corn in Milwaukee and was headed to Port Huron when she encountered ice in the Mackinac Straits. The ice tore open her bow, sinking her in 10 minutes.
Resting at a depth of 140 feet, the Eber Ward was the first deep shipwreck Roxburgh dove. But when he reached it last summer, there initially wasn't much to see.

"It was pitch-black conditions down there," he said.

Roxburgh and his diving partner decided to try again this winter when conditions promised to be clearer. They met the night before at the beach and slept in their trucks, even though it was just 27 degrees that night. That meant they were able to launch at first light and reach the spot of the wreck in calm waters. Roxburgh had to punch through skim ice to start his dive. Their extreme efforts proved well worth it.
"The visibility was the best I've ever seen it for the Straits," Roxburgh said. "You could actually see the light penetrating down into the water, very deep. When we went down, we got some amazing pictures of the Eber Ward."

The Sandusky
The oldest known wreck in the Straits is the Sandusky, a sailing vessel constructed in 1848. She was loaded with grain and bound from Chicago to Buffalo when she was struck by a gale in September 1856. All of the crew were lost, including three men who clung to the mast of the foundering boat but who could not be saved by a passing vessel.

Roxburgh and his diving partner zeroed in on the Sandusky one week after they visited the Eber Ward. It was still very cold. Water temperatures ranged from 36 degrees near the wreck to 39 degrees at the surface. They wore dry suits.

The Sandusky lies in 85 feet of water, so it's more accessible than the Eber Ward. Once again, the divers found clear water, and Roxburgh was pleased to have such conditions to capture what they found.
"It's a very unique wreck; it's a large schooner with the mast still on it on the front," he said. "One of the sailing masts has been broken off and tipped over. It has a very large bow sprit, it's 20 feet, so it's like a telephone poll coming off the front. Everyone on the boat died in the wreck."

The George Rogers
The George Rogers, located in Grand Traverse Bay at the northern tip of Leelanau County, is among the lesser known wrecks in the region.

There is scant information available online about the Rogers, but Roxburgh said it was lost in a fire and all of its crew made it to shore. Roxburgh said that he suspects he is the only diver to have photographed it.

The wreck lies about two miles from Peterson Park, in shallow water about 50 feet offshore. It's been more or less undiscovered, Roxburgh believes, because it's so out of the way and lies in water that's inhospitable to small boat traffic; large boulders scattered around nearby make navigation through the area nearly impossible.

Nonetheless, years ago, apparently some scavengers found it and attempted to take the boat's boiler, but they only got part way, and the boiler rests halfway to shore.

Roxburgh and his wife happened upon the George Rogers by chance. They were doing some winter stand-up paddle boarding from Peterson Park and simply came across it. Roxburgh said it was an absolute thrill. He returned with a wetsuit and a camera a couple days later to free dive the wreck.

"That's what got me into being really passionate about wreck diving," he said.

The Alva Bradley
The Alva Bradley in the Manitou Passage is a well-known wreck among divers because it offers chance to glimpse a nearly intact three-mast schooner. The ship is 192 feet long and was launched in 1870. She was lost in a gale on Oct. 13, 1894, but not discovered until 1990. She lies in 25 feet of water between North Manitou and South Manitou.

Roxburgh and his diving partner dove the Bradley this spring and found incredibly clear conditions on the day they chose.

The relative shallowness of the Bradley enabled Roxburgh to leave his scuba gear at home.

"The visibility was incredible. Some of the best visibility I've seen in my life," he said. "We actually free dove it with no scuba diving equipment — just put weight belts on and wetsuits to try to be a little negative. Something to be said for free diving is it's super easy to do. To get ready, you just need a wetsuit and a weight belt, and you can jump in the water with some fins and a mask."

The Jane
The Jane, a small freighter, was built in Chicago in 1923 and was en route from Petoskey to Muskegon with a load of cement when it foundered off the shore of Arcadia on May 30, 1927. The boat began to take on water, and the captain and two crew were unable to staunch the flow. The Jane went down, but the three men aboard used a lifeboat to make it safely back to shore.

Roxburgh said the Jane is an unusual, fun boat to see — it has the proportions of a freighter, but it's about a tenth the size. Nonetheless, its location makes it obscure among shipwrecks because it's hard to reach.
"The Jane is a wreck that not many people dive because of the location of it, it's not buoyed off, and there's only one shipwreck in that area," he said.

Roxburgh and his dive partner visited Arcadia specifically to reach the Jane.

On the day they chose, they got out to the spot of the wreck three miles offshore but found the lake too choppy and nearly called off the dive. An unexpected break in the weather gave them confidence that they could dive and use their boat's autopilot feature to keep it over them, so they dove.

The Jane lies at 111 feet, and Roxburgh said just overcoming the challenges that this wreck presents to reach it made the efforts worth the trouble. Because of the depth, Roxburgh said they had only a short window to spend at the wreck.

"At that depth, you don't have too much time, probably like 22 minutes before it becomes a decompression dive. We're trying to do everything non-decompression dive," he said. "We thought we could pull it off, and we did, and it went great. I kind of like those wrecks that are different and not everybody goes to."

The Comanche
The Comanche is another shipwreck that isn't well documented in online databases.

It is a 65-foot tugboat that sunk in 1965 five miles off of Pentwater while it was being towed to be re-outfitted. It lies in 90 feet of water and is also hard to reach, but Roxburgh said it is worth the effort because it is a stunning sight.

"It almost looks like an icebreaker tug. It has a huge, steel front with ribs that go down the side of the boat, and in the front has this massive steel feature that not a lot of tugs have," he said.
Roxburgh said they reached the tug in calm and clear conditions without trouble.

The Typo
Four crewmembers died when a steamship crashed into the schooner Typo in a storm in Thunder Bay, in Lake Huron, sinking it almost instantly on Oct. 14, 1899.

The Typo is officially listed at sitting at a depth of 155 feet. When Roxburgh dove the wreck, however, he found that to be in error. He believes the Typo lies at around 200 feet.

That made for a challenging day of diving when Roxburgh and his partner decided to keep going despite having to reach to a potentially dangerous depth. Nonetheless, they made it down and back safely.
And they returned with some haunting photos of the 137-foot vessel. She sits upright on the lakebed almost intact. A ship's bell remains hanging in the belfry. A mast stretches toward the surface toward a ghostly light.

Roxburgh said he only spent five minutes at the Typo, but it was moving.

"It had a weird vibe to it. It was just dark and spooky," he said. "There are actually human remains inside of it."
Trending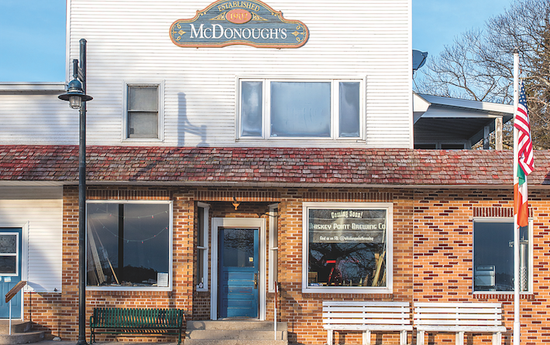 Welcome to Michigan's Most Remote Brewery
After years of planning and honing his beer-making skills, this spring, Patrick McGinnity plans to open Beaver Island&rsqu...
Read More >>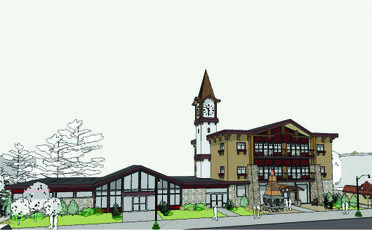 Gaylord: A boomtown Up North
Gaylord native Gary Scott had moved to Indiana, where he and some partners started a business to invest in distressed prop...
Read More >>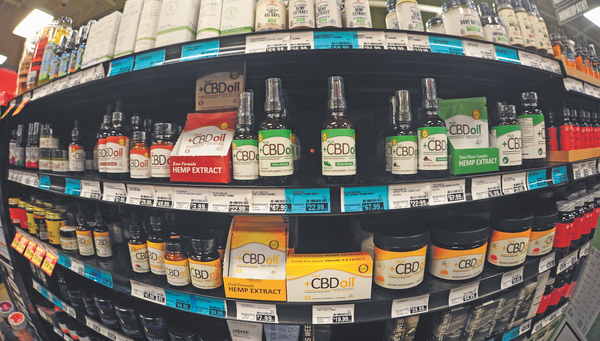 CBD Laws: Dazed and Confused
The sign outside of Family Video in Kalkaska lets drivers know the store has more than just movies. The sign reads: &...
Read More >>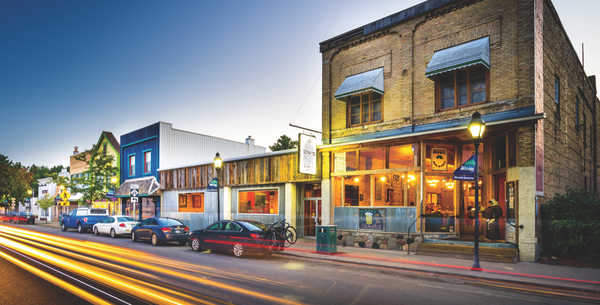 Small Up North Towns on the Rise
Spotlight on Bellaire (pictured)Seems Traverse City isn't the only place in the region making those "Best...
Read More >>
↑