Green Jobs
Local leaders remember their entry into the world of employment
By Al Parker | April 28, 2018
Inside every CEO is an entry-level kid who turned a lil' elbow grease into a whole lotta work ethic. Wherever you are in your career, you started somewhere — just like these local leaders. We asked them to think back to their earliest paid gigs and share what the work taught them. Turns out, it was far more than how to punch a clock.
Chet Janik
Leelanau County Administrator
My first job was picking cherries when I was in my early teens — prior to the invention of the cherry shaker machine. Looking back, it was a great experience and a good life lesson. The payment was based on how many lugs of cherries were picked on a daily basis at the rate of $1.00 per lug. The lesson I learned is that hard work is rewarded. On a motivated day, I could pick 20 lugs, which was a lot of money for a young teenager in the 1970s. The other lesson was the value of teamwork. We were paired up with other kids and quickly discovered that more cherries could be picked if we worked as a team with a common goal. We would start at the top of the tree on opposite sides and worked our way down to the bottom. The highlight of my experience was earning enough money to buy my own TV and camera, which was a proud moment and a tangible reward for my efforts. I did not enjoy the experience at the time but treasure it now.
Rachel Johnson
Board Member, Northwestern Michigan College
My first job was as a clerk at a grocery store when I was 15. That job taught me two things that still stick with me today: The most important lesson is to show gratitude and to never forget there are real humans behind the service. I always try to make eye contact, listen, truly engage, and offer sincere thanks to anyone who is helping me at the grocery store or elsewhere. It's really a small thing, but I know from experience it makes a huge difference. I also learned the produce codes for common items. Want some bananas? That would be #4011.
T.J. Phillips
86th District Court Judge
My first job started when I was nine years old. In the summer I cut lawns for my neighbors, and in the winter I shoveled their walks. I think it taught me a bit about responsibility and dealing with people. The best memory of my lawn and snow career was when I received a call from one of my customers who had two tickets for the 1957 NFL Championship Game. I put the phone down and ran and asked my Dad if he wanted to go, and we went. We saw the Lions beat the Browns, 59 to 14. I think the moral to the story is, if you work hard and are good with people, someday you will see the Lions win a championship.
Stephanie Riemer
President of Munson Healthcare Grayling Hospital
My first real job was as a medical office assistant/medical assistant in an ophthalmology practice in Harper Woods, Michigan. I learned about justice and mercy when I made a medical error; I had given a patient the wrong eye drops to dilate a patient's eyes before the exam — the labels on the bottles were very similar. One of the patients who received the long-action dilation drop was a dentist, so he couldn't return to work for a while! The practice leadership and physicians were understanding when they looked at the labels on both eyedrop bottles. I learned that there are organizations that understand process and whether a process supports the employees, and this practice did. They developed their own labeling system so the bottles looked different to the staff, and I didn't make that error again.
Sue Ann Round
Owner, Michigan Artists Gallery in Traverse City
Growing up as a child, on West Bay, my parents insisted on me taking swimming lessons. After completing senior lifesaving, I applied to be a lifeguard and did that through my high school and college years at West End and Clinch beaches. It taught me about following through on a goal and confirmed my love of children and the care of them. I pursued early childhood development at Michigan State University. It also made me focus on when someone was playing or sincerely in trouble. In water, it can look like both. Also, I never took for granted these beautiful blue bays that grace our region.
Karen Sherwood
Superintendent, Kalkaska Public Schools
Although my job path started with delivering papers at the age of 10, the job that had the most influence on the direction of my life would take was guided by the days I spent babysitting. While this was certainly not an 'official' job, the work helped me realize my love of children and encouraged me to continue toward my career path into the education profession. While I found that life along that route sometimes had twists and turns, I believe everyone's career choice should be guided by their passion.
Trending
Very Busy Very Fast
This isn't going to be easy. President Joe Biden and his thin congressional majority are walking into troubled times both ...
Read More >>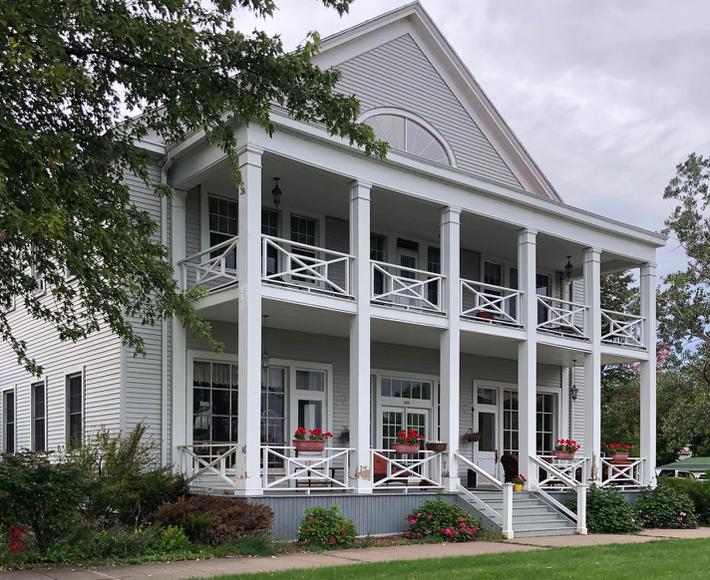 Thunder Bay Inn
Former playground to Henry Ford and part of a famous film and novel based on a real-life murder in the town, the courtroom...
Read More >>
Forty Acres' Spa Day Martini
Myriad methods of cocktail creation are on display at bars around the world. There are flaming drinks, compotes laden with...
Read More >>
He's Gone, Now What?
Wounded and fearful, America watched the 45th President leave the nation's capital. On a hastily arranged stage at a...
Read More >>
↑