Have Cocktail, Will Roam: Up North Social Districts
How it works, and where to stay and play
A year ago, Governor Gretchen Whitmer signed a bill into law that opened the door for local communities to establish outdoor "common areas" where customers could enjoy alcoholic beverages from properly licensed establishments. Now, several northern Michigan downtowns are officially up and running with social districts of their own.
What began as a measure to promote social distancing and help businesses stay afloat during the COVID-19 pandemic now seems likely to outlast that pandemic. Thanks to strong vaccination rates, summer 2021 has marked a "return to normal" in a lot of ways, from the comeback of festivals to the restored comfort levels that many people feel about dining in restaurants or drinking in bars.
Even with the worst of COVID fears (hopefully) behind us, though, there's a lot to love about social districts. There's always been a simple pleasure to walking around a quaint downtown area with an ice cream cone in hand, so why not with a beer? And if you've ever wished to enjoy your pre-dinner "cocktail hour" outside rather than sitting at a restaurant's bar and waiting for your table, then social districts were made for you.
Want to experience all of this for yourself? Northern Express is here to help. Consider us your guides for exploring local social districts. Below, we have profiled four local towns that now have social districts in their downtown areas, highlighting ways to visit, enjoy, and appreciate the impact of these new-fangled novelties during the type of beautiful summer season they were made for. Whether you're curious about "The Stee" in Manistee, or have been invited to go "Get LOSD" in Ludington, we've got you covered.
HOW IT WORKS
First, a primer: Social districts were passed into law when Whitmer signed the Michigan Public Act 124 of 2020 on July 1 of last year. That law allows local government units to designate social districts in their towns, with "commons areas" — usually in downtown areas — where "contiguous" businesses with liquor licenses can go through an additional permitting process to earn social district permits.
Businesses with social district permits can then serve alcoholic beverages in special, approved cups that can be taken out of the establishment into the commons area for consumption. The cups must be branded with the social district's brand name and/or logo and cannot be taken beyond the boundaries of the social district commons area.
Additional regulations apply as well. For instance, customers cannot use the social district concept as a way to order a drink at one restaurant and take it to another restaurant that does not have a liquor license of its own. State law also bars customers from taking a beverage from one social district permittee into the premises of another social district permittee.
Bottom line, patrons should always make sure they understand the rules of the social district they are visiting before they start enjoying to-go beverages — including both state social district laws and additional local requirements. That includes respecting the rules of specific businesses, such as retailers, within a social district, which may or may not allow customers to enter their premises with beverages in hand.
Petoskey
The Basics: Downtown Petoskey touts itself as one of the first downtowns in Michigan to establish a social district. According to Downtown Director Becky Goodman, the town's Downtown Management Board had been interested in the concept of social districts "for quite some time," dating back to when the idea was introduced in the Michigan legislature several years ago. That initial legislation couldn't gain enough political momentum and ultimately "languished in Lansing," but Goodman and her board were ready when discussion around social districts ignited once more because of the pandemic. Petoskey worked quickly and established its district last August.
That district encompasses most of the downtown area (see map), including main downtown streets like Mitchell Street, Lake Street, and Howard Street, as well as a pair of local parks: Pennsylvania Park and Quarry Park. Social district rules allow for consumption of alcohol in the commons area between noon and 9pm every day.
Where to Stay: If you're looking to live in luxury for a few days, make a reservation at the Inn at Bay Harbor. A gorgeous four-star hotel right on the shores of Lake Michigan, the Inn at Bay Harbor offers golf, spa services, an outdoor swimming pool, and more – and is just a scenic 10-minute drive from downtown Petoskey's social district. If you're looking to be a little closer, Petoskey has a trio of hotels (a Days Inn by Wyndham, a Hampton Inn & Suites, and an Apple Tree Inn) that are just a mile away.
Where to Play: There are currently seven establishments participating in Petoskey's social district: Beards Brewery, City Park Grill, Duffy's Garage and Grill, Palette Bistro, High Five Spirits, Tap 30 and POUR Kitchen & Bar. We recommend a stop at Beards for a pint of the Forget Me Knot, a "hibiscus-steeped saison with a soft, pink color and tart finish" for a nice summer-ready sipper) followed by a leisurely wander of the downtown area. If you're hungry, maybe order takeout from Palette Bistro (for world-class pizza, paella, or crab cakes) and enjoy a picnic in Pennsylvania Park.
The Impact: So far, Goodman says she's pleased with how the social district concept is working out for Petoskey. "We have purposely not overpromoted our district," she notes. "It does not involve any street closures or a block party atmosphere. It is simply an extra layer of hospitality to add to our shopping and dining experience. We are finding that as time goes on, more and more people are taking advantage of the opportunity to walk around downtown with their alcoholic beverage in hand. And, so far, we have had no reported incidents of problems or issues from our public safety department or from the bars and restaurants. The restaurants are definitely benefitting by being able to serve customers who are waiting on the street for a table and also just to serve people who would rather walk around than sit at the bar."
Ben Slocum, a managing partner at Beards Brewery and the chair of the Petoskey Downtown Management Board, echoes Goodman's praise of the social district. "It's allowed us to boost sales for grab-and-go, which in our restricted COVID world – first by hours and seating limitations, now due to staffing – has been very helpful for both us and our guests. The overall impression I'm getting through town is that it's been helping participating businesses along with giving guests to Petoskey another option."
Ludington
The Basics: Ludington's social district is called the Ludington Outside Social District (or LOSD, for short), and Downtown Ludington has been promoting the district by encouraging visitors to "Get LOSD." The LOSD includes much of James Street, as well as portions of Ludington Avenue, Rath Avenue, Loomis Street, Filer Street, Foster Street, and Melendy Street. Permitted bars and restaurants are allowed to start selling beverages in to-go LOSD cups as soon as they open, and the district remains open until midnight.
Where to Stay: Book a room at Nader's Motel, which not only sponsors LOSD, but also offers accommodations that will put you close to both downtown Ludington and the shores of Lake Michigan. If you're looking to be closer to the district itself, consider the historic Stearns Hotel, which is just steps from the northern boundary of the LOSD.
Where to Play: Currently, the LOSD's participating businesses include The Blu Moon Bistro, Jamesport Brewing, Luciano's Ristorante, Ludington Bay Brewing, Mitten Bar, Old Hamlin, Sand Bar and Sportsman's Restaurant, The Q Smokehouse, and Timbers Steak & Seafood. Try a walking mini brewery tour that incorporates both Ludington Bay Brewery and Jamesport Brewing Company, or grab some sushi and a cocktail from The Blu Moon and enjoy both under a perfectly cloudless summer sky.
The Impact: "We have heard great feedback from our LOSD bars and restaurants," says Jen Tooman, marketing and communications manager for Downtown Ludington. "From conversations with managers and owners, we have heard that they are seeing the most benefit from being able to offer potential patrons an adult beverage while they wait for a table. While our restaurants are allowed to be open at full capacity, staffing issues are keeping most of them from operating at full capacity. The social district has allowed them to keep waiting patrons happy and retain patrons to dine with them even if they have a waiting list."
Cadillac
The Basics: Cadillac's social district, called the "Downtown Social Zone," was implemented last fall, according to City Manager Marcus Peccia. The district includes much of Cadillac's main downtown avenue, Mitchell Street, and extends west to the shores of Lake Cadillac.
Despite the fact that Cadillac's social district has technically been active since last autumn, though, it's just starting to blossom now: Peccia says the first business to apply for a social district permit, a new distillery in town called Long Road Distillers, just went through the process earlier this month. "It is anticipated that more eligible businesses will also apply this summer," Peccia adds.
Where to Stay: You'll find three Cadillac hotels — a Hampton Inn, an Economy Inn, and a Holiday Inn Express — on Mitchell Street, just down the road from where the Downtown Social Zone begins. Alternatively, there are some Airbnbs on the shores of Lake Cadillac and Lake Mitchell.
Where to Play: Long Road Distillers, as the inaugural member of Cadillac's Downtown Social Zone, is the only game in town for now, but other establishments will likely join the party soon. In the meantime, there's plenty to enjoy at Long Road, a craft distillery founded in Grand Rapids that now has tasting rooms open in Grand Haven, Charlevoix, and Cadillac. Grab a cocktail to go (try something with the Michigan Cherry Liqueur; it tastes like local tart cherries in a glass), grab some food (Long Road currently has Primos BBQ food truck serving up grub on site), and then head down to the lake for a waterside meal.
The Impact: According to Robert Munger, the developer who renovated the once-condemned building that formerly housed Better Bodies Health and Fitness Center into the now-uber-modern Long Road Distillery space, has high hopes for what the Downtown Social Zone will mean for downtown Cadillac as more businesses start jumping aboard. "It has made a significant impact in business, and extended the amount of business that can now be done," he says. "With the lake close by and Cadillac becoming a more walkable community, [the social district] has extended the social atmosphere, which is needed after the negative effects of COVID."
Manistee
The Basics: Manistee is one of the latest additions to the social drinking district movement in Michigan. In May, the city council voted unanimously in favor of adopting a resolution to support a social district in downtown Manistee. That district, dubbed "The Stee," officially opened starting at 11am on Saturday, June 3. According to city documents, The Stee "is bounded to River Street from Division Street to Pine Street and extending to the Riverwalk adjacent to the [Manistee River] channel and Maple Street from River Street to Fifth Avenue." When you visit, watch for the teal sidewalk signs and banners that mark the boundaries of the district. Hours for the district are 100am to 10pm every day.
Where to Stay: The Ramsdell Inn not only sits right on the corner of The Stee, but one of the participating social district establishments — TJ's Pub — is part of the historic hotel. How's that for a perfect social district vacation hub?
Where to Play: The Stee's participating establishments, as of July 1, are Blue Fish Kitchen + Bar, Taco 'Bout It Mexican Fusion, TJ's Pub at The Ramsdell Inn, and the North Channel Brewing Company. Grab a drink and a snack from your bar or restaurant of choice and take a stroll along Manistee's beautiful Riverwalk, or do some light drinking and light shopping as you explore downtown. Manistee has asked downtown businesses to post signs that note whether the merchants will welcome customers to come in and shop with their beverages.
The Impact: When asked to share early impressions on The Stee, owners of Taco 'Bout It Mexican Fusion say they are "very grateful and excited to be part of the social district" and that "It really makes downtown feel alive and vibrant."
Trending
Apologizing in Advance, Just in Case
Even in casual conversations, I find myself, and I bet you do too, presenting a cautiously crafted preamble meant to apolo...
Read More >>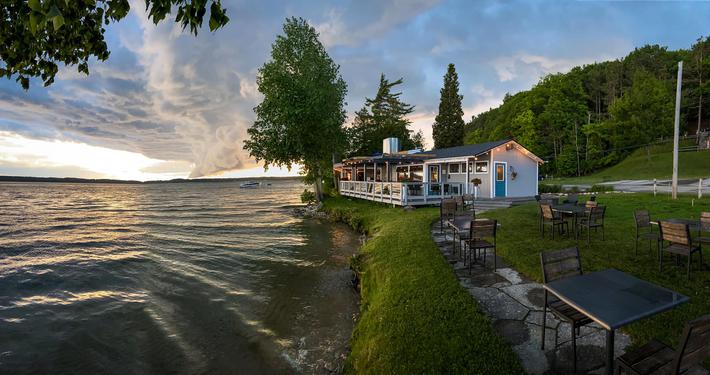 6 al Fresco Favorites
We don't know about you, but we think that everything tastes better when you can enjoy it outside in the summertime....
Read More >>

Whiskey's Treasure Island
Whiskey aficionados take note: You may soon be able to taste what whiskey tasted like in the midst of the Prohibition era ...
Read More >>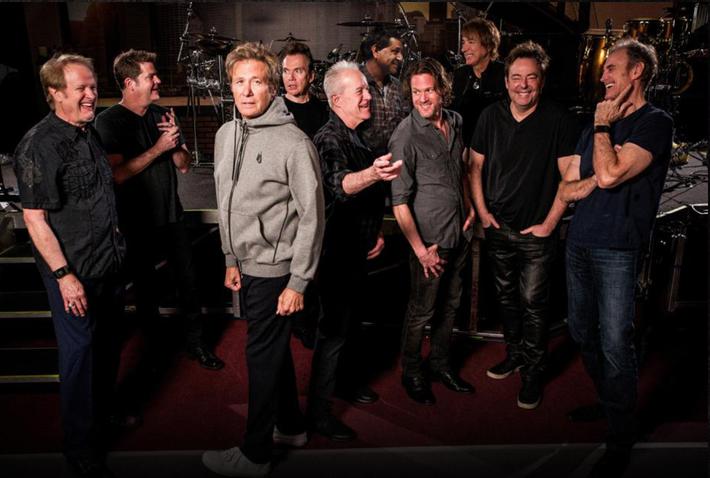 Rock and Roll Hall of Famers on Way to Interlochen
People attending the Chicago show at Interlochen Aug. 3 may feel like they're traveling back through time. The band ...
Read More >>
↑