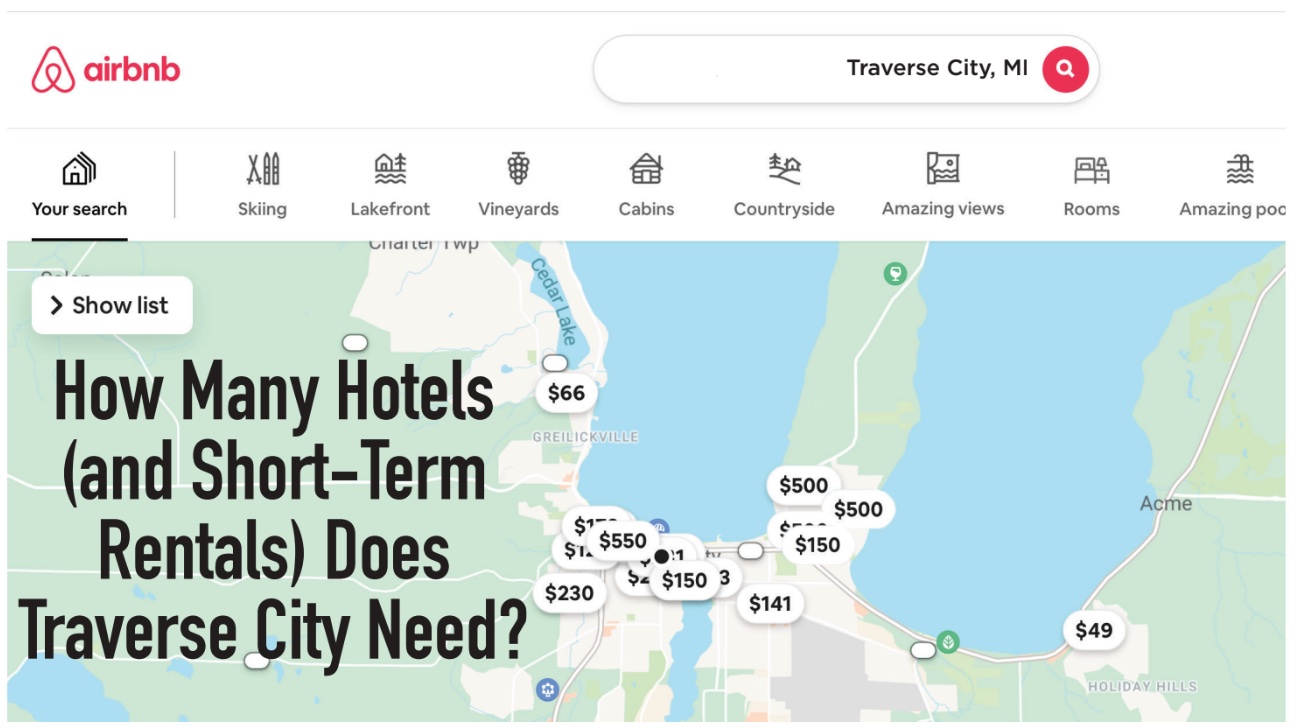 How Many Hotels (and Short-Term Rentals) Does Traverse City Need?
Competition for guests heats up while the question of market saturation looms
Northwestern Lower Michigan has long been attractive to vacationers. The Campbell House, which was eventually replaced by the Park Place Hotel, was the first hotel aimed at the tourist market when it was built in 1873. Others soon followed. Today, there are more than 1,000 guest rooms in the city and over 5,000 in the nearby area, a total that doesn't include private vacation rentals.
One might think we've reached the limit, but the last few years have brought an influx of new hotel projects to Traverse City.
New Hotels by the Numbers
The four-story Fairfield Inn & Suites by Marriott across US-31 South from Panera is targeting a May 2024 opening. The 95-room hotel is located right next to the Tru by Hilton, which opened its doors and 90 rooms to travelers this March. Both hotels are projects of Northern Michigan Hospitality Management.
Meanwhile, in East Bay Township, The Avid Hotel is planning to open later this year. When it debuts at the former Wendy's site, it will have 92 guest rooms. Nearby, the site of the former Pebble Brook mini-golf and adventure park will become home to two six-story hotels: a Residence Inn with 123 rooms and a Staybridge Suites with 122 rooms, along with a large restaurant/retail space. Plans call for an opening in 2024.
But wait, there's more: The Alexandra Inn, a 32-room boutique inn on US-31 between Pointes North and Gens Park, is primed for a June 30, 2023, opening. Further down the calendar, a Hyatt House hotel with 143 rooms will potentially fill the space at the one-time Arne's Funland between the Traverse City State Park campground and the Hampton Inn. It's projected to open in 2025.
Oh, and let's not forget a 100-room Marriott Autograph hotel in the Warehouse District that's eying a mid-2024 opening date.
Add it all up, and that's in the neighborhood of 800 rooms becoming available in the space of two or three years.
Is the Demand There?
With those 5,000+ guest rooms currently available, will there be enough business for all these endeavors—especially during the offseason?
Trevor Tkach, president and CEO of Traverse City Tourism, doesn't anticipate any problems filling the additional rooms, at least not during the high season. The rest of the year may prove challenging, however.
"I do believe there's enough demand," he says. Though he immediately adds, "Midweek might dip a little lower than we're accustomed to."
Tkach, who is also serving as president of the Michigan Association of Convention and Visitors Bureaus, says the new and upcoming hotels also serve a different market than places like the Park Place or Grand Traverse Resort and Spa.
"They're select service, year-round hotels, but with no meeting space. They're not for conferences or receptions," he says, pointing to properties like the Hilton Tru and Avid.
When it comes to popularity, Traverse City and the surrounding regions still remain a top destination. Tkach explains that travelers and meeting planners alike looked to escape the big cities during the pandemic and sought out more rural areas that had outdoor opportunities for recreation. "Traverse City and northern Michigan experienced growth in the summer months," he says.
But things are changing. "That has shifted. Now there's more competition in the summer. Big cities are coming back."
Even if there are enough travelers to pack the new hotels, will there be enough staff to support them? With "Help Wanted" signs in virtually every store and restaurant, how can these new facilities meet the demand for workers?
Tkach isn't sure. He says the pandemic exacerbated the challenges of hiring, when pent-up demand met a diminished workforce. According to the Department of Labor, 27 percent of the jobs lost post-pandemic were in hospitality.
Tkach says the use of technology and other innovations are helping the industry deal with the downturn.
"Hoteliers and restaurateurs are finding creative ways to deal with it." Still, finding enough employees may continue to be a challenge. "The workforce is spread pretty thin across the board," Tkach admits.
Hotels vs. Rentals
There's another factor impacting the hospitality industry: "It's not just hotels" that are being added to the area, Tkach says. "There's been a 20 percent increase in short-term rentals the last few years."
Short-term rentals (STRs) have indeed become a huge presence in this area and elsewhere. Rather than renting a room in a hotel, visitors can rent a room in a home or an entire house. A quick Airbnb search of Grand Traverse County for a weekday visit in July offers up more than 700 options; VRBO gives another 300.
Tkach suggests that the STR market may have reached a saturation point. "Lakeside cottages are still in high demand, but others are not as strong," he says, referring to in-town rentals. (In fact, a Time article labeled the decrease "Airbnbust" this past fall as Airbnb bookings dropped across the country.)
Katy Bertodatto disputes that term. She is the founder and managing partner of the property management firm Golden Swan, which oversees around 80 properties for rent. She agrees there has been a slowdown, suggesting it is a natural outgrowth of a return to a more stable post-pandemic time. "It boomed after the shutdown. This year, things slowed down," she says.
Still, Bertodatto is bullish on the market for property rentals. "Business is great," she says, noting that the region attracts lots of families. She says the company offers a number of high-end waterfront homes, attractive for multi-generation vacations. Golden Swan also recently took on its first development project with the Golden Lofts downtown above Golden Shoes. She says that has been a huge success, resulting in four condominiums being added to the tax rolls.
Managing STRs
The oft-cited issue with STRs is that they displace long-term renters or would-be homeowners from the market in favor of transient tourists. Across Grand Traverse County, local government officials have been working to find the right balance of STRs in the midst of the area's housing crisis.
Traverse City Planning Director Shawn Winter says his department oversees short-term rentals in the city. He says rules adopted by the city commission regulate where they can be and the number that are allowed.
"Vacation homes are not allowed in residential districts," he explains, but are allowed in downtown or commercial areas. Renting rooms while still living in a home is allowed in residential districts. Both require a license from the city.
Other areas work under their own rules. East Bay Township does allow STRs but is currently operating under a moratorium for new licenses, and STRs are not allowed in Garfield Township. "Every community is grappling with it," Winter says.
He says the city is using specialized software to oversee adherence to the regulations. The application scours the internet for rental postings on sites such as Bookings.com or VRBO.com, which are then compared to the licensed properties. If an unlicensed property is discovered, it is subject to a citation with a fine, which accrues for every day it remains in violation. "Our goal is compliance," Winter says.
However, Winter says there are two bills at the state level which may affect the ability of local authorities to regulate where and how many STRs can operate. "There are two bills at the state to pre-empt local control," he says.
Can STRs and Hotels Coexist?
The competition between short-term rentals and hotels isn't just about where to stay—there are lawsuits and dollars involved, too.
Traverse City Tourism (TCT) charges hotels of more than 10 units an assessment of 5 percent to fund its work as a destination marketing organization. That assessment, typically passed on to the guest, makes up the bulk of TCT's annual budget, with funds going toward tourism promotion and regional economic development.
TCT subsequently sued Golden Swan for not collecting and disbursing that assessment fee, as Golden Swan manages more than 10 homes. In its defense, Golden Swan pointed to a manual co-prepared by Travel Michigan, the state's official agency for tourism promotion, which advises that "private home rentals are not subject to local assessments."
The district court ruled in favor of TCT, and Golden Swan has appealed. According to Bertodatto, the suit revolves around more than simply whether or not Golden Swan and others that manage portfolios of rental properties should be required to pay. She says the funds that convention and visitors bureaus (CVBs) such as TCT collect are used exclusively to promote tourism, where a more equitable and all-encompassing approach could help to address other needs, including the housing shortage.
"The tourist tax assessment doesn't go toward taxpayer infrastructure, just marketing. … Other communities divvy it up," she says, pointing to the Outer Banks in North Carolina as an example. There, a six percent occupancy assessment is divided among local emergency services, beach projects, and tourism promotion and education.
Bertodatto believes a similar approach could help to address different needs in this area. "That's what we're working towards. We absolutely have to do something about housing," she says.
Bertodatto is hopeful the state as well as the courts will address the challenges between CVBs and STRs, though a bill introduced last fall to amend Public Act 395, authorizing CVBs to collect a 5 percent assessment on Airbnbs, VRBOs, and other short-term rentals, died in committee.
Trending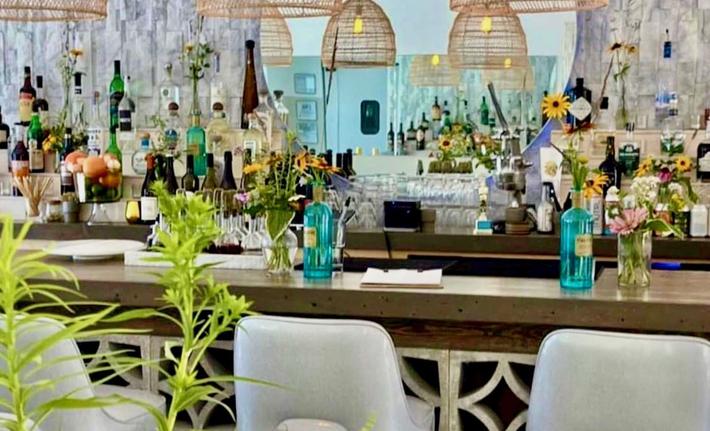 Your Fall Restaurant Guide: Six Spots to Stop for a Bite in Northern Michigan
The weather may be cooling down, but the culinary scene in northern Michigan is heating up. This summer, we explored six n...
Read More >>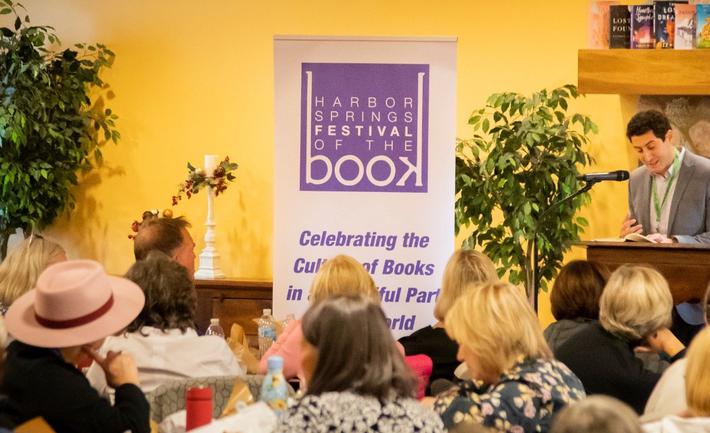 A Weekend of Books
It's a bookish weekend in Petoskey, Bay Harbor, and Harbor Springs! (Be still, our literary hearts!) First up is the...
Read More >>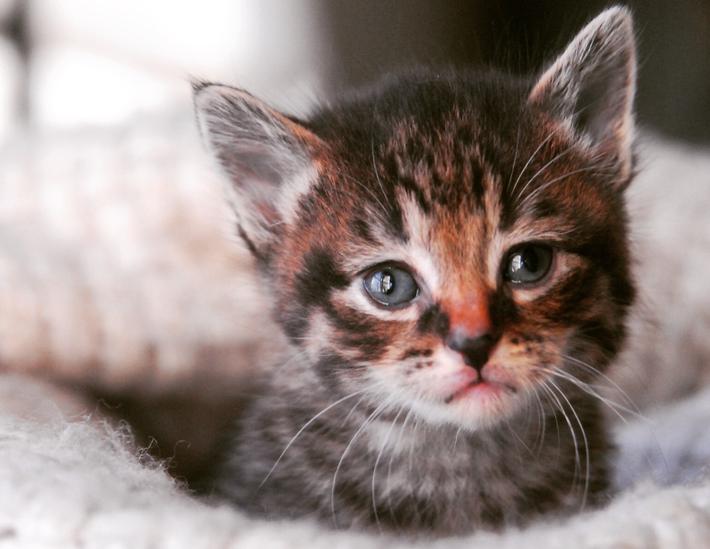 Make Your Pet Famous!
Every fall, Northern Express puts together our Pets Issue, which features stories about our beloved furry friends. As part...
Read More >>

Transformation on the Trail
It's no secret that the Boardman Lake Loop Trail in Traverse City is a popular spot for a stroll. And after a summer...
Read More >>