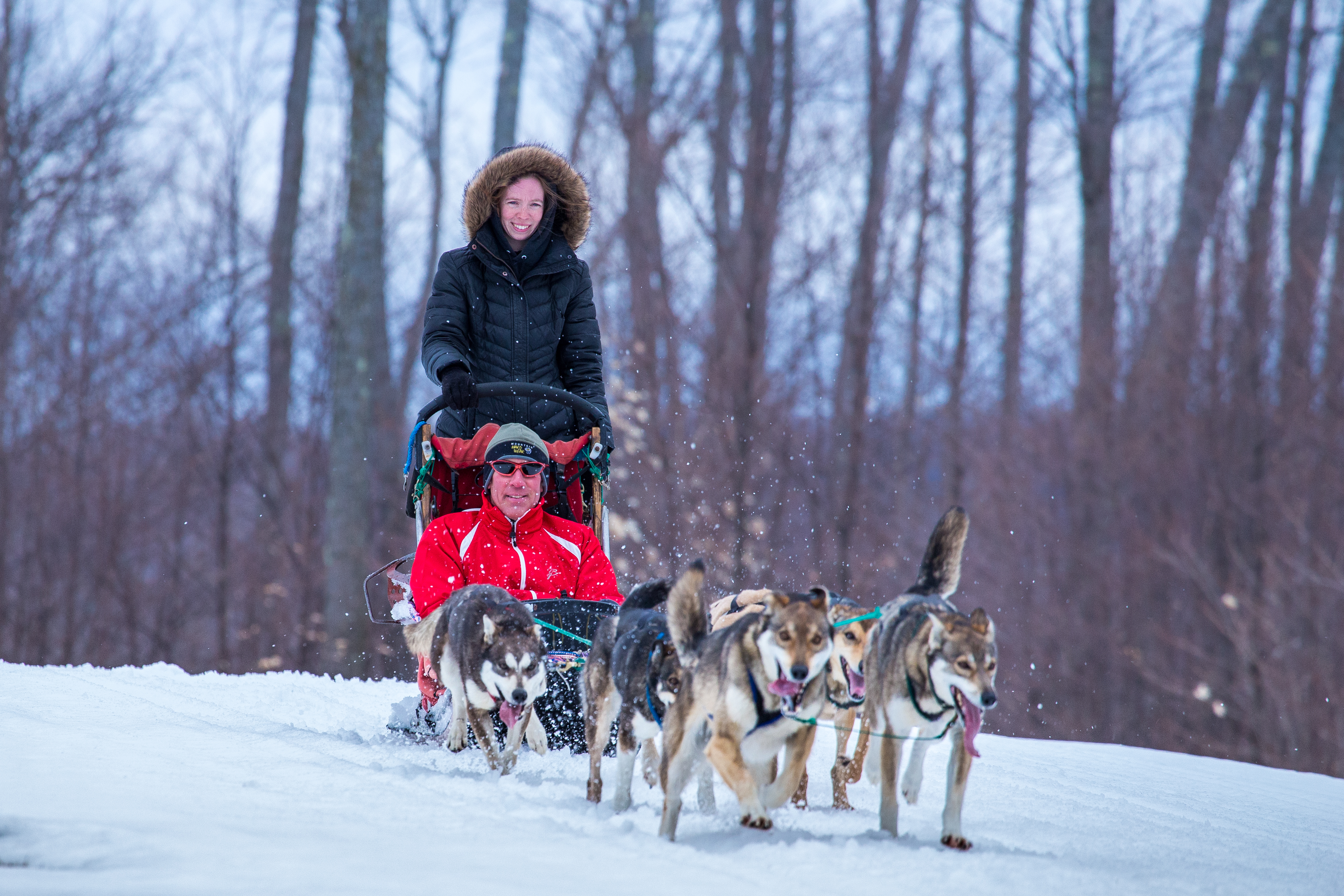 Iditarod Trainer Brings Team Back To Northern Michigan
Liza Dietzen was first inspired by the story of Balto, the real-life sled dog, as a kindergartner learning about the Iditarod.
When her teacher finished reading the book, Dietzen raised her hand and said, "I'm going to do that some day!"
No one believed her.
Today, Dietzen is training her own dogs at a kennel she owns and operates near Marquette, which is on the coast of Lake Superior in Michigan's Upper Peninsula.
Her dogs, known as Team Evergreen, are preparing for the Iditarod, the challenging long-distance sled dog race in Alaska that encompasses more than 1,000 miles and can take two weeks to complete. Dietzen and Team Evergreen are also taking a break to return to Treetops Resort in Gaylord to offer meet-and-greets and dogsled rides on scenic northern Michigan trails.
"It's definitely a different experience," said Kevin McKinley, Treetops' director of ski and golf operations. "I was so amazed by the power of these dogs — it's a 2-mile ride, and the dogs do it in less than 10 minutes."
Dog training isn't Dietzen's full-time job, even though it certainly sounds like one.
"Gosh, I wish I could make a career running sled dogs, but for most people it just is not possible," said Dietzen, who is originally from Kaukauna, Wis. "Mushers definitely don't do this for the money. It's so much more than that — it's the passion of the animals, the enthusiasm, the rhythm. To watch individual dogs working together, becoming one. That's why I do this."
Dietzen's day job is working second shift at RTI Surgical in Marquette, where she's a newbie machinist running a lathe; she also has a degree in digital cinema, which she hopes to utilize for a career in graphic design and videography to help support herself, her family and her dogsled dreams.
Her first memorable experience with mushing was at Snowy Plains Kennel in Gwinn.
"My first time out there, owner Jim Winkowski set me up on a sled and four dogs and basically pulled the quick release and said, 'See you later!' Off down the trail I went, with no experience at all," she said.
The first time went well; the second, not so much.
"The next time, the trail was icy, we hit the first turn, I fell off the back of the sled and had to walk, and the dogs kept running off without me. About a mile later I found Jim and his wife, Jackie, sitting with my team. Jim said he knew I was going to lose them and went the other way down the loop to head them off. I was so embarrassed, but I've never let go of the sled since."
Team Evergreen initially belonged to her mentor, David Gill; Dietzen took it over when he retired from mushing.
"Since then, I've bred a litter, bought some veteran dogs and some puppies," Dietzen said. "Team size varies by race — the longer the race, the more dogs on the team."
All 12 of her current dogs travel with her to all of the events she participates in; she has a trailer specifically built to transport them. "I call it our doggie hotel," she said with laugh.
When in competition, the dogs race up to 50 miles at a time, with rests in between of about six hours. "This helps keep the team healthy and strong," she said.
Team Evergreen was originally planning to run the Iditarod in 2017, but last season proved difficult thanks to the weather.
"With the strange warm winter we had, some of the races I needed to complete in order to qualify for the Iditarod this year were canceled, and some other circumstances left us unable to attend other races," she said.
"I still look forward to one day racing it (the Iditarod). I'm just not exactly sure when the stars will realign at this moment, and I'm OK with that. When it's meant to happen, it will feel right, and I'll know we're ready."
In the meantime, every day is a training day, even when she and the dogs aren't directly on the trail.
"I'm constantly learning new things about myself, the dogs, and how to handle situations on and off the trail," she said. "This sport is not for the weak of mind — we are continuously put into situations that could mean life or death. We're out in the elements, training in blizzards, in negative 30-degree weather, across frozen lakes, and much more. There are many things that could go wrong."
But the dogs, she pointed out, are bred for the cold.
"Their coats, their attitudes, everything," she said. "They will always survive the cold better than any human. I always say there is no bad weather, just bad gear, and this is key — you have to know what you're dealing with with Mother Nature."
Dogsled rides at Treetops promise to be a unique experience. As McKinley described it, you're close to the ground in the sled and moving fast — "it's a lot like sledding, but on a straightaway," he said. The ride is smooth, stable and safe in feel, but different than any other mode of transportation, especially when you hear how the ride is conducted.
"It was so impressive listening to the driver call out the signals to the dogs," McKinley said. "A lot of dog owners struggle to get their dog to just sit, and here's this whole team of dogs working together. And the dog's personalities are such a big part of the equation of how things work — how Dietzen decides where to put the dogs, who's in the lead, when they need to rest — it functions very much like a human workplace team, and I found that fascinating."
Appearances like those upcoming at Treetops will help Dietzen accumulate the funds needed for her and Team Evergreen to run a race like the Iditarod, which will cost roughly $40,000 from start to finish, including that aforementioned gear and other supplies.
For $50, you can ride with the sled dogs at Treetops; for free, you can stop by on one of their designated visit days and meet them up close and personal.
"This is the third year we've being doing sled dog rides at Treetops, and we absolutely love it," Dietzen said. "We meet so many different people from different backgrounds, and it also introduces our dogs to all kinds of different people. This is a major thing for the socialization of the dogs. And I haven't had anyone leave yet that didn't have a smile on their face. Part of our job as mushers is to educate and answer questions, and Treetops gives us an amazing opportunity to do just that."
Team Evergreen will be at Treetops Resort on February 11 & 12, & March 4 & 5. Dogsled rides cost $50 per person ($15 for an additional person in the sled with a 200-pound limit). To make a reservation, call 866-348-5249. For more information on Dietzen and her dogs, visit teamevergreenkennel.com.
Kristi Kates is a contributing editor and freelance writer.
Trending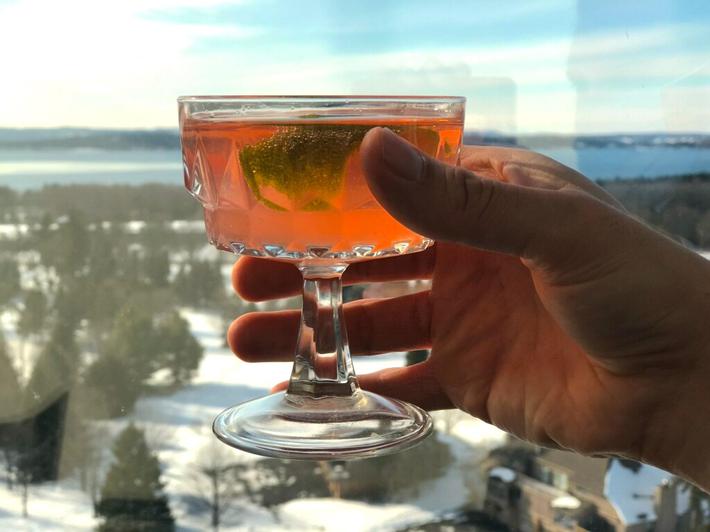 Tiny Pink Bubbles
Hey, ladies, do we have the pink drink for you: Aerie's Tiny Pink Bubbles. With a taste and body as delicious as its...
Read More >>
The Power of Our Example
Every new president faces a daunting array of problems, but 2021 will go down in the history books: Our country is under s...
Read More >>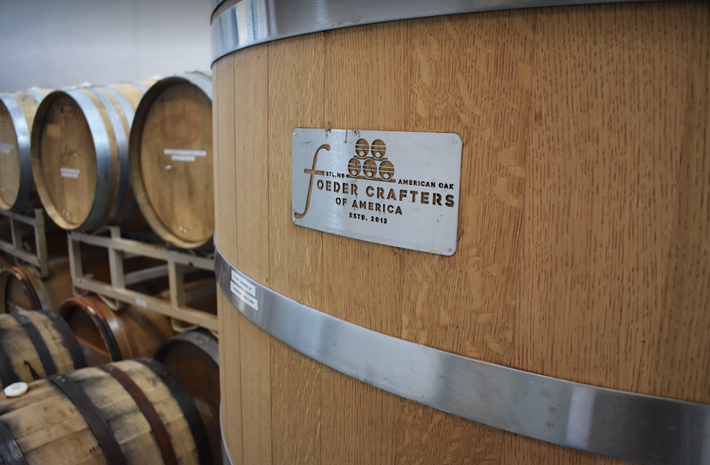 Getting Wild with the Foeder
Drinkers with a discerning eye may have noticed a couple interesting-looking wooden containers in the back of Traverse Cit...
Read More >>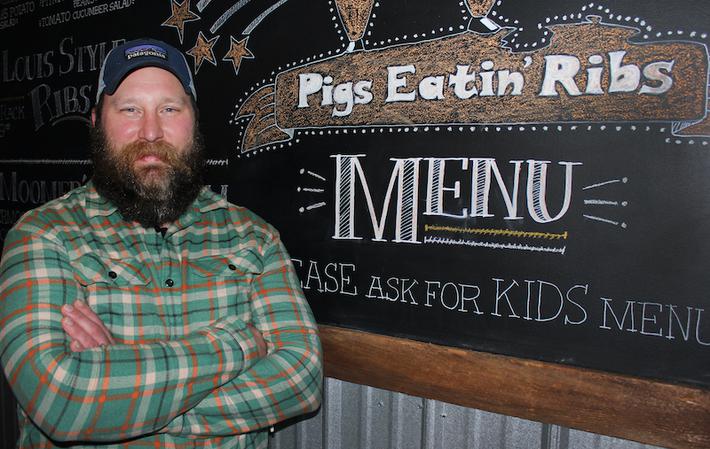 Charlevoix's Pigs Eatin' Ribs
By 2008, Charlevoix Chef Adam Kline had seen and tasted enough. The Northern Michigan food scene had stagnated, he said, i...
Read More >>
↑