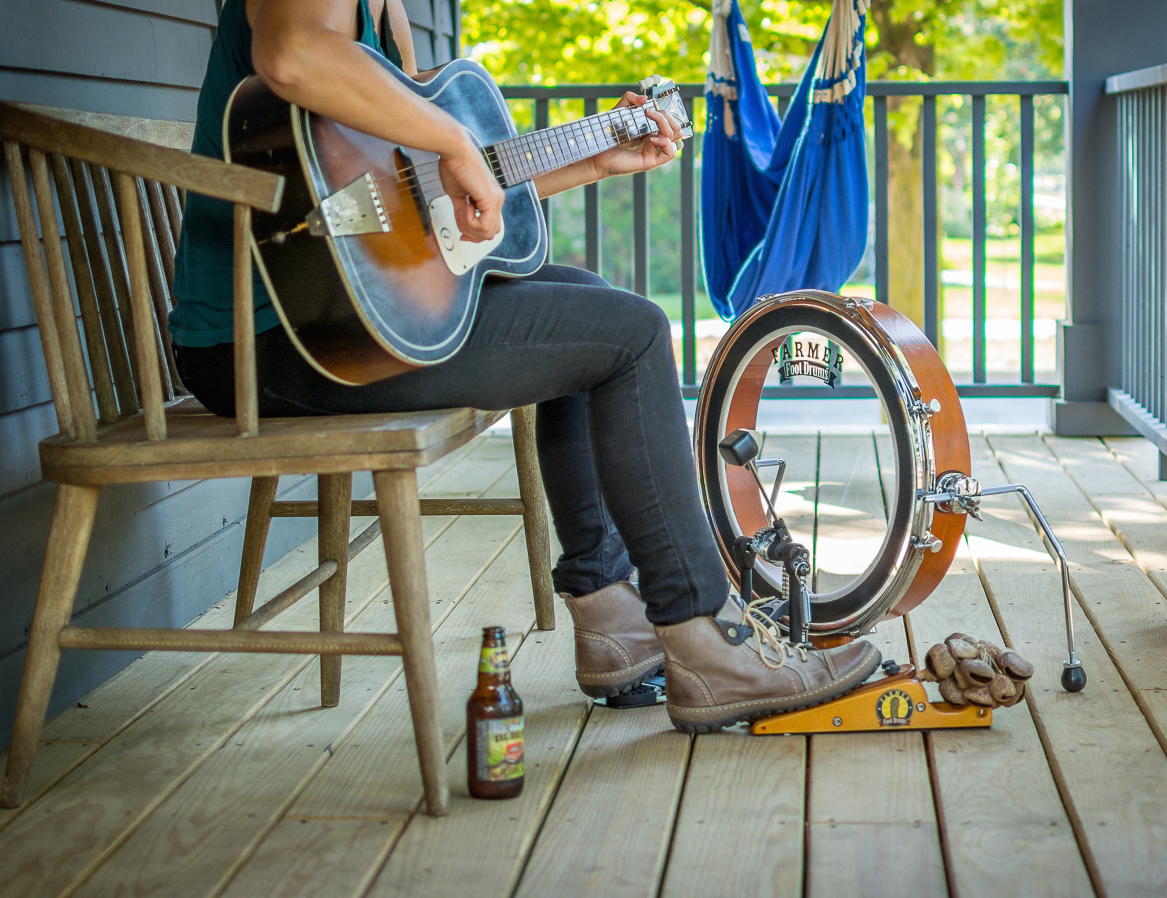 In The Key Of F
Meet The Farmer Foot Drum
You've gotta be fast with your feet to carry the beat when you play foot percussion. The most common foot drum is the kick or bass drum seen on the typical drum kit behind any rock band, but foot percussion is actually an age-old Native American practice that also shares roots with Appalachian clogging and traditional European and early African-American dancing. Pete and Kate Farmer of Cedar, Mich., have taken these various musical traditions, pulled the influences from them, and created their own foot percussion setup: the Farmer Foot Drum, a portable, self-propelled, multi-pedal beat machine that's changing the way solo artists busk and perform. We talked to the Farmers to find out more.
Express: How did you initially get the idea for Farmer Foot Drums?
Pete Farmer: I suppose it was rooted in hearing blues musicians playing on my radio in the shop; that heavy stompin' foot music kind of thing. As it is, I'm really just an average guitar player, so to get my sound out there, I really wanted to have a drum thing going with it. I played more on the streets busking in Seattle than I ever wanted to gig. As a one-man busker, you can call your shots for what, where and how you play music. A foot drum has played a vital role in shaping how I do my thing as a musician.

Express: What was the original Farmer Foot Drum like?
Pete Farmer: It looked much more like a suitcase box with a very folky-looking mechanism to make percussive sounds. Some of the hardware used were hairbands, toilet gaskets and wooden toy truck parts – those were untamed beasts.
Express: What kind of components help produce the sound in today's version?
Pete Farmer: It's more or less the same concepts of hardware and mechanisms that are used on drum kit bass drum pedals and the like. Of course, the real work is to get 12 pedals all working to make great sounds within a low profile, 30-inch-by-20-inch crafted wood frame.

Express: What are some of the other challenges of these drums, both building and playing them?
Pete Farmer: To both questions, too many parts! Each foot drum has parts from all over the world, from multiple fields of manufacturing, and is assembled in small production runs that constantly change in order to accommodate customer feedback, new parts and better building procedures. For playing, I tend to gravitate toward our seven-pedal foot drum over our 12-pedal model; I have enough to handle making my guitar and harmonica work with a basic drum kit sound. I made the 12-pedal model after some customers kept asking for more. It's a fun challenge to take on for sure, but it can be a bit too much for me to really enjoy.

Express: How difficult is it for the average musician to learn to use the Farmer Foot Drum?
Pete Farmer: Funny, we've had some of the world's best drummers sit and play one, and some blow my mind at what they can do right out of the gate, while others struggle for the 10 minutes they try.

Express: Regarding "some of the world's best drummers" – anybody we might know?
Kate Farmer: JJ Grey (of jam band JJ Grey and Mofro), G. Love (of G. Love and Special Sauce), Les Claypool (Primus), blues harmonica player Adam Gussow, blues musician Ash Grunwald of Australia and Eric Dane Jaqua of the Pistil Whips – he's a northern Michigan local!
Express: So how long does it take to build a Farmer Foot Drum, and how many people work on that process?

Pete Farmer: Four people help with our foot drums. Kate set up the website and handles lots of the questions early on. Our employee Mike Cramton or I will prepare some of the wood components, and Tom O'Brian will build it from there. I'll give it a quality control play through and look over, we'll get it packed up and then ship it out the door to customers all around the world. All told, a small batch of four drums will take about two to three weeks start to finish. We have lots of custom options, so we wait for each order to come in before we start to build it.
Express: When did you find that the original foot drum was working well enough to expand into other drums and components? (I see you have a pretty full selection on your website.)
Pete Farmer: I have a hard time with wasted material, so I saw an opportunity early on in some of the foot drum offcuts to make our downbeat pedals, by far the most popular thing we sell by units sold. The backbeat drum kit started out as a special request for a customer. After building it, I simply had to say yes to future orders because it is such a interesting community of folks who are into that sort of instrument (most are shipped to Europe). Our harmonica holders are a little outside our wheelhouse, but the idea for a magnet mount hit me one day. I knew it was a good idea, and I just had to build them. Three months later, I filed and was eventually granted a couple of patents on the design. Looking forward, since we're by now getting really good at making drums, we're adding portable drum kits to our line of instruments.
Express: What are the most rewarding things about designing, building and selling these drums?
Kate Farmer: On a daily basis, I absolutely love connecting with musicians around the world. I am also so proud to witness the long steady journey the foot drum has brought us on. It has far exceeded the expectations I had when Pete filed for an LLC over 10 years ago. Thinking back to Pete holing up in a tiny cold garage working on the earliest versions to working at our legitimate business today – one that can support our family and two additional employees – is so rewarding.

Pete Farmer: For guitar players like me, I find that the fun is in the consistency of beats that back up my song and not trying to mimic the complexity or intricacy that a full-on drummer can bring to a musical performance. I don't feel the difference between what it takes me to get dancing and how I play my foot drums to a song. You probably know this on a personal level, but the impulse to tap your foot to music is almost innate in all humans; I just happen to make instruments that transcribe that natural feeling into drum kit sounds.

Farmer Foot Drums is located at 8568 E. Lincoln Rd., Cedar. For more information, visit footdrums.com or call (231) 943-2087.
Trending
Dinghy's Smoked Barbeque Ribs
Dinghy's Restaurant & Bar in downtown Frankfort was hit particularly hard by the pandemic restrictions. "W...
Read More >>
Not a Clue
Surely politicians wouldn't be so clueless that they'd lie about COVID-19 deaths or take a vacation during a statewide eme...
Read More >>
Respecting the River
Forever, the Grand Traverse Band of Ottawa and Chippewa Indians (GTB) has regarded the water — and the Boardman/Otta...
Read More >>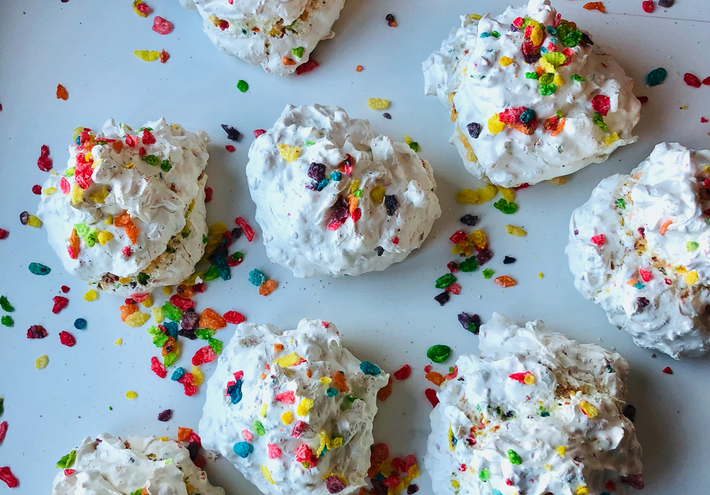 7 Batches Made in Heaven
Let's be honest: Picking the best cookies in northern Michigan is an impossible task. There are so many "right...
Read More >>
↑