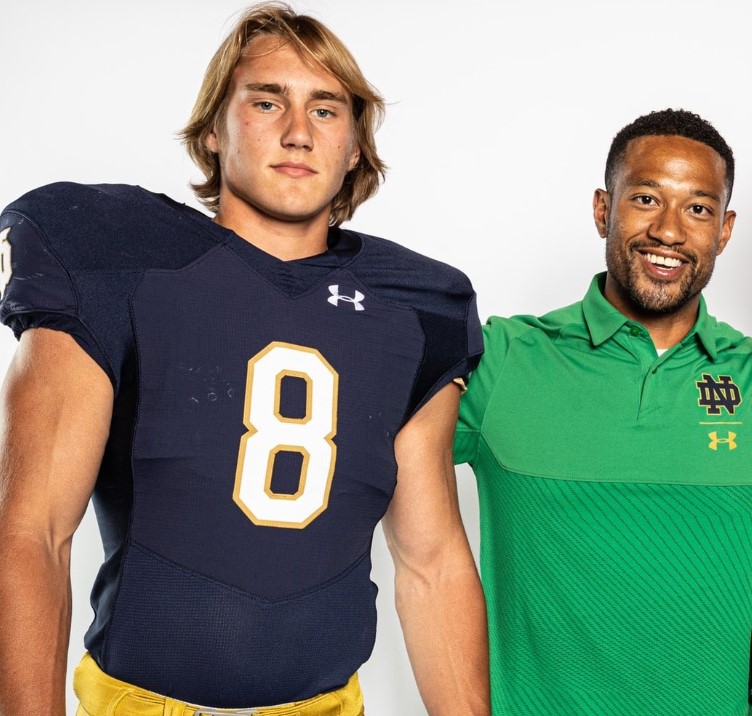 Josh Burnham's Big Week
Traverse City football phenom starts Notre Dame and plays in the All-American Bowl
Being born on St. Patrick's Day, you could almost predict that Josh Burnham would be Irish – Fighting Irish, that is.
The Traverse City native, who turns 18 in March, is starting classes at the University of Notre Dame this week, after a stellar football career at the high school level. He and his TC Trojan teammates made it all the way to the state championship game in Detroit, where they lost 41-14 to Warren De La Salle.
"It was a great experience," he says. "Being able to put TC on the map and getting down to Ford Field was really something. I'm really proud of all of the guys."
Despite the loss, the season was a huge success. The Trojans went 12-2 with Burnham calling signals on offense and making key plays at linebacker on defense. His athletic skills; 6-foot-4, 225-pound frame; and stalwart defensive play caught the eye of college coaches at the highest levels. He received scholarship offers from 16 Division 1 football schools from across the country.
"Overall, he went into this entire recruiting process open-minded and made sure that every box was checked, and ultimately Notre Dame just checked them all," says his dad, Sean Burnham.
"The student body and class sizes played a big part in the decision, having between 8,000-9,000 enrolled while still being able to compete at the highest levels in college football. Academically, he couldn't go wrong with most any of the schools, but a Notre Dame degree and the alumni network that's worldwide will help him later in life after football."
The Maxwell Football Club named Josh one of 16 semifinalists for its prestigious high school Defensive Player of the Year Award. He's also in the running for the Butkus Award, given to the top linebacker in the country, and has earned an invitation to the upcoming Jan. 8 All-American Bowl at the Alamodome in San Antonio, Texas, a prestigious event that, since 2000, has featured 13 future Heisman Trophy finalists, 496 draft picks, 174 Pro Bowl selections, and 74 Super Bowl champions.
In other words, it's a big deal for high school football players.
"The attention that Josh is getting is still unreal to us and him," says his mom, Katie Burnham. "He was a little uncomfortable in the beginning. He didn't like the attention only being on him. It was weird for us as well. I still look at him as Josh, my son who I still need to get on to clean his room."
Josh is projected as an inside linebacker in the Irish defense.
"Burnham is a great fit for both of Notre Dame's linebacker positions," according to an analysis by website Fan Nation, which tracks and evaluates college football prospects. "He has tremendous length, his range is outstanding, and he's physical. And he hasn't come close to reaching his full potential."
Fan Nation's analysis is an in-depth look at Josh's football skills.
"Burnham is an impressive athlete, showing off impressive foot quickness, easy change of direction skills and top-notch burst. Not only does Burnham have very good long speed, his short-area burst and closing speed is [also] outstanding.
"Right now he doesn't know how to use that length as a weapon, but once he does, he'll be even harder to block. Burnham is still a bit of a raw prospect from a technical standpoint. He must improve his footwork at linebacker and also enhance his block destruction inside. At this point, he's just getting by on tools and God-given ability ... once his technical game catches up to his physical tools, the Traverse City Central athlete will a truly dominant defensive player."
Despite all of the limelight focused on him, Josh is a humble, quiet guy who'd rather not deal with a lot of fanfare. "He's learned along the way how to handle the attention," says Katie. "He still doesn't want it to be about him, so he tries to let everyone know that he has had a lot of support along the way — family, coaches, teammates, and friends."
"He's a humble kid," Trojan football Coach Eric Shugars said during a radio interview last month. "For Josh, it's all about the team. He's well-deserving of all these awards. He's a tremendous athlete on the field, but an even better person off the field."
Josh remembers first playing football in the second grade. "I was a running back, then," he says with a laugh. "I was just bigger and faster than anyone else. I loved it, and my love of the game just grew from there."
Though Josh had a passion for the sport, he was just one of dozens of other little guys with football dreams in their heads.
"He stood out a little among some of his teammates," says Sean. "But not to say anyone would have thought, 'Man, this kid is going to be special.'"
It wasn't until Josh got into middle school that he showed some signs of his athletic potential.
"It's easy to focus on your kid," says Sean. "But from my memory, at times, he seemed to be the kid that was called on to make the big play to help secure a first down, to keep marching down the field, or to stop the opponent from getting a first down or touchdown to shut things down."
Even at that age, Josh was energetic, but not very verbose. "Josh is a very quiet person, always taking everything in until he is comfortable," says Katie. "Then, look out — he's a great big goofball!"
Sean remembers his son the same way.
"Josh, at times, was quiet growing up, but once he made a connection with his teammates and made friends, he was a ball of energy waiting to explode, mostly around playing sports," he says. "He grew up having an English Mastiff for a companion and would use her for his tackling dummy at a very young age."
He also grew up rooting for his favorite team, the University of Michigan. "I like college football so much better than the NFL," he says.
When football season ended, young Josh would play basketball, and when spring rolled around, he would play baseball, where he was a catcher and outfielder playing all across northern Michigan.
"The biggest thing that has always stood out to me was his heart," says Sean. "We would find ourselves traveling quite a bit for baseball and basketball throughout the state over the years, and while he was in between games, it seems like one of his teammates younger brothers or even one of the opponent's younger family members would always find their way to Josh to play a little catch or for Josh to lend him his basketball and shoot around a little with them.
"He always wanted to get the younger groups involved and grew a bond with them to hopefully carry them into their older years and grow up to be great young men and women."
*Above photo of Josh Burnham (left) with Notre Dame Football Head Coach Marcus Freeman courtesy of Sean Burnham.
Trending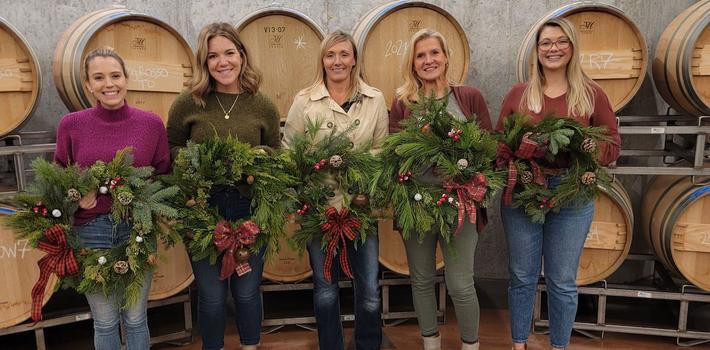 Wine & Wreaths at Mari
If you like wine and wreaths, you'll want to head to Mari Vineyards on Old Mission Peninsula. A 90-minute wreath-mak...
Read More >>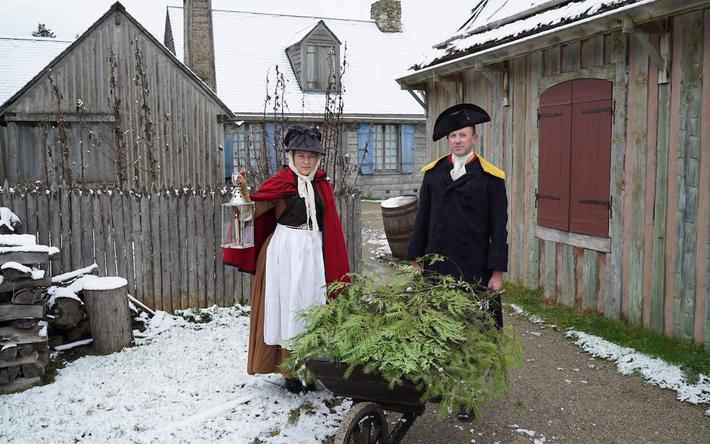 A Colonial Christmas
Christmas is coming to Colonial Michilimackinac in Mackinaw City on Dec. 9. Storytellers will bring to life the stories of...
Read More >>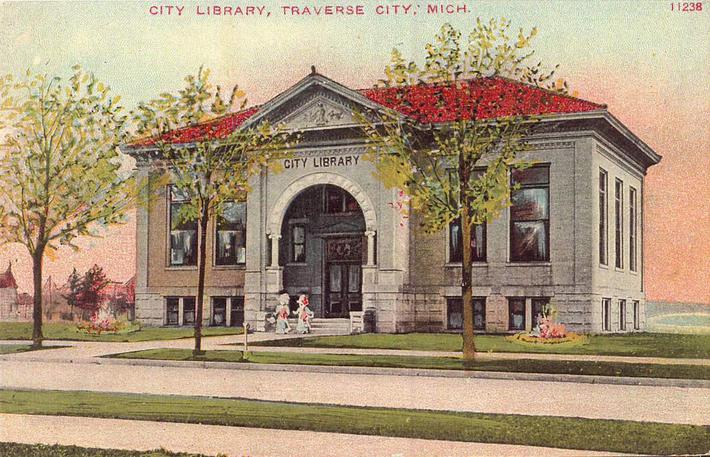 A Literary History of TADL
Next year, the Traverse Area District Library (TADL) will celebrate 155 years of lending books and knowledge in northern M...
Read More >>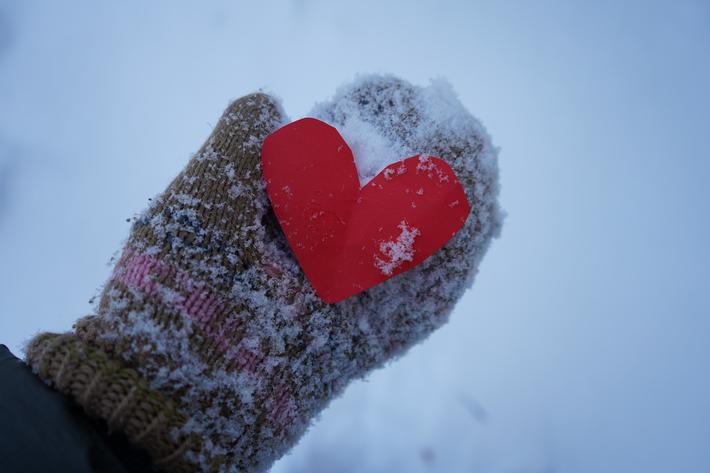 Merry Mittens
The Mitten Real Estate Group of Traverse City is helping make the season bright by kicking off their first Mitten Drive, w...
Read More >>