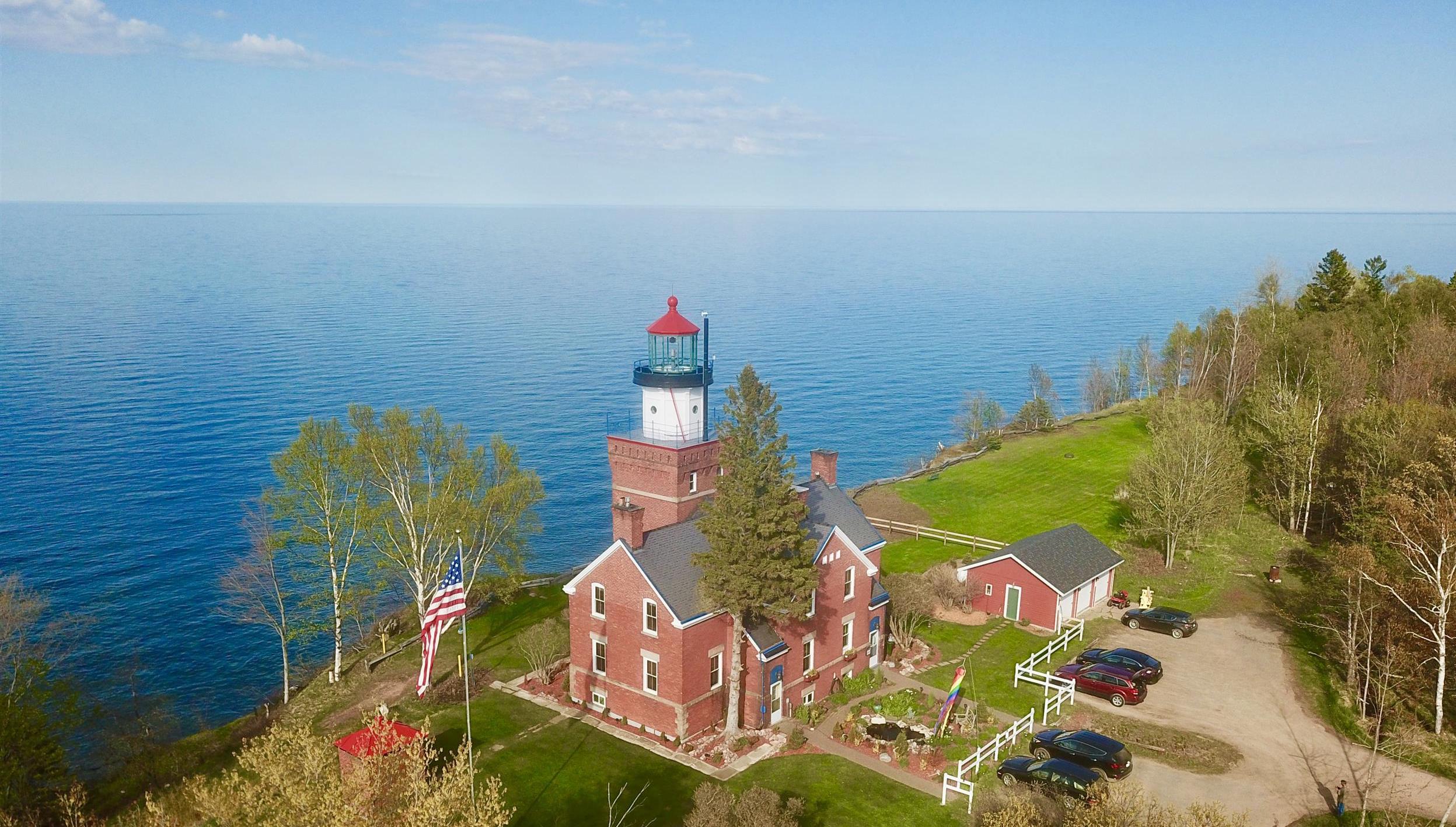 Keeper of the Lights
Meet the U.P.'s Nick Korstad, owner of five lighthouses and counting
At age 7, Nick Korstad fell in love for the first time. He was with his family on a vacation to Disneyland, wending along the northern California coast from their home in Washington state, when he saw her just south of San Francisco. She was standing near the edge of a craggy outcropping of rocks, gazing out over the Pacific; tall, slender, and shining bright under the San Mateo sun. It made no difference that she was nearly a century older than him; the kid was captivated.
That moment Korstad swooned at the sight of Pigeon Point Lighthouse might have passed into a blur of Space Mountain and Mickey Mouse-ears memories were it not for one life-changing event that followed. In 1992, a few years after the trip to Disneyland, Korstad's family moved to Sequim, Washington, near the Olympic Peninsula.
"There was a lighthouse there at the end of a sand spit, and there was actually a keeper there. So that got me overly excited about lighthouses," says Korstad. "My dream at that point was to become a lighthouse keeper."
Now 40 years old, Korstad has owned five lighthouses (and has one in Maine in the works), most of which he's single-handedly renovated.
Fantasy Island
In 2005, at age 24, Korstad left his job with Marriott Hotels and bought his first lighthouse, Wolf Trap Light, a 52-foot-tall caisson lighthouse (meaning the structure is built on a man-made foundation, usually of concrete or metal) standing in Chesapeake Bay about 3.5 miles from Virginia's shore.
Named after the Wolf, the 350-ton British naval vessel that in 1691 ran aground on the shoals the lighthouse now sits upon, Wolf Trap had been manned from 1894 to 1971. Korstad bought it at auction in 2005, intending to renovate it and turn it into a bed and breakfast.
"I was so young and naïve," he says. "I had never even driven a boat. But I purchased it, and I tried [to get financing from] from, I think, 150 lenders. No one wanted to touch it. So I ended up flipping it."
He used the money from Wolf Trap's 2007 sale to buy Borden Flats Lighthouse in 2010. Established in 1881, Borden Flats Lighthouse seemed far more promising as a potential B&B location. It, too, sits in the water—where the Taunton River meets the Mount Hope Bay—but only 2,000 feet from a marina and bustling city of Fall River, Massachusetts.
Korstad spent the next three years restoring the lighthouse. It was no small feat. The five-story structure, a brick and wood tower built inside a 12-inch-thick cast iron shell (to absorb the jolt of lightning strikes and prevent fire or electrocution), hadn't been occupied since its light became automated in 1963. When Korstad took over, it looked as though every inch of the lighthouse's interior and exterior was weathered, vandalized, peeling, broken, or simply a relic of the last century. A kerosene cookstove was the lighthouse's only source of heat; its only water source rainwater collected in gutters and stored in a cistern in the structure's "basement."
Although Korstad lived in the lighthouse for the first six months he owned it, he soon realized the cost and effort of living off the grid—with solar panels, batteries, a generator, and the need to haul water and keep his boat secure against the tides and the winds—exceeded those of renting an apartment on the mainland and buying gas for his Zodiac boat, which he could use to zip back and forth even in bad weather. And there was certainly bad weather. In 2011, Hurricane Irene swept through. In 2012, Superstorm Sandy.
Nevertheless, Korstad pressed on, not only doing all the renovations himself but also funding them. At times, he took seasonal contract jobs, like working in Hasbro's consumer affairs department, taking complaints and questions from consumers in the weeks after Christmas.
"And, you know, that paid for the stuff I needed, the maintenance and renovations, because after purchasing Borden Flats, I only had about $2,000 left to my name, but I turned that $2,000 into what it is now," he says. "So a lot of people assume I'm so wealthy because I've owned all these lighthouses. I'm like, 'No, I've worked my butt off to get to where I'm at.'"
In 2013, the tide turned. HGTV's immensely popular show You Live in What? featured Borden Flats in the premiere episode of its second season. In 2017, Korstad and Borden Flats made an appearance on Nightly News with Lester Holt. Korstad says the national exposure made the lighthouse and its Overnight Keepers Program, which he established in 2015, sustainable.
In the midst of all the activity, Korstad bought two other lighthouses, Spectacle Reef, in Lake Huron, and Stratford Shoal, in Connecticut. The most expensive lighthouse ever built on the Great Lake and the only monolithic stone tower ever built within the United States, Spectacle Reef sits in some of the most treacherous waters in the Straits of Mackinac. Despite the success of Borden Flats and his recent acquisitions of Spectacle Reef Light and Stratford Shoals, by 2017, Korstad was ready for a change.
Big Bay Home
Korstad sold Borden Flats in 2018 and bought the Victorian-style, brick-built Big Bay Point Lighthouse Inn in Michigan's Upper Peninsula. Set on the cliffs of Lake Superior, 25 miles outside Marquette, Big Bay had been run as a bed and breakfast since 1986.
"The previous owners had it for about 27 years, and they took really good care, the best that they could, of the property," Korstad says. "But they were getting older and couldn't get people to come out to do all the work that needed to be done but felt they could no longer do it on their own."
They'd had the place up for sale for more than a decade when Korstad came along. It seemed like a match made in heaven.
For one, Big Bay Point Lighthouse, while only 30 minutes away from the restaurants, breweries, grocery stores, and other marks of civilization in Marquette, has only limestone cliffs, Lake Superior's waters, the woods, and a lot of moose for neighbors. "You go to the top [of the tower], and you don't see society," Korstad says. "So many other lighthouses—you go to the top, you just see condos and waterfront homes."
It's also one of the rare lighthouses that sports a duplex-style keepers' quarters. Korstad lives on one side and rents out the other to his bed and breakfast guests, usually from late April or early May through November, depending on weather.
The major perk? Unlike Wolf, Borden Flats, Stratford Shoals, and Spectacle Reef (which Korstad sold last year), Big Bay is accessible by a road.
"I have been divesting myself of the offshore lights because of their challenges. You can't get to them any time [you need to], and people like to pull their boats up and cut off locks if you're not there," he says. "You can only have so much stress in life and, you know, [these lighthouses] are like your kids—you're worried about them."
This summer marks the fifth since Korstad began working on returning Big Bay to its glory, a process he says is 24/7 of yard work, painting, and maintenance because of the Upper Peninsula's extreme temperatures. "The sun during summer can be 130 degrees or more on the paint, and then during winter, 47 below … There's no such thing as any product that lasts forever up here."
During the U.P.'s long winters, Korstad doesn't kick back; he devotes himself to remodeling inside the lighthouse and keepers' quarters. "I need that six months to get projects done because I don't want to do them poorly. I work every single day, and that time goes by so quickly. It just seems like it starts and ends within a month."
For a lighthouse keeper, he says, "There's no such thing as spare time. Spare time is when I go to bed at night or take a shower. Other than that, it's work on the property full-time. If I didn't like lighthouses, this would be the worst job in the world.
"I'm proud of what I do, but I don't do it for any sort of show. I do it because I like to do it," he adds. "That's just me. That's what I do. I take care of my house."
Learn more at bigbaylighthouse.com.
Trending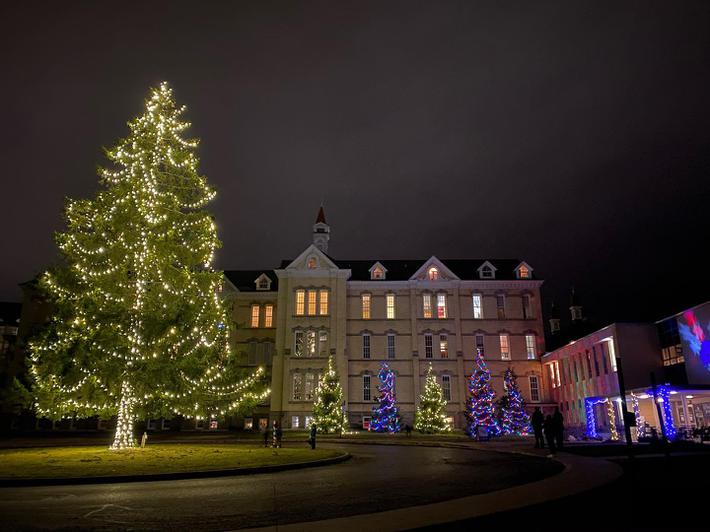 An Uncommon Celebration
The Village at Grand Traverse Commons is a shopping destination all year round, but we especially love a visit during thei...
Read More >>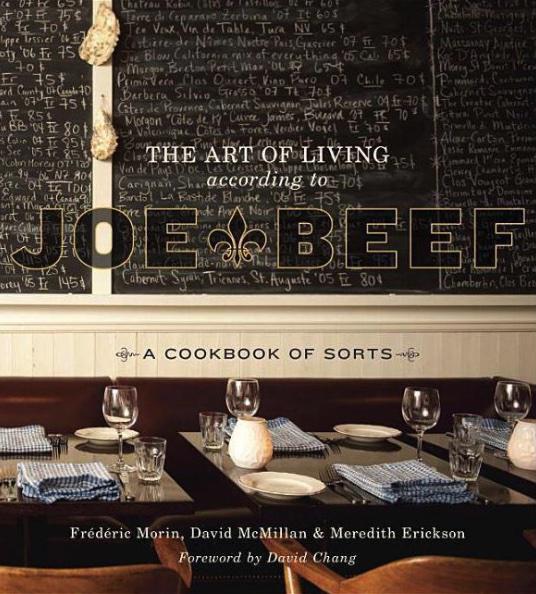 Cookbooks and Canadians
The beloved amical Cookbook Dinner Series is back, and this month the TC restaurant features The Art of Living According t...
Read More >>
Christmas on the Farm
If you'd like your ho-ho-ho to be a bit more e-i-e-i-o, then look no further. First up: Christmas with Alpacas at No...
Read More >>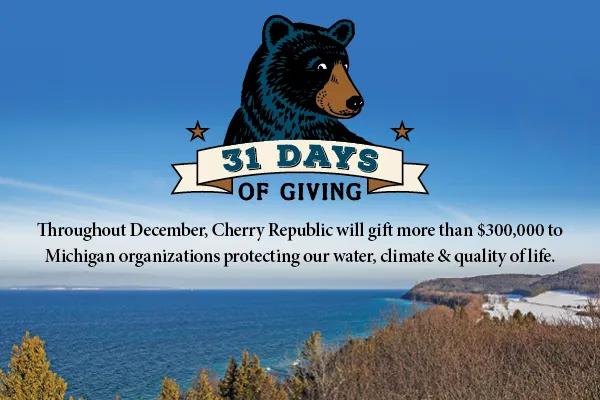 31 Days of Giving
Giving Tuesday, which falls every year on the Tuesday after Thanksgiving, is typically a busy day for northern Michigan, g...
Read More >>