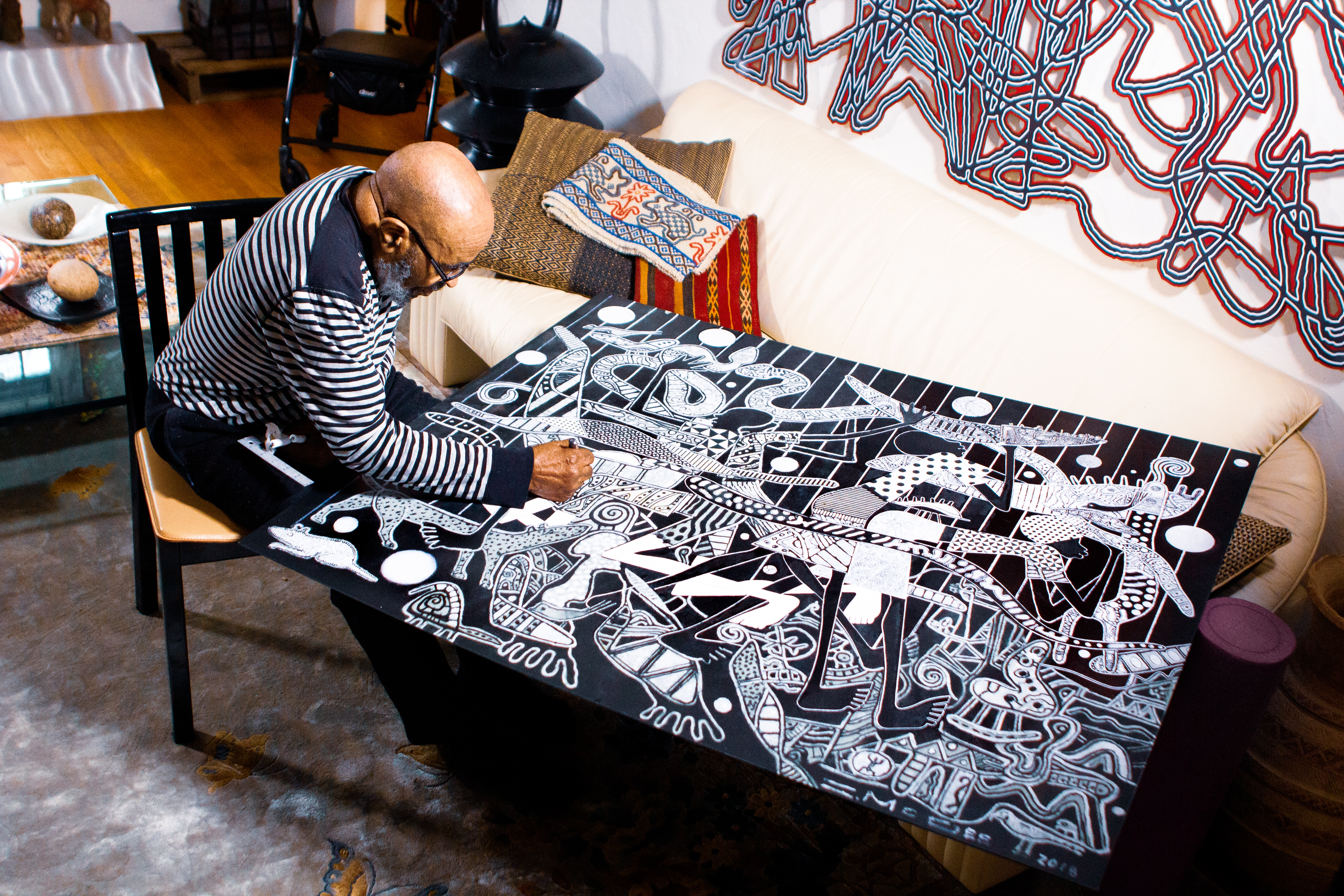 Legendary Detroit Artist to be Honored Up North
94-year-old working artist Charles McGee to receive Michigan Legacy Art Park's Legacy Award
Charles McGee is a legend in the Detroit art scene. His work is found in many contemporary art collections around the world, as well as the permanent collections of the Detroit Institute of the Arts, the Charles H. Wright Museum of African American History in Detroit, and the Dennos Museum Center. He was awarded the first Kresge Eminent Artist award in 2008.
Now the 94-year-old McGee is being feted once more. He is the 2019 winner of the Legacy Award from Legacy Art Park on the grounds of Crystal Mountain Resort in Thompsonville.

"The man is just a phenomenon," said his longtime friend Marilyn Wheaton, former director of the Marshall M. Fredericks Sculpture Museum at Saginaw Valley State University and the Cultural Affairs Department for the City of Detroit. She was also a founding board member of Legacy Art Park.
"When I was asked to be the intermediary I said I'd love to. Charles was so humbled and in awe," she said.
That's true. Despite his many accolades and his 75-plus years as a revered artist, McGee remains modest and self-effacing. Asked if he considers himself an artist, McGee responded, "I think I'm a student. A student kissed by nature to try to understand some of the things I see that hold the world together in order."
GIVING ORDER
That last is a word he uses frequently to describe his art, which ranges from what one might consider normal size to large murals to massive murals: his 118-foot by 50-foot mural "Unity" encompasses one side of the 28 Grand building in Detroit's Capitol Park. He oversaw its installation — his largest ever — at age 92.
"I'm still able to produce. That's miraculous to me. So now I'm celebrating the living process more than I did when I was young, though I've always been eager to understand. I'm curious and appreciative of the world," he added.
Each year, Legacy Art Park presents its Legacy Award to honorees who have made "a significant, positive impact on Michigan's arts, history, culture or environment," as its website says. Most past honorees have been from the region, such as last year's winner Marsha Smith, and those who helped bring the park to life, including founder David Barr and Beth Dwaihy-Barr, and George and Althea Petritz, co-founders and, later, owners of Crystal Mountain Resort, where the Michigan Legacy Art Park is located.
It also includes George Zimmermann and the Pure Michigan Team, honored for the marketing campaign which extolls the state's virtues, and the Tuskegee Airmen of Michigan for their bravery in World War II.
Now the list also includes McGee, one of the state's preeminent artists and perhaps Detroit's greatest living artist. Not that he'd ever go that far in describing himself. "He was hesitant to accept it. He doesn't seek attention," said Joseph Beyer, the executive director of Legacy Art Park.
In 1994, the Dennos Museum in Traverse City showcased the exhibit "Charles McGee Seeing Seventy"; his 2002 work "Time Structure" hangs permanently in the museum's indoor sculpture court today.

FOUNDER FRIENDSHIP
McGee connection to Legacy Art Park traces back to his friendship with its visionary founder, artist David Barr. He first met Barr when he was at the Michigan State Fair doing portraits. They struck up a friendship, even played softball together, though McGee said he was unaware then of Barr's standing. "He was a giant in the art world. I didn't know it then."
McGee said he was invited to the Art Park when Barr launched it. Barr wanted him to do a piece for the park, but the two could never quite connect on it. But they maintained a friendship, even playing golf together at Crystal Mountain, and McGee was always appreciative of Legacy Art Park. "I loved the idea of openness and how nature and art merged. I thought it had magnificent energy." Now he's a part of it.
Wheaton said McGee's art speaks to the spirit of the entire world, not just Detroit. "I think what sets Charles apart is his attention to detail. He says he puts in his art the order that governs the universe," she said.
There's that word again. "I see order in how things turn out in good. Fracture is bad order. That's what it's about for me. I want to make it a little better if I can," said McGee. "I'm very grateful for this recognition. I hope I am worthy."
At this point, McGee said he's unlikely to be able to make the trip north to accept the award in person at the Legacy Gala Aug. 16 at Crystal Mountain. His daughter Lyndsay will be on hand to accept it for him. But despite the fact his age and health have slowed him down, McGee continues to create. "I feel I've just scratched the surface."
EAT, DRINK, SUPPORT ART
The Legacy Gala, the signature fundraiser for the nonprofit Michigan Legacy Art Park, is open to the public. Attendees will be treated to a video tribute to McGee, a silent auction, cocktail hour, sparkling wine reception, locally sourced dinner, and live music. Local magician and entertainer Ben Whiting will serve as the evening's host and emcee. Tickets ($108.14) can be purchased at www.mynorth.com.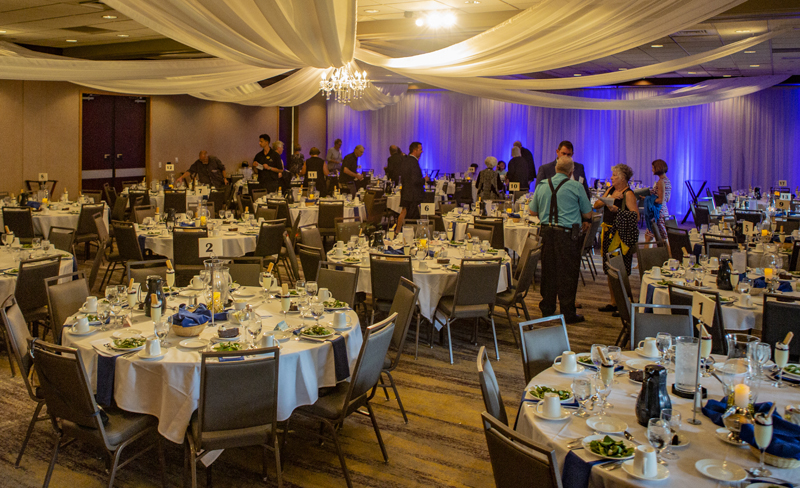 Trending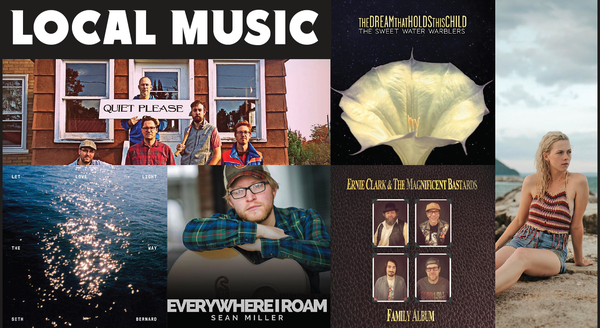 Listen Up: The Latest & Greatest Spins
So 2020 has not been a particularly great year for arts and entertainment. Film releases have been delayed. Concert tours ...
Read More >>

The Libertarians are Coming
Something in the ether, maybe, brought together a bunch of people who over the last year or so declared themselves Liberta...
Read More >>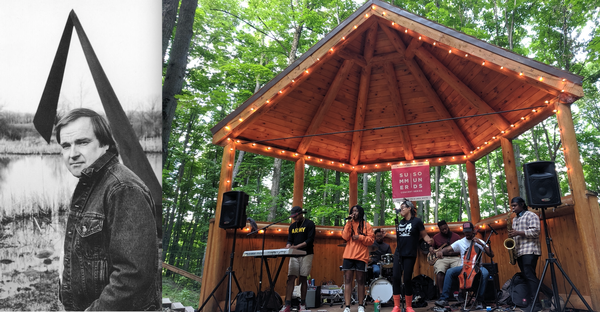 The Other Summer Sounds
As with virtually all venues, the enchanting forest-circled amphitheater inside Michigan Legacy Art Park — like its ...
Read More >>

Say You Were a Fan First
Who are the next big bright stars on the Michigan musical landscape? Who's the next band to become a local favorite ...
Read More >>
↑