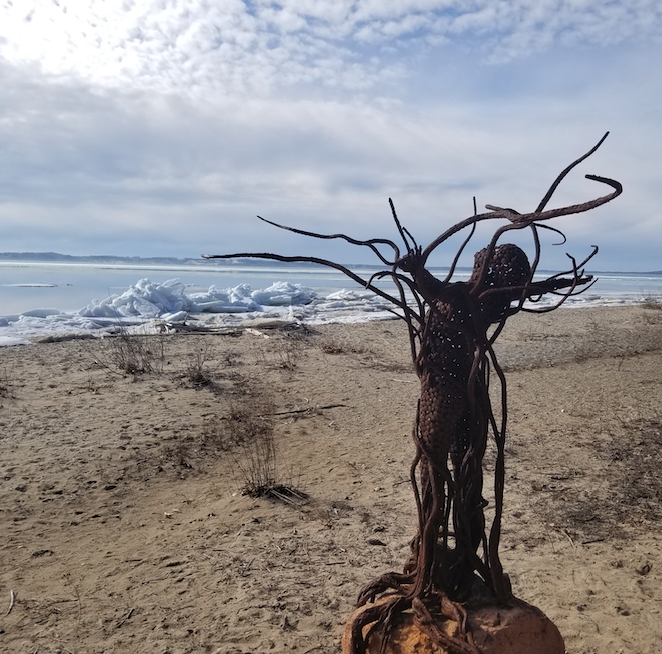 Let the Sculpture Challenge Begin!
You. A stroll. Some selfies. And a great way to add art to your April.
If the budding trees and increasingly blue skies don't inspire you to head out for a spring stroll, maybe this will: April 27 is International Sculpture Day, a singular day the International Sculpture Center created to get people seeing sculptures and thinking about the artform and its unique contributions to society. (See sidebar below for special day-of events.)

Unless you're the artsy type, you might not realize we have big-city proportions of sculpture in northern Michigan. Many pieces are in plain sight around area arts centers, but even more have quietly erupted from forest floors and alongside windswept Lake Michigan beaches.

Ready to seek them out? Now is the time. Five local art institutions — Dennos Museum Center, Michigan Legacy Art Park, Crooked Tree Arts Center, Oliver Arts Center, and the Elk Rapids Walk of Art — are pulling together to draw you in with a unique challenge: Go visit one (or all!) of the participating sites by the end of April and post a photo of your favorite sculpture on Facebook or Instagram, hashtag #NoMISculpture.

Besides earning prestigious "I'm totally into art" clout on social media, one person will win an annual membership package to all five organizations (valued at over $400), plus a yearlong subscription to Sculpture Magazine. Need more motivation? We tapped each participating venue to share a story about a single piece in their collection. Maybe they'll all get you thinking.

OLIVER ART CENTER
From sculptor K.W. Bell: "This [piece] is called Confident Doubt — a feeling I'm well acquainted with when sculpting. This was my first larger sculpture, and I learned a great deal creating it. I wrote a poem that often expresses my process."
I've got it
I can do this
I'm good,
I'm great,
Brilliant even!
Wait ... NA
No no ... NO
Not brilliant,
Not great,
Not even good,
Oh man, I stink
I can't do this
This is horrible
I am horrible.

Dennos Museum Center
Sally Rogers, whose sculpture Nexus is displayed in front of the Dennos Museum Center, attended Northwestern Michigan College, earning an associate degree in liberal arts. She went on to earn a BFA from the Center for Creative Studies, Detroit, and an MFA from Kent State University. In the past 15 years, Rogers has completed a number of large-scale public art commissions created with combinations of stainless steel, glass, and granite.

She describes Nexus as "a visual metaphor for the action of connecting or combining the various disciplines of the academic world to achieve an integrated approach to education."

Michigan Legacy Art Park
Of her Bonnet, Lois Teicher (Born 1938) writes, "The Bonnet with its inner space and flowing outer ribbon represents women's contribution and presence throughout time, particularly during pioneer life when the very sustenance of life had to be created daily. As pioneers began settling Michigan in the mid 1800s, women took on tremendous responsibilities to care and provide for their families and communities."

Built on-site in 1998, Bonnetis painted fero cement over wire mesh created on stud lathe, resulting in a sculpture that is 9 feet high at the crown and extends to almost 28 feet long as it lays on the wooded floor of the Art Park, where organic growth has now become a part of the work as whole.

Crooked Tree Arts Center – Traverse City
John Sauve was born in 1963 in Detroit, and is an American artist and arts educator. His medium is sculpture and printmaking. He studied art history at Michigan State University.

Sauve created the Man in the City project in 2008. It consists of bright orange metal sculptural silhouettes placed in locations that have a cultural or historical significance. Man in the City has been exhibited in locations including Detroit, New York City's Highline, and New York City's Governors Island. Crooked Tree Arts Center brought it here in 2015, and one of the 43-inch orange silhouettes remains atop Crooked Tree Arts Center's Traverse City building, as well as other locations downtown.

Walk of Art, Elk Rapids
"Grand Traverse Portage" was installed in the shoreside Walk of Art in 2018, the third of Dewey Blocksma's works to be displayed in the forest park. Blocksma worked as an emergency room physician for 10 years after graduating from Northwestern University Medical School. He is now a full-time artist. He says his sculptures, which are often whimsical and witty, are an extension of his toy-making experiences he developed in childhood while living on the border of India and Pakistan, where conventional children's toys were unavailable.

Of this piece, Blocksma said, "Portage — the transport of one's possessions between bodies of water could be interpreted to include our psychological baggage. A Grand Traverse is made possible by portages."

Get on an Art Bender
Should sculpture-seeking prove to be something you love, dive deeper on the popular blogging platform Medium. Staffers from participating arts organizations will share bonus content about their sculpture collections, artist videos, and more ways to discover sculpture in places across northwest lower Michigan and the Upper Peninsula. Check out: medium.com/@nomisculpture.

Seize the Sculpture Day Events
The public is invited to special events around the region on April 27:

Dennos Museum Center
Join docents to take part in a guided experience of the Dennos Museum Center's indoor and outdoor sculpture collection from 10:30 to 11:30am in Traverse City. The event is free to the public.

Oliver Arts Center
Join artist and sculptor K.W. Bell at 12:30pm for a special hosted tour of her exhibit
"Body of Works," featuring projects in clay, copper, metal, acrylic and watercolors at the Oliver Arts Center in Frankfort. The event is free and open to the public.

Michigan Legacy Art Park
Enjoy free admission all day and join a special guided tour at 2:30pm, followed by a social mixer for all artists and art lovers at nearby Iron Fish Distillery at 4:30. The collection features more than 40 major works of art and 31 poetry stones expressing the Michigan experience.

Locations and Other Info
Dennos Museum Center
1701 E. Front Street
(231) 995-1055,
www.DennosMuseum.org
Admission:Adults $6
Children (17 and under) $4
Children (3 and under), Museum Members, NMC Students & Faculty Free

Michigan Legacy Art Park
7300 Mountainside Drive, Thompsonville (at Crystal Mountain Resort)
231-378-4963
www.Michlegacyartpark.org
Admission: $5 per person, children free

Crooked Tree Art Center
322 Sixth Street, Traverse City
(231) 941-9488
www.crookedtree.org
Admission free

Walk of Art (picture above from Walk of Art)
920 S Bay Shore Drive, Elk Rapids
(231) 620-1633
www.artrapids.org/walk-of-art-main
Admission free

Oliver Art Center
132 Coast Guard Rd.
Frankfort
(231) 352-4151
www.oliverartcenterfrankfort.org
Admission free



Trending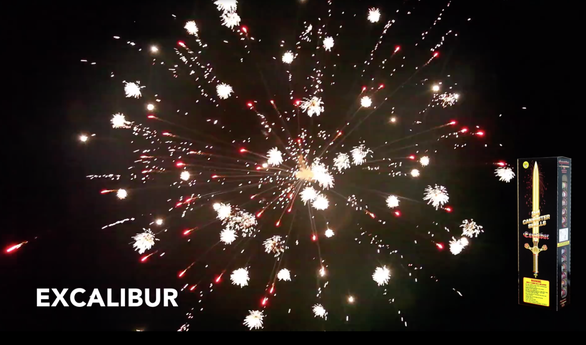 Big Boom Time for Home Fireworks
With social distancing sidelining most of the region's large fireworks shows, many enthusiasts are turning to their ...
Read More >>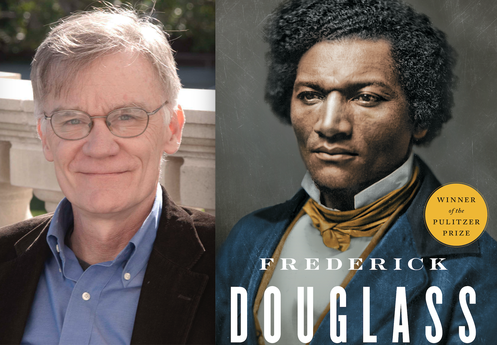 Required July 4 Reading: "Frederick Douglass: Prophet of Freedom"
Pulitzer Prize-winner David W. Blight will be the featured guest at the National Writers Series' online event 7pm Ju...
Read More >>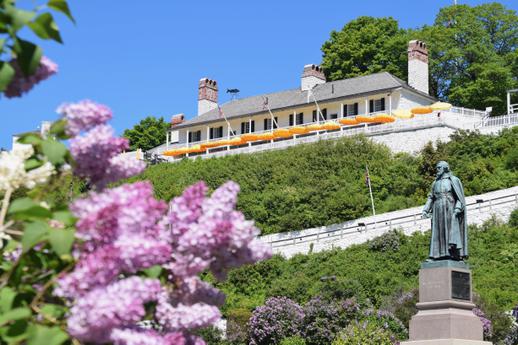 Mackinac Island, After the Shutdown
Mackinac Island — the four-square-mile spot Condé Nast readers named one of the best islands in the U.S. and ...
Read More >>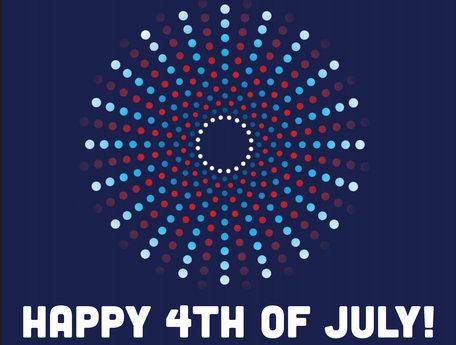 Events Around the North
As the COVID-19 pandemic forestalls festivals and large-scale gatherings, traditional Independence Day festivities have be...
Read More >>
↑