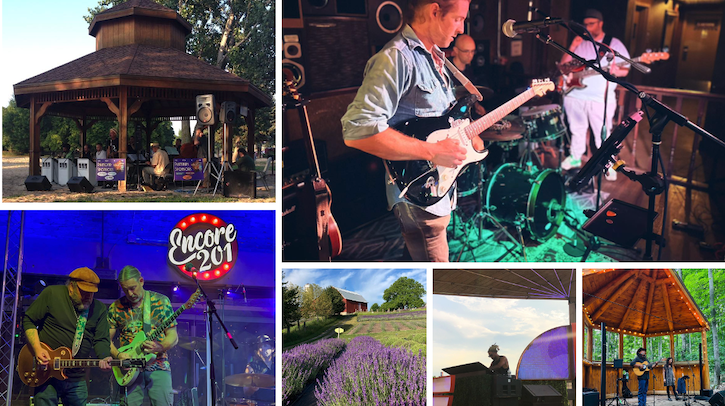 Live Music Haunts
Where to hear local and touring musicians around the North
Live music is abundant in northern Michigan, and with it plenty of places to sit back, relax, and enjoy with friends and strangers alike. From farms, parks, and beaches to wineries, bars, and clubs, there's an atmosphere for all. We've chosen a sampling of NoMi's coolest live music haunts to make the most of these fleeting summer days.
Scent-sational: Lavender Hill Farm, Boyne City
Immerse yourself in the purple waves (and soothing scents) of Lavender Hill Farm in Boyne City. Their live music series, simply called The Series, is held in a renovated 1920s barn, where local and traveling talent grace the stage every summer from June until September.
Some will remember the previous barn live music series at Aten Place, which had a rich history of live music that grew from a house concert and potluck dinner combo back in 1995. More dishes and more people began showing up, until 23 years and some 200 shows later when Lavender Hill Farm took over continuing the tradition at their farm.
The Series intentionally chooses a variety of musical performers that will give everyone something to look forward to. Upcoming acts include the Tom Petty tribute band The Insiders (Aug. 13), slide guitar expert Mark Lavengood and his band (Sept. 3), and Charlevoix-based Horton Creek Bluegrass (Sept. 4). Visit their website for tickets and more information at lavenderhillfarm.com/the-series.
Scenic: Bonobo Winery, Old Mission Peninsula
If you like a glass of wine paired with your jams, look no further than Bonobo in Traverse City. This Old Mission winery offers a bonus of vineyard and Grand Traverse Bay views while you tune in. The wine is grown and made on-site, made further appealing by having celebrity co-owner Amy Smart's name attached to it (Rat Race, anyone?).
Every Friday evening, a musician or DJ performs on the Bonobo patio. Musicians are Michigan-based and start playing around 5:30pm and wrap by 7:30pm. No tickets or cover fees, just good wine with friends. Coming soon, folk singer-songwriter Luke Woltanski (Aug. 12), the bluesey Sam & Bill (Aug. 19), and eclectic acoustic pop duo Rhett & John (Aug. 26).
Small plates and charcuterie are available to order while you sit back and sip. If you can't choose between red and white, tastings are $20 and fun, with a knowledgeable staff member to guide you. Check their website for their upcoming music lineup at bonobowinery.com/events-2.
Artsy: Michigan Legacy Art Park, Thompsonville
Located within woodlands near Crystal Mountain, Michigan Legacy Art Park (MLAP) makes for a magical outdoor music experience. This Benzie County treasure sits on a 30-acre preserve, and throughout the acreage are over 50 sculptures that mesmerize and educate, along with a trail system that allows visitors to see them up close.
Early on in the trail is an amphitheater where MLAP is currently hosting their Summer Sounds Concert Series. Every Friday night, a musician plays from 7pm to 9pm. The last show of the summer is this week on Aug. 12 with Hatchwing Rider, which brings a mix of Americana, rock, country, soul, and blues.
Early bird tickets are $10 and available on their website at michlegacyartpark.org/summer-sounds-2022, or at the door for $15. Kids 12 and under are free. Make a night of it by arriving early to explore the trail and bringing a picnic basket to the show. (Pro tip: Outdoor seating is rustic, so bring chair pads or blankets!)
Underground: Kilkenny's Irish Public House, Traverse City
Plenty of young (and young at heart) TC locals have fond memories of rocking out at a Kilkenny's show. This beloved watering hole is downstairs from North Peak Brewing Company, dimly lit, and has some of the most discerning doormen our team has ever met.
Join the fun every Saturday at 9:30pm for live music meant to make you jig (or, you know, just dance). The Four Horsemen (rock & roll) appear on Aug. 12, followed by One Hot Robot (dance grooves) on Aug. 26, and The OffBeat band (modern and classic rock) on Sept. 2.
Bands play until last call, so you can party almost all night until the bar closes at 2am. Check Kilkenny's Facebook page for updates on upcoming events and weekly drink specials. Noteworthy is Whiskey Wednesday, which offers half-off whiskey specials along with $3 pints; live music from local band The Pocket plays from 8pm until midnight. (And make sure to get some corned beef egg rolls before the kitchen closes.)
Waterside: Douglas Park at First Street Beach, Manistee
Manistee's ShoreLine ShowCase offers two of our favorite things in one place: great music and even better views of Lake Michigan. Musicians perform at the Rotary Gazebo on Tuesdays at 7pm, with a bonus of having the concert broadcast on 99.3FM for those listening from their cars, at home, or with a handheld radio with their toes in the sand.
Since its inaugural summer back in 2003, the showcase has grown to offer 11 weeks of free live music for the community. Lawn chairs, picnic blankets, and the perfectly-packed summer cooler are all encouraged, and when the show wraps around 9:15pm, you'll have an unbeatable sunset view.
On the schedule for the rest of August: the Grammy-award winning Paul Nelson band (Aug. 16) playing rock and blues; the Eat-It-Up Quartet featuring Ellie Martin (Aug. 23) with blues and jazz; and Duffy King Koalition (Aug. 30) that promises a mix of Latin, jazz, rock, and funk. Get more details at manisteeshorelineshowcase.org.
In the Club: Encore 201, Traverse City
Traverse City's newest event venue has an intimate, cocktail lounge feel. Encore 201 opened in March earlier this year above Sparks BBQ in downtown Traverse City. The night spot has a full bar with a craft cocktail menu that boasts classics and twists on favorites like their Flaming Margarita.
The venue has had a full calendar of events already, including comedy shows and DJ sets, as well as local, regional, and national music acts. Tickets are general admission with standing room alongside limited bar seating and several cocktail tables. (Prices usually run $5-$10 at the door.) The cozy setting paired with a clear sound system was created to give guests a memorable, quality listening experience.
The venue has already hosted a variety of local talent, including TC based bands like The Truetones, Soul Patch, and Drew Hale. Upcoming performers this month include rising sister-stars Phoebe and Jaclyn of the Keynote Sisters (Aug. 13), American Idol's Natan Walton (Aug. 19), and Cincinnati based Erin Coburn (Aug. 26). Buy tickets online or at the door. See the rest of their lineup at encore201.club.
Trending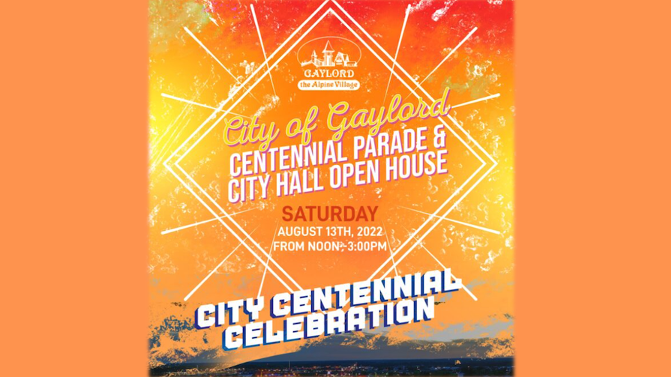 Centennial Celebration in Gaylord
The City of Gaylord is celebrating 100 years this weekend with a parade and City Hall open house. This celebration, just s...
Read More >>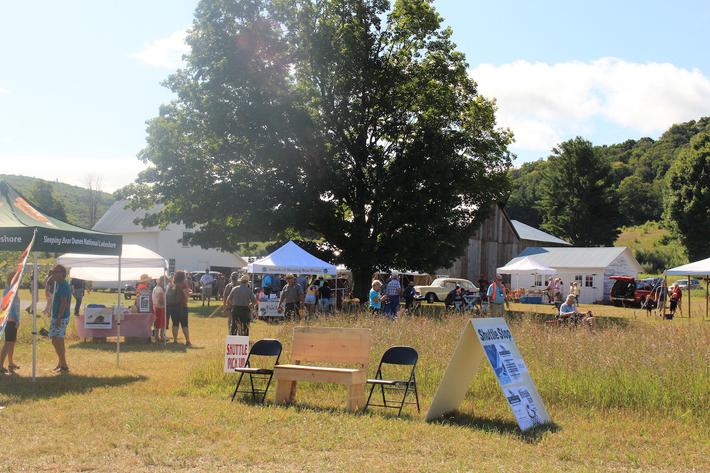 Life in the 1800s Comes Alive at Port Oneida Fair
Head to the Port Oneida Fair in the Rural Historic District of Sleeping Bear Dunes National Lakeshore to experience life a...
Read More >>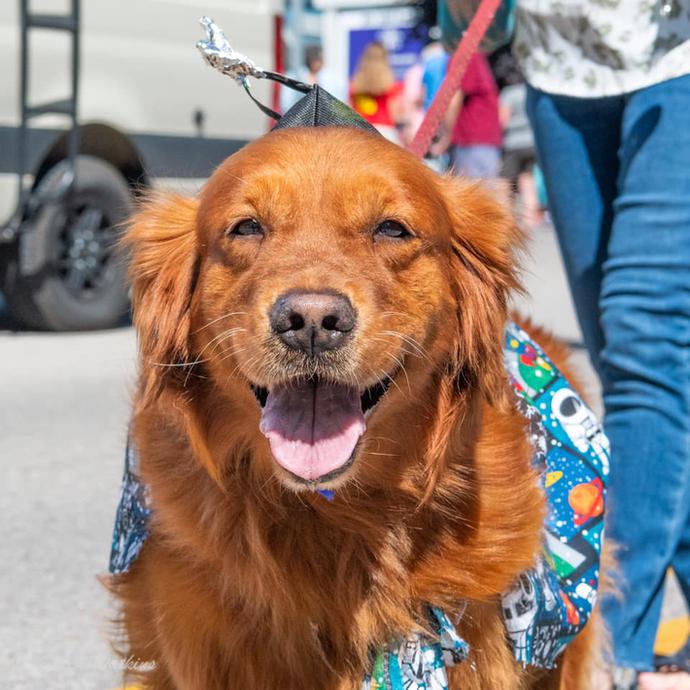 A Dog and Human Show: The Northport Dog Parade
We have three words for you: Northport Dog Parade. (If you really need more information than that, we suppose you can read...
Read More >>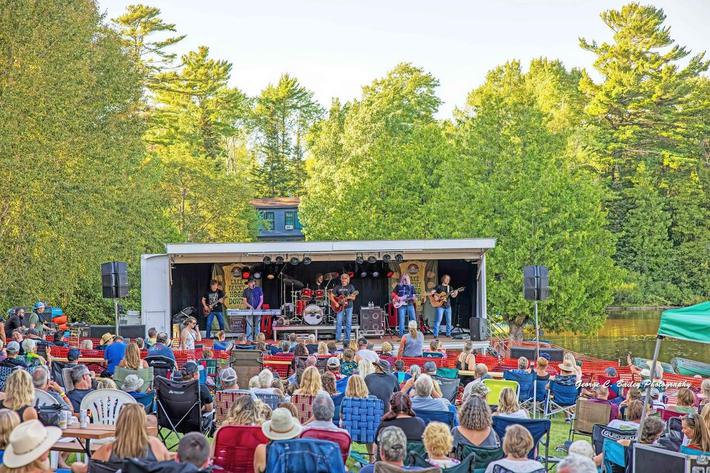 Following the Music
We wish we had infinite room in our Dates and Nitelife sections to alert you to every live music show in northern Michigan...
Read More >>