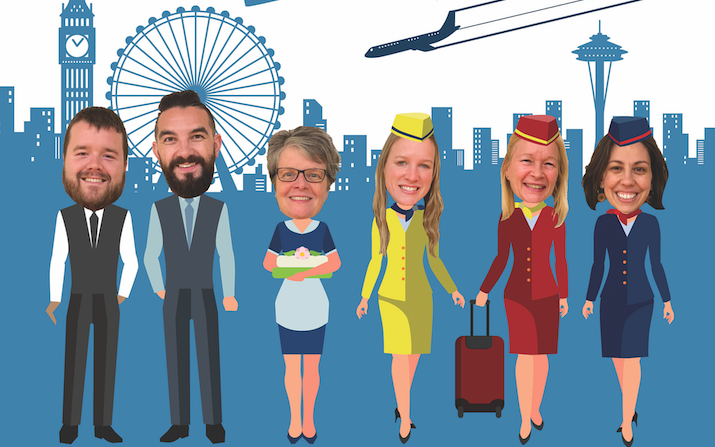 Live: on Stage
Your go-to theater guide for winter and beyond
From shows that have never been performed before to those that have stood the test of time, the region raises the red velvet curtain on an astonishing number of stage productions each winter. Make a date to unpeel from the couch and take in some ultra-high-definition (i.e., in-person) performances this season. There's a host of shows to choose from.
BAY HARBOR
Never before seen? Yes, and never again — that's the nature of improvisation, taken to extremes at Great Lakes Center for the Arts Jan. 18. "Broadway's Next Hit Musical" is an entirely improvised evening: half mock awards show, half musical. The cast from New York City takes audience suggestions for song titles, then chooses four at random. After they've made up and performed the songs, the audience chooses one, and the second half of the show becomes an insta-musical based around that song, with characters, plot, and dialogue all made up on the spot. For tickets, $22+, or more information, go to www.greatlakesCFA.org.
TRAVERSE CITY
Later this spring, the City Opera House will host the 2019–2020 Young Playwrights Festival. High school students from around the area submit one-act plays, and six finalists are chosen in February. The finalists are paired with national theater mentors, and their plays are produced and performed for the first time on the City Opera House stage April 19. Free.
Traverse City's Parallel 45 spent its first summer under the tent at the Grand Traverse County Civic Center and will do so again this summer. Before that, though, it will be working in partnership with Interlochen Center for the Arts on a residency program that runs for six weeks, from February through mid-March, culminating in a public performance at Interlochen's Harvey Theatre March 12–14. Tickets are free. In the spring of 2020, P45 artist Shelby Lewis will devise a new production based on L.M. Montgomery's book, "Anne of Green Gables."

The company will once again collaborate with Crooked Tree Arts Center to present a series of free play readings featuring daring playwrights produced around the country and the world.
This year's plays include The Thanksgiving Play by Larissa Fasthorse in February; Lungs by Duncan Macmillan in March; Admissions by Joshua Harmon in April; The Wolves by Sarah DeLappe and Dance Nation by Clare Baron, both in May. All except The Thanksgiving Play will take place Crooked Tree Arts Center on Sixth Street; The Thanksgiving Play will take place at Interlochen Center for the Arts and Glen Arbor Arts Center.

Before we get to all of that, Old Town Playhouse has a full slate of community theatre performances, starting with "Indecent," opening Jan. 17. A play within a play, it tells the story of the controversial Yiddish play "The God of Vengeance," which resulted in the original Broadway cast being charged with obscenity. It's followed by "Silent Sky – She Touched the Stars," about the Victorian-era astronomer Henrietta Leavitt's work at the Harvard Observatory. "Silent Sky" opens March 6. On April 24, "Chicago – Yeah, All That Jazz!" tells the tale of two rival murderesses in Cook County Jail during the Roaring Twenties. Tickets are $28 adults, $15 youth under 18.

Meanwhile, OTP's Studio Theatre will present "Love, Loss and What I Wore" in February, the aptly named "[title of show]" in April, and "A Doll's House, Part 2," the follow-up to Ibsen's classic play, in May. For tickets, $17+, or more information, go to www.oldtownplayhouse.com.
INTERLOCHEN
The student-directed One-Act Festival at Interlochen Center for the Arts features four performances Jan. 23–25. The always-impressive shows will feature 12 student-produced one-act plays — one lineup Jan. 23 and 25, and a second Jan. 24 and 25. The plays encompass comedy, drama, experimental theater, and more. Students manage every aspect of production, from selecting the scripts to casting and directing. Performances take place at Harvey Theatre and admission is free.

Also at Interlochen, the Q Brothers will be onstage at Corson for a show Feb. 18. The group takes familiar material and reimagines it in what it calls "add-RAP-tations," blending theatre classics with hip-hop rhymes to create original, fast-paced comedic performances, similar perhaps to Broadway hit "Hamilton" — though the group's work actually predates that blockbuster. The Q Brothers will present "Othello, the Remix" Feb. 18. For tickets ($28 adults, $14 students) or more information, go to www.interlochen.org.
BENZONIA
To the west, the Benzie County Players will perform their first show of the season, "Boeing Boeing," at the Mills Community House Jan. 24–27. It is a 1960s French slapstick comedy that has been adapted for the English-speaking stage. The 40-year-old community theater group is currently fundraising to cover the production costs of three shows annually, while also working to raise scholarship funding for local students, donate show proceeds to local charities, and hosting theater workshops. Tickets are available at the door: $12 for adults and $6 for students. To reserve tickets, to ask any questions, or to join the Players, call (231) 409-6686.
SCOTTVILLE
Further south still, West Shore Community College presents the ABBA musical Mamma Mia, opening Feb. 21. Tickets are $25 at www.mynorthtickets.com.
ROSCOMMON
Especially for the younger set, Kirtland Center for the Performing Arts in Roscommon will present "Chicken Dance: A Barnyard Musical" on March 6. The show tells the story of two barnyard chickens, Marge and Lola, on a mission to win the barnyard talent contest: two tickets to see the great Elvis Poultry in concert! But first, they must present a performance that will score higher than a flock of very talented ducks, led by Mac, who loves to play the bully.

It's followed in April by "Frindle!" a quirky, imaginative tale about creative thought and the power of words. For tickets ($4-$6) or more information, go to www.kirtlandcenter.com.
CADILLAC
The Cadillac Footliters will also present "Boeing Boeing." Show dates are Jan. 17-18 and 24–25. Junior Players will present "The Lion King Jr." April 3–4 and 10–11. For tickets, $10+, or more information, go to www.cadillacfootliters.com.
MANISTEE
The Manistee Civic Players will present "You Can't Take It With You" later this year. For tickets or more information, go to www.manisteecivicplayers.org.
LEELANAU
The Leelanau Players are looking forward to presenting several comedies by Alice Gerstenberg, including "Overtones." Performance dates have not yet been scheduled but will be posted on the group's (search "Leelanau Players") Facebook page.
NORTHPORT
In Northport, the annual Dinner Theatre at Tucker's of Northport will present "Cookin' With Gus," which opens Jan. 31, with additional dates Feb. 1, 2, 7, 8 & 9. Camera-shy Chef Augustine is trying to make a pilot for a TV show, amid threats from her agent, spells by her Gypsy neighbor, and her husband's attempts at hypnotism. For tickets, $60, call (231) 386-5001.
PETOSKEY
The Little Traverse Civic Theatre will perform "One Flew Over the Cuckoo's Nest" April 16–19 and 23–25 at Crooked Tree Arts Center in Petoskey. For tickets or more information, go to www.ltct.org.
For Your Summer Radar
It's a loooooong way off, but the promise of warmer weather includes the promise of more great theater:
• Parallel 45's schedule includes musicals "The Sound of Music" July 2-Aug. 1 and "Hedwig and the Angry Inch" July 22-Aug. 1, a fresh take on Arthur Miller's "The Crucible" July 16-July 25, and YouthQuake, a new project involving its apprentice company performing a new play for younger audiences, July 18-Aug. 2. Tickets start at $45 for "The Sound of Music," $38 for "Hedwig," $28 for "The Crucible" and $15 for Youthquake; go to www.parallel45.org.
• Also keep on your radar Interlochen's annual Shakespeare Festival the weekend before and after the Fourth of July, as well as touring groups and performances by its campers. Dates and ticket information will be released later this year.
• Lakeside Shakespeare in Frankfort will present "Julius Caesar and The Merry Wives of Windsor" July 21-26 and 28-31. A suggested donation of $15 is taken.
• The Glen Arbor Players will have two shows this summer, original plays "Tidal Shifts" and "My Weekend in the Catskills."
Trending
Pronouns 101
My first assignment in an online graduate-level class was to provide information about my background, including my pronoun...
Read More >>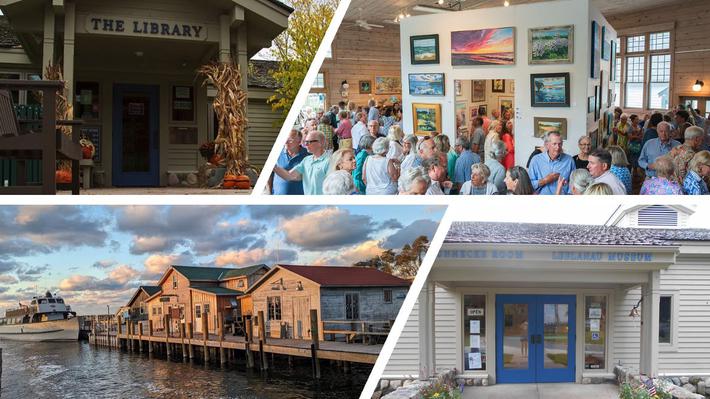 Collaboration Is the Name of the Game
How long does it take to create a cultural center? As few as three years, or as many as 170. Sometimes both. The organiza...
Read More >>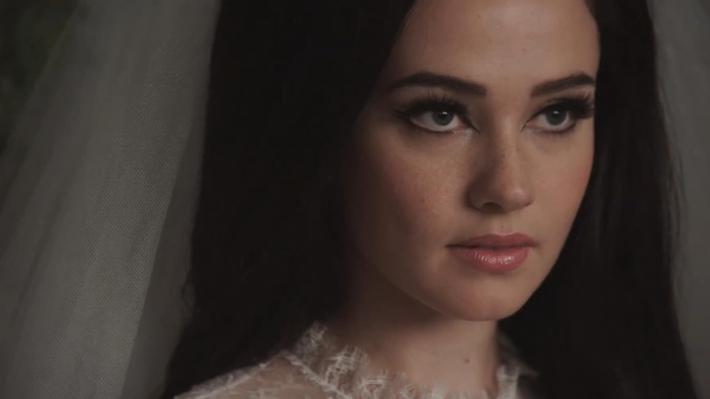 Film Review: Priscilla
While you will certainly be mesmerized by the haunting lead performance from newcomer Cailee Spaeny—and be impressed...
Read More >>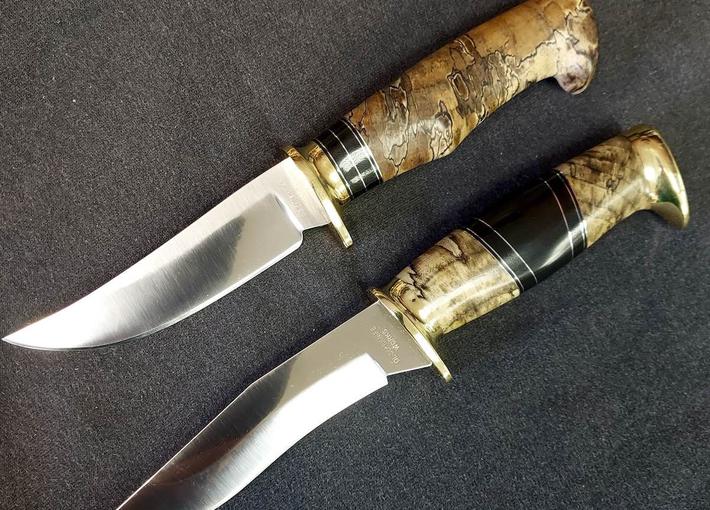 Bespoke Blades
What do you do with a battered ice skate, an old rubber puck, a cracked hockey stick, and a gob of tape? Pitch 'em, ...
Read More >>