Locals Gone National
The latest on some of northern Michigan's most talented musical exports
Many origin stories of famous musicians start with how they escaped their small-town roots to head for the big city, where they finally got the breaks they needed to become The Next Big Thing. Northern Michigan musicians aren't exempt from this trope. While our region is often thought of by musicians as a great place to retreat, write songs, and build a fan base, many NoMi born-or-bred performers have opted to chase their dreams in bigger ponds. Nevertheless, as we check in with five of northern Michigan's favorite musical exports, you'll see that for many, Up North is still a critical component in their work.

BILLY STRINGS
Billy Strings arrived in Traverse City a half-dozen years ago and quickly caused a buzz around himself for both his talent and his contrasts: a wealth of tattoos, a vintage-tinged voice, unfailingly polite media manners, and searing guitar abilities. Now, he's raising a ruckus in Nashville, where he's been tagged as a rapidly rising bluegrass star. In August 2017, Rolling Stone Country named him one of "10 New Country Artists You Need to Know."
Michigan Beginnings: Strings grew up in Ionia, Michigan, as William Apostol, learning guitar from his dad and only adopting the name Billy Strings when he moved Up North on a whim, snagging a job as a bellboy at the Grand Traverse Resort and playing music around town on his off-hours. As legend has it, one night he scrawled 'Billy Strings' on the open mic signup board at The Hayloft, and a stage name was born. A later collaboration with local mandolin guru Don Julin further expanded his growth as a musician. Even today, Strings has a longstanding fondness for the region that helped jumpstart his music career — even if he's outgrown it.

"I definitely escaped Ionia, but I escaped there to go to northern Michigan," he said. "I want to go back to Traverse City so bad. But now that I'm doing some things in Nashville, it seems more people might show up if I play back in Traverse City, and there's just not a music venue there that would really work there for me any more." The things he misses most? The beaches and the people. "The beach is so good for my mind and soul. I miss that so bad. And the people — well, they're really encouraging folks. Good people just out to hear good music."
Moving On: Strings left Michigan for Tennessee two-and-a-half years ago, after his musical partnership with Julin dissolved. "I'd lived in Michigan my entire life, and I quit my job to do music full-time, so I had to move along," Strings said. "I feel like I have a spirit that wants to travel. I'm not a fella who stays in one small place and wants that white picket fence sorta thing. This world is my home, and in reality, this world is really small, too. Plus I think putting yourself into a risky situation now and then is good for you sometimes. When I separated from the work I was doing with Don, sure, that was a risk, but he has a family, and he's tied to one place, and I'm not."
Today's Billy: This interview found Strings doing interviews from a "little room full of vending machines" at his hotel in Las Vegas, where he was on a tour stop to play the Bender Jamboree. "We're in Vegas having a rowdy weekend," Strings said with a chuckle. But it's Nashville that he calls home now. "Nashville is such a hub," he said. "There are some serious session pickers in the country and bluegrass realms there."
Currently promoting his first major solo album, Turmoil and Tinfoil, Strings is playing 200 gigs this year, all over the country. But in his off-hours… well, it's still all about the music for him. "Everybody in Nashville works in bands," he said, "whenever we're not on the road, we get together at my house in East Nashville, sit on my porch, and play music. I've even made friends with some of my heroes, people like Bryan Sutton and David Grier. It's amazing to me that I call them and say, 'Hey, come over and let's pick,' and they show up!" Next, it'll be a short break for Strings — eight days at a little lakeside cabin in Pennsylvania, where he's escaping for a week to start writing songs for his next album. "It's been difficult to find time to write as I'm on the road all the time," he said. "But I'm willing to play all of these gigs until we can afford to pull back. Sometimes you just have to put the time in, and I'm in it for the long haul. I'm really fortunate to be doing all this."
Listen to This: Featuring insane picking and those classic old-school vocals, Strings' performance of his single "Turmoil and Tinfoil" at Music City Roots is an authentic barnburner: https://tinyurl.com/y6u482ky
Find Him: billystrings.com


ANDREW STURTZ
Singer-songwriter Andrew Sturtz, whom you might've heard at the Traverse City Microbrew and Music Festival, is a rapidly growing name on the festival circuit and the Colorado music scene. On the former, he's been featured at events like the Arise Fest in Loveland, Colorado, and the Riverlights Festival in South Bend, Indiana; on the latter, he's held several popular residencies, garnering comparisons to the likes of Amos Lee and Martin Sexton.

Michigan Beginnings: Sturtz started playing music when he was just eight years old, mostly performing near Long Lake in his hometown of Traverse City. "One of the first places that gave me a chance to play live music for money was Boone's Long Lake Inn," Sturtz said. "I still try to head back there every summer." He found the best parts of playing music Up North to be the musical partnerships and friendships he made, and something that he defines as the "Michigan sound."
"The love is definitely felt," he said. "Further, ever since I've left, there is a clear distinction of Michigan folk music vs. other folk music. That very specific sound makes me miss the area every day."
Moving On: In October 2012, Sturtz moved away from Traverse City to Chicago, with the aim of playing his music to larger audiences and garnering more traction. "I felt I was playing too much background music at the venues that I played, and I wanted to branch out to venues with more focus on the artist," Sturtz said. "That's not northern Michigan's fault — moving was just how I knew I could force myself to change direction. Although I do think the community still needs more venues that tailor their vibe to a 'listening room' environment."
After leaving northern Michigan, however, Sturtz found that starting out in a huge city with no connections proved challenging. "It caused a huge inspiration loss and a lot of self-doubt," Sturtz said. "I soon decided I wanted to get a little further away from city life." His next destination (and current home), Boulder, Colorado, offered him close proximity to Denver and its music scene.
Today's Andrew: That move proved to be a good choice; one of Sturtz's proudest musical achievements to date was opening up for the Grammy-nominated The Secret Sisters, at Swallow Hill in Denver. "We played to over 200 people, and it was amazing," Sturtz said. He also submitted a video this past March to the NPR Tiny Desk performance contest with his girlfriend, Courtlyn Carpenter, on cello. Most recently, he's been writing new music, has invested in new recording equipment, and has been working on recording and producing his new album, adding in new instrumentation to older tracks as well. "It is definitely not an easy way to go about it, but I'm always excited for the challenge and for the finished product," he said.

Listen to This: Check out Sturtz's affecting performance of "Southern Night" at Boulder in the Round, during which his fluid vocals are complemented perfectly by his collaborators: https://tinyurl.com/yaoxouxb.

Find Him: www.sturtzmusic.com

MICHIGAN RATTLERS
Michigan Rattlers — Adam Young, Graham Reed, and newest member Christian Wilder — landed in Los Angeles after leaving Michigan, and quickly got the attention of producer Johnny K (3 Doors Down), cutting an EP at NRG Studios in just a single day. Rolling Stone, No Depression, and ABC News are just a few of the media outlets already throwing kudos at the band.

Michigan Beginnings: All three musicians grew up in Petoskey, graduated from Petoskey High School, and had started gigging in their youth. "Our first performances together were almost 10 years ago, back before we could even drive," Adam Reed said. At first, they played mostly rock 'n' roll cover sets. Later, they snagged some performance opportunities through the Petoskey Steel Drum Band. "That was really our first experience traveling and getting paid to play music," he said. "The best thing about Petoskey was that there was always a place to play, especially in the summertime. I suppose one might struggle with playing the same small markets over and over, but I also know people up here who love that about their careers."
Moving On: Young and Reed (Wilder joined the band later) initially moved out of Michigan to attend college. "For those years, we only got together Up North for shows a couple of times a year, but I always looked forward to that," Young said. "I think we always assumed we would make a run at a recording/touring career together, so one day we just packed up the car and went for it."
Reed had moved to Los Angeles by the time Young had graduated, so Young followed. "After spending my entire life in small-town Michigan and then small-town Ohio (for college), I craved something vastly different, and that's definitely what I got," Young said. California, he added, often makes him feel like he's in "some whole other country. But living in L.A. has afforded us opportunities we likely would have never gotten back home. On top of that, feeling like an outsider has a way of making you more proud of your roots, and I'm sure that comes through in our music."
Today's Rattlers: "It's been incredible to watch our music get real traction in cities around the country," Young said. "Returning to a town for the second or third time and seeing ticket sales go up and up each time feels like success." Earlier this year, the Rattlers recorded their first full-length album in Chicago, with plans to release the set early this summer. "Until then we'll be touring and playing music festivals, including Bonnaroo, Electric Forest, and Firefly," Young said. "We actually just announced a string of shows in our home state — Ferndale, Grand Rapids, Kalamazoo, and Lansing — at the end of May, and we're working on tacking on some up north shows too."

Listen to This: The wistful yet rollicking Jayhawks-esque single "Time to Move On" showcases why these guys are getting so much attention: https://tinyurl.com/yd7g2yxs.
Find Them: michiganrattlers.com

LINDSAY LOU AND THE FLATBELLYS
From even farther up north hails Lindsay Lou, who with her band, The Flatbellys has expanded right out of Michigan entirely thanks to her catchy "soulgrass" tunes and round after round of infectious live performances.
Michigan Beginnings: Lou started singing early on, due to being surrounded by a musical family based in Kingsford, in Michigan's Upper Peninsula. "Writing, piano, and guitar came not long after that," she said. "And if you can believe it, I was a ham, so I've been 'performing' for a long time, too." Her first official gig, she said, has slipped out of memory, "but I bet it was a wedding, or a party for a women's club of some kind." From there, she traveled all over the state playing music, hitting particular popularity in the East Lansing area, where she found the music community unlike anywhere else she's been. "The Earthwork Music Collective was the best thing. And Billy Strings. And The Crane Wives," she said. "Michigan is home, and it's full of family who inspire me. Still, it's good to get out and see what's going on in the world outside one's backyard."

Moving On: Lou and the rest of her band moved to Nashville three years ago; bass player PJ had already made the move prior. "I also have many other friends there who I feel fortunate to share the neighborhood with," she said. "I'm always writing, and moving to Nashville was revolutionary to me on the songwriting front. Just to be so near so many ultra-talented music makers has moved me into a more regular practice, which is exactly what I wanted."
She continues touring, as well, and she's found that playing music in so many different destinations is something that really continues to stoke her career growth. "Telluride was pretty spectacular," she said. "So were Australia and Shetland. The road is a labor of love and something to behold. Not to mention the understanding of the love we continue to foster."
Today's Lou: Lou's latest album, Southland, is getting plenty of kudos from critics, including one who called her the new Amy Winehouse and her band the new Punch Brothers. The current tour schedule for Lou and her band is keeping them on the road all summer — including stops at the Aiken Bluegrass Festival in Ohio, the Blue Ox Music Festival in Wisconsin, and the famed Floyd Fest in Floyd, Virginia — then it's back onto the bus in December for a tour through Mexico. In the meantime, she tries to squeeze in collaborative projects with her Nashville neighbors whenever she can, and she already has a whole new batch of tunes ready for recording. Well, as soon as she gets the chance to. "We'll be touring on Southland for the next year, though," she said.
Listen to This: While Lou has plenty of great originals, sometimes the best introduction to a new musician arrives through a standout cover version — in this case, it's Lou and the band's rootsy take on No Doubt's "Just a Girl": https://tinyurl.com/ydxq9jww.

Find Them: lindsayloumusic.com

TRAVIS HARRETT
Travis Harrett made a name for himself around Traverse City, playing pretty much every rock venue in the area over the course of a decade, but northern Michigan proved too tame for the ambitious, gritty drummer and his over-the-top personality.
Michigan Beginnings: Harrett grew up in Elk Rapids, and started playing drums in junior high school, joining up with a range of Traverse City bands. "I would play house parties, or events like the annual Elk Rapids Fireman's Jam and the annual Traverse City High School Battle of the Bands," Harrett said. Throughout the '90s, he lived in Traverse City, playing weekly gigs around the state and occasionally playing national tours.

Moving On: As Harrett continued on with his drumming, he found that local interest in the projects he was involved with was dwindling. "The well-attended gigs I enjoyed playing in the early '90s became under-attended gigs that I didn't enjoy playing by the late '90s," he said. "I had friends who were having musical success in Detroit. They didn't have to try very hard to talk me into moving. I moved to Detroit in November of '99." After relocating, he headed out on tour. "For most of the 2000s, I lived in a van, out on the road playing drums with three different bands," he said. He ended up playing gigs in 46 of the 50 states, and touring Europe a dozen times. "I made friends with great people from around the world through music," Harrett added. "My greatest success was realizing my dream of traveling the world with a band." Whitey Morgan and the '78s, and Bloodshot Records performers the Deadstring Brothers are just a couple of the acts that Harrett has worked with.
Today's Travis: At the moment, the drummer — who's known for his entertainer persona on the road (if you ever meet him, ask about the time he got his boot stuck up on the roof of a gas station while on tour with Morgan) — is sticking close to D-town, wrapping up work on his current band's third album, for which he serves as frontman, singer, songwriter, and guitar player. "It's an old-school country band called The My Ways," Harrett said. "We've been playing gigs around Michigan this past year, and we're more than halfway finished with the record. I'm hoping for a 2018 summer release."

Listen to This: Single "Detroit City" encapsulates the blending of Harrett's northern Michigan roots with his new band's urban-country sensibilities: https://tinyurl.com/ydzy9m5v.
Find Him: reverbnation.com/themyways4 and facebook.com/themyways
Trending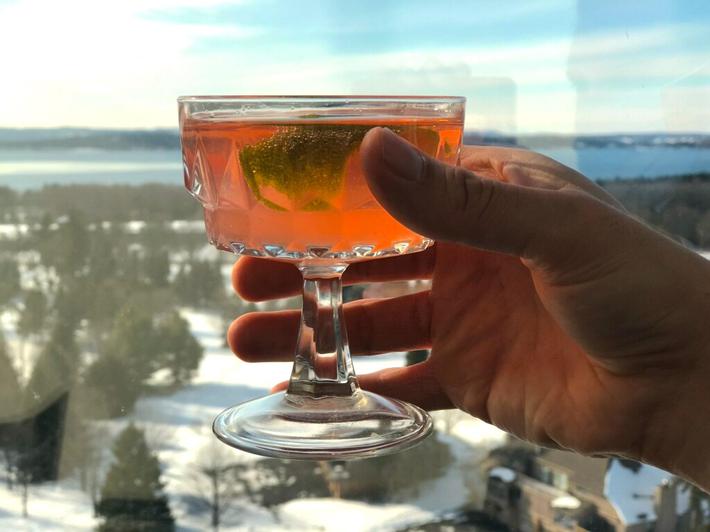 Tiny Pink Bubbles
Hey, ladies, do we have the pink drink for you: Aerie's Tiny Pink Bubbles. With a taste and body as delicious as its...
Read More >>
The Power of Our Example
Every new president faces a daunting array of problems, but 2021 will go down in the history books: Our country is under s...
Read More >>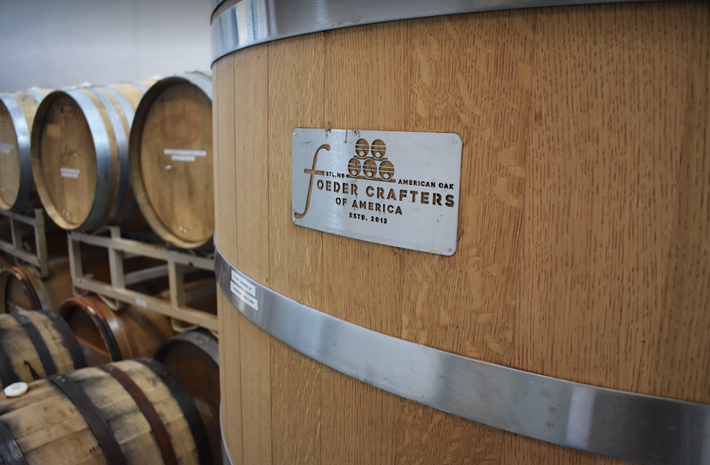 Getting Wild with the Foeder
Drinkers with a discerning eye may have noticed a couple interesting-looking wooden containers in the back of Traverse Cit...
Read More >>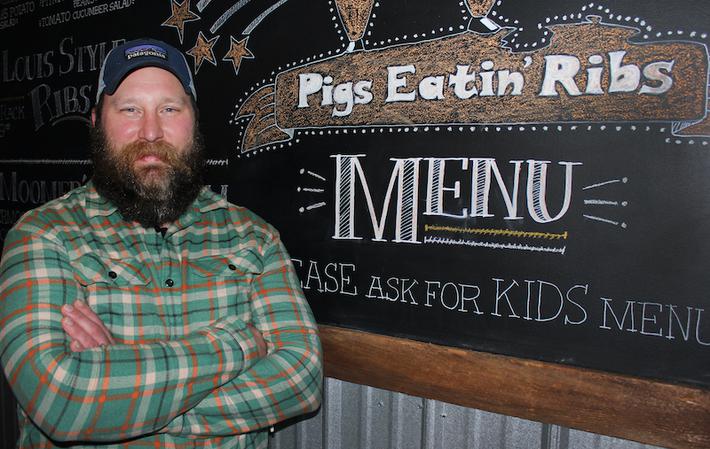 Charlevoix's Pigs Eatin' Ribs
By 2008, Charlevoix Chef Adam Kline had seen and tasted enough. The Northern Michigan food scene had stagnated, he said, i...
Read More >>
↑