Eat Your Way from Mackinaw to Manistee: Summer's Restaurant Road
Your summer dining bucket list of must-visit classic restaurants
The 150-mile section of US-31 that stretches from Mackinaw to Manistee is one of the most scenic and historically interesting routes you'll find anywhere. And our warm-weather months are a great time to experience its timeless allure. Winding through forests and fields, along the Lake Michigan shoreline and past rivers, streams and inland lakes, this rural undivided highway is also dotted with charming towns and villages that boast many of the same attractions that have drawn visitors to them for over a century, as well as modern enhancements that have revitalized them.
In 1932, the recently established Michigan Tourist and Resort Association (later renamed the West Michigan Tourist Association) touted West Michigan as "The Playground of a Nation." And indeed, whatever your idea of the perfect "playground" is, you'll almost certainly find it here: beaches, lighthouses, marinas, golf courses, fishing and boating, hiking and biking trails, campgrounds, wineries and breweries, museums and art galleries, lovingly restored movie theaters, annual outdoor festivals, and lively downtown shopping districts.
That said, at some point before or after "playing," you'll want to eat — and chances are, you'd like that to be a memorable local experience, too. Lucky for you — especially in this day and age when restaurants seem to appear and disappear like the sun popping in and out of fluffy cumulus clouds on a Northern Michigan summer's day — some of our region's most classic eateries are still alive and well. They have not only survived, but thrived though the ups and downs of the economy, evolving culinary trends, and society's changing tastes. So come along and discover, or perhaps rediscover, some of these enduring local gems …
The Straits to Petoskey
The Mackinac Bridge opened to great fanfare in 1956, and the Mackinaw City restaurant that later became Audie's opened that same year. US-31 reached all the way to the bridge and beyond then, but later, its northern end was moved to just south of town, intersecting with I-75. Audie's huge menu highlights freshwater fish (eight different preparations of whitefish!), which is not surprising, given its immediate proximity to two of the five Great Lakes — but there is a wide array of other choices as well, in intentionally distinct dining areas.
The rustic "up north" lodge décor extends from the Native American-themed, casual fine dining Chippewa Room (oysters Rockefeller, Hunter's elk with mushrooms, onions and pepper), to the informal Family Room (breakfast treats like the Sportsman's special with New York Strip and eggs, Audie's "secret recipe" pancakes; lunch entrées like the half-pound Angus chili and cheddar dog, New Orleans chicken), and the hunting-themed Welcome Lounge (cocktails, beer, wine and a separate smaller menu).
Home cooking is a tradition here, also with breads, pastries, pies and desserts (hot fudge cream puff, strawberry shortcake). You won't go away hungry! Nearby: Colonial Fort Michilimackinac, ferries to Mackinac Island, boat tours on the Straits of Mackinac, Historic Mill Creek Discovery Park, Headlands International Dark Sky Park.
We've barely begun our US-31 dining adventure and already we're taking you on a short detour at the intersection of M-119, just outside of Petoskey to the north — but The New York restaurant in Harbor Springs is well worth those few extra miles. Housed in a stately red brick building across from picturesque Little Traverse Bay, The New York is continuing a legacy of hospitality that began there with a hotel, bar and restaurant in 1904. Its present configuration dates back to 1977. Guests today are treated to creative, sophisticated appetizers and entrées (smoked whitefish ravioli, veal roulades, braised lamb shank) prepared with seasonal and local ingredients, a vast wine and spirits selection (New and Old World reds and whites, single malt whiskey flights), and decadent house-made desserts (bumpy cake, dried cherry bread pudding), all served by professionally trained staff in an elegant, yet relaxed atmosphere. Nearby: Boyne Highlands, Zorn Park, Tunnel of Trees, Thorn Swift Nature Preserve, Pond Hill Farm, Lyric Theatre
Back in Petoskey, we head to the City Park Grill in the historic Gaslight District. The building began life in 1875 as an all-male billiard hall serving "intoxicating beverages." Over the next century, a restaurant was added, and it went through several name changes leading up to the present appellation in 1997, which came with new owners and a complete renovation.
Today, the mahogany bar where Ernest Hemingway used to sit and write during the 1920s (his picture now hangs above it) has been restored to its former glory, along with the tin ceiling and the rest of the interior. The current menu lists several intriguing selections (smoked pork poutine, steak on a stick, Creole gumbo, house-made meatloaf with wild mushroom-bleu cheese gravy and truffled mashed potatoes) complemented by a beverage menu on which Michigan beers and white wines are well represented. Nearby: Bayfront Park, Bay View Music Festival, Crooked Tree Arts Center, Petoskey State Park, Odawa Casino, Bay Harbor
Charlevoix to Interlochen
Following US-31 from Petoskey seventeen miles to the south, much of the way hugging the Lake Michigan shoreline, we reach the lovely harbor town of Charlevoix, nestled between Lake Michigan and Lake Charlevoix. There, overlooking the Pine River Channel, right next to the town's iconic drawbridge, the Weathervane restaurant was built on the site of an old 19th century grist mill in the mid-1950s and soon became a local landmark.
One of several properties belonging to the legendary Northern Michigan restaurant group Stafford's Hospitality, it is a must stop for lunch and dinner year round, but especially in summer when the outdoor dining deck beckons. The Weathervane's main menu focuses on regional cuisine (Great Lakes chowder, oak-planked whitefish, Belvedere chicken salad croissant sandwich, baby back ribs) and Stafford's signature desserts (cherry- praline ice cream, peanut butter pie). Nearby: Beaver Island Ferry, summer concerts in East Park, Earl Young's "Mushroom Houses," Castle Farms, Michigan Beach Lighthouse, Ironton Ferry
Another 50 miles down the road in Traverse City, Sleder's Family Tavern, established in 1882 (one the oldest continuously operated taverns in Michigan) awaits with several house specialties (lightly dusted and deep-fried Canadian smelt, the Royal Reuben sandwich, an Oleson's Farm buffalo burger with Swiss cheese and grilled onions, cherry-barbecued chicken), which customers savor while seated in wooden booths or at the original 21-foot long bar, surrounded by antique lamps, vintage photographs, and other memorabilia, including the stuffed and mounted heads of various species of wild game, most notably Randolph the Moose, who presides over the scene from his post at the back of the dining room. Giving Randolph a kiss is supposed to bring luck. Nearby: Tall Ship Manitou, Village at Grand Traverse Commons, TART Trail (hiking and biking), State and Bijou Theatres, Clinch Park Beach and Marina, City Opera House, Old Town Playhouse, Dennos Museum Center, Traverse Wine Coast
US-31 goes inland for a bit at this point, and yet another — very small — detour off US-31 onto M-137 in Interlochen brings us to the Hofbrau Steakhouse & American Grill, which was simply the Hofbrau from its inception in 1950 until 2016, when the Hofbräuhaus in Munich, Germany declared a trademark infringement and demanded a change. What hasn't changed is the restaurant's popularity among locals and visitors, a good percentage of whom are either students or families of students at the Interlochen Arts Academy or concertgoers for the institution's annual Arts Festival. The all-you-can-eat Sunday Brunch always attracts a large crowd for the generous buffet (prime rib carving station, made-to order waffles and omelettes, pastries, cheese platter, and more). Standout dishes on the weekly menu (char-grilled cuts of steaks and ribs, homemade pizzas, whitefish, yellow perch) are equally appreciated by the Hofbrau's enthusiastic clientele. Add 52 beers on tap, as well as a large wine and spirits selection, and it's no wonder this place has been packing 'em in for almost 70 years. Nearby: the world-renowned Interlochen Center for the Arts
Frankfort to Manistee
Back on the main highway, the route leads west, back toward Lake Michigan – and yes, just one more little detour, via M-115 to Frankfort — where Dinghy's Restaurant & Bar has been holding court behind an unassuming brick-and-glass storefront on Main Street for the nearly a quarter century. Inside, a nautical theme pays homage the ferry boats that plied the Great Lakes from Frankfort for 90 years.
Local fishing traditions are also honored, as witnessed by the world-record winning brown trout pulled out of adjacent Betsie Bay that is proudly displayed behind the well-stocked bar (avid fisherman Hemingway would have liked that parallel to his framed photo up at Petoskey's City Park Grill). Anything besides scratch cooking is non-negotiable in this kitchen and on this menu, which offers seven varieties of house-smoked meats (ribs, pulled pork BBQ, shaved tri-tip sirloin, chicken halves, turkey legs, chicken wings and andouille sausage). Other standouts show up as appetizers (Dinghy's "famous" onion blossom), handhelds (smoked chicken cherry wrap), Mexican dishes (Betsie Bay burrito) and mains (Kobe sirloin). Nearby: Point Betsie Lighthouse, Elizabeth Lane Oliver Center for the Arts, Garden Theater, Arcadia Bluffs Overlook Trail
The last stop on our US-31 northern corridor tour is a restaurant that has only been around for five years. However, due to its owners' rehabilitation of the crumbling Victorian-era building in which it was would be housed and their stated intention to have its resurrection make a positive impact on Manistee's downtown business district, the Bluefish Kitchen & Bar could be destined to become a new classic.

What once was a ruin is now a beautifully restored, high-ceilinged, brick-walled restaurant reminiscent of a French brasserie, serving thoughtfully sourced and artfully prepared lunches (smoked salmon melt, BLT croissant), appetizers (artisan cheese plate, sausage trio plate), and dinner items (Firehouse ribeye with harvest hash, champagne chicken with parmesan risotto), as well as weekend brunch (apple-goat French toast, pan seared pork belly and eggs), along with a carefully curated list of wines, craft beers and cocktails to match. Dessert is literally the frosting on the cake (fruit-topped cheesecake, vanilla bean crème brûlée), as is an inviting riverfront dining deck for boat watching extraordinaire. Nearby: Ramsdell Regional Center for the Arts, Vogue Theatre, Riverwalk, SS City of Milwaukee/USCGC Acacia, Historical Museum
GET THERE
Audie's
314 Nicolet Street, Mackinaw City
(231) 436-5744
audies.com
The New York
101 State Street, Harbor Springs
(231) 526-1904
thenewyork.com
City Park Grill
432 East Lake Street, Petoskey
Phone: (231) 347-0101
cityparkgrill.com
The Weathervane
106 Pine River Lane, Charlevoix
(231) 547-4311
weathervane@staffords.com
Sleder's Family Tavern
717 Randolph Street, Traverse City
(231) 947-9213
sleders.com
Hofbrau Steak House & American Grill
2784 M-137, Interlochen
(231) 276-6979
hofbrausteakhouse.com
Dinghy's Restaurant & Bar
415 Main Street, Frankfort
(231) 352-4702
dinghysrestaurant.com
Bluefish Kitchen + Bar
312 River Street, Manistee
(231) 887-4188
bluefishkitchenbar.com
Trending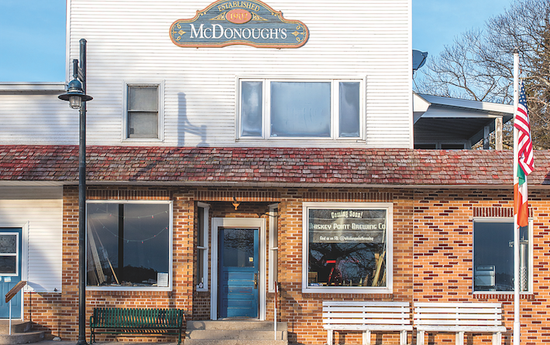 Welcome to Michigan's Most Remote Brewery
After years of planning and honing his beer-making skills, this spring, Patrick McGinnity plans to open Beaver Island&rsqu...
Read More >>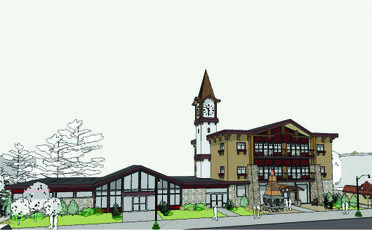 Gaylord: A boomtown Up North
Gaylord native Gary Scott had moved to Indiana, where he and some partners started a business to invest in distressed prop...
Read More >>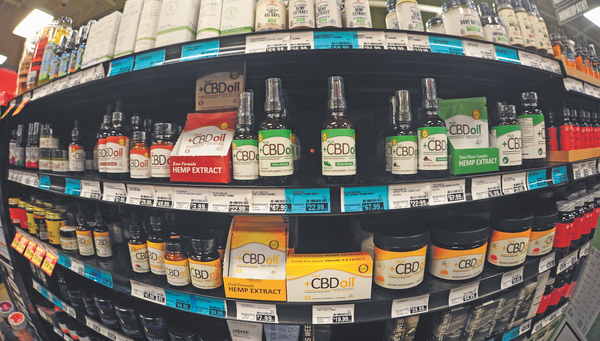 CBD Laws: Dazed and Confused
The sign outside of Family Video in Kalkaska lets drivers know the store has more than just movies. The sign reads: &...
Read More >>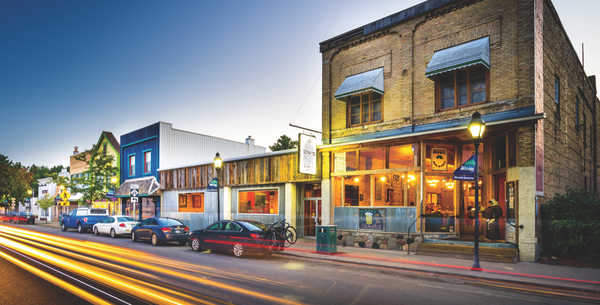 Small Up North Towns on the Rise
Spotlight on Bellaire (pictured)Seems Traverse City isn't the only place in the region making those "Best...
Read More >>
↑