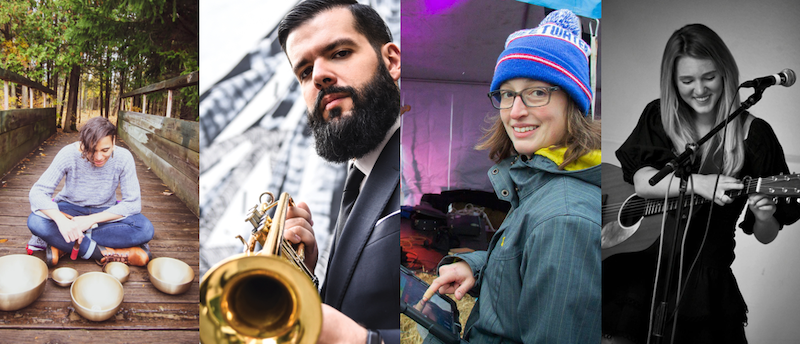 Making Sound Waves
Meet four of NoMi's music influencers
Good Vibrations: Courtney Wiggins
Music is many things to many people. Hip hop, jazz, rock, classical, folk…the style doesn't matter in the long run. It's all about how music affects people.
That's what attracted Courtney Wiggins to vibrational sound therapy, using the vibrations of singing bowls to encourage relaxation and wellness, a practice that dates back thousands of years.
Wiggins says all of us are vibrating at different frequencies, and the therapy is designed to interact with those vibrations to retrain the brain. The bowls are placed at various points on the client's body, and Wiggins uses mallets to strike them or runs a hand or finger around the rim, much like how wine glasses or goblets can produce tones.
"When the body relaxes is when the cells have the opportunity to repair themselves," Wiggins says. "Society is so busy. People are stressed out because their bodies don't have the opportunity to relax and repair. You soothe a child by patting on the back. Sound and vibrations help put wee ones to sleep. Think of humming or a cat purring." And the vibrations go both ways: "As a practitioner, I get to experience healing for myself."
Wiggins offers sessions and sound baths at their office or client's homes and public events. "I also collaborate with New Moon Yoga Collaborative providing sound baths during a monthly Yin+Reiki+Sound Immersion class and during a monthly Wild Women Circle event."
Wiggins is also the co-founder of Northern Michigan E3, a non-profit devoted to celebrating and welcoming diversity and equity for residents and visitors, and was named the Sara Hardy Humanitarian Award recipient for 2022.
Jazz Hands: Josh Lawrence
Trumpeter Josh Lawrence has logged time recording and performing with the cream of the jazz crop in Philadelphia and New York, toured with the Hot Sardines and Seal, and even led his own bands. He's been called a "preeminent voice among young composers" by the revered jazz magazine Downbeat.
Newest to his resume: Director of Jazz Studies at Interlochen Center for the Arts. It was his busy performance schedule that made him realize what he really wanted to do: everything—on stage and in the studio and classroom. "While touring I gave up teaching. I realized I missed it," he says.
Previously, Lawrence had taught at University of the Arts, Drexel University, and the creative music program at the Kimmel Center for the Performing Arts, all in Philadelphia. But as an adjunct faculty member, he didn't have a voice in the direction of the curriculum. So he applied for and was selected as the director of jazz studies at Interlochen Center for the Arts last May.
What's it like? "This is my first summer camp," he says. "It's intense. I have 60 kids, compared to 15 in the academy. It's like a real job."
Jokes aside, Lawrence says he isn't conceding anything or making any compromises with the performing half of his career. "I'm not stopping what I'm doing. I still go on tours [and] record." The difference is now he has what he calls a music lab. He plans to immerse students in the music business, from performing to writing and arranging, even taking them on the road while promoting the program within the greater jazz community.
Backstage Maestro: Maria Ulrich
Maria Ulrich is one of those people you don't see or hear at a concert, but she's the reason you hear anything at all. The owner of Leelanau Sound, Ulrich provides the audio equipment and engineering for events here in northern Michigan, from Milliken Auditorium to Parallel 45, even weddings and receptions. She's worked her auditory magic as far afield as San Diego and Chicago and toured with bands such as The Accidentals.
Despite those experiences, she's excited about running her business from Traverse City. "I love to travel, but this is home. Never did I think I'd be able to move back here and do sound, but with the growth [in the business], I can live and work here," she says.
The Traverse City West graduate enjoyed music in high school, but that was as far as it went at first. "I loved live shows. But I had no desire to be onstage," Ulrich says. Running the soundboard appealed to her nature. "I'm a helper. I thought, 'Hey, I can probably do that.' When I decided I wanted to get into sound, I didn't want to stop."
Of course, when the pandemic struck, everybody stopped. "All my work disappeared. In 2020, I had hardly any gigs—a few outdoor church services and a small wedding where everyone could quarantine on the property for two weeks beforehand."
Things slowly got back to normal, or at least approaching that. "Last summer I worked for Parallel 45 Theatre company, which was nice because it was working with the same bubble of people the whole time. This summer, I would say I'm almost back to the number of events I had pre-pandemic."
Sing a Song: Kanin Elizabeth
Kanin Elizabeth's "Torch Lake Breeze" came to the attention of the Pure Michigan campaign last year, which promoted it as part of a 2021 summer playlist. And for any of us who've made one of those instant summer friendships out on the water or around a campfire, Elizabeth's words ring true:
"It was a Torch Lake breeze that brought you to me / And when the summer's over, you and I will still be friends / I will count down the days until we meet again"
The 16-year-old Lansing native spends a lot of time at her family home on Torch Lake and performing around the area. She's been involved with music since she was a child. "We listened to music rather than [watching] TV," Elizabeth says, calling herself "that kid who sang along with every song."
Eventually that led to her own songwriting. "Playing music was a lot easier. I started writing to see how I could get better at music. I just keep doing it. I've gotten better and better," she says.
Elizabeth got her start performing at the Alden Bar at age nine. She quickly moved up the ranks, recording four indie-pop originals early this year in Los Angeles with producer and Elton John bassist Matt Bissonette, his brother Gregg Bissonette (David Lee Roth, Maynard Ferguson, Ringo Starr), and Jim Cox (Mark Knopfler, Aerosmith).
All recording happened under the watchful eye of Jay Gilbert, an industry executive who created online marketing plans for the likes of Nirvana, The Police, KISS, Jimi Hendrix, Johnny Cash, and many others. He's co-founder of L.A.'s Label Logic, an agency focused on digital strategies and mentoring artists such as Elizabeth.
This summer, she's performing across the region at Lake Ann Brewery, Crystal Mountain, Shanty Creek, Lavender Hill Farm, Short's, and other venues.
Trending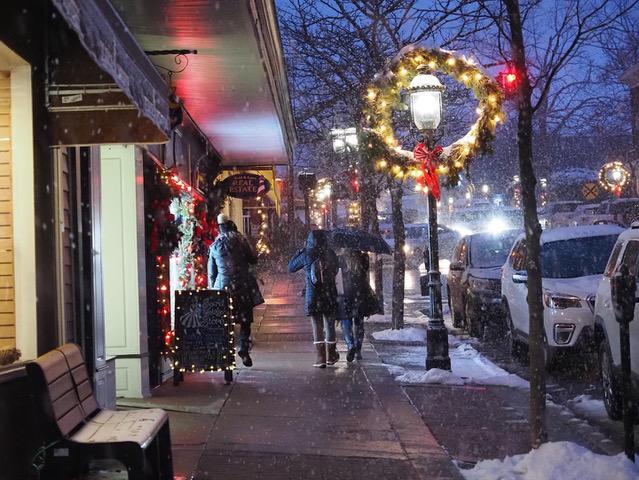 Jump Start Holiday Shopping
Downtown Petoskey hosts their Holiday Open House on Friday, Dec. 2, from 6-9pm as Santa flies into town to light the giant...
Read More >>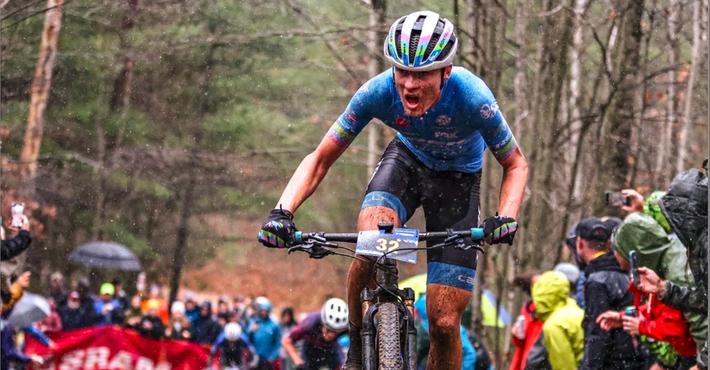 A New Gear
If last week's snow made you think the two-wheeling season is over, think again. Tuesday, Nov. 29, is the official l...
Read More >>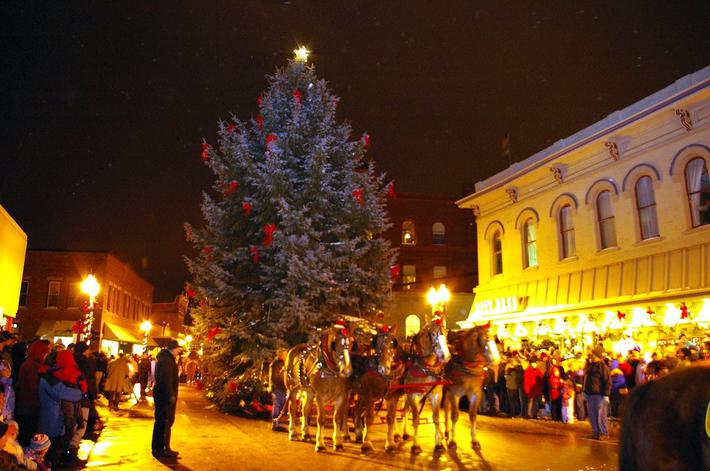 Jingle All the Way to Manistee
The town of Manistee is going into full holiday mode—and going back in time—this weekend. Friday, Dec. 2, the ...
Read More >>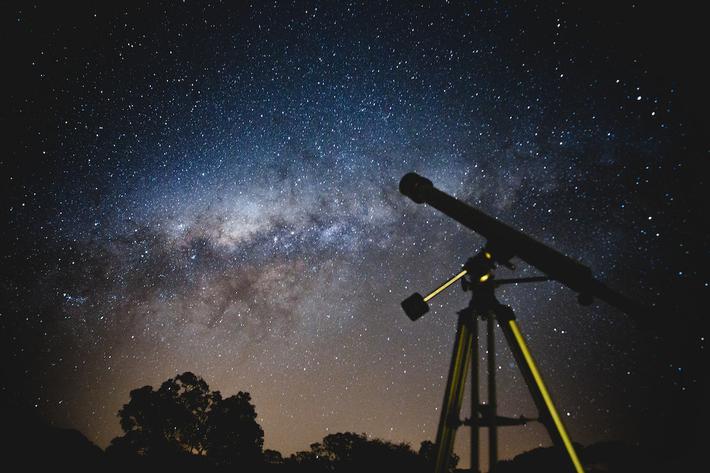 Aim for the Stars
Aliens may walk among us, but this weekend it's our turn to wander through the galaxy. On Saturday, Dec. 3, the Denn...
Read More >>