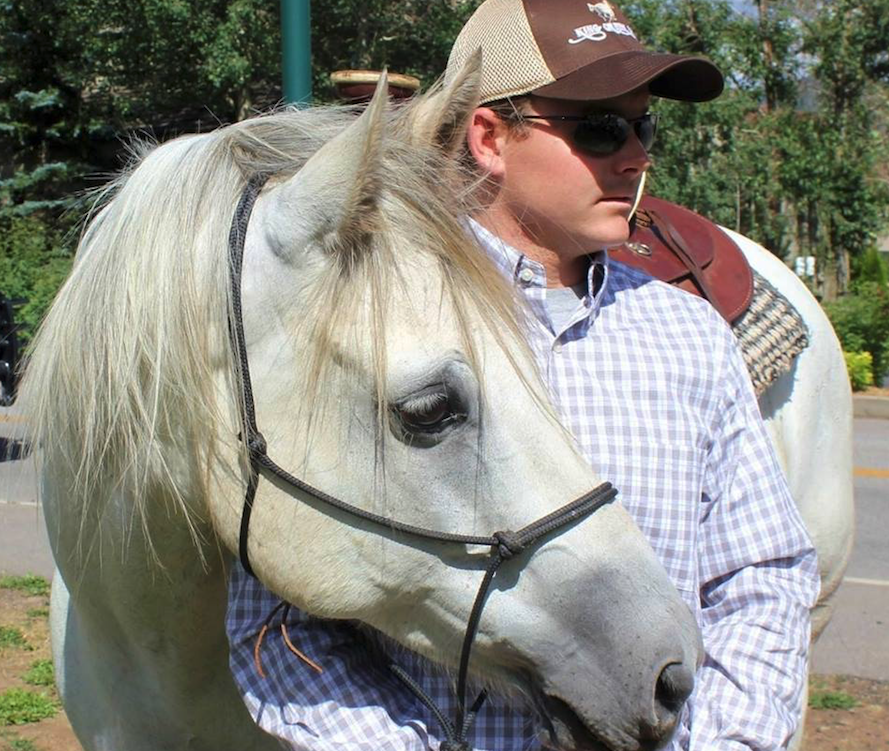 Master farrier Phil Shapton
A stable career
The average saddle horse weights 900 to 1,400 pounds. And Phil Shapton has that amount of living, breathing weight hovering above him on a regular basis. Shapton is a master farrier — a professional horseshoer — responsible for keeping these equines walking comfortably. "When you shoe, you're right underneath the horse, holding their foot and hoping they're well-behaved," Shapton said. "But I've never been seriously injured."
The next obvious question would be to ask Shapton if he might be a bit of a "horse whisperer" — the moniker the 1998 Robert Redford movie made famous. Shapton responds with a humble shrug. "Well, I've always been a student of horse psychology, really," he said. "I also spent a dozen years out west. So I have a lot of ingrained experience."
Shapton grew up in northern Michigan, training and showing horses through his family's horse farm in Thompsonvile. "I've basically been involved with horses since I was born," he said. The Shaptons, who also had Arabians and Shetland ponies, took a special interest in Tennessee Walking horses, a breed of horse that had often been subjected to a barbaric process called soring to force them to step higher (high step being a desirable trait in showing the horse).
"They'd basically injure the horses, or put irritants like mustard oil on their legs, in order to achieve this," Shapton said. "It's cruel, and we determined to show the horses without doing anything like that, ever. We were part of the industry movement to help put Tennessee Walking horses in a better light."
Shapton started showing horses himself when he was 14 years old, traveling back and forth to Indiana, Ohio, Kentucky, and Tennessee until he was 18.
"After that, I went to the Kentucky Horseshoeing School," he said. Shapton spent a year and a half in Richmond immersing himself in all things horseshoeing, and graduated the program, a four-month training session followed by a one-year internship, as a certified master farrier.

He returned to his home state and spent a year shoeing horses, and then took another turn … into country music. Well, sort of. "I got hired onto Kix Brooks ranch," he said. (Kix Brooks is one-half of the award-winning country music duo Brooks and Dunn.) So it was back to Tennessee for Shapton, who worked with Brooks' cutting horses (a sport/activity in which a horse and rider separate, or "cut," a cow away from a herd) as well as with Brooks' cattle.
Shapton's own ride got even wilder from there. He next moved to Vail, Colorado, to become the full-time farrier at the Diamond S Ranch, where he "started" the ranch's colts (socializing and training them for riding), and later became a guide for four-day horseback tours from Vail to Aspen. Diamond S is also where Shapton met his wife; the pair lived for 12 years in the Vail Valley, finally returning to Michigan in December 2016. Shapton opened his Shapton Horseshoeing business this past spring.
"I've obviously always been interested in horses," Shapton said. "So horseshoeing is a way to stay involved in the horse industry up here and also be financially solvent." The Shaptons have seven horses of their own at their home in Williamsburg: Shapton's personal horse — a quarter horse gelding named Smoke, plus three Tennessee Walking horses, a thoroughbred ex-racehorse, a Welsh pony, and an Andalusian Lipizzaner. Shapton doesn't shoe working farm horses, instead focusing on sport (competition) horses and trail-riding horses.
The process of shoeing the horse itself is a lot more complicated than what you've seen in the movies, where a horse hoof is flipped up, a horseshoe is attached, and the horse departs the barn and goes on its way 10 seconds later.

"First, you have to get a conformation, which is essentially a balance assessment of the horse, its bone structure, and body proportions, and how each particular horse is built," Shapton said. "Each horse has different requirements for how their hooves need to be taken care of to achieve good balance and symmetry; there are hundreds of possibilities."
Not all horses are shod, but when they are, it can be for just general wear and tear on their hooves, sports, or competition, or for more specific reasons. "You can also shoe a horse for therapeutic or corrective therapy," Shapton said. "Or if you have a horse who wears their hoof out faster than they can grow it back."
Horseshoes in general are made in a mix of materials and styles, the most common being steel and aluminum. Shapton uses some commercial horseshoes but also blacksmiths some of his own out of steel. Most horses are re-shod every six weeks on average. Shapton shoes horses professionally three days a week. This may not sound like as much work as a "regular" 9-5, five day a week job; but it's an exceptionally physical and calculating labor. His work at special events takes even more discipline and effort — for instance, when he was the official show farrier for this year's Great Lakes Equestrian Festival in Williamsburg. "That was a six-week long effort, beginning in mid-July and going through August. 1,100 horses went through that show in all," Shapton said.

For Phil Shapton, the main rewards of the job are in spending time with his favorite animal and helping to improve their lives. "I love the challenge that you have a unique opportunity with every horse to make them better," he said. "But put most simply, the best part is that I get to shoe horses every day."

To find out more or contact Shapton Horseshoeing, visit facebook.com/shaptonhorseshoeing or call (970) 376-6642.
Trending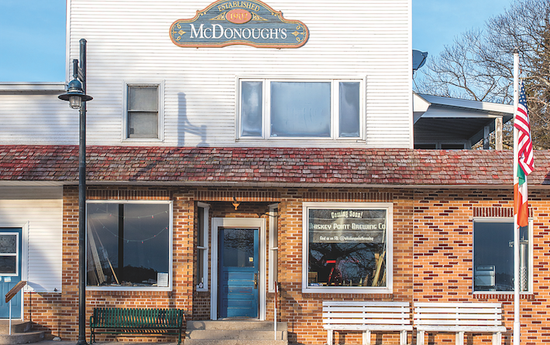 Welcome to Michigan's Most Remote Brewery
After years of planning and honing his beer-making skills, this spring, Patrick McGinnity plans to open Beaver Island's first microbrewery. Opening a craft brewery is challenging. Opening one on a remote island in Lake Michigan that's either a 15-minute plane ride or a two-and-a-half-hour ferry ride from ...
Read More >>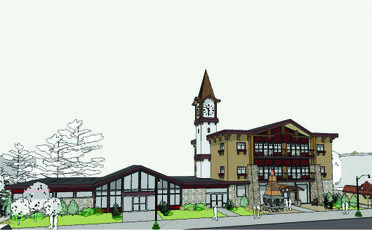 Gaylord: A boomtown Up North
Gaylord native Gary Scott had moved to Indiana, where he and some partners started a business to invest in distressed properties. He was talking to a banker in Detroit about real estate in Bloomington when he asked what kind of deals might be available in northern Michigan. ...
Read More >>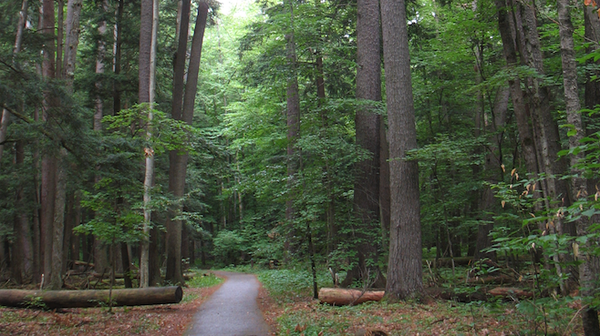 Lose Yourself Among Hartwick's Ancient Pines
Covering just a shade under 10,000 acres, sprawling Hartwick Pines State Park is one of the largest state parks in Michigan. Its rolling hills, formed by an ancient glacier deposit, overlook the verdant valley of the east branch of the AuSable River north of Grayling, four small ...
Read More >>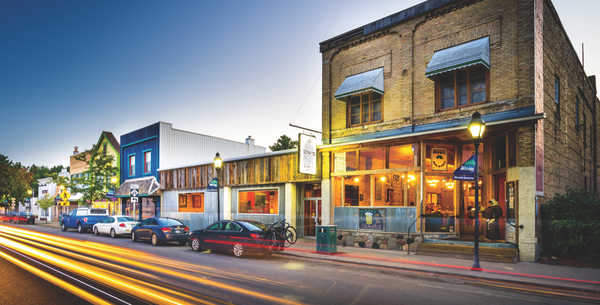 Small Up North Towns on the Rise
Spotlight on Bellaire (pictured)Seems Traverse City isn't the only place in the region making those "Best of" lists. The Antrim County hamlet of Bellaire was recently named to the list of Best Lakeside Towns in the U.S. by Country Living Magazine, alongside the likes of Vergennes, Vermont, Greenville, ...
Read More >>
↑