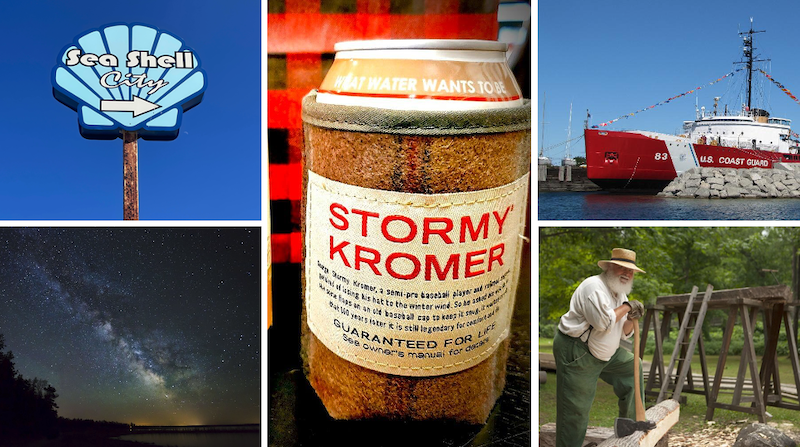 Must-sees on the Way to da U.P.
Whether you want to stretch your legs or stretch out your vacation, try at least one—or all!—of these detours on your way up to Michigan's upper hand.
Sea Shell City
No trip North can be complete without stopping to see, at least once in your life, the Giant Clam housed inside the legendary Sea Shell City. Legend says the massive mollusk could snuff out a human's life with one sharp snap, but in fact, that tale is an empty shell: This kind of clam, originally from the Philippines, is vegetarian and prefers algae.
While the 505-pound clam shell is not for sale, here, it seems just about everything else is: T-shirts printed on the spot; lake, lighthouse, and ocean-themed housewares, knick-knacks, toys, and books; fairy garden gear; pirate garb; and bin after bin after bin of shells of all kinds. And that's just half the store. Sea Shell City might be an above-water tourist trap that's kitsch-perfect for adults who remember the old Up North, but it remains the perfect playground for kids with a few allowance bills burning holes in their pockets (and it has a pirate ship play structure outside for them, too). Seashellcitymi.com
Mill Creek Discovery Park
You might want to make this stop an all-day affair. With three miles of trails over 625 acres (and 3,250 feet of Great Lakes shoreline!), Mill Creek is made for exploring. Several times daily, you can join a Nature of the North Woods program, which could be a guided nature walk, a kids' storytime, or an activity session, all focused on the many plants, mushrooms, and animals that live or have been spotted here—among them, 130 bird species, a colony of beavers, black bears, and even a bobcat.
One of the people who originally called this place home was Robert Campbell, who from 1790 to 1819 ran a farm, orchard, and gristmill. He also built a water-powered sawmill—the first of its kind in northern Michigan—to provide lumber to nearby Mackinac Island. Today, visitors can see reconstructions of Mill Creek's former structures, including Campbell's old sawmill (complete with costumed interpreters demonstrating the old "sawpit method" of cutting lumber), the mill dam, a British workshop, and an American Millwrights house. New this year is the chance to add a little dirt to your sawdust with a special "Farming at Mill Creek" program.
The on-site (but separately ticketed) Adventure Tour is not yet open at press time, but staff tells Northern Express they're aiming to open in June. We hope so: The tour includes the opportunity to ascend a five-story Treetop Discovery Climbing Wall, a stroll over the Forest Canopy Bridge, and a flight on the 425-foot Eagle's Flight Zip Line. Open daily 9am–5pm until June 3; 9am–6pm June 4 through September 4. mackinacparks.com
The Cheboygan Quintuple
The question is not where to go in Cheboygan; it's how much can you fit in. The British-American power couple John and Marcella Costin have dominated the downtown scene in the last decade, opening five different (and worthy) spots worth a traveler's stop.
For those who love to shop (and for their children and spouses that don't), we suggest heading straight to the Pig 'n' Whistle, a boutique packed with plenty of clothing, accessories, and, of course, pigs. Browse at your leisure; this place keeps non-shoppers' boredom at bay with both counters of candy—fudge made in Mackinaw City, chocolate truffles, and an array of vintage and contemporary candy treats—and a small bar, where the specialty is a frozen rum runner that can be topped with any array of flavorful alcohol toppers.
From there, head next door to grab a pint of beer and the quintessential Yooper-uniform topper, a Stormy Kromer hat (you know the one—with the earflaps!) at the Stormy Kromer Cap and Ale. Or, stroll to Simply Marcella on Main Street to keep your shopping pace strong. Behind the big windows of this little black boutique, you'll find a collection of fine pearl and precious gem jewelry designed by Marcella herself, a bounty of chic fashion, and little luxuries like Le Pures soaps and lotions.
Once you're fully feeling like a queen, you simply must sit down and be served at the Queen's Head, a wine pub that boasts a dazzling international cellar and an exceptional menu. Think Smoked Trout Chowder, Berry Basil Pizza (cauliflower crust topped with fresh berries, basil, mozzarella, and a balsamic glaze), and one of our favorite cocktails, the Sassy Cucumber Courtier (cucumber vodka with habanero-lime juice, fresh cucumber, and dash of sweet and sour). Should you be lucky enough to linger, there might be a show at the connected Lark Theater, an intimate and cozy live music venue whose high-backed velvet chairs, tiny cocktail tables, and swanky vibes are the ideal setting to watch musicians play.
Icebreaker Mackinaw Maritime Museum
In 1941, just days after the attack on Pearl Harbor, Congress authorized construction of the most powerful icebreaker in history. The cutter would be critical for keeping America's steel mills cranking for the war effort, carving paths for ships moving much-needed iron ore, limestone, and coal. The USCG Mackinaw WAGB 83 was finished and commissioned December 30, 1944.
Until June 2006, through wartime and peace, the $10 million ship served the nation from its home port in Cheboygan. Today, the 290-foot ship is docked in Mackinaw City and open to the public 10am to 6pm every day until Oct. 10.
Summer temperatures mean you won't be able to experience how the innovative 12-foot bow propeller draws water from under the ice ahead and flushes it along its hull—thinning the ice and reducing friction as the breaker moves—or feel the ship rock as its ingenious heeling system shifts nearly 112,000 gallons of ballast from side to side in just 90 seconds. But you can take a guided tour or even volunteer to work on the ship and stay overnight like sailors of yore. Warning: Steep ladders, cramped spaces, and open decking exist, so bring close-toed shoes and recommend that claustrophobic folks stay on shore. themackinaw.org
Headlands International Dark Sky Park
The first thing to know about The Headlands: You can stay up all night to watch the sky, stars, and planets, but you cannot camp here. (Never fear, Wilderness State Park is a mere six miles away.) A sanctuary for stargazers, The Headlands' lack of light pollution along Lake Michigan makes it an ideal destination after sundown.
Park staff and researchers working in the Observatory's upstairs (closed to the public) project onto the big screens on the main level what they're seeing in space. On clear nights during the summer, Headlands staff will bring telescopes out onto the viewing platform, and professional stargazers and astronomers are often on-site to guide your eyes and excite your brain.
At any time of day, you can explore five miles of groomed trails through 600 acres of old growth forest, a Frog Pond Trail through a "mysterious cedar swamp," the Overlook Trail through fern-dappled woods and up a massive rock bluff, the Dark Sky Discovery Trail, a paved 1-mile trail that shows how and when humanity's culture, history, and mythology met planetary discovery, and more. midarkskypark.org
Trending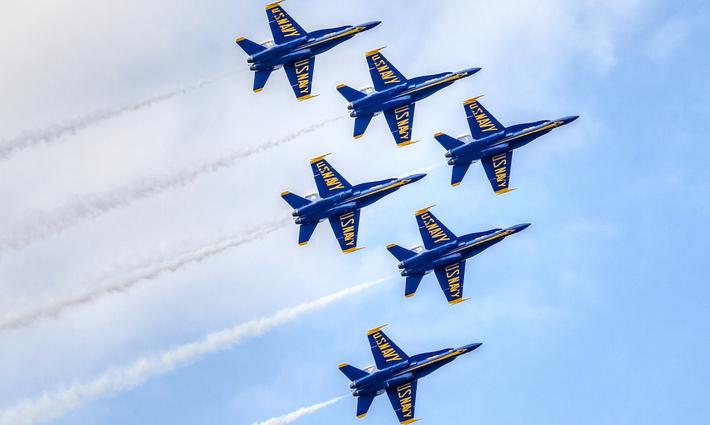 The Wind Beneath the Blue Angels' Wings
Crowds gather along Grand Traverse Bay to gaze into the sky for the biggest beach bash of the year. A voice shouts, &ldquo...
Read More >>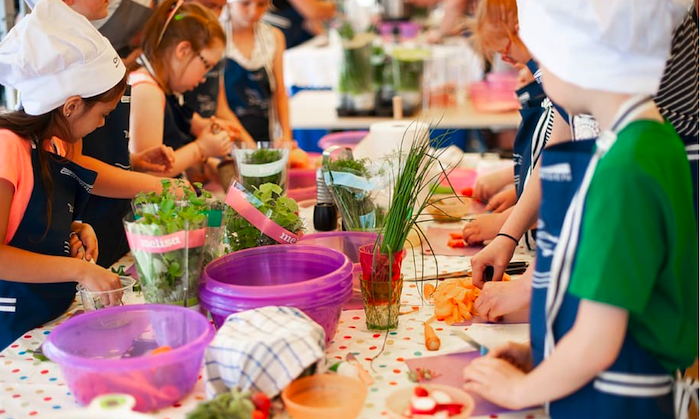 Creative Solutions to Food Insecurity
Food insecurity remains an ongoing concern in Michigan, with the nonprofit Feeding America reporting that in our state, 1 ...
Read More >>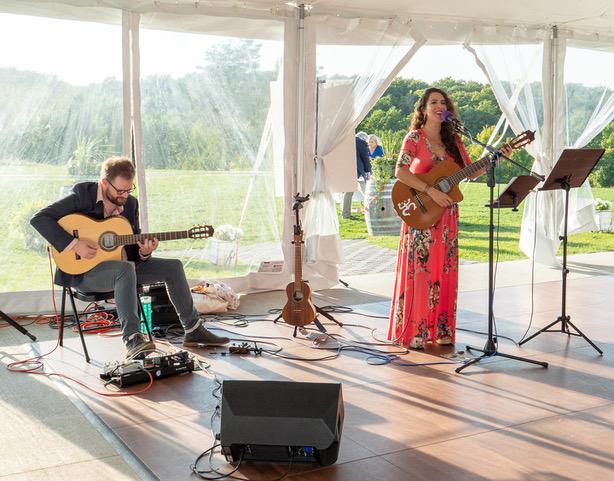 In Gratitude
"In Gratitude," a free community concert, will be held at 7:30pm on June 30 to thank the many donors and suppo...
Read More >>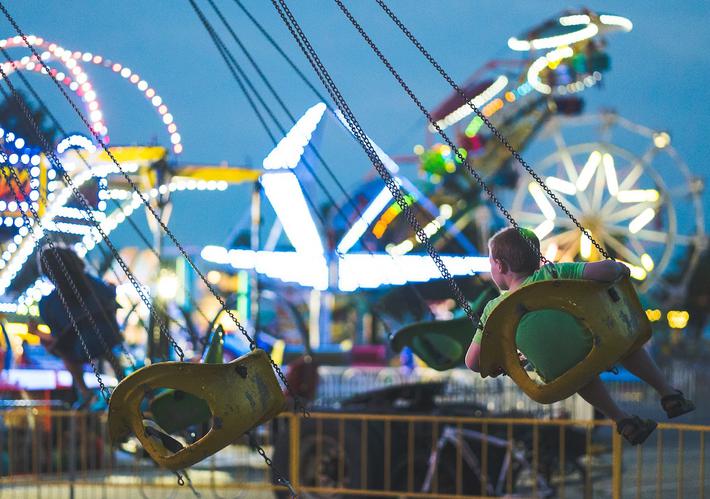 Forest + Festival = Fun
For more than 80 years, folks in Manistee County have been celebrating the Manistee National Forest Festival. This year, t...
Read More >>
↑