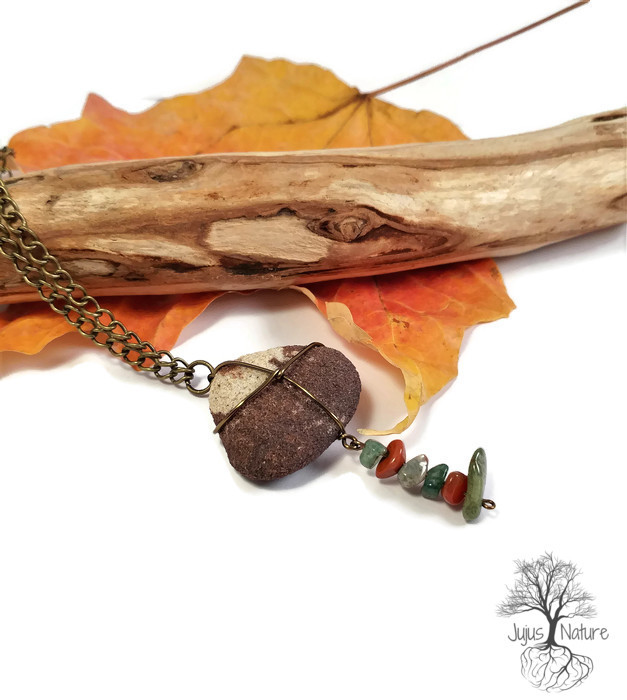 Nature-Inspired Jewelry Designs
Jewel "Juju" Samsey spends infinitely more time looking down than looking up. But there's a good reason; she uses nature as her muse — and as supplier for rock and stone ingredients, which she crafts into unique, handmade jewelry for Jujus Nature, the business she launched in 2015.
REGIONAL ROCKS
Michigan serves as Samsey's palette. "I've collected rocks from as far up as the Keweenaw Peninsula, down to the middle of the lower peninsula," Samsey said. "I look for what I believe to be the most unique specimens. Color is also something that pulls me to them. I've found rocks in dunes, beaches, camping sites, parking lots — everywhere."
Samsey, who's originally from Marquette, Michigan — "I am a born and raised Yooper," — moved to Traverse City a half-dozen years ago, and now runs Jujus Nature out of her one-bedroom apartment in downtown TC. "I wanted to change up my scenery, but I wasn't willing to venture too far from home," she said.

Samsey began teaching herself jewelry design around age 8. Though not professionally trained, she got a lot of encouragement as she progressed in her art. "I would make items for gifts and was told frequently that I should try to sell what I make," she said.
As she developed her hobby into a business, Samsey relied upon the fundamentals of her childhood. "A lot of my business techniques are built off of how I was raised — and I was raised to respect and appreciate what nature has, and what nature provides me," she said.
EVOLVING ELEMENTS
"My life revolves around nature — it is my happy place — so I have a highly regarded respect for its beauty and preservation," she said. Seeking out the materials that inspire her is just the start of the work she devotes to a piece. "Every rock I work with is personally hand collected throughout Michigan, and I also clean, tumble, polish, and wire-wrap every stone myself in my apartment," Samsey said.
Her inspiration isn't limited to gathered rocks. "I also work with other materials, such as wine cork and natural stone beads, and I am thinking about starting a branch and driftwood collection. I was raised to leave nothing unused. My feelings about re-purpose for new life are pretty strong. So anything that inspires me and is closely related to nature is game. I feel like I am not only able to show off the beauty I see in nature everyday but also show my appreciation for having the opportunity to live in such an amazing environment."
Samsey lets the materials dictate the design of each jewelry piece. "When I see something that intrigues me, it either shows its abilities to me right away, or it sits and stares at me on my work station until one day the vision comes," Samsey said. "When I see a rock, for instance, if it's dry, the pattern and colors don't show themselves as easily, so I have to look past the rough surface to imagine its possibilities. I feel that, since I'm self-taught, it forces me to think harder about designs. I really like to be different and unique, and I believe I can be that with nature on my side."

NATURAL REWARDS
Samsey's favorite design element right now is something new she came up with after a trip back to her home region. "I have a favorite spot in the U.P. with the coolest sandstone that I have ever seen," she said. "I realized one day that sandstone absorbs moisture well, so it would be a great option as a wearable diffuser for essential oils. I use essential oils frequently, and with the use of the stone, I can wear them without having to worry about the oil's concentration. I can wear any oil, anytime, no hassle. The design also has a really rustic and natural feel, which keeps me happy, and the memory of my favorite spot is always with me!"

Samsey sells her jewelry locally and online at her Etsy shop (etsy.com/shop/JujusNature) and will showcase some pieces at the upcoming Lake Ann Market, to be held March 18 at the Almira Township Hall.
Looking forward, Samsey hopes to invest her earnings in expanding her line and its reach — albeit gradually. "I have huge plans, but since I'm a one-woman show, I am taking things one day at a time." The patience is worth it. "There are so many rewards to owning Jujus, but if I had to pick one it would be that I have a job that allows me to be in my happy place — nature — nearly every single day," Samsey said.
Find Jujus Nature on Facebook to learn more.
Trending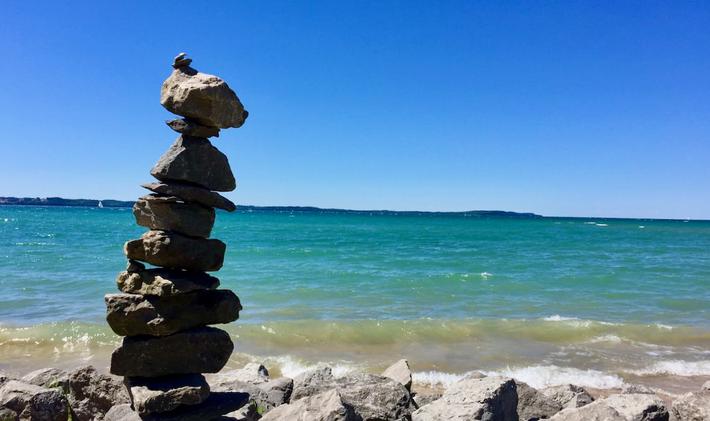 How Healthy Are Our Waters? Experts Weigh in on the Well-being of NoMi Waterways
We're all about to be waist deep in the busy summer season, and for many of us, it's also time to get waist de...
Read More >>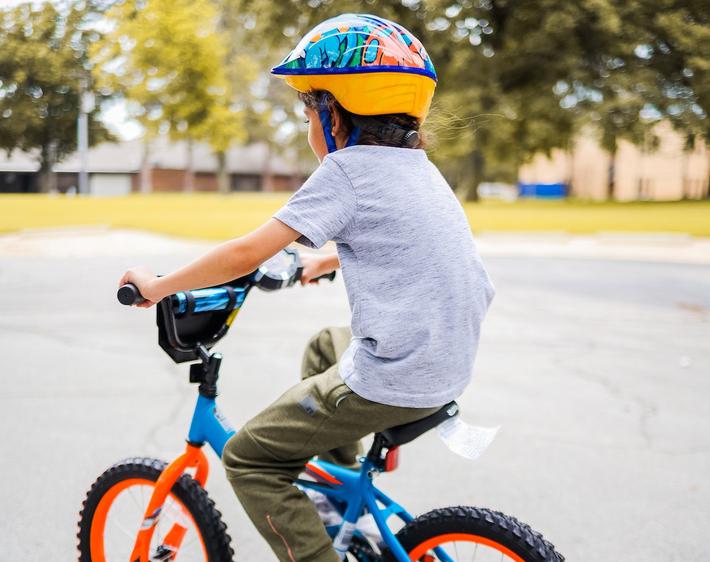 A Bike Extravaganza for the Kiddos
This event is brand new to northern Michigan: The Lynn Duse Memorial Kids' Bike Fest. Duse, the longtime Petoskey bu...
Read More >>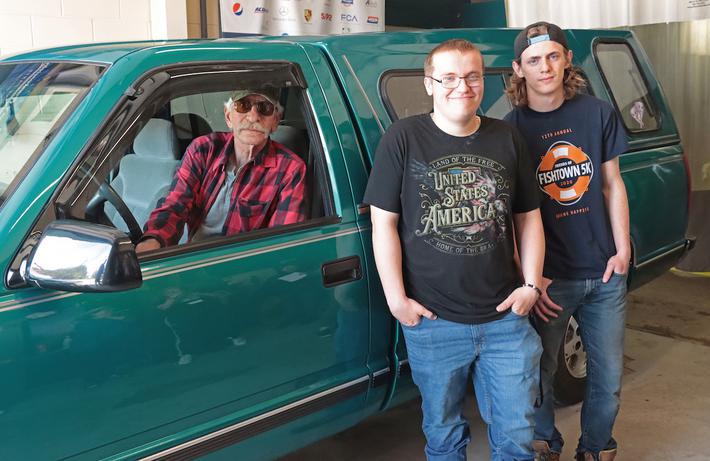 A Year-Long Restoration Complete
When a deadly tornado hit Gaylord last May, it left a trail of destruction to people's homes, businesses, and proper...
Read More >>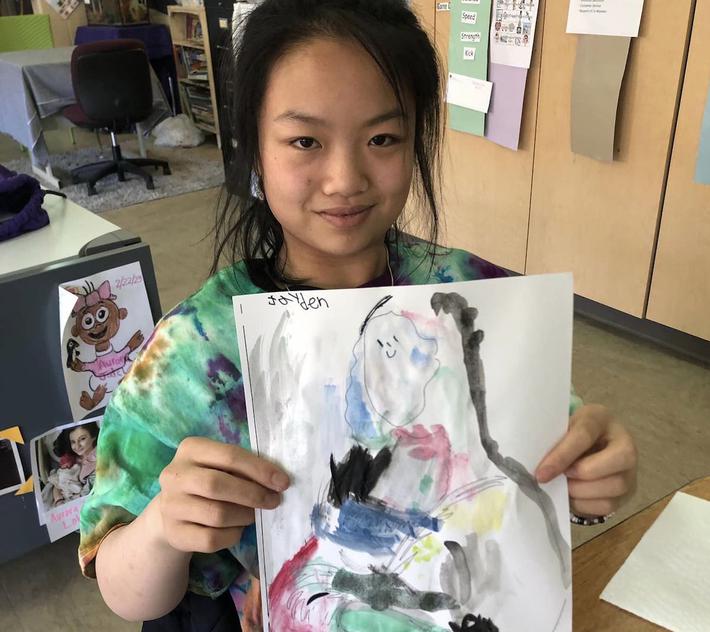 Investing in Local DEI Efforts
The Grand Traverse Regional Community Foundation announced it has awarded $11,000 from its Diversity Equity Inclusion (DEI...
Read More >>