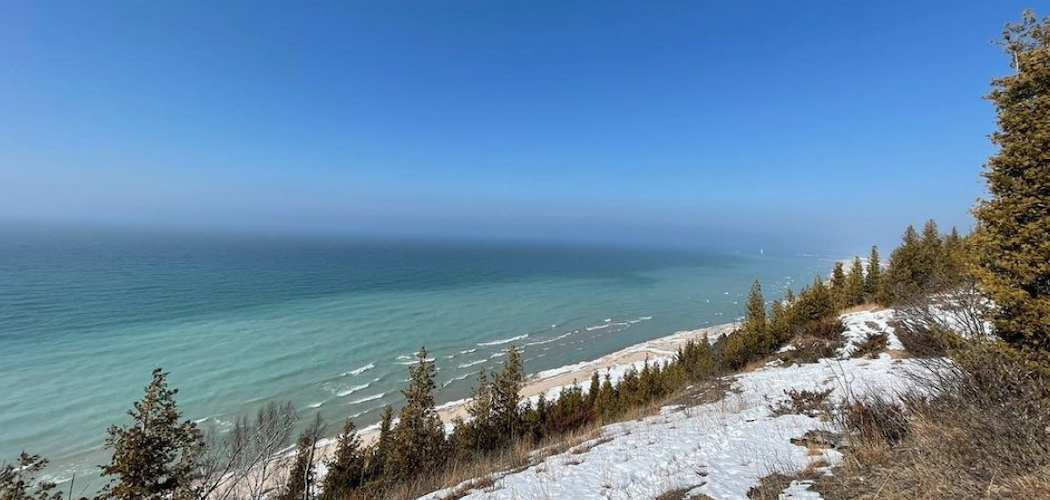 Your Northern Michigan Staycation Guide:
Frankfort, Harbor Springs, Bellaire, and Grayling
Not all of us are headed for warmer climates this spring break, and if you're sticking around the North, you can still create a little getaway magic here at home. Reporters Rachel Pasche, Geri Diezte, Craig Manning, and Lynda Wheatley give us the scoop on what to do, where to eat, and where to stay in four NoMi towns full of vacation vibes.
FRANKFORT
Frankfort is a prominent destination for tourists and locals alike to take in the sheer magnificence of Lake Michigan, sample some of the local offerings, and explore the natural beauty that surrounds the area. Although Frankfort barely stretches a mile, it's full of ways to while away the hours, regardless of the season.

What to Do
Outdoors: There is something raw and powerful about the lakefront during the colder months. The Elberta Dunes South Natural Area boasts a few hiking trails that wind out to breathtaking views of the bluffs. These trails are great year-round, though we recommend boots if there is still snow coverage.
Indoors: The Garden Theater is a historic single-screen movie theater downtown showing a medley of movies, documentaries, and independent films. Check their website to see what they're playing (they only post their schedule a few weeks in advance), then grab tickets, popcorn, and candy as you travel back in time to a simpler movie-viewing experience.
Where to Eat
Breakfast or Lunch: Birch & Maple is a from-scratch kitchen that dishes up breakfast, lunch, and dinner. Their brunch menu is full of scrumptious creations, including the incredible French Toast Monte Cristo, featuring thick ham and American cheese sandwiched between two pieces of french toast, topped with maple syrup and a crispy egg. It's a little sweet, a little savory, and a lot delicious.
Lunch or Dinner: Stormcloud Brewing is an iconic brewery that serves up some of the best brews and bites in town. The beer and food are all crafted in house, and all menu items come with a beer pairing recommendation so you can sip while you snack. We recommend the Roasted Root flatbread pizza and homemade popcorn, which comes in four different flavors.
Where to Stay
The Hotel Frankfort is a boutique hotel located in the heart of downtown. With charming rooms, a restaurant featuring a variety of dishes plus an extensive wine list, and a location that offers convenient walking access to the main street, this is the perfect place to consider your home base during your staycation.
The Harbor Lights Resort sits on Lake Michigan and offers some unparalleled views, plus a bit of flexibility for your stay. Their rooms vary from motel rooms to complete condominiums. There's even an indoor pool to keep the kiddos busy during your stay.
HARBOR SPRINGS
Harbor Springs, on the northern shore of Lake Michigan's Little Traverse Bay, is one of prettiest harbor towns anywhere. Nestled as it is between bluff and bay, the village has been protected from overzealous development, and as a result, the place simply radiates charm without even trying. The pocket-sized downtown mixes unique retailers, galleries, restaurants, and specialty food shops. (Some restaurants are seasonal, so check ahead.)

What to Do
Outdoors: Spring is tricky in this neck of the woods, swinging from open-jacket comfort to blustery fronts, but you can always get back to the land on one of Little Traverse Conservancy's many year-round trails. Fur kids are welcome, on leash. (BYO bags.)
Indoors: Try the Lyric Theatre for first-run movies in three screening rooms. The concession stand alone is worth a visit: organic popcorn with real butter, adult beverages, and Milk Duds! History buffs will enjoy a visit to the Harbor Springs History Museum for local lore and engaging hands-on activities, or stopping by the Andrew J. Blackbird Museum for a trove of Native American artifacts. Last, if you're out with the kids, stop at Northern Lights Recreation, with sixteen lanes of bowling, two-story laser tag arena, a game arcade, and billiard room. (Also home of the Sassy Loon Bar and Grill.)
Where to Eat
Breakfast: For a memorable breakfast, visit Small Batch at the Cupola, a tiny, eclectic restaurant and bakery with atmosphere to spare, plus memorable dishes. Try the Rise & Shine, a seriously upscale version of the ubiquitous breakfast sandwich. Eat in or take out.
Lunch or Dinner: Pierson's Grille & Spirits, the après ski-themed eatery, is well-known for satisfying fare, just-right Bloody Marys, and friendly ambience. For lunch, try the 5 Dragon, their version of the classic Rueben.
Where to Stay
The Birchwood Inn—found three miles north of Harbor Springs in the forested Tunnel of Trees—gives off an authentic northern lodge feel. Snag a midweek deal in March for a two-queen room at just $79 and $5 off a full-day pass per person at nearby Nubs Nob ski area, which plans to be open through April 3.
At the Best Western in Harbor Springs, kids 12 and under sleep free. (A good deal for big families!) The little ones will also enjoy the heated pool and hot tub, while parents will be happy with complimentary breakfast and a fitness room for a morning jog, though several nature preserves are within a short walk or drive if you want to stretch your legs outdoors.
BELLAIRE
Bellaire may be off the beaten path compared to other northern Michigan towns, but it has little trouble attracting visitors. There are plenty of reasons for the popularity, from a bounty of natural beauty to one of the state's biggest craft breweries.

What to Do
Outdoors: On a sunny spring day, Bellaire has plenty of options for outdoor fun. If you have hiking on the brain, a trio of nearby natural areas—Grass River, Mohrman, and Glacial Hills—have 40 miles of gorgeous trails between them. Although ski season has passed at Shanty Creek, their golf courses will open soon, and the brave can always take a kayak (and plenty of weather-appropriate gear) to explore the beautiful Chain of Lakes.
Indoors: If you find yourself in Bellaire on a crummy weather day, you can still have lots of fun with the family, especially at Bellaire Lanes and Games, which offers eight lanes of bowling, an arcade, and laser tag.
Where to Eat
Breakfast: Every small town needs a cute, friendly coffee shop, and M88 Morning Grind is Bellaire's. Whether you're just grabbing a coffee or are hunting for some morning treats (take your pick of quiche, breakfast sandwiches, scones, muffins, or donuts), M88 has you covered.
Lunch or Dinner: For your next meal, swing by Short's Brewing Company. With more than two dozen original brews on tap at any time, there's something to please any beer enthusiast. Options include famous staples like Bellaire Brown (a full-bodied, caramelly brown ale) and seasonals like Goodnight Bodacious (a double black IPA with a big, boozy punch). As for food, the menu is packed with creative apps, salads, sandwiches, and pizzas. We recommend the Johnny on the Spot, a decadent pizza with Granny Smith apples, bacon, blue cheese, and white sauce.
Need some "dessert" after your meal at Short's? Walk right across the street to Bee Well Mead & Cider, where you'll find some sweetly delicious ciders and meads that incorporate everything from maple syrup to mango.
Where to Stay
With a variety of lodging options on site—including hotel rooms, condos, and even full homes—Shanty Creek Resort is the perfect hub for any Bellaire visit. Shanty has multiple restaurants (including a Starbucks-serving coffee joint), two indoor pools, and entertaining activities like a Topgolf Swing Suite and e-bike rentals, so the whole family will find something to love.
Those seeking a more intimate lodging experience will love quaint B&Bs like Applesauce Inn (home to three cozy rooms and an add-on option of weekday high tea) and the downtown Stone Waters Inn (home to 10 rooms along the Intermediate River).
GRAYLING
Whether you get blue skies or gray, Grayling delivers on its promise as a hub of outdoor fun. (Seriously—they say you enter the "River Time Zone" when you arrive.) Pair the great outdoors with great food and plenty of activities for all ages, and you have a laid-back, pure NoMi getaway on your hands.

What to Do
Outdoors: Home to some of the prettiest stretches of the legendary Manistee and AuSable rivers, Grayling boasts some of the best trout fishing in the state. On both rivers, rules for possession vary by angler age, time of year, and species, but in general, if you keep to artificial tackle and flies and release your catches, you can wet a line in both rivers year-round. (Check the 2022 Michigan Fishing Guide for details: michigan.gov/dnr.)
Prefer to stay on land? Head to our favorite one-of-a-kind hike in Grayling, the 1.25-mile loop to a look at northern Michigan's pre-logging past: Hartwick Pines' Old Growth Forest Trail. It leads you to an awe-inspiring 49-acre tract of virgin timber, the largest continuous stand of old-growth white pines in the Lower Peninsula.
Indoors: We have three not-to-miss stops: A movie at the old Rialto Theatre, the classic movie house that's been screening flicks since 1915; the AuSable Artisan Village Art Gallery, HQ for art to buy, make, hear, and see; and any one of the quaint gift and gallery boutiques that stand on and around Grayling's main downtown drag, Michigan Avenue.
Where to Eat
Breakfast: Start your morning in Grayling the way locals have for 50+ years: drooling over the multitude of sugary, buttery goodies inside Goodale's Bakery and Deli's glass cases. You can't go wrong with any style of Loren G's famous "fried cake" doughnuts or turnovers, but the Danish Elephant Ears are otherworldly. Grab an Albie's pasty and Kowalski kielbasa—direct from Hamtramck—to go too. They'll come in handy later.
Lunch or Dinner: Stop for a craft beer or cocktail and a bite—and feel free to keep on wandering with said libation in hand—from any of the bars and breweries within Grayling's new social district: the famed Spike's Keg o Nails; Ray's BBQ, Brews and Blues; Rolling Oak Brewery; Michigan Brew; and Paddle Hard Brewing. (Note: Dead Bear Brewing is just outside the district, but if you and your crew can stuff down the Bear Den's 100 Pounder pizza—featuring 100 pepperoni slices and a pound of cheese—we're assuming you'll be thirsty on the way home).
Where to Stay
Ramada by Wyndham Grayling Hotel & Conference Center on the I-75 business loop offers standard lodging ($79+) with an indoor playset and pool and free breakfast.

Gates AuSable Lodge is a comfy, classic go-to that sits on the banks of the AuSable, and every room overlooks "one of the most prolific stretches" of this blue-ribbon trout stream. Single rooms start at $90. Pets allowed for $10.
Trending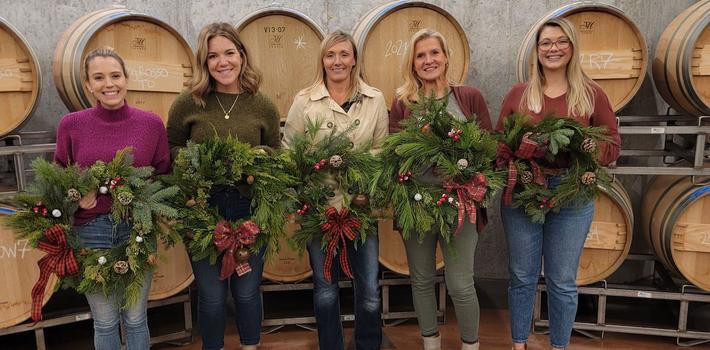 Wine & Wreaths at Mari
If you like wine and wreaths, you'll want to head to Mari Vineyards on Old Mission Peninsula. A 90-minute wreath-mak...
Read More >>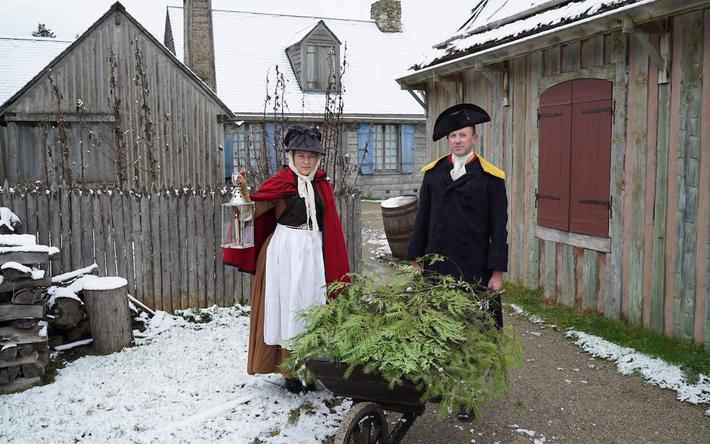 A Colonial Christmas
Christmas is coming to Colonial Michilimackinac in Mackinaw City on Dec. 9. Storytellers will bring to life the stories of...
Read More >>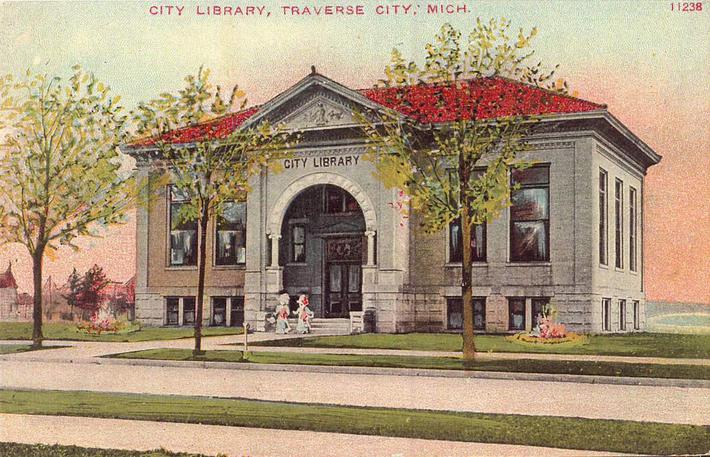 A Literary History of TADL
Next year, the Traverse Area District Library (TADL) will celebrate 155 years of lending books and knowledge in northern M...
Read More >>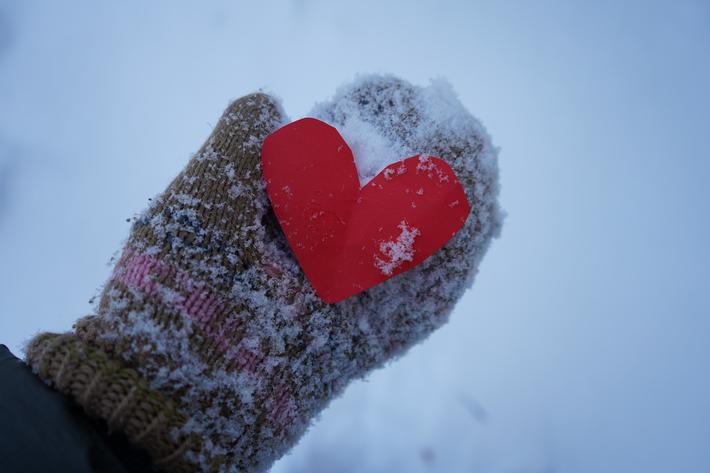 Merry Mittens
The Mitten Real Estate Group of Traverse City is helping make the season bright by kicking off their first Mitten Drive, w...
Read More >>