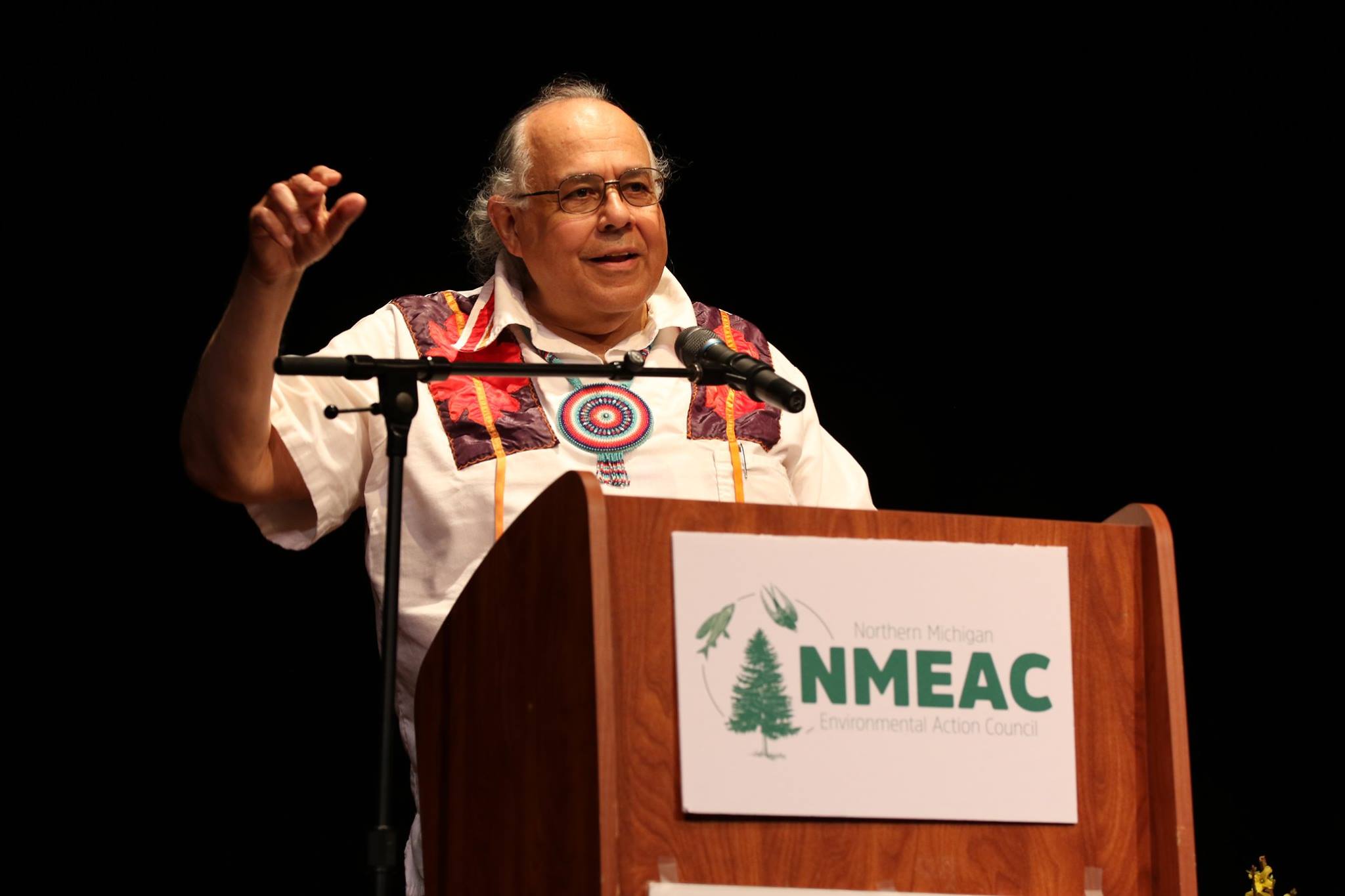 Optimism Meets Activism
Frank Ettawageshik looks seven generations ahead
"I've made a career out of being a cautiously optimistic person."
So says Frank Ettawageshik, a local Indigenous leader with a long track record of fighting for native rights, environmental preservation, and smart climate policy. From afar, those particular battles might not seem like the kinds that would breed a spirit of optimism. And yet, despite the barriers in his way, Ettawageshik has spent decades scoring huge wins for Michigan natives, for the Great Lakes, and for climate change advocacy.
Perhaps his optimism is because of his success rate, or maybe winning the types of battles Ettawageshik has won simply requires the persistence of an unshakably optimistic fighter. In any case, it's difficult to walk away from a conversation with Ettawageshik and not feel at least a little bit better about the state of the world. His optimism, it turns out, is contagious.
Who Is Frank Ettawageshik?
For many northern Michiganders, Ettawageshik's biggest claim to fame is his role as a long-time leader of the Little Traverse Bay Bands of Odawa Indians (LTBB). Ettawageshik served two stints as tribal chairman—first from 1991 to 1999, then again from 2005 to 2009—for a total of 14 years.
Today, Ettawageshik wears many hats, including as the president of the Association of American Indian Affairs; as executive director of the United Tribes of Michigan; as chair of the Michigan Water Use Advisory Council; and as an appointee to the Great Lakes Regional Collaboration.
Ettawageshik has also been decorated in recent years as one of the leading environmentalists and preservers of Indigenous culture in the state. In 2021, he was named the recipient of the Michigan Environmental Council's annual Helen & William Milliken Distinguished Service Award, which recognizes "individuals who show outstanding leadership, enduring commitment, and extraordinary public service in protecting natural resources at the local, state, and national levels."
In 2019, he received the Outstanding Alumnus Award from the Michigan State University College of Agriculture and Natural Resources. That same year, he was honored by the Midwest Alliance of Sovereign Tribes, which established a new cultural preservation legacy fund—dubbed "Can I Be Frank?"—to carry his mission forward.
The Water Protector
Beyond any job title or award, though, Ettawageshik is known and regarded for the work he's done. As LTBB tribal chairman, he reaffirmed the tribe's sovereign status with the federal government, implemented numerous game-changing environmental policies (including climate change commitments and energy use reduction goals), and changed the financial fortunes of the tribal government, taking it from a $4,000 bank balance when he took office to a $30 million annual budget when he left.
When asked to name the single proudest accomplishment of his life, Ettawageshik points to the Tribal and First Nations Great Lakes Water Accord, a compact from 2004 that was signed by every native tribe and First Nation (the term used in Canada to describe sovereign Indigenous nations) throughout the Great Lakes region. Among other things, the accord demands that "any governmental effort to protect and preserve the Waters of the Great Lakes Basin include full participation of Tribes and First Nations."
"The states and the provinces were negotiating on issues related to bulk groundwater withdrawal and diversion of water from the Great Lakes," Ettawageshik recalls of the events that led to the accord's inception. "They had been in negotiations for quite a while, and the tribes and First Nations from various states and Ontario had been trying to ask, as tribal governments, to be part of that process. We thought that any mechanism for protecting the Great Lakes in this regard would be deficient if it didn't have a tribal input. But they treated us as they would any stakeholder organization. We would get the draft [of the agreement], and we'd have 30 days to comment on it, just like the general public. And then they treated our input as general public input."
Mostly, Ettawageshik says the tribes and First Nations just wanted a seat at the table to decide the future of their birthright and their most valuable resource: the waters of the Great Lakes. "We were deeply concerned about the document not acknowledging treaty rights or the responsibilities of tribal governments."
As something of a last-ditch effort, Ettawageshik and his fellow tribal leaders scrambled to organize a meeting of the affected tribes and First Nations. It was no small undertaking, involving considerable fundraising, communication across national boundaries, and a fleet six-week timeline. But the hard work paid off, and ultimately, representatives from the 180-plus tribes and First Nations in the Great Lakes Basin congregated to discuss and sign the Tribal and First Nations Great Lakes Water Accord.
The document, which Ettawageshik authored, helped give Indigenous populations a voice in national and international discussions about water resource management. To this day, the accord and the political voice it helped give the tribes and First Nations is a key safeguard for the future of the Great Lakes—particularly as climate change and water scarcity in other parts of the world make the water resources of the lakes increasingly more valuable.
A Lifetime Commitment
Since the accord came into play, Ettawageshik has continued to prove himself as a stalwart defender of the Great Lakes. As an appointee to the Great Lakes Regional Collaboration (GLRC), he worked for years to secure federal dollars for the protection of the Great Lakes. The GLRC's efforts eventually led to the formation of the Great Lakes Restoration Initiative (GLRI), a federal program that provides funding to help protect and restore the waters of the Great Lakes.
To date, the GLRI has directed some $3.5 billion in federal dollars to fight water pollution, combat algal blooms, and more. Ettawageshik serves on the Great Lakes Advisory Board, a body within the GLRI—and one of the Environmental Protection Agency's Federal Advisory Committees—that advises the EPA administrator on how to direct federal funding for Great Lakes preservation.
In 2015, Ettawageshik's years of advocacy took him to France, where he spoke on behalf of the National Congress of American Indians at the United Nations Framework Convention on Climate Change. That convention ultimately led to the creation of the Paris Climate Accords, and Ettawageshik—along with hundreds of other Indigenous leaders—successfully advocated for the treaty to include multiple recognitions of the rights and knowledge of Indigenous peoples.
For the Seventh Generation
For Ettawageshik, all of this work—not to mention his unerring belief that the fight for the planet and for the rights of Indigenous populations can indeed be won—comes back to an age-old Native American philosophy: the Seventh Generation Principal, which holds that today's generations should approach their choices and actions in such a way that leaves a sustainable world for their descendants seven generations from now.
"The only real way to move into the future is to do things that will help people and help the planet," Ettawageshik remarks. "I have kids and grandkids, and I work with a lot of kids in other places, and the idea we try to teach is that each one of us is supposed to think about the consequences of our actions to a time period long enough to encompass seven generations. That's going to be beyond when most people will even remember someone's name.
"But if you think about it, each one of us is somebody's seventh generation," he continues. "What did those ancestors do that caused us to be who we are today, doing the things that we are, and having the legal and mental and emotional tools that we have? And how are we going to be remembered for those next generations? One of the best things that we can do, and the highest achievement that we can have, is to think that we, someday, will be remembered as a good ancestor."
Trending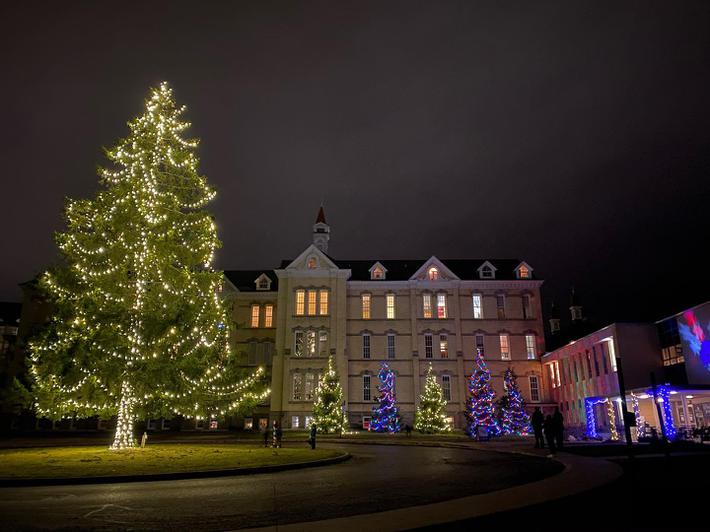 An Uncommon Celebration
The Village at Grand Traverse Commons is a shopping destination all year round, but we especially love a visit during thei...
Read More >>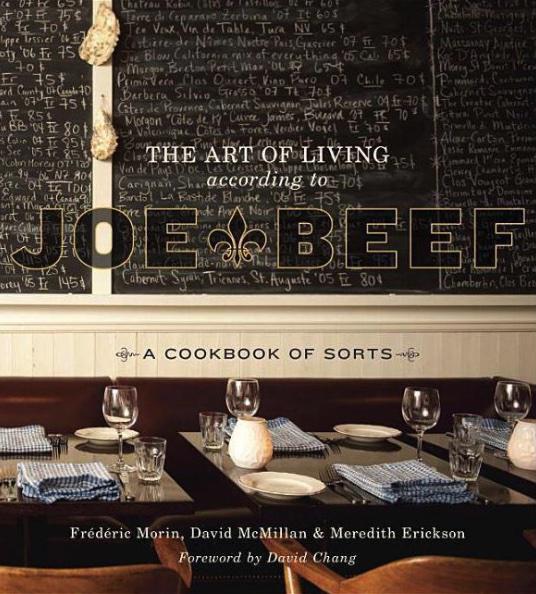 Cookbooks and Canadians
The beloved amical Cookbook Dinner Series is back, and this month the TC restaurant features The Art of Living According t...
Read More >>
Christmas on the Farm
If you'd like your ho-ho-ho to be a bit more e-i-e-i-o, then look no further. First up: Christmas with Alpacas at No...
Read More >>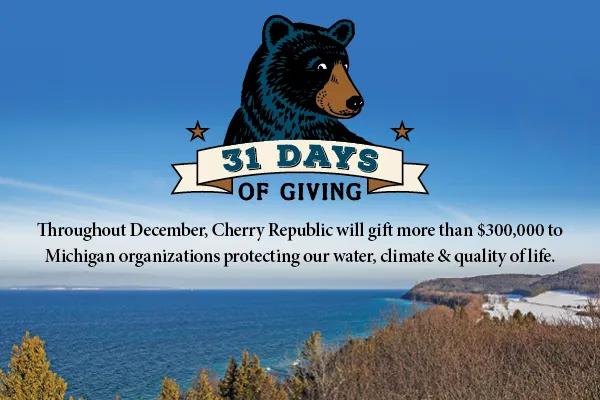 31 Days of Giving
Giving Tuesday, which falls every year on the Tuesday after Thanksgiving, is typically a busy day for northern Michigan, g...
Read More >>