Pedal to the Kettle
How local long-haul truckers are cookin' lean and mean
Brian Schultz is rolling his flatbed rig through the Georgia countryside, just north of Atlanta, when he decides it's time to eat.

But rather than hit a fast-food joint, gamble on a truck-stop hot dog or take time out of his busy driving schedule to visit a sit-down eatery, he opts to dine in.
"I cook on my truck," said Schultz, a former Kingsley resident who now drives so much that he calls his truck his home. "I'm fortunate to have an APU (Auxiliary Power Unit) with a dedicated outlet, plus a 1500-watt power inverter. For appliances, I have a toaster oven, Aroma cooker [a kind of slow cooker/rice cooker that can simmer meals], hot plate, coffee maker, and an electric tea kettle to heat water for my morning oatmeal."
His rig also features a small built-in refrigerator with a tiny freezer, plus he has a 12-volt plug-in cooler for even more cold storage. Many times he'll also carry a small portable propane grill.
Schultz, a former student at Northwestern Michigan College who worked in customer service jobs before beginning driving in 2015, is among a growing trend of long-haul truckers who shun fast-food staples like burgers, fries, and pizza in favor of healthier choices that they cook themselves as they roll along the nation's highways at 60 mph.
These road warriors are putting the pedal to the kettle.
"Once every week or two, I park at a truck-friendly Walmart or a truck stop next to a grocery store and get my shopping done," said Schultz, who drives for Melton Trucking, based in Tulsa, Oklahoma.
"I try to stick to easier, healthy one-pot recipes, but I make all sorts of things. I like to make a large batch of something that I can eat for a few days, since you don't always feel like cooking. I always keep a variety of sandwich fixings and healthy snacks on hand for a quick lunch."
Trucker-chefs swap recipes online and compete in virtual contests like the "Chopped Challenge" run by Big Truck Cooking, a 13,600-member Facebook group whose recent contest entries include slow-cooked Thai peanut pork and skillet shepherd's pie.
Almost 70 percent of long-haul truck drivers are obese, according to a 2010 survey by the National Institute for Occupational Safety and Health, which also found more than half were smokers. Some trucking companies promote cooking as a way to stay healthy in the sedentary profession, posting instructional videos on social media or outfitting cabs with inverters that convert electricity from the truck battery to power microwaves or hot plates. Dedicated Systems Inc. in Green Bay, Wisconsin, installs refrigerators on its big rigs and auxiliary power units so drivers can run appliances. About half the drivers in its 70-truck fleet now cook, said M.J. Hintz, a company vice president.
Getting truckers to eat healthier is a big trend in the industry, explained Tim Baker, co-owner of Pinnacle Truck Driver Training in Cadillac. More than 500 drivers have been trained since Pinnacle was launched three years ago.
"We go over healthy eating in our classes and talk about the importance of nutrition," said Baker. "You'd be amazed at how many of these guys are eating cold cereal and lunch meat sandwiches. Some of them eat a lot of fruit, but a lot are also eating pork rinds. We do encourage them to eat healthy."
Mancelona resident Steve Crider, who has been driving for Schneider trucking for a little over three months, has taken healthier eating to heart.
"When I started with Schneider, I was at 300 pounds," said Crider, a Pinnacle grad. "Now thanks to more sensible dining, I'm at 272 pounds. I try to keep under 1,000 calories a day. I'll typically have an Equate protein drink for breakfast, another one for lunch, and a Campbell's Chunky soup for dinner. I've also cut out pop, and drink water now. And I also have a supply of fruit, veggies, nuts, and protein bars."
In addition to the health benefits, preparing their own meals can help truck drivers pad their bottom line, according to Schultz.
"Cooking on the truck saves me a ton of money," he said. "When I first started, it didn't take me long to realize I could keep a lot more of my hard-earned pay in the bank this way."
Whether they are trying to eat healthy, save cash or simply satisfy a discerning palate, some drivers are determined to make their own meals in their own rig, a somewhat cramped, but comfortable environment. It's an over-the-road trend that sees truck-stop showers function as dishwashing opportunities, engine blocks as grills, and hot dogs boiled in dashboard coffee pots.
There are several tools available that can help a trucker get cooking on the road. Here are a few:

Portable stove. By far one of the most convenient appliances for a trucker who wants to cook in their rig, a portable stove — aka "lunchbox stove" — typically heats up to about 300 degrees. It's great for warming leftovers, heating up canned foods or cooking fully frozen meals. Drivers set it up before hitting the road for the day, and the meal is ready when it's time for a break. One popular unit is the Waring Pro, which features adjustable thermostats with "on" and "ready" indicator lights, heavy cast iron plates, and non-slip rubber feet.
Microwave oven. An alternative to the portable stove, microwaves are handy and easy to use. Trucks with power inverters can typically handle units up to 800 watts. Smaller options can save space in the truck.
Crock pot. Models are made specifically for use by truckers. Look for one that operates from the cigarette lighter or opt for one that uses regular power if there are outlets in the truck. It's a good idea to get one with a cord for the lid. This holds the lid in place and hooks under the handles, keeping the meal from spilling out of the slow cooker on bumpy roads. Start a meal in the morning, set it on low, and enjoy it at dinner time.
Electric skillet. Another popular choice with truckers. There are models of different sizes, depending if the driver is alone or cooking for a group. These skillets cook fairly evenly and are good for preparing meats, quesadillas or just about anything you'd prepare on a stovetop.
Hot pot. Especially nice in northern Michigan winters, this unit plugs into the cigarette lighter and heats up beverages, soups, chili, and any liquid-based food. Coffee drinkers rely on these units to provide fresh brews on their trips.

Freezer/refrigerator. These have become a 'must-have' for drivers who want to cook as they roll. They take up little space and save drivers from having to stop for cold drinks, chilled fruit, or bottled water. The freezer can store burritos, veggies, and prepared smoothie packs.
Blender. In trucks with electrical outlets, a blender is a popular choice. It's a great way to start the day with a blended smoothie. Some drivers even prepare their smoothie ingredients before they leave on their trip and just pull out the bag and toss it in the blender for breakfast. To save space, single-serve models with a convenient travel mug are choice picks.
Whatever appliances a driver might use, a key factor in healthier eating is planning ahead. Many drivers create a rough plan for meals and snacks before their trip, then do some grocery shopping and pack their food securely. This minimizes the chance of needing something at a truck stop where convenience items are often more expensive.
"Eating out every meal gets expensive fast, and poor eating habits will affect your health just as quick," said Schultz. "That being said, I treat myself to meals out once or twice a week usually. You have to live a little!"
One for the Road
While not his creation, here's one of Brian Schultz's favorite recipes that he makes in his Aroma cooker while rolling down the highway.
Chili-Lime Sweet Potato and Chicken Skillet
2 large chicken breasts, cut into 1-inch cubes
2 tablespoons olive oil
1 large sweet potato, cut into ½-inch cubes
2 bell peppers, cut into small pieces
½ red onion, cut into small pieces
2 tablespoons chili powder
2 tablespoons ground cumin
¼ teaspoon salt
1 cup chicken stock
1 tablespoon lime zest
Greek yogurt
In a skillet, heat the olive oil over medium heat, then add the chicken, and brown for approximately 6 minutes. Remove and place on a plate. Add more olive oil and sweet potato; cook 10–12 minutes until brown. Add the bell peppers, onion, chili powder, cumin, salt, and chicken stock. Return the chicken to the skillet and stir until combined. Cover and cook for 10 minutes. Add the black beans and lime zest and cook until heated through. Serve with lime wedges and a dollop of Greek yogurt.
Trending
Very Busy Very Fast
This isn't going to be easy. President Joe Biden and his thin congressional majority are walking into troubled times both ...
Read More >>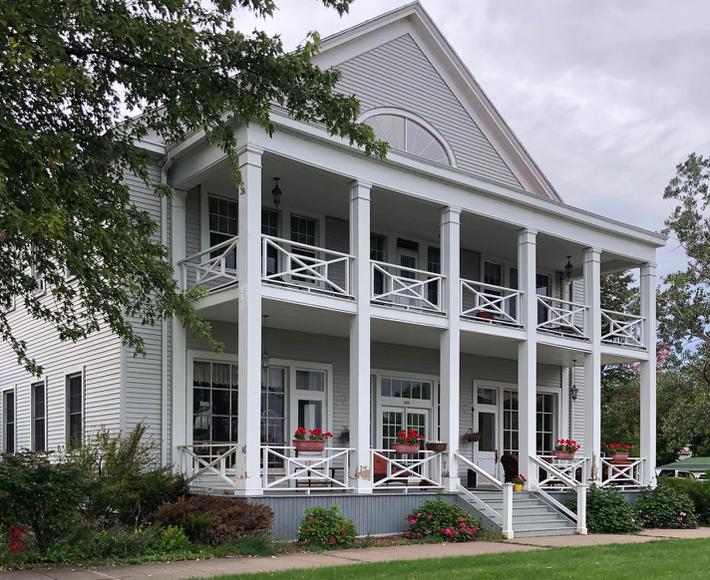 Thunder Bay Inn
Former playground to Henry Ford and part of a famous film and novel based on a real-life murder in the town, the courtroom...
Read More >>
Forty Acres' Spa Day Martini
Myriad methods of cocktail creation are on display at bars around the world. There are flaming drinks, compotes laden with...
Read More >>
He's Gone, Now What?
Wounded and fearful, America watched the 45th President leave the nation's capital. On a hastily arranged stage at a...
Read More >>
↑