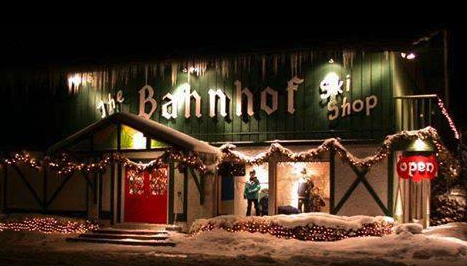 Petoskey's Historic Bahnhof Sport Makes a Major Change
Northern icon
For more than 50 years, Bahnhof Sports has been satisfying the desires of those winter sports lovers who like a little chill with their thrills.
And that won't change despite the fact that the landmark ski shop is now under new ownership. In November, owners Lindy and Greg Smith announced the sale of the shop to longtime family friend and ski industry veteran Don Marzalec.
"I'm truly humbled," said Marzalec, who had worked for The Bahnhof for 16 years. "The Bahnhof is a very special place because of its service to the community and dedication to our customers. I'm excited to continue such a legacy. We're gonna continue to focus on the customer."
The Bahnhof was founded in 1967 by Lionel and Virginia Hayes — Lindy Smith's parents — in the old train station in Pennsylvania Park in Petoskey. It quickly became a go-to stop for skiers and winter sports fans from across northern Michigan.
"If you needed repairs or new gear or just wanted to talk skiing, it was the place to go," recalled Marzalec.
In 1972, the Hayes relocated the business to its current location on Bay View Road. Then four years later, the Smiths bought the business. A period of growth followed, and the Bahnhof name expanded over the ensuing years. With the growing popularity of snowboarding and other activities, winter sports boomed and so did the Bahnhof. At one time, the family owned 19 Bahnhof stores across the country, including shops in Wisconsin, Colorado, Utah, and in several cities in Michigan. During that period of growth, the Petoskey always remained the flagship store.
But then the economy slumped, hitting the winter sports industry hard.
The original Bahnhof stuck to its proverbial snow guns, hanging on through the worst of the recession. Today, with a staff of about 12, Bahnhof Sport is a bustling full-service ski shop, repair, and rental operation. Need to upgrade your board or repair a binding? They can help. The store offers an impressive selection of both Alpine and Nordic ski gear for sale or rent. Need apparel? They have a great selection of latest styles and colors.
"One of our bestsellers so far this winter have been the heated socks," said Marzalec. "They've been really strong."
In addition, the shop rents bikes, kayaks and stand-up paddle boards in season.
"The new family has extensive experience in the snow sports industry and a deep understanding of the culture of service that has allowed us to serve multiple generations of skiers in northern Michigan," said Lindy Smith. "I have known Don for over 30 years and could not have hand-picked a better person to carry the legacy forward." For 22 years, Marzalec worked for Boyne Resorts, before retiring as the director of retail operations at the Big Sky Resort in Big Sky Montana. He returned to northern Michigan in the spring of 2017.
"I have a passion for the mountains and for snow and skiing," said Marzalec. "I liked Montana, but it was time to come home. And when this opportunity arose, I had to take advantage of it."
Loyal Bahnhof regulars won't see any major changes in the immediate future, according to Marzalec.
"We're not here to change anything and will be stewards of the trust the Smith family has built with customers over the years," he said. "We will work hard to be the go-to shop for all things related to skiing, outdoor snow gear and summer outdoor activities."
In November, the shop hosted a "winter welcome" open house and throngs of Bahnhof friends and family turned out to congratulate Marzalec and Lindy Smith. It was a gathering full of warm feelings and nostalgia as they shared stories about winter sports and the history of the Petoskey landmark.
Marzalec insists that one of the Bahnhof's most popular traditions — the annual ski swaps — will continue.
"Those are good for the parents and good for us," he said. "We're always supportive of the local ski teams too."
Trending
Very Busy Very Fast
This isn't going to be easy. President Joe Biden and his thin congressional majority are walking into troubled times both ...
Read More >>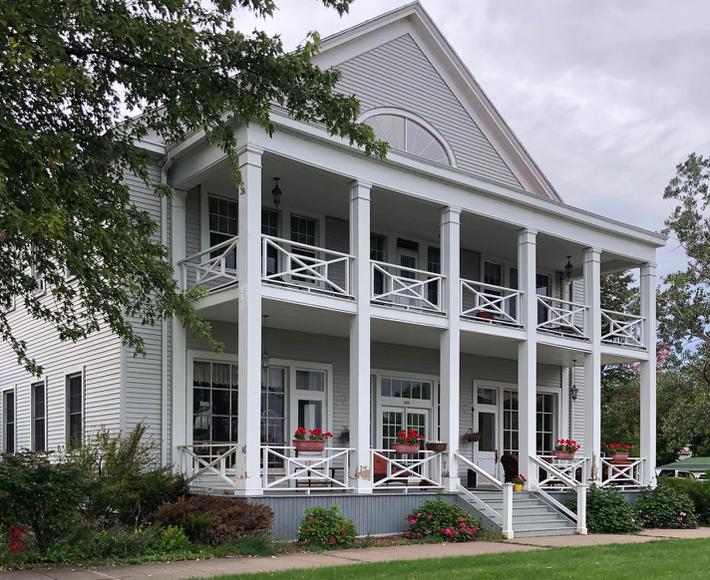 Thunder Bay Inn
Former playground to Henry Ford and part of a famous film and novel based on a real-life murder in the town, the courtroom...
Read More >>
Forty Acres' Spa Day Martini
Myriad methods of cocktail creation are on display at bars around the world. There are flaming drinks, compotes laden with...
Read More >>
He's Gone, Now What?
Wounded and fearful, America watched the 45th President leave the nation's capital. On a hastily arranged stage at a...
Read More >>
↑