Pop Goes the Dinner
From a pizza pickup truck to a Friday fish fry picnic, to a once-a-summer lobster party — it is open season for these six pop-up suppers. Feast while you can.
S2S 2Nite
1371 Gray Drive, Traverse City, www.sugar2salt.com
Couple Stephanie Wiitala and Johnathan Dayton helm the kitchen at the breakfast restaurant and catering company S2S | Sugar 2 Salt. Inspired, not soured by seeing their catering business all but dissolve this summer, they are now dabbling in dinner, too. "We call it S2S 2Nite," said Wiitala. "It gave us a chance to explore." The special window walk-up and call-ahead menu, offered 3pm to 8pm on Friday and Saturday nights only, includes lake trout fish and chips with roasted lemon and pickled ramp tartar sauce, a mélange of homemade sausages served with purple kraut, and a garden-fresh risotto with a poached egg on top to create its own sauce. Snap a pic for your Instagram feed before you tuck into the charcuterie box: sausages, duck ham, pancetta, cured lake trout, pickled vegetables, honeycomb, farmers cheese, spent grain crackers and bread.
All food is takeaway, so find a picnic spot in S2S's big backyard, under the water tower at Village at Grand Traverse Commons. Or, suggested Wiitala, pop by neighbors Earthen Ales or Left Foot Charley to dine with an accompanying ale, cider, or wine. "Welcome to our micro-community," she laughed. "We have a nice synergy." S2S plans to do the weekend dinner pop-ups "most definitely through Labor Day," said Wiitala, all the while producing their famous breakfasts and brunches, also to-go.
Thursday Night Dinners, A Matter of Taste @ Tapawingo
9502 Lake St., Ellsworth, www.amatteroftastemi.com
How's this for a dream scene: a freshly mixed cocktail and dinner prepared with local farm ingredients, accompanied by fingerstyle acoustic guitar, down in the valley on St. Clair Lake. Ginny McCallum, executive chef/owner of the wedding and event business A Matter of Taste @ Tapawingo, said she and her team created their Thursday Night Dinners to treat their neighbors to a serene evening at a beloved venue. "Our price of $35 was designed so that it could become a Thursday night thing that would be affordable. We are developing regulars."
McCallum's son lends his talents, too: "Kadin McCallum is my son and our incredible talented acoustic guitar player."
On Thursday, July 30, look for a backyard standard: local brisket slow-cooked in cherry barbecue sauce. For dessert? Grown-up "Pop-Tarts" filled with Michigan berries. Next up, on August 13,, the feast is an ode to Mexican street food. The Thursday Night Dinners run through November; tickets are via MyNorth Tickets, at mynorthtickets.com/organizations/a-matter-of-taste-tapawingo
Private Pop-Up Dinners at Black Star Farms
10844 East Revold Rd., Suttons Bay, www.blackstarfarms.com
With the usually epic weddings held at Black Star Farm's estate postponed, the catering team is rethinking how they do events — and that dovetails seamlessly into smaller private dinners for any special celebrations. "These are a way to experience something elevated in a very safe way and create positive memories this summer with your family or close friends," said Sherri Campbell Fenton, proprietor at Black Star Farms. "Small, private dinners can 'pop up' anytime we have availability. Over the 160-acre winery there are several exquisite backdrop spots where we can set up a small table," she said. "Sometimes the person being celebrated has a special affection for something, and we are happy to prepare that dish! We make dreams come true."
She added that they consider dinners from two to 20 "small," and have seen groups of families of that size booking with them. (This summer might be your classiest family reunion yet?!) Learn more here: www.blackstarfarms.com/private-dinners/
Pssst … Extend the evening into morning: Make a reservation to stay overnight at the Inn at Black Star Farms, currently a contender as one of the best Wine Country Hotels in the nation in the latest USA Today Readers Choice poll. (Help it get to No. 1 by voting — no more than once per day — until August 10.)
From the Ashes Wood-Fired Pizza Food Truck
Currently parked at Fountain Point Resort, 990 South Lake Leelanau Dr., Lake Leelanau, islandthymecatering.com/from-the-ashes/
How many fun things can you pack into one moment? Farm-to-table pizza … ordered from a food truck … delivered dockside … at a classic Lake Leelanau resort. Yep, it's a real thing, and Kristy VerSnyder, co-owner of the From The Ashes food truck, is grateful: "A beautiful historic resort is where we get to call home for our vintage 1953 Ford F600 truck, which is outfitted with a Mugnaini wood-fired pizza oven," she said. After all but four of their Island Thyme catering jobs were snuffed out this season, VerSnyder and her teammate/chef Matt Fitzke-Loll pulled up to Fountain Point with a truck-full of hope and pizza dreams.
Follow From the Ashes Wood Fired Pizza on Facebook and Instagram for weather-dependent hours and the farm-fresh pizzas of the moment. Definitely summer-crush worthy: a creation of sweet basil pesto, prosciutto, goat cheese, herb roasted tomatoes, and a balsamic glaze. And as a heads-up for hungry boaters on Lake Leelanau, order ahead (231-866-1545), and your pizza will be delivered to you at Fountain Point's docks. By-land guests are also welcome to pop by for a pie-to-go.
Farm-to-Table Dinner Series a Crystal Mountain
12500 Crystal Mountain Drive, Thompsonville, www.crystalmountain.com
Executive chef Jack Wenz builds a custom three-course menu by "literally going to the farm," he said. "Yesterday we picked cherries and saskatoons and, later, blueberries at Bulldog Berries. I try to be there for roll call at Loma Farm in the morning." Then he brings the amazing summertime crops of Northern Michigan farmers to delight diners at the Thompsonville resort's Thistle Pub & Grille the third weekend of each month, May through September.
For the Aug. 14 and 15 dinner, Wenz has his heart set on whitefish — "Our fishing boat goes out of Northport." — plus grilled peaches, sweet corn relish … he will ultimately let mother nature decide but prepared to be bowled over by the vibrancy of the produce and the luxe-but-cozy hospitality. Find out more at www.crystalmountain.com/event/farm-to-table-august/
Lobster Fest at Grand Traverse Lighthouse
15500 North Lighthouse Point Road, Northport, www.grandtraverselighthouse.com
One evening every summer — even this summer — Grand Traverse Lighthouse Museum staff and volunteers invite guests to an alfresco lobster dinner at the lighthouse, at the very tip of Michigan's pinkie. But no pinkies in the air here, just a chance to take in unmatched views of Cathead Bay and the Manitou Passage while taking a crack at a fresh Maine lobster with boiled redskins, corn on the cob, rolls, coleslaw, and a cherry dessert. Beer, wine, and lemonade are available and, carnivores, know grilled filet mignon or chicken are options. New this year will be the social distancing of tables on the lighthouse grounds, which are located within Leelanau State Park. The fundraiser is a go for Aug.15, with two seatings: 5pm and 6:30pm. All proceeds benefit the continued restoration and preservation of the historic Grand Traverse Lighthouse, which has been guiding ships and sailors since 1858. The cost per guest is $75 with a limited 200 tickets available. Tickets are on sale now at MyNorth.com: mynorthtickets.com/events/annual-lobster-fest-8-15-2020
**Pictured above: From the Ashes fans Kelly and Andrew Bennett delight in the dockside delivery option at Fountain Point Resort. Photo courtesy Kelly Bennett
Trending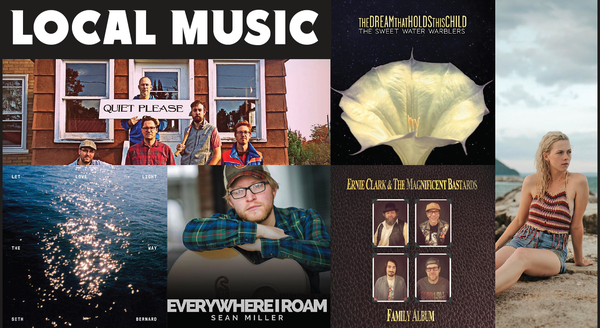 Listen Up: The Latest & Greatest Spins
So 2020 has not been a particularly great year for arts and entertainment. Film releases have been delayed. Concert tours ...
Read More >>

The Libertarians are Coming
Something in the ether, maybe, brought together a bunch of people who over the last year or so declared themselves Liberta...
Read More >>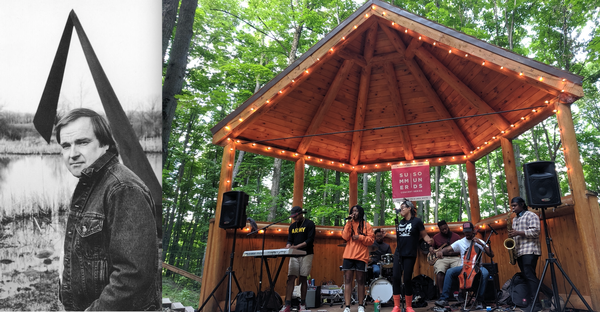 The Other Summer Sounds
As with virtually all venues, the enchanting forest-circled amphitheater inside Michigan Legacy Art Park — like its ...
Read More >>

Say You Were a Fan First
Who are the next big bright stars on the Michigan musical landscape? Who's the next band to become a local favorite ...
Read More >>
↑