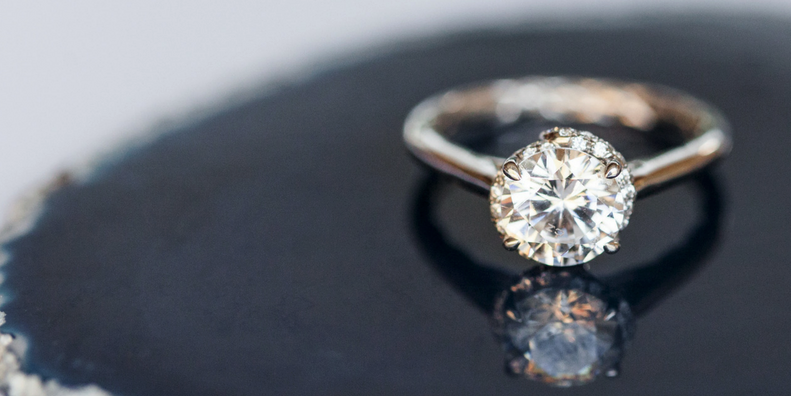 Put a Ring on It
Three made-in-Michigan stones for your made-in-Michigan love
Ruby, emerald, sapphire, topaz.

Pretty much everyone knows what those are. But have you heard of Leland blue stone, Lakeshore diamonds, or Fordite?

Those are just three of the many Michigan-made "gems" making their way into inspired engagement rings and other high-end jewelry.
LELAND BLUE
"Leland Blue is actually a slag byproduct of iron ore that was shipped from the Upper Peninsula of Michigan shortly after the Civil War," said Sheryl, a customer service associate at Tampico Imports in Leland. [Sheryl declined to share her last name.]

"Investors built an iron smelter in Leland — where the Leland harbor is today — and the byproduct was spilled from the smelter into the lake, ending up in the water."

That byproduct, often subjected to different chemicals during the smelting process, caused the slag to appear in different colors. The smelting industry left Leland long ago, but the slag remains. Today, people can find it in the water, or on the shore.

"You can find pieces along Lake Michigan," Sheryl said. "The smoother pieces have been tumbled by waves and sand. Other pieces that were found on land when they resurfaced the asphalt parking lot for the harbor were much sharper, as they didn't go through that tumbling process. But all come in the varying colors."

Those colors range from light blue to turquoise, dark blue to violet — a vibrant mix of blue hues.

"Our owner, Chris Telgard, goes out and hunts for many of the stones himself," Sheryl said. "Then he slices the stones into cabouchons [unfaceted gems] and sets them into sterling silver."

Tampico has sold so much Leland Blue that the store has started bringing in additional artisans to help turn the stones into jewelry.

"We just can't keep up," Sheryl said. "People really like this stone."

You can get Leland Blue in necklaces, rings, earrings, and even large Western-style belt buckles. Small start around $15; buckles can reach up to $200.

"It all depends on the size of the stone and level of polish. The average stone we sell is probably around $48. Sometimes we combine Leland Blue with other stones in a piece of jewelry, like beach glass, Petoskey stones, or freshwater pearls."

Get the Gem: Available at Tampico Imports, 112 N. Main St., Leland, (231) 256-7747 or facebook.com/tampicolelandmi
LAKESHORE DIAMOND (pictured above)
Unique to Miner's North Jewelers in Traverse City is the Lakeshore Diamond, a diamond that the business has cut to maximize the diamond's gleam and offer something unique to its diamond-buying clients.

"The Lakeshore Diamond has 90 facets, where the typical traditional round diamond has 58 facets," said Brandon Adkins, Miner's North sales floor manager. (Facets are the angles cut into a diamond that reflect the light.)

"It's meant to represent the reflections of the light on the water of our Great Lakes. You know, that fast, quick twinkle you get when the sun's rays reflect off of the waves."

Available in a wide range of different carat weights and shapes, the "standard" Lakeshore Diamond is white, but the gem is also available in a blue diamond color. The diamonds themselves are responsibly sourced from all over, with the store's primarily diamond cutter hailing from Russia.

Lakeshore Diamonds start at small diamond stud earrings for $299; a single one-third carat Lakeshore diamond starts at $1,000.

"We sell a ton of them," said Adkins. "The reason being, if you look at it compared to a classically cut diamond, it really does have so much extra fire to it. And there are a lot of option as far as shape, size, and how you can get the diamond set."

"The sky really is the limit," he said.
Get the Gem: Available exclusively at Miner's North Jewelers, 222 E. Front St., Traverse City, (231) 946-8528 or minersnorth.com.
FORDITE
Kevin Gauthier, owner of Korner Gem in Traverse City, has been cutting stones for 41 years, founding his gem shop halfway through his cutting career. He said Fordite is actually one of the shops biggest sellers

"That's a stone that really gets a lot of interest," he said, "but it's not even technically a stone or a gem."

Fordite — you might have guessed — is named after Ford cars, for a very intriguing reason. Gauthier explained that Fordite is essentially layers and layers of residual paint left over from the era of the car industry when cars were painted by hand.

"From around the late '40s to the '80s, people used sprayers to paint the cars," he said. "After the '80s, they changed the car-painting process. Most of the Fordite is from Ford River Rogue Complex in Dearborn. The car paint would collect on the machines and spray lines as people worked, so the workers would often break chunks off after the paint dried and take them home in their lunchboxes."

Most of the Fordite Gauthier currently has in his shop is from one of those personal collections; he sourced it from a basement in Grand Rapids.

While it may seem like an unusual thing to choose as a "gemstone," Fordite other unique qualities, in addition to its history, that make it a sought-after item.

"The brighter the colors, the more desirable the Fordite," Gauthier said. "There's something called 'Fordite' that's been coming in from Mexico, but that's not the real thing, as it's got metallic paint mixed in. Real Fordite doesn't have metallics in it. Strange thing is, Fordite is currently priced higher than raw silver. That's how rare it is."
Get the Gem: Available at Korner Gem, 13031 Fisherman Cove, Traverse City, (231) 929-9175 or kornergem.com.
Trending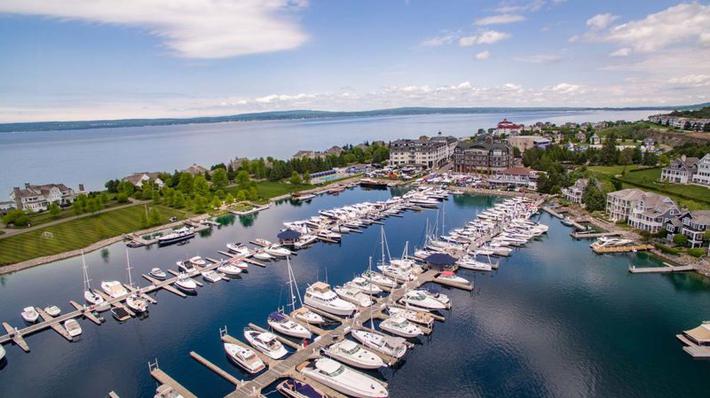 We Like Big Boats, and We Cannot Lie
Since buying your own yacht isn't likely this year due to supply and demand issues, what's the harm in dreamin...
Read More >>
Ending the Filibuster
The filibuster, much in the news lately, has an interesting if not usually glorious history. From the French word...
Read More >>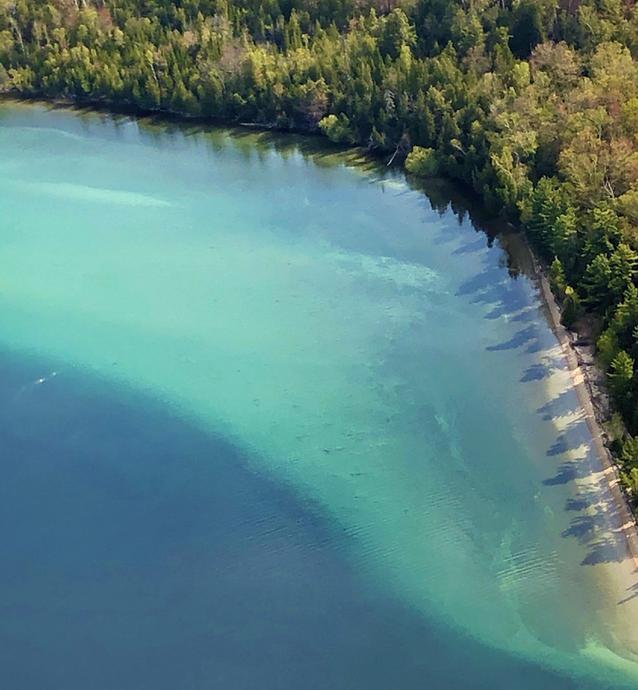 Torch Lake Takeover
You don't need to live on the shores of Torch Lake to know how breathtakingly gorgeous it is. A massive inland lake ...
Read More >>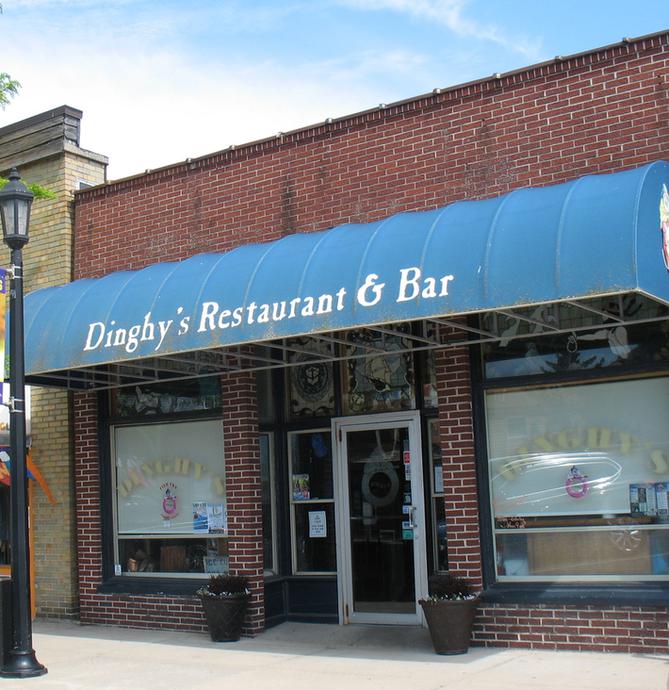 Dinghy's Restaurant & Bar
Kelly Sandman chuckles at a customer's joke, runs a cloth across a section of the 33-foot-bar, then greets a famishe...
Read More >>
↑