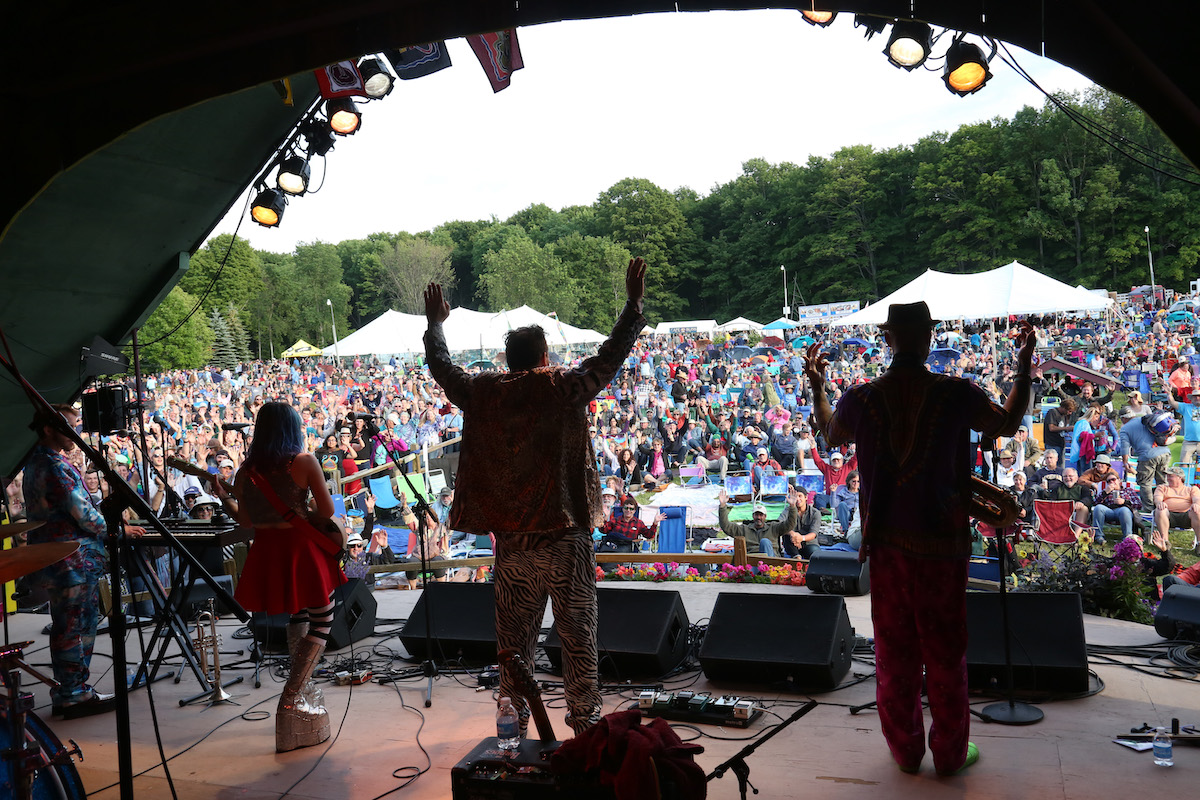 Ready to Rock
Harbor Springs' Blissfest (blissfully) returns
Like virtually all music festivals and events, Blissfest—the iconic roots-and-more music festival in Harbor Springs—went dark in 2020. And as with many others, it followed suit in 2021. Now, as we move into a not-quite-post-COVID world, the festival is back, and Executive Director Cindy McSurely says they will be celebrating 40 years of presenting a huge variety of music.
Who's playing? "It's folk and roots music. That's a huge umbrella," says McSurely, noting the three-day event encompasses everything from bluegrass, blues, and Zydeco to country, Celtic, jazz, Latin, and world music.
Headlining the weekend will be three-time Grammy Award-winning singer-songwriter Shawn Colvin and bluegrass/rock/Cajun band Leftover Salmon. Other acts will include Nicki Bluhm, Laith Al-Saadi, Miko Marks, Patty Larkin, Sarah Shook and the Disarmers, Parsonsfield, Jackie Venson, and many more. Among the Michigan artists scheduled to appear are the Accidentals, May Erlewine, The Go Rounds, Seth Bernard, The Real Ingredients, Mark Lavengood, and Jordan Hamilton.
The roster of artists this year reflects those previously booked, as well as new additions to round things out. "We did our best to re-book the original 2020 lineup and also bring an exciting and jam-packed festival for everyone this year with new acts in the mix from the Michigan and national scenes," says Caroline Barlow, talent buyer for the festival.
Barlow adds that the festival is unique, as are the people that come together every year to create their own bliss. "The programming has its own vibe, and it is unlike any other festival lineup out there," she says. "It's one of those things that you might have to experience to know, but Blissfest has its own culture that stands out from the crowd. It is welcoming, multi-generational, fun-loving, colorful, and seems to have endless pockets of things to experience."
That's all to say, Blissfest is more than just a big party with music. There's a children's tent with programming for the younger set, a huge variety of food vendors, an arts and crafts fair, and healing arts all there to enhance the experience of the live music and festive spirit.
Deep Roots
While 2022 is a big year for the festival in many ways, the nonprofit educational and performing arts organization had humble beginnings back in 1981. A small arts club called the Spectrum Center above the original location of Grain Train in Petoskey was a hub for local artists, folk musicians, dancers, and movie buffs to gather. The center and the nearby alternative Bliss School decided to join forces to host a concert as a fundraiser for the school.
That first Blissfest was held for one day under a maple tree in a potato farmer's fallow field in Bliss Township in the summer of 1981. (What else could it be called other than Blissfest?) Successive festivals were held at whichever of the farmer's fields were available before finding a permanent home at the Blissfest Festival Farm outside Harbor Springs.
Blissfest is now a licensed campground, and the North Country Scenic Trail is routed through the farm. "We are open three seasons [with] 35 rustic campsites," McSurely notes. This will be its first full campground season.
Just as they did in the early days, many of the attendees camp on-site, which Holly Keller-Thompson, bookkeeper for the organization, says reflects the communal aspects of such gatherings. She says the vibe is a throwback to the peace and love culture of the late '60s and early '70s.
"Blissfest is cool because it embraces that hippie culture that we loved from the '70s, when peace and love was the anthem that seemed to echo through the generation," Keller-Thompson explains. "There seems to be something in the air that fills people with that kind of joy and nostalgia that can only be described as bliss when you see all the happy and familiar faces in the sunshine of summer," she says.
That blissful feeling continues throughout the year. Though the word Blissfest means the three-day weekend gathering to most people, Blissfest the organization provides year-round folk arts programming. Concerts are held at various venues around the area, including Crooked Tree Arts Center, Cheboygan Opera House, and Great Lakes Center for the Arts.
The nonprofit also collaborates with farm markets, libraries, and other entities to provide music. They even offer Folkscool—Blissfest's version of a school of the arts—in the organization's three primary mission areas of arts, music, and sustainability. The classes vary from afternoon to multi-day experiences.
Deeper Meaning
So what makes Blissfest (the weekend festival, we mean) special this time around? McSurely says she's excited for the return of live music from a new vantage point, with two of her favorites as headline acts. "Shawn Colvin will be solo. It's going to be very special," she says. "Leftover Salmon has that jam band thing. Both are veterans with impressive careers. They put on incredible shows."
This will actually be the first Blissfest McSurely has headed up, though she's attended multiple previous festivals. For many years she worked for Crooked Tree Arts Center, collaborating with Blissfest. She took over as executive director in 2020, three weeks before the festival was canceled in light of the pandemic. "My first [festival] was in 1990. My husband and I refer to it as BC: Before Children," she says with a laugh.
This year is a welcome return to live music for both performers and the audience. And the question must be asked: Will this 40th edition be the best Blissfest ever? "It's going to feel that way because people have missed it," McSurely says.
Blissfest 2022 Dates and Details
The music party of the summer will be held at Blissfest Farm, 3695 Division Rd, Harbor Springs, July 8-10.
Weekend passes are $170 for members, $200 for non-members, and $80 for teens. (Kids 12 and under are free.) The price includes all shows, workshops (some may also require a small fee for materials), and camping. Members can reserve specific sites—otherwise they are first come, first served.
Day passes (Saturday only) are $100 for adults, $40 for teens. Parking passes are $10 per vehicle. McSurely says about one-third of folks who held tickets for the 2020 event rolled them over, first into 2021 and subsequently into this year. Sales so far have been brisk and in line with years past.
When asked to cite a few recommendations from a talent-buyer perspective, Barlow said these are some of the acts she's most excited to see:
Country: Sarah Shook & The Disarmers, Erik Koskinen
Rock and alt-rock: Jackie Venson, Patty PerShayla & the Mayhaps, The Go Rounds
Folk and bluegrass: Carsie Blanton, Miko Marks, Damn Tall Buildings
Instrumental/electronica: Ramblxr, Earth Radio
For the latest and most complete information, go to blissfest.org or call (231) 348-7047.
Trending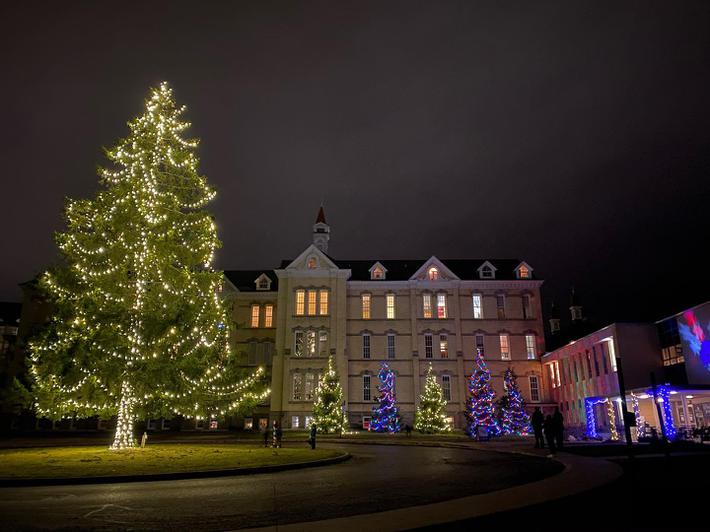 An Uncommon Celebration
The Village at Grand Traverse Commons is a shopping destination all year round, but we especially love a visit during thei...
Read More >>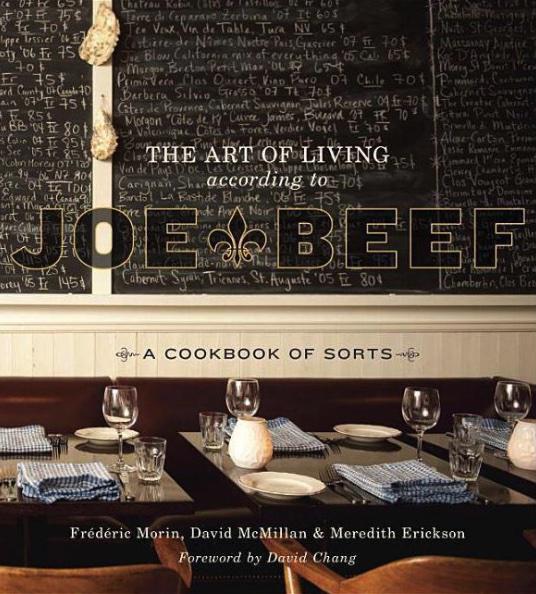 Cookbooks and Canadians
The beloved amical Cookbook Dinner Series is back, and this month the TC restaurant features The Art of Living According t...
Read More >>
Christmas on the Farm
If you'd like your ho-ho-ho to be a bit more e-i-e-i-o, then look no further. First up: Christmas with Alpacas at No...
Read More >>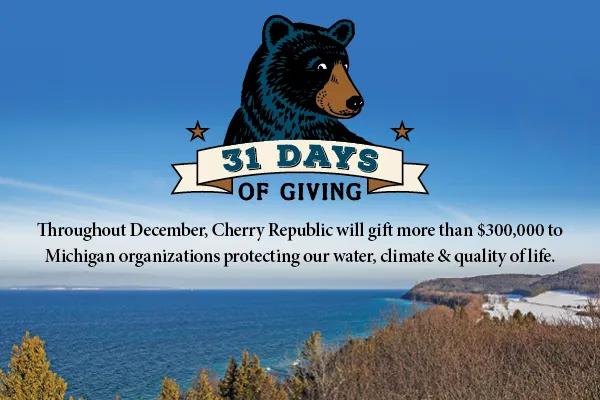 31 Days of Giving
Giving Tuesday, which falls every year on the Tuesday after Thanksgiving, is typically a busy day for northern Michigan, g...
Read More >>