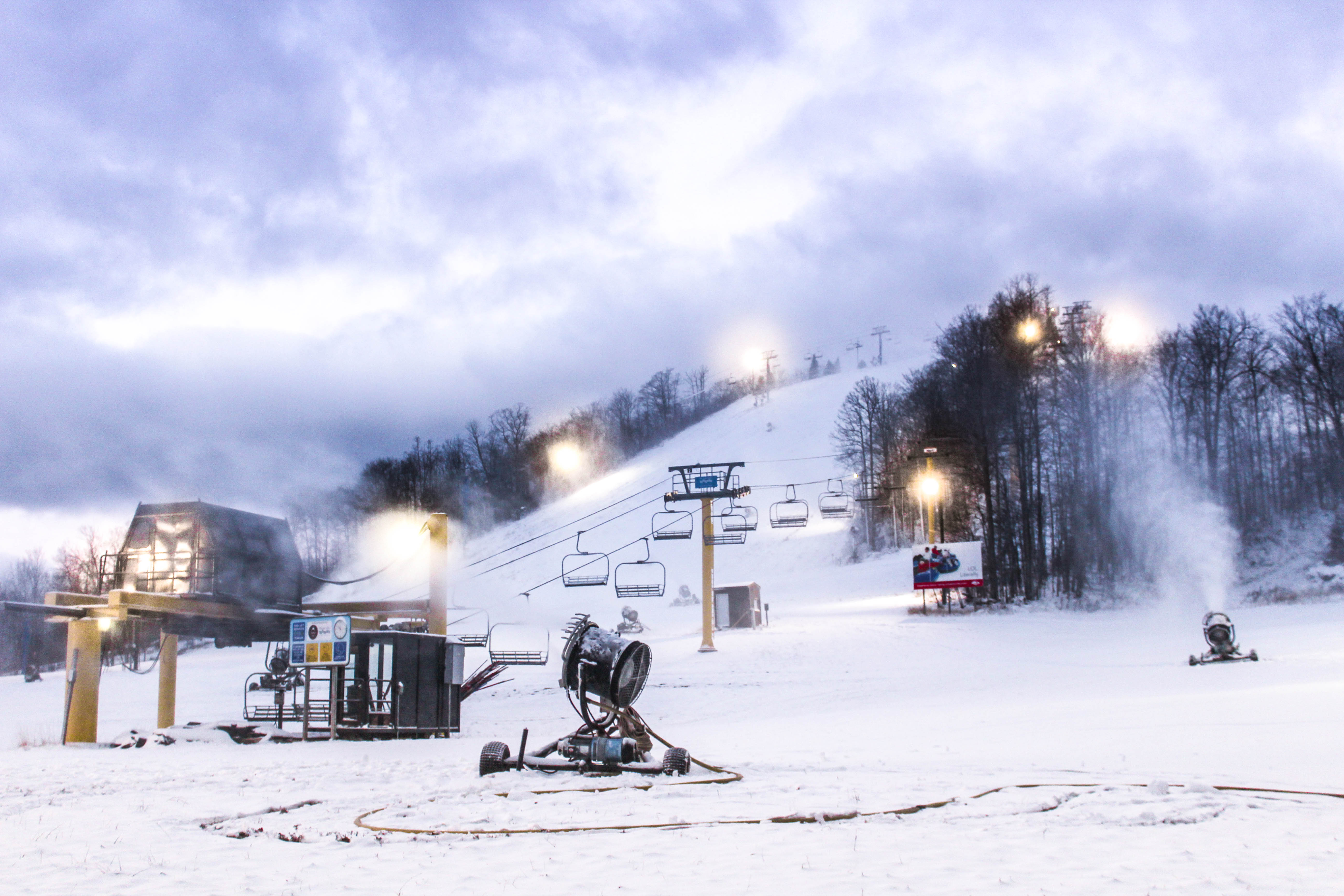 Resorts looking forward to slopes season
"Let it snow! Let it snow! Let snow!" goes the refrain of the popular holiday song, and that's certainly the mantra for resorts across the region. From Cadillac to Harbor Springs, whither Boyne Mountain or Shanty Creek, the hope this year is for plenty of snow and cold weather — though please, not too cold.
At Caberfae Peaks outside Cadillac, Pete Meyer is enthused about the brand new lift. "It's our first new one in over 20 years," he said. The Doppelmayr triple chair was installed this summer. It has a top elevation of 1,561 feet and provides a 360-degree view of the surrounding Manistee National Forest.
He said the new fixed-grip triple chair will better serve the North Peak complex. It will unload at the top of North Peak 15 vertical feet higher than the North Peak quad chair, allowing easy access to both the green runs on the back side and the more advanced runs on the front side.
Caberfae, which opened in 1938, is the oldest ski resort in the state and fourth-oldest in the country. Its original lodge was built by the Civilian Conservation Corps, and its first tow rope was powered by the engine from a Ford Model A. It's also the most southerly of the northern Michigan ski resorts, making it appealing to those coming north from downstate.
Kevin McKinley, director of ski and golf at Gaylord's Treetops Resort, is looking forward to new and improved ski and snowboard instruction, courtesy of Devin Kurzhals, the new director of snow sports. McKinley says the instruction will include terrain geared toward beginners, enabling them to familiarize themselves with how to manipulate skis and snowboards without facing the daunting prospect of speeding down a big hill.
"It lets them know how it feels," said McKinley. "Terrain-based teaching for skiers or snowboarders … makes it easier for the student to progress."
He said the resort's mini-pipe is groomed with small slopes, which enables the students to learn how to go back and forth while heading downhill.
"You start making an initial turn, and a beginner has no clue how to turn back," he said. "The mini-pipe allows them to turn back to the middle."
McKinley also pointed to new rental equipment, especially for kids, as another new and necessary improvement. Treetops is also in the midst of a $4.5 million renovation project, which will conclude in the coming year.
It will provide a refreshed look and feel for the Lodge and the Inn, including new roofing, flooring and furnishings. While work will continue through the winter, McKinley said it will not have a negative impact on visitors to the resort during ski season.
Crystal Mountain celebrates 60 years of operation with six for $60 lift tickets on Dec. 16 and March 10. In fact, the month of March sees special celebrations every weekend, starting with Mardi Gras on the Mountain March 3-4 and Spring Carnival the following weekend with the Cardboard Classic and Slush Cup, along with a live band and brews under the Big Top.
Celts and Kayaks (March 17-18) celebrates St. Patrick's Day with downhill kayak races, while Retro Weekend (March 24-25) includes the Get Up! On-mountain Foot Race and Get Down! Fat Bike (downhill) Challenge before live music from tribute band The Journey at the base of the slopes.
Of course, you don't have to wait till March to hit the slopes. Brian Lawson, Crystal's director of public relations, said while the Backyard officially opened last year, this year it's really ready to come into its own. Lawson said another key has been the development of interest in a winter activity that doesn't involve strapping anything on your feet.
"Fat bikes have become huge. It (interest) has grown so much over the year. We offer beginner lessons on our own park. There's really nothing like it in the state," he said.
In Harbor Springs, there are a number of improvements and new items at Nub's Nob, according to Ben Doornbos, the assistant general manager. First and foremost is 1,000 pairs of new high-end skis for rental.
"I think our rental here will be a big plus," said Doornbos. There are also new groomers and improvements in the resort's snow-making infrastructure, even new paint on two lifts.
Doornbos said the resort's attention to detail is a key to its success. "The focus is always on quality," he said. That extends to its snow: the resort builds its own snow guns. "We always get comments on how much snow we have and its quality," he said.
He also extends his praise to the staff, which like so many others has returning veterans of years past. "We have a great returning crew," he said.
Of course, Nub's isn't alone in Harbor Springs. At Boyne Highlands, oil lanterns and moonlight are perfect for an evening ski. A mile-long loop for night skiing is set up for a nostalgic trip through the trails Friday and Saturday nights.
For those who'd rather walk than schuss, there's always snowshoeing.
"It's great for anyone. There's not a lot of experience needed," said Erin Ernst, director of communications at Boyne Resorts.
Snowshoers can even indulge in one of three snowshoe expeditions, each culminating with a gourmet three-course dinner. The events are scheduled for Jan. 6, Feb. 3 and March 3.
Dining locations include North Peak at the top of the slopes, Olympic Room with a bird's eye view of the slopes, and the Country Club of Boyne in the heart of the resort's best trails.
The resort's tubing park is being expanded with additional lanes this winter and also being moved closer to the Camelot lift. Reconfiguring the park will allow this popular attraction to open earlier in the season.
Want to try before you buy? Daily snowboard demos are available for the first time this winter through Boyne Country Sports. Boyne Highlands also offers a full line of skis to demo. Demos are $55 per day, with the full cost credited towards the purchase of a new snowboard or skis.
Sister resort Boyne Mountain in Boyne Falls boasts new offerings both outdoors and indoors.
Nighttime skiers and riders can enjoy an additional 30 acres of terrain this winter with the addition of lights in the popular Meadows area. The new lights will illuminate the Meadows, Idiot's Delight, Thunder and Stein's Mambo with lift access on the Meadows chairlift, a Doppelmayr conveyor loaded quad that offers the second-fastest ride up the mountain. Night session lift tickets are available Wednesday through Saturday, 5-9 p.m., and daily during holidays.
Here too you can partake of snowshoe suppers, now expanded to Friday as well as Saturday. They begin with a ride to the summit, where spiced wine and hot chocolate await, before patrons don snowshoes and stomp their way along snow-covered trails. Refreshments are available midway at a bonfire before arrival at Stein Eriksen's restaurant.
Indoor updates include two new retail stores, the Under Armour store and the North Face store. Fritz's Snow Fort at Avalanche Bay indoor waterpark is a play structure loft and place for crafts and art projects. Adults can relax at the Spa at Boyne Mountain, which now boasts 18 treatment rooms, all with mountain views.

Chris Hale at Shanty Creek Resorts pointed to fat bikes — a 5K loop on the property — and a new Friday night race league as items of interest new to the resort.
"We decided to develop independent and separate snowshoe and fat bike trails," said Hale, the executive vice president for sales and marketing.
Shanty has also expanded its tubing park and its teaching area. Hale said the resort is devoting more resources and capital expenditures into additional snowmaking as well.
The resort's 5,000 acres are also home to hundreds of cottages and freestanding homes. Hale joked that his boss is more like a mayor than a general manager, what with the resort being a reseller of telephone, internet and cable, and working with sewer and water distribution at the massive complex, which straddles Bellaire and Mancelona.
The Otsego Club in Gaylord opened a year after Caberfae Peaks, laying claim to the title of America's oldest private ski club. It keeps up with the times, however. Jeff Morrison, the resort's director of ski operations, cited this year's purchase of a new snowmaking machine.
"We added to our snowmaking capacity with a new gun, a Techno Alpin oscillating gun," he said.
Unlike the stationary SMI Super Polecat, this is a carriage gun on a tripod, meaning it can be moved to provide snow where it's most needed.
Morrison said the advent of snowmaking equipment in the '50s and its widespread adaptation over the next few decades provided much-needed stability for the ski resorts when cold weather failed to produce enough snow. "It saved the industry," he said.
He said the Otsego Club is also looking at adding some additional racing in the form of alpine race training camps.
"We do the standard Nastar race and some other race programs, but we're encouraging schools to bring their teams over here to practice," he said.
The Homestead Resort in Glen Arbor markets itself as an alternative to the busier resorts.
With a summit elevation of 900 feet and a vertical drop of 320 feet, its ski hill is small but picturesque, with skiable terrain down both the north and south face. Located in the heart of Sleeping Bear National Lakeshore, it's the only resort that boasts a view of the dunes.
In addition to alpine skiing, cross-country skiing and snowshoeing, the National Park trails at Sleeping Bear Dunes are popular, as is skating on Fiddler's Pond at the base of the south face of the hill.
Ross Boissoneau is a freelance writer.
Trending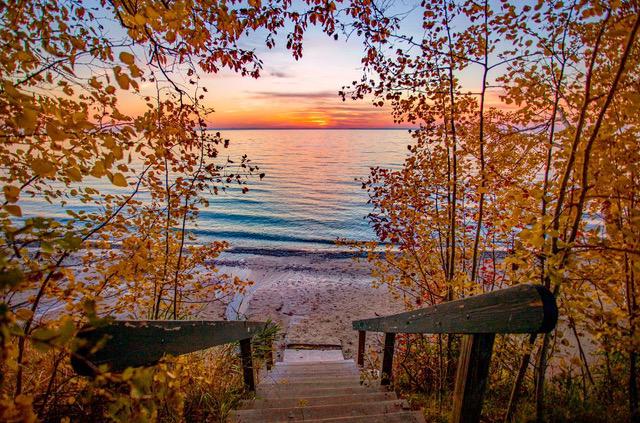 Cruisin' the Breezeway
Fall into East Jordan during the 15th Annual Autumn on the Breezeway! Choose from three different dates: Sept. 30, Oct. 7,...
Read More >>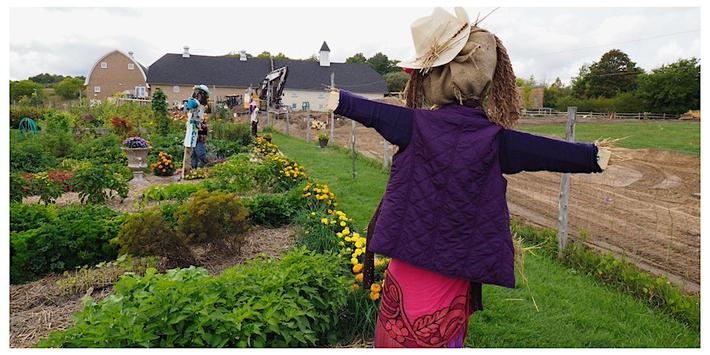 Scarecrow Szn
It may not be "spooky szn" (as the kids call it) just yet, but it does seem like it might be scarecrow szn. Th...
Read More >>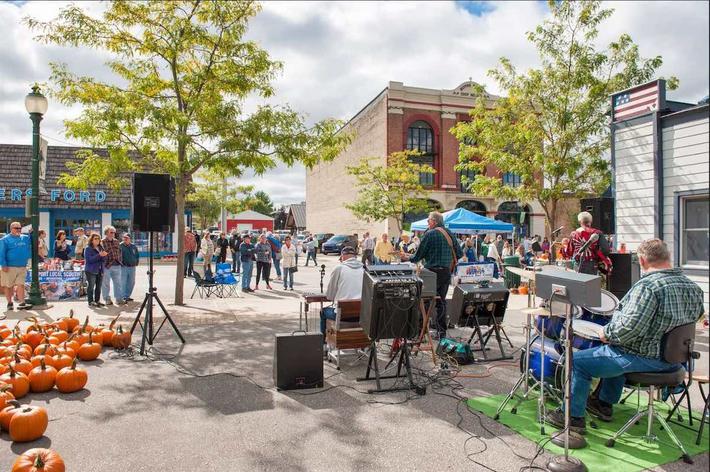 Celebrate the Harvest in Boyne City
Welcome to the season of harvest festivals! The days are getting shorter, the nights (and days) cooler, and it's tim...
Read More >>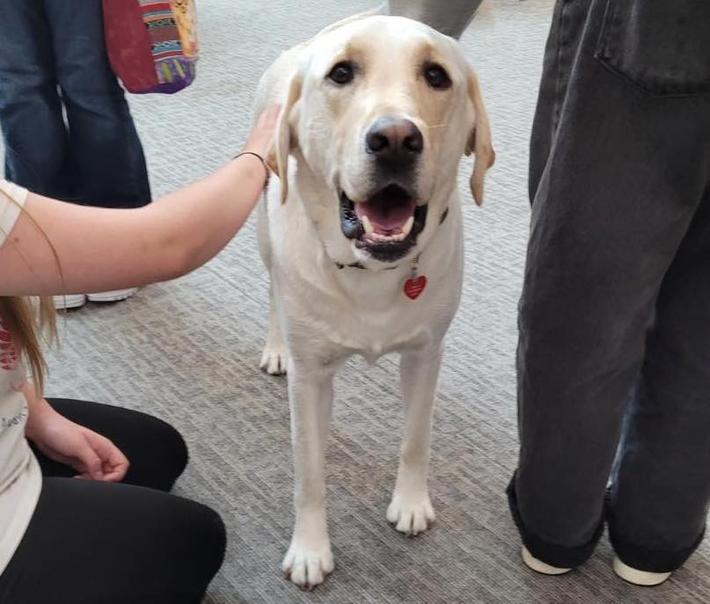 Pups on Campus
Traverse City West Senior High has brought on a very good boy as their newest staff member for the 2023-24 school year. Me...
Read More >>