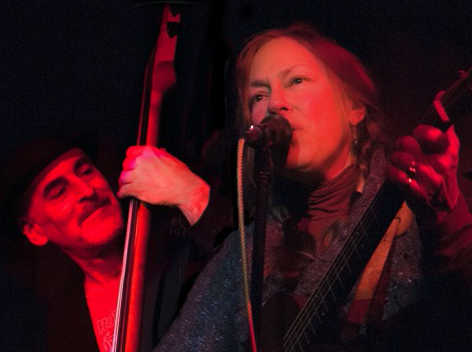 Robin Lee Berry's Introspective Folk Experience
Robin Lee Berry is an in-demand collaborative musician around the local Boyne City/Petoskey/Traverse City music scenes. So you've most likely heard about her in relation to a wide variety of bands, other peoples' musical projects, and the concert venue she co-runs with her husband Tony Williams, the Freshwater Gallery, in Boyne City.

But this Boyne-based singer-songwriter is also a folk-music force to be reckoned with all on her own.
MEET THE MUSICIAN
Berry got her musical start in East Lansing in the late 1970s. She sang in a variety of clubs, making the rounds with fellow musicians and working at the Lansing Sound Recording Studio, where she did voiceover work for ads.

One year, she took on a New Year's Eve singing gig up in Charlevoix, and that was when Berry fell in love with northern Michigan. In 1981, she returned to play a summer-long gig and decided to figure out a way to stay Up North.

These days, she keeps herself centered herself in Boyne City's SOBO Arts District, where she works with her husband to oversee other musicians' gigs at Freshwater Gallery while writing songs for her own upcoming solo album.

Her sound is folk with hints of jazz, blues, and rock — heavy on the guitar and seasoned with melancholy.
CREATING HER CATALOG
To anchor her musical feet in northern Michigan, Berry joined up with the local jazz quartet Equinox, eventually transitioning from them to sing for the 45th Parallel Big Band. Since then, she's collaborated with a wide range of well-known regional musicians, including Crispin Campbell, Norm Wheeler, Don Julin, and frequent collaborator and friend Glenn Wolff.
She's performed at most of the most popular venues and resorts across the region, as well as a wide range of festivals and other special events, but her real passion lies with her own original music, including her most recent full-length acoustic solo album, Ahna Kick a Hole in the Sky, on which she led a pack of local talent in interpreting her songs.
Her prior releases include the solo albums A Man Like My Guitar, Reap the Bounty, and Wait for the Rush; her duo album with Glenn Wolff (Tea and Orange Peels); and the single "Hey Baby Hey," her contribution to the Red House Records compilation album Going Driftless: An Artist's Tribute to Greg Brown.
HER INSPIRATION
Introspection, observations, and her own interpretations of things that she experiences, sees, and reads — even local newspaper columns — inspires Berry to write.
"An excerpt from the horoscope column right in Northern Express kept following me around for years, and it finally found its way into a song called 'Weave Me a Parachute,'" Berry said. "It's about taking all of the broken things in your life and weaving a parachute away from the negative emotions so you can break free of them."
Paramount to her process, she said, is to always recognize what she's feeling, and to channel that into her musical work.

"I've really been in that introspective state of mind lately," she said. "I hope with each song of mine that people hear, they will enter into the song as it plays, and then depart as it ends with something shifted in them, something thoughtful."
CURRENT PROJECTS
Berry is working on her latest solo album with Patrick Niemesto at Holy Wah! Recording Studio in Maple City.

"He has such good ears, and I love what he does!" she said.

Berry's fellow local singer E Minor is also in the process of making an album there, as are several other musical peers. "There are lots of musicians going in and out of this place, so I'm hoping to grab some of them and get them on this album," she said.

The album, yet untitled, is due out the end of June. Berry's aiming at eight or nine songs total, and while she said she hasn't yet planned out a touring schedule in support of the set, she will likely book a slate of regional shows.
EXOTIC EXPERIENCES
One of the songs planned for the album, "Deep Deep Hole," was inspired when Berry took an uncharacteristic risk, hopping a plane for Thailand when her daughter Ruby, also a singer-songwriter, called her from a backpacking trip and encouraged her mother to join her for a few weeks.

"I thought, When else am I going to do something like this?" Berry said. "So I actually went for three weeks. And it was emancipating. Plus I really had to face some fears — and not show that fear in front of my kid!"
"It was 104 degrees in Thailand right off of the plane, and you're immediately cut free from the usual things of every day," she continued. "It was a completely different environment. I had hair to my waist when I got there, and Ruby cut it all off for me. We departed from our usual kid-and-mom relationship and went to a whole new level, where we're now friends as well as mother and daughter, so that was really neat. The whole thing definitely affected my songwriting."
FUTURE BERRY
This summer, while the release of her new album starts filtering its way out to local outlets, radio, and streaming media, fans will be able to catch Berry live at the Indigo Hotel in Traverse City with Glenn Wolff, as well as at the Pine Hill Nursery just north of Elk Rapids on US-31, where they serve up drinks and outdoor pizzas along with the live music.
She also sings on occasion with the band Jazz North, also out of Traverse City and was recently tapped to write the theme song for an upcoming documentary about Ernest Hemingway. The documentary will be out on July 21, and Berry will perform the theme song at Freshwater Gallery on June 2 with the Hemingway Society showing clips of the film.

"Dr. George Colburn has a documentary film company, and is making a movie about the young Hemingway's time here in Michigan, and how being here affected his writing," Berry said. "The theme song will be called 'Gone Wild,' and it was co-written by George and myself. We picked through a bunch of Hemingway's letters and wrote the song about him living and growing up here."
To find out more about Robin Lee Berry and her music, visit robinleeberry.com.
Trending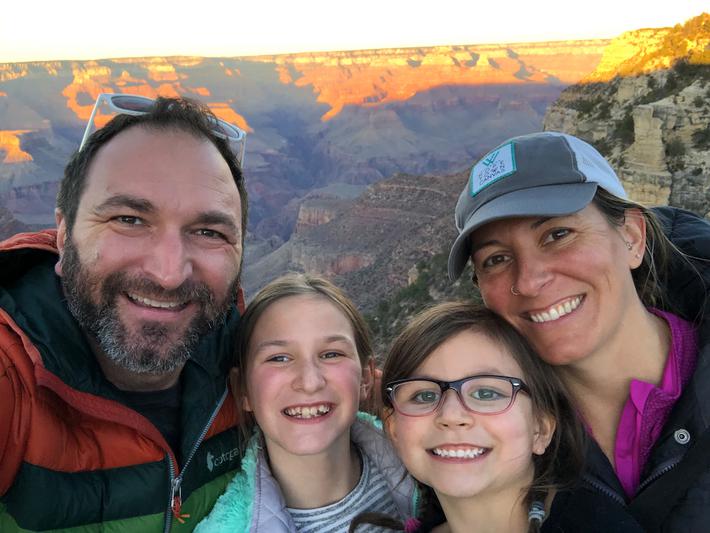 A Nine-month Family Vacation
Long before the pandemic, Joe and Christina Sanok had a plan. A dream, really: They wanted to take off with their kids and...
Read More >>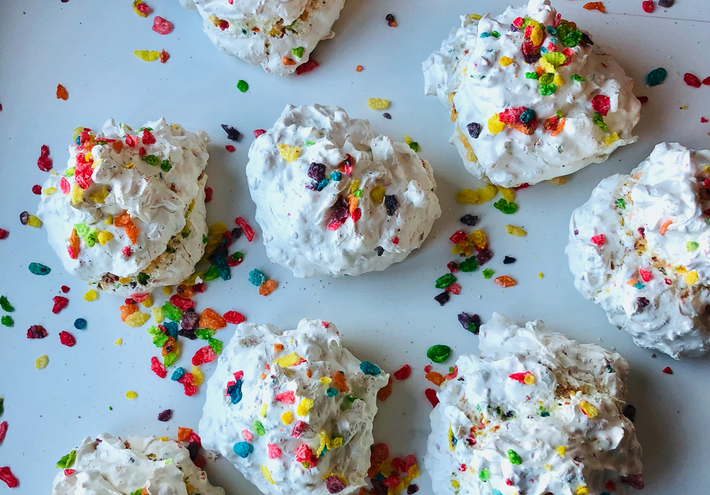 7 Batches Made in Heaven
Let's be honest: Picking the best cookies in northern Michigan is an impossible task. There are so many "right...
Read More >>
Respecting the River
Forever, the Grand Traverse Band of Ottawa and Chippewa Indians (GTB) has regarded the water — and the Boardman/Otta...
Read More >>
Not a Clue
Surely politicians wouldn't be so clueless that they'd lie about COVID-19 deaths or take a vacation during a statewide eme...
Read More >>
↑