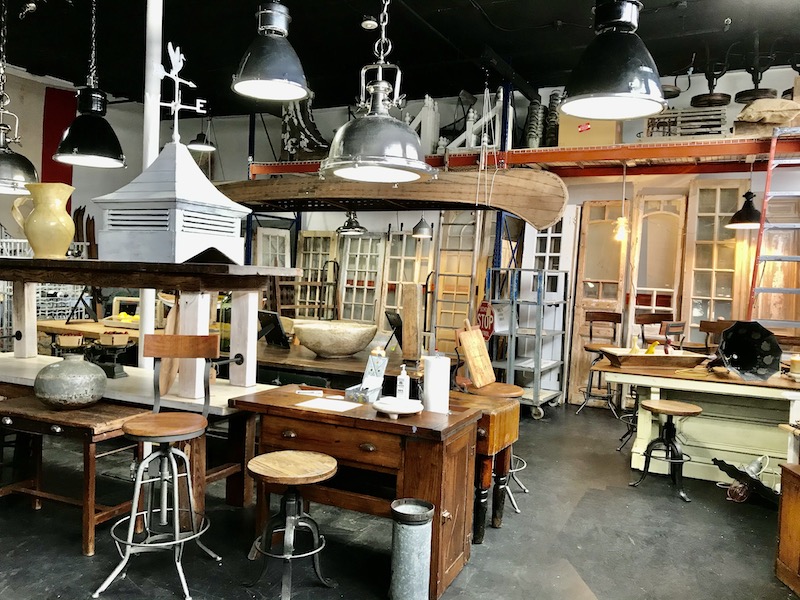 Salvage Stars
Who to know and where to go for upcycled home goods … and recycled homes
Reduce? Sure. Reuse? You betcha? Recycle? Only as a last resort. So how about rebuild? Or repaint, or refinish, or renovate?
If you're like the legions of people who saw their increased stay-at-home time as an opportunity to redecorate, refresh, or renovate said home, you likely tackled at least one home improvement project since the coronavirus pandemic hit the United States. (According to survey results published by Statistica in July, 76 percent of 1,083 respondents stated they had made at least one improvement to their home's interior or exterior between March and July 2020.)
Whether the coming spring or the satisfaction of completing that one pandemic project is motivating you to tackle more, here are five secret weapons you should have in your home renovation toolbox.
FOR FIXER-UPPER FANS
"It's mostly repurposed wood and metal," said Lisa Monson of the variety of goods and their uses at Antiquities Warehouse (pictured above). The spacious store in the Warehouse District in Traverse City holds a hoarder's dream: chairs, tables, cabinets. Wood corbels. Doors and more doors, along with oddities like a latex glove mold made of aluminum, ammo holders, olive buckets, industrial light pendants — the list goes on and on.
The store is the brainchild of Louise McDermott, a Traverse City native who now winters in Phoenix. That's where she has the original Antiquities Warehouse, a massive 35,000 square-foot facility. The Traverse City version will soon encompass 9,000 square feet as a result of taking over the entire building. That will take place in early May, with a new shipment of goods from the Phoenix store helping to fill the new space, formerly home to Traverse City Bike & Brew and, before that, Inside Out Gallery.
Among the most popular items are tables. Everything from side tables to round and rectangular dining tables, with other oddities being pressed into service as same. Folding tables are particularly hot. The No. 1 seller is stools, particularly a set of bar stools, while antique breadboards from Europe are freshly stamped, then One of Monson's favorite reclamation projects is the conversion of a battered canoe into a light fixture, the canoe suspended upside down. Hope you've got plenty of space.
BARN MARKET RISING AGAIN?
Across town, Tammy Simerson's Red Dresser offers a somewhat smaller, more curated and ever-changing collection. She originally opened her shop of new and old farmhouse finds and refinished furniture in Traverse City's Warehouse District in 2009, but her wares have drawn such a following from customers and other collectors with eclectic and refurbed goods to sell that she's moved and expanded three times, ultimately ending up in her fourth — and according to Simerson, final — location on South Airport Road.
She also hosts the Red Dresser Barn Market, (usually) a twice-a-year, multi-day outdoor market where she and others showcase a giant array of goods. Originally located outside her Warehouse District store, it then moved to a relative's barn outside Kingsley (hence the name). When it outgrew that location, in 2019, she moved it to the Northwestern Michigan Fairgrounds.
Typically drawing crowds of hundreds, the market was canceled last spring and this fall. This year it is tentatively scheduled for May 28–29, pending approval from the Grand Traverse County Health Department. So far, she's received approval from Blair Township and the Fairgrounds, but with the vagaries of the pandemic, she's not yet made a final decision. That will come closer to the date, she says.
In the meantime, the shop is open and has hardly missed a beat; last year was Red Dresser's busiest year ever, she says.

"It became more popular because of the pandemic. The furniture stores are 12 to 16 weeks out, can't get furniture in, and people are looking toward vintage [pieces] as an option."
OLD HOME, NEW MINI-MANSION
At Bay Area Recycling for Charities, owner Andy Gale is taking things a step further, creating actual buildings from various parts and pieces. "A guy came into our office and said, 'Can you recycle a house?' That was two-and-a-half years ago," says Gale.
For Gale, it was an opportunity to return to his construction roots. "I was in the industry 20 years. It's cool to get back into it a little bit."
Now Gale and his crew will take apart a house rather than having it bulldozed, and use the pieces to create sheds, art or yoga studios, or other tiny buildings, along with other projects. "Our De/Reconstruction (service) will take down regular houses and build them into little houses, along with picnic tables, planting boxes — all from old building materials," he says.
Gale hired two carpenters who worked at the late lamented Odom Reuse in Grawn, and supplements the crew with labor from SEEDS and YouthWork from Child and Family Services of Northwestern Michigan. They will carefully deconstruct a building in a panelized format. "I know how to slice and dice," says Gale, which allows them to capture and utilize the energy already expended in the initial construction. They then reconstruct, repairing or filling in holes where necessary.
The results can range from the 100-square-foot Life Pod or Open Air (the latter a great play structure, potting shed, or fruit stand) to the Cozy Cottage (twice the size, perfect for an art studio or additional sleeping space) to larger sizes such as the Minimalist or Mini-Mansion, all good for glamping, office spaces, or small guest homes. They are all customizable, with prices starting at $5,000.
Gale says he and his crews are getting more and more comfortable with the process, and he anticipates that the business model will continue to build as they get better at it and as more people hear about it. He's hopeful that it may eventually be part of a solution for area workforce housing. "There's no end goal, we just want it to grow."
TRASH TO TREASURE
Karen Brennan at Deer Creek Junk happened into the business when she had to clean out an old family home. From there it was on to repainting and refinishing and selling her wares through a consignment shop in Petoskey, before finally opening her own store in East Jordan.
She said the business has morphed over the years from work she did to allowing and encouraging others to do it themselves. "It kind of evolved. At first most was finished and repaired, now I have more salvage and raw materials," she said.
Brennan still does some work, however, it's often on a custom basis. "I convert doors to sliding barn doors, refinish, make benches out of beds. I do a lot of things with ceiling tiles." While she usually works at the shop, she doesn't maintain regular hours, instead suggesting people call ahead. "It's open by appointment or chance," Brennan said.
One of her favorite projects is on display for all to see, as she refurbished an old ambulance center into the store. Now a façade of windows and doors serves as the main entrance to her establishment. "That was really fun. Another big project was when I did a number of doors for a home on Skegemog Lake that was being remodeled. Now every door is like a statement piece."
She also owns a home next to the shop which she refurbished and now rents out on Airbnb. "People can see examples of different ideas (there)."
These days she's less likely to go out looking for estates or garage sales. "I've been doing it long enough stuff finds me," she said with a laugh. "People call me and say they have an old home."
OLD SCHOOL FURNITURE REPAIR
If it's the repair of furnishings by the experts you're after rather than the reconstruct/reuse/repaint model, Kelly Refinishing of Charlevoix may be the answer. Sam and Colleen Wilcenski purchased the business in 1998 and have been reworking, rebuilding, and refinishing furniture since then.
They offer a variety of services, typically things that go beyond simple repairs or painting. "Rush weaving, flat weaving, pressed cane — we'll strip it, refinish it, repair, replace spindles. We do caning projects, wicker — a lot of cottages have wicker furniture need repair or repainting," said Colleen Wilcenski.
While the exacting work of re-caning a chair and matching its original weave and look may be the most compelling work they offer, Colleen said her personal favorite project was restoring an old cabinet. "An old cupboard had been stored in a barn. It was a Hoosier-type cabinet," she said, referring to a type of cupboard or free-standing kitchen cabinet popular in the early 20th Century, when most homes did not have built-in kitchen cabinetry.
It needed a lot of TLC: It had been chewed on by various animals and was covered in animal waste. The Wilcenskis thoroughly cleaned it before stripping it down and refinishing it. The entire process took almost a year. "We put flour and a sugar sifter in it, jars for spices. It looked beautiful when it went out. That was the most satisfying of all of them."
Like Simerson at the Red Dresser, Wilcenski said business in the year of the pandemic was brisk. "Last year was busier than we've been in a long time. People were in their house looking at it, and said 'Let's do it now.' We had a lot of things come in last year.
"Every day is different. There's something new every day. Sam just turned a spreader on a chair. He took the other one and duplicated it, then I had to match the color and finish."
Trending
Yucatan Guacamole
Whichever food scientists deemed the mighty monounsaturated-fat-filled avocado good for the human heart failed to take int...
Read More >>
Pipeline Profit Risks Our Future
The 1950s were a heyday for civil engineering. To fuel our growth, we built what was then the world's longest suspension b...
Read More >>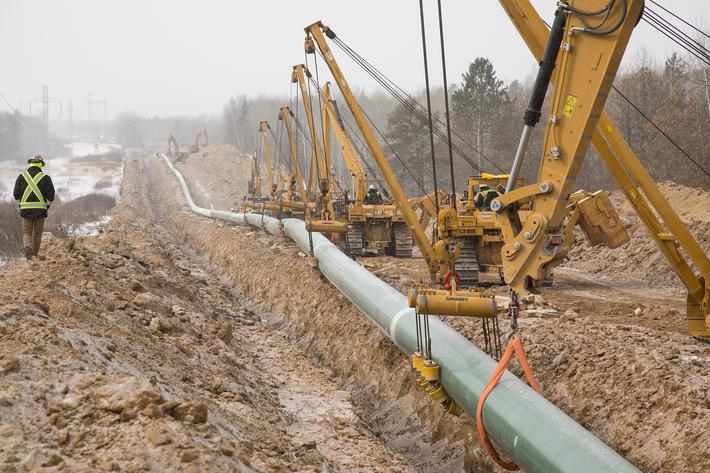 Evicting Enbridge
"Shut Down Line 5 Pipeline." "Keep Oil Out of the Great Lakes." "No Tunnel."If you&rsq...
Read More >>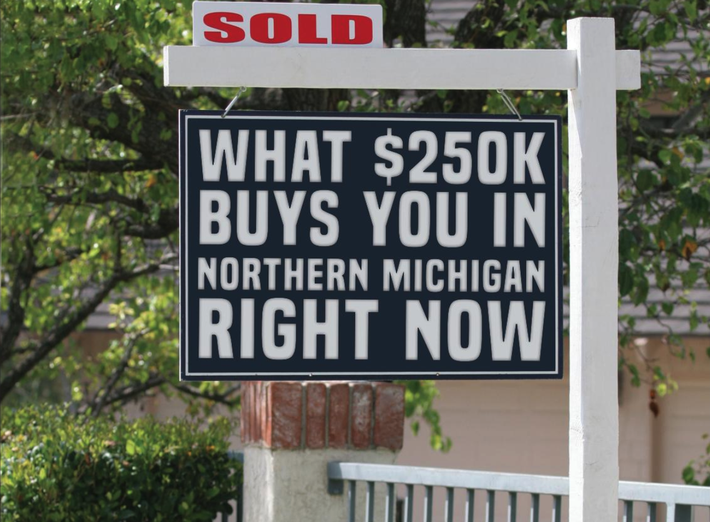 (Does it buy anything anymore?)
Anyone who has paid the slightest bit of attention to real estate in the past year knows that since the opening of busines...
Read More >>
↑