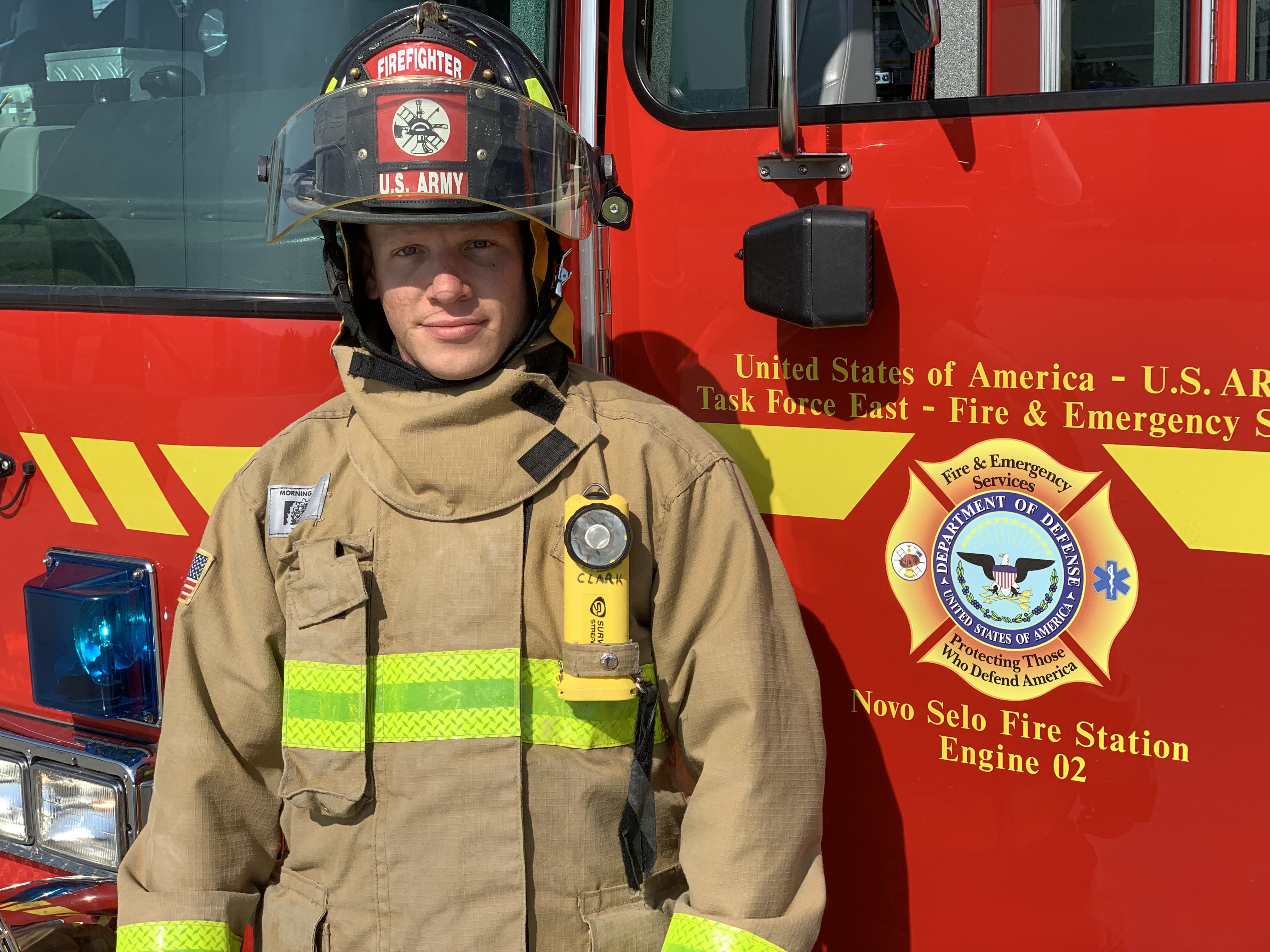 Service Salute: Sgt. Scott Clark
Kalkaska deputy carries on his family's military legacy on extended National Guard rotation in Novo Selo.
By Al Parker | June 29, 2019
How does a Kalkaska County lawman end up spending up to a year in Eastern Europe, including some time in Dracula's old stomping grounds in Romania?

Sgt. Scott Clark is one of 17 Army National Guard firefighters from Michigan deployed on an extended rotation in Bulgaria and Romania. They are members of the 1442nd and 1439th Firefighter teams, along with the 1440th Headquarters Unit, at the Novo Selo Training Area in Bulgaria.

In civilian life, Clark patrols the roads for the Kalkaska County Sheriff's Department. He's been there since February 2016.

"Hopefully I'll be back [in Michigan] before the snow flies," he recently told theNorthernExpressin an exclusive telephone interview. It's a seven-hour time difference between Michigan and Bulgaria.

As a National Guard firefighter, Clark has been stationed in Eastern Europe since January. His deployment is expected to last anywhere from nine to 12 months. He and his fellow firefighters are busy training and educating other troops on fire safety.

"We're doing a lot of fire prevention training more than fire suppression," he explained. "Making sure people are aware of fire dangers."

The American firefighters don't work with any of their Bulgarian counterparts, but there has been discussion of developing a plan to have them work with locals.

Established in 1962, Novo Selo is one of the largest military bases in Bulgaria and is operated by NATO forces. From all of the NATO nations that send troops to train there, the Americans are the highest population, with Bulgaria second. The 55-square-mile base is in Eastern Bulgaria, less than two hours from the Black Sea.

Novo Selo is in an extremely important strategic location, since the Black Sea is considered an insecure area because its waters are shared by many nations that are not friendly to the U.S., including Ukraine, Turkey, Georgia, and Russia. Another nearby and similar base is Bezmer, operated by the U.S. Air Force. The two facilities often conduct training operations together.

So is the Bulgarian countryside anything like northern Michigan with pine forests, rivers and lakes?

"It's more like the St. Johns area," explained Clark. "Flat and with a lot of farms."

While in Bulgaria, Clark hasn't had much opportunity to tour the local countryside, but during a stint in Romania he had a chance to visit Brasov, dubbed "Dracula's Capitol." It's a city of about 250,000 residents, making it the seventh largest in the nation, and serves as the regional capitol of the Transylvanian Saxons.

The 29-year-old Clark already has an impressive background as a first responder. After graduating from Manistique High School in the U.P., he earned an associate degree in Emergency Medical Services at North Central Michigan College in Petoskey, followed by a stint at the Kirtland Regional Police Academy.

He's been trained and served as a firefighter, a paramedic, and road patrol deputy. It's a trifecta of first responder roles.

"I really like road patrol because I get to interact with people," said Clark. "You get to help people and that makes you feel good. I wanted to do this ever since I was a kid. I really love going to work."

Family is very important to Clark, and he made it clear he misses his wife, Amanda, and eight-year-old daughter, Kynzi, who are back home in Gaylord.

But he's grateful for the technology that keeps them connected on a regular basis. "Being able to talk to them makes it a lot easier," he said. "Thank God for that."

Clark comes from a family with a strong military tradition. Both of his parents served in the U.S. Air Force. His father was an aircraft mechanic maintaining the engines of the highly-regarded A-10 Warthog. His mother was a mechanic on another technologically advanced aircraft, the durable F-16 Fighting Falcon.

"One of my grandfathers served as a rail car engineer in the Army, while another was a helicopter pilot," said Clark. "And my step-brother also served in the Air Force."

He's encouraged that there's been a resurgence of respect for those who serve in the military. "People seem to recognize veterans, POWs, and MIAs more in recent years," he noted. "That's a good thing."

Any message for friends and family in Michigan?

"Just say 'Hi to everybody back home.'"

Trending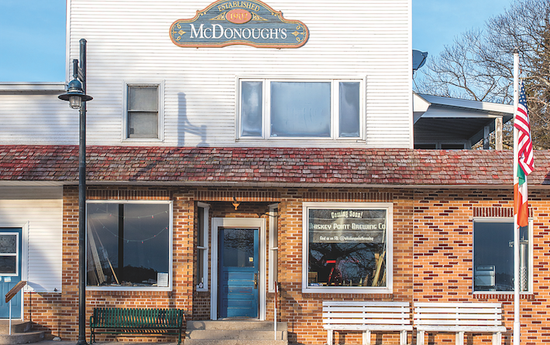 Welcome to Michigan's Most Remote Brewery
After years of planning and honing his beer-making skills, this spring, Patrick McGinnity plans to open Beaver Island&rsqu...
Read More >>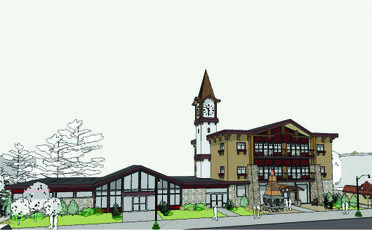 Gaylord: A boomtown Up North
Gaylord native Gary Scott had moved to Indiana, where he and some partners started a business to invest in distressed prop...
Read More >>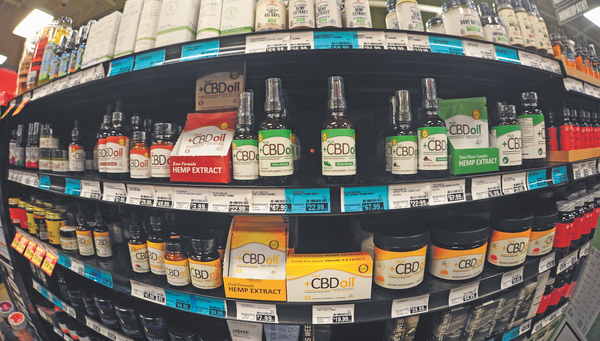 CBD Laws: Dazed and Confused
The sign outside of Family Video in Kalkaska lets drivers know the store has more than just movies. The sign reads: &...
Read More >>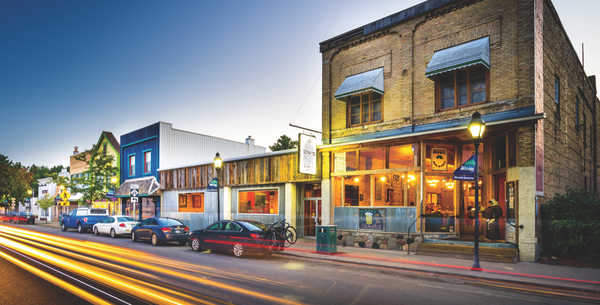 Small Up North Towns on the Rise
Spotlight on Bellaire (pictured)Seems Traverse City isn't the only place in the region making those "Best...
Read More >>
↑