Let's Shred!
Northwest Lower Michigan's got the pow. Get your board and go.
As we write this, snow is cascading from the sky and blanketing every surface in sight, suggesting that the long, strange autumn of 2021 might be permanently in the rearview. It's the moment each year that confounds drivers, gives kids their first "snow day" of the season, and causes huge headaches for local road commissions and public safety departments.
For northern Michigan's many ski resorts, though, this moment is a harbinger of something else: pure, unadulterated joy. Because, barring some freak reversal in weather, it's officially winter sports season.
To mark the occasion this year, the Northern Express is paying tribute to the less recognized members of our local ski community: the snowboarders. While most winter resorts cater first and foremost to the older and more dominant snow sport, skiing, not a one Up North overlooks the interest (and some might say, fanaticism) of those who live to shredding the gnar. Here's your guide to eight great resorts who devote a lot of snow, energy, and terrain to boarders — and the latest on what they've got planned this season for all.
Caberfae Peaks, Cadillac
Let it Snow: Opened all the way back in 1934, Caberfae Peaks is one of the oldest ski resorts in the entire country. With 34 ski runs spread across 225 acres, as well as 485 feet of vertical drop, it remains a winter sports enthusiast playground nearly nine decades later.
Why We Love it: Standing at an elevation of 1,561 feet, Caberfae's chairlift is the highest in Michigan's entire Lower Peninsula? In other words, even before you get on the slopes, a run at Caberfae is already thrilling, characterized by glorious, high-flying views of the Manistee National Forest.
The Grind: If you're a first-time snowboarder looking to learn the ropes before you shred the slopes, it's hard to do better in northern Michigan than Caberfae. Caberfae is known for both its awesome Snowsports School (where you can learn skiing or snowboarding techniques with private, semi-private, or group lessons) and for its affordable ski-and-stay packages (so you can plan a ski resort weekend without breaking the bank). Plus, this year, the resort stocked up on new snowboards, snowboard boots, and skis for its rental program, to make the learning curve a bit smoother.
Don't Miss: Any trip to Caberfae this winter should include some time in the newly renovated Skyview Lodge. Originally built in 1962, the Skyview got a much-needed makeover both inside and out during the offseason. Bring a picnic lunch and enjoy it at Skyview to refuel for the second half of your day on the slopes. The resort even welcomes guests to bring and plug in their own crockpots, so bringing along your favorite home-cooked chili is very much an option! (If you don't want to bring a lunch, no worries: Caberfae has multiple dining options to choose from on the premises.)
The Homestead, Glen Arbor
Let It Snow: The Homestead got its start in the 1920s — not as a resort, but as a children's camp (and later, as a full-fledged boarding school) that focused on outdoor experiences. In the 1970s, it was remade as a year-round vacation destination. The close proximity of Lake Michigan renders The Homestead a popular place to be in the summer, but the resort also offers a (relatively small) ski operation. Snowboarders can find 16 acres to explore at The Homestead, including 13 runs and 375 feet of vertical descent.
Why We Love It: "If we could give an award to the ski area with the best view in Michigan, The Homestead would be a contender." That strong endorsement, from a 2020 Pure Michigan video, encompasses much of the appeal of spending a day snowboarding here. Get to the top of one of the north-facing runs and you'll see a stunning view of Lake Michigan, Sleeping Bear Bay, and the Sleeping Bear Dunes National Lakeshore that's worth the price of a lift ticket by itself. If you love a summertime trip to the Dunes, you'll love a winter day spent at The Homestead.
The Grind: The Homestead's terrain park, called "Bunch Berry," offers a nice series of rails and jumps without ramping the "difficult" or "dangerous" levels up too high. It's the perfect spot for boarders just exiting the "beginner" phase to start trying their hand at some basic tricks.
Don't Miss: Experienced snowboarders should absolutely set aside some time for a few runs down Yellow Rocket. One of just three black diamond runs at The Homestead, it rewards the effort and challenge by offering the best views of any slope on the property. Not quite up to the black diamond level yet? Try out White Trillium instead, a gentler blue square with almost-equally-splendid vistas for you to enjoy.
Nub's Nob, Harbor Springs
Let it Snow: Opened in 1958 as just a small ski hill, Nub's Nob has flourished over the years into one of Michigan's most legendary ski and snowboard areas. Today, it spans 248 skiable areas, with 53 runs and a vertical drop of 427 feet. The longest run stretches for nearly nine-tenths of a mile — perfect for the more serious skiers or snowboarders.
Why We Love It: When we call Nub's Nob "legendary," we mean it. Few ski areas in Michigan (or in the entire Midwest) have received as many honors and awards, including notices from the likes of Ski Magazine, Outdoor Magazine, and Transworld Snowboarding. In particular, Nub's Nob has been recognized for having some of the best snow of any Midwest ski destination. That's no small thing, given that snow quality can make the difference between a fast, thrilling day on the slopes and a complete bust. Nub's Nob – with its state-of-the-art snowmaking system, meticulous planning of how and where that snow gets distributed, and tireless grooming and servicing of its runs – provides world-class conditions for shredding, even when Mother Nature doesn't fully cooperate.
The Grind: In 2013, when Outside Magazine highlighted "The Best Ski Resorts in the Midwest," it gave Nub's Nob the honor of "Best Terrain Park." Those three words alone should put the Nob at the top of any seasoned snowboarder's must-visit list. With literally dozens of features to try out – from rails to jumps to probably the best half pipe you'll find in northern Michigan – it's no stretch to call the terrain park at Nub's Nob professional grade. In fact, pro snowboarder Danny Davis – an X-Games gold medalist and 2014 Olympian – used to call Nub's Nob his training ground, according to Outside Magazine.
Don't Miss: Nub's Nob has its fair share of legendary runs — take Twilight Zone, a notoriously mogul-ridden black diamond — but the must-try for any experienced boarders making their way to this Harbor Springs ski hill is Chute. That run alone encompasses all 427 feet of vertical drop at Nub's Nob — a thrilling, high-speed descent that, if you're ready for it, is about as fun as snowboarding gets.
Boyne Mountain Resort, Boyne Falls (pictured above)
Let it Snow: One of the two ski resorts operated in northern Michigan by Boyne Resorts, Boyne Mountain boasts a skiable area of 415 acres, with 60 runs and 500 feet of vertical drop. It's actually the smaller of the two Boyne resorts in terms of ski/snowboard action, but there's an insane amount of adventure to be found in these hills.
Why We Love it: It's hard not to feel a little bit romantic about Boyne Mountain's fascinating history. That background dates back to 1947, when founder Everett Kircher relocated from Detroit to northern Michigan to build a ski resort. He spent just $1 to buy the land, then started developing his dream, which eventually morphed into Boyne Mountain. Kircher proved to be a genuine ski pioneer, particularly in the category of chairlifts. In fact, did you know that the world's first chairlift actually continues to run at Boyne Mountain, to this day? The lift, built in 1936 by Union Pacific Railroad, was initially installed at Dollar Mountain in Sun Valley, Idaho. 12 years later, Kircher bought that lift and transported it to northern Michigan by rail; it was the first chairlift to be installed in the Midwest. It's been rebuilt and modified significantly over the years, but the top and bottom terminals are still in service at Boyne Mountain. So, if you ride the Hemlock lift up the mountain, you're literally riding a piece of ski history.
It was also Kircher who came up with the idea for the world's first triple-seat and quad-seat chairlifts. 28 years later, in 1992, Boyne also introduced the first high-speed six-seat chairlift in the United States. And the innovation continues: This fall, Boyne announced plans to replace two of Boyne Mountain's chairlifts, Disciples Ridge and Disciples II, with "Disciples 8," an eight-seat chairlift; it will be the first chairlift of that size in the Midwest.
The Grind: We talked a bit about Danny Davis's ties to Nub's Nob, but the Nob isn't the only ski resort in northern Michigan with Olympic snowboarding pedigree. Karly Shorr, the 27-year-old boarder who finished sixth in women's slopestyle at the 2014 Winter Olympics in Sochi, grew up spending weekends at Boyne Mountain. She was drawn, in particular, to the resort's terrain parks. You'll be drawn to them too, if you're the kind of snowboarder with a taste for banks, boxes, and berms.
Don't Miss: Look, there's so much to do on the slopes at Boyne Mountain that it can be hard to squeeze in moments for indoor fun. But if you do reach the point where you can board no more, we suggest a visit to Avalanche Bay, which offers 88,000 square feet of indoor water park fun.
Boyne Highlands, Harbor Springs
Let it Snow: Boyne Highlands, just northwest of Boyne Mountain, is actually a little bigger than its Boyne City brethren — at least in terms of skiable area. The slopes at the Highlands span 435 acres and 55 runs, and the highest vertical terrain peak of the resort — up 552 feet — is actually the highest of any ski resort in Lower Michigan.
Why We Love It: Whether you're heading out to Boyne Highlands for a multi-day snowboarding vacation or just hitting the slopes for a single afternoon, you'll naturally want to maximize your time sailing down the slopes rather than waiting in line for a ride up. Boyne Highlands is taking steps this season to make sure you can do just that. The resort has equipped every one its lifts with dual-frequency RFID tech. RFID, which stands for "radio frequency identification," makes it much faster to scan a lift ticker or season pass and get on the lift — so that you can get to the top, speed back down, and do it all over again. The system functions by way of what Boyne calls "media cards," which you can pick up at multiple spots throughout the resort and then fill up with lift tickets online. The result is an easy and touchless process that will expedite your up-and-down-the-slopes experience.
The Grind: The technology upgrades at Boyne Highlands this season haven't been isolated to the lift ticket system. The resort has also invested in new, highly efficient snow guns, which will not only help ensure fresh powder throughout the season but also help snowmakers build better features at the four terrain parks that dot the Highlands' grounds. Who knew that even something as timeless as hitting the quarter-pipe on your snowboard could be improved by modern technology?
Don't Miss: One of the things we love about Boyne's resorts is that they really strive to provide a full experience for their guests, both on and off the slopes. Boyne Highlands might not have an 80,000-square-foot water park to offer patrons (that's Avalanche Bay, at Boyne Mountain), but it does have a fantastic family friendly tradition that it calls "The Enchanted Trail." Described as "a magical and relaxing two-mile roundtrip walk," this ticketed event invites you to stroll along a wooded trail illuminated by Christmas lights to a "rustic yurt," where you'll enjoy s'mores and warm drinks around a bonfire. It's a sweetly beguiling experience — especially around the holidays.
Treetops Resort, Gaylord
Let it Snow: Treetops Resort offers 24 groomed runs for guests, as well as three snowboard terrain parks. The resort likes to tout itself as a "family winter playground" — a designation it earns with everything from family-friendly pricing to a varied activities list that makes good on that old mantra about there being "something for everyone."
Why We Love It: Taking the whole family out for even just one afternoon of skiing and snowboarding – let alone a whole winter getaway weekend – can get pricy. If you're looking to have a lot of winter fun with the whole family without triggering a concerned call from your credit card company, then Treetops Resort might just be your best-bet destination. Children six and under stay and ski free at Treetops, so long as they are accompanied by an adult. Teaching your kids the way of the slopes just got a little more affordable.
The Grind: The three terrain parks at Treetops are geared toward specific types of terrain boarding, making it easier to plan your runs based on the types of stunts you want to try out. The Chute is all about jumps, Birch Run is a rail yard, and The Yard is all about boardercross.
Don't Miss: When Treetops calls itself a "winter playground," it isn't kidding. Beyond skiing and snowboarding, the resort offers dog sledding, sleigh rides, a halfway-down-the-ski-hill café, snowshoeing, and a "skiable feast" – a snowshoe/cross country ski course with four food-and-drink spots along the way. Our favorite non-snowboarding activity? "Extreme tubing," which is accurately described as being "not for the faint of heart." If you're one of those people who spent their childhood seeking out increasingly daring ways to get to the bottom of the sledding hill, then you'll want to set aside some time for tubing at Treetops.
Shanty Creek Resorts, Bellaire
Let it Snow: Shanty Creek Resorts is a 5,000-acre behemoth, which genuinely feels more like a small town (think a quaint little alpine ski village somewhere in Europe) than a resort. Amidst the sprawl, you will find two ski hills to choose from: Summit Mountain, the older, gentler, easier, and less crowded collection of runs; and Schuss Mountain, the newer, steeper, faster, and more daring option. In other words, no matter what type of snowboarding you have in mind, you can find something to suit you among Shanty Creek's 50 runs and five terrain parks.
Why We Love It: In our expert opinion, Shanty Creek is the ski resort in northern Michigan with the homiest feel. Maybe it's the aforementioned old-timey vibe, or the cozy dining options dotted throughout the resort (we're especially fond of The Lakeview, which sits atop Summit Mountain and offers some true hall-of-fame-worthy views). Whatever the reason, Shanty sure feels like a good place to hunker down for a few days and enjoy northern Michigan in full winter wonderland mode.
The Grind: If you're out to hone your jumps and tricks, hit up The Monster Park, an award-winning terrain park that earns its big-ticket sponsorship (Monster Energy — as in the energy drink — put its name on the park) with some of the best rails, boxes, booters, and jumps you'll find in northern Michigan. It's not the only terrain park at Shanty, either: There's also "The Natty" (which uses "all-natural elements" to create features like rainbow rails, tabletops, and jumps) and "Low Rider" (a beginner-level terrain park made up of "smaller elements closer to the ground").
Crystal Mountain, Thompsonville
Let it Snow: Marking its 65th year in 2021, Crystal Mountain offers 102 acres of skiable terrain, 58 runs, and enough snowmaking machines to keep the entire area absolutely saturated in fresh powder for the duration of the ski season. You'll also find four terrain parks scattered throughout the ski area.
Why We Love It: What's one of the great things about snowboarding or skiing in the COVID-19 era? It's not hard to spend the vast majority of your time outdoors, socially distanced from other people. Plus, even wearing a mask isn't such a bad thing when you're outside and its 15 degrees! Still, when it comes to crowded places — even ski hills — it's always nice these days to know that someone out there is taking precautions to keep you safe.
Cheers to Crystal Mountain, then, which last year developed an initiative it calls "Crystal Clean." According to Crystal Mountain, the Crystal Clean commitment "was developed to implement, monitor, and adjust our next generation of cleanliness standards, norms, and behaviors for Crystal Mountain's 1,500 acres – [including] resort activities, guest rooms, meeting rooms, restaurants, and facilities." Crystal Mountain isn't requiring guests to wear masks in lift lines, on chairlifts, or while on the slopes. Still, if you decide to book a room for the night or duck into the lodge for a bite to eat, you can rest easy knowing that the entire resort staff is taking care to keep you safe.
The Grind: Not much is better than a day shredding the slopes, but a night shredding the slopes might just take the cake. There's a unique thrill to skiing or snowboarding at night — something magical about the big floodlights, the extra crispness in the air, or how much better that first beer tastes when you finish up your last run. Crystal Mountain has you covered on that front, with 27 slopes illuminated for night skiing or boarding — typically for five nights a week during the peak season.
Don't Miss: The bad news? Unlike Boyne Mountain, Crystal Mountain's water park isn't open for business during to the winter — owing to the simple fact that it's an outdoor water park. The very good news? Rather than leaving all that waterpark space to collect dust (er…snow) in the winter, Crystal Mountain morphs it into an outdoor laser tag battleground. You'll feel like you're doing battle on Hoth.
Trending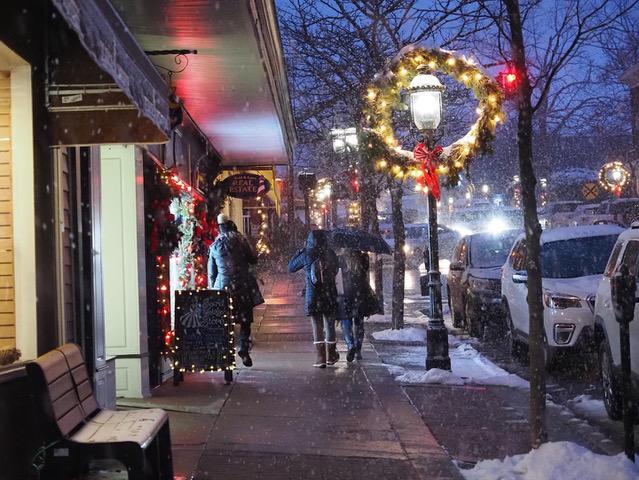 Jump Start Holiday Shopping
Downtown Petoskey hosts their Holiday Open House on Friday, Dec. 2, from 6-9pm as Santa flies into town to light the giant...
Read More >>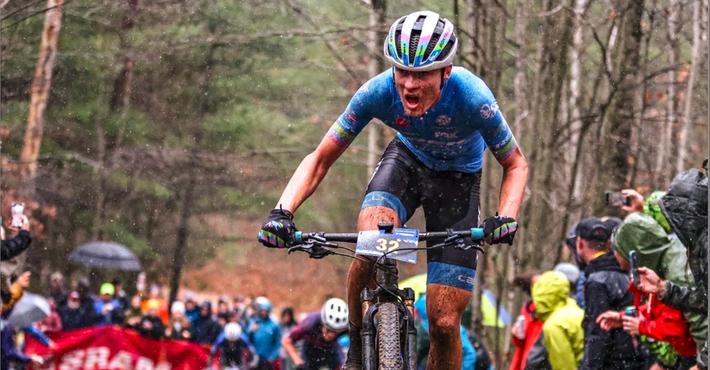 A New Gear
If last week's snow made you think the two-wheeling season is over, think again. Tuesday, Nov. 29, is the official l...
Read More >>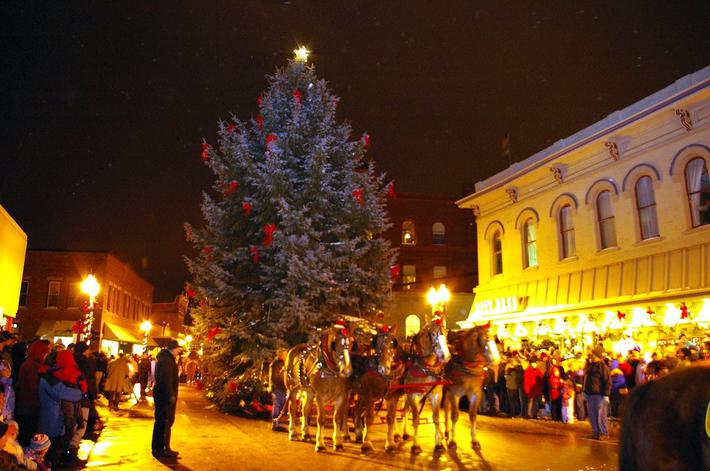 Jingle All the Way to Manistee
The town of Manistee is going into full holiday mode—and going back in time—this weekend. Friday, Dec. 2, the ...
Read More >>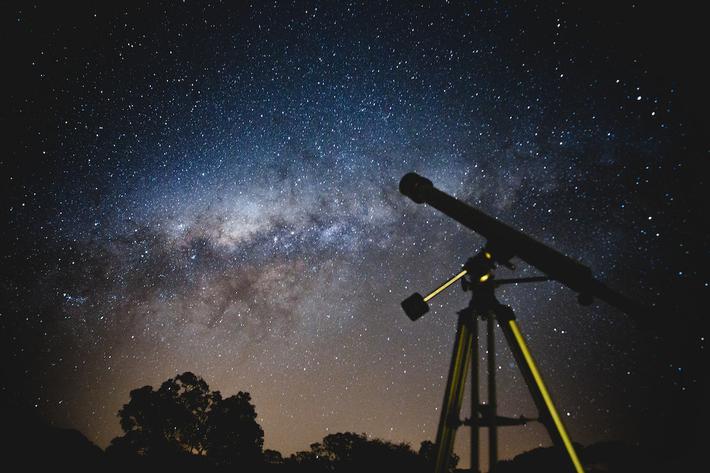 Aim for the Stars
Aliens may walk among us, but this weekend it's our turn to wander through the galaxy. On Saturday, Dec. 3, the Denn...
Read More >>