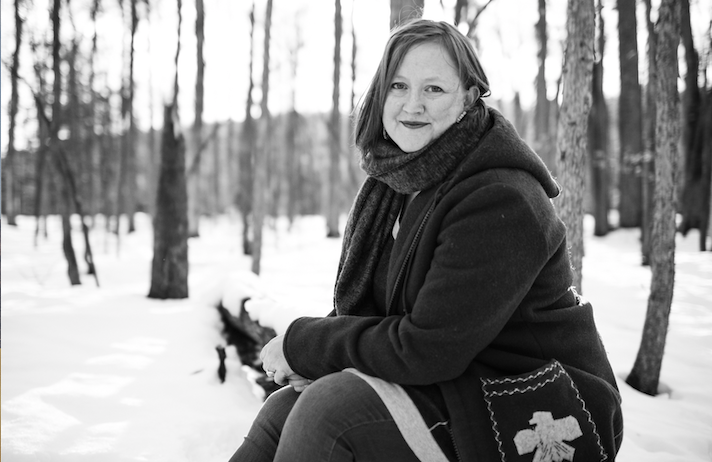 The Death Doula
Traverse City doula Krista Cain guides people in … and out of the world
Jan. 5, 2019
"The human brain learns from stories," says Traverse City birth and death doula, Krista Cain. As she sits with a mug of hot herbal tea at Cuppa Joe in the Village at Grand Traverse Commons, she explains her own story and the not-so-strange duality of her business, Sweetwater Doula, this way: Everyone experiences birth and death. Whether you're experiencing them directly or through someone close to you, they're an inevitability. They're both also mammoth experiences marked by extreme emotion, hospital visits, and ceremony. Each of these experiences, she says, is a wave that smacks our bodies and minds repeatedly back down into the fray. Each is exhausting. But, she asks, "Why not ride [that experience] and let it take you in the direction you want to go? I want my teaching to be a surfboard."
A doula is not a medical practitioner. A person working as a doula is not a doctor or a midwife; he or, more commonly, she is a guide.

Doula is a Greek word that was appropriated in the '80s to describe a female assistant," says Cain, but the definition has since expanded to describe someone who helps others during intimate emotional and physical events. Becoming a doula isn't something with a hard start or stop, like a medical degree or a teacher certification. It's common life experiences. "Walking people through life is a softer line," she says.

Cain's own line toward becoming a doula wasn't a direct one. She originally hails from Southern California. She has a background in education and worked as a high school math teacher before coming to Michigan. But when she and her husband, who grew up in Traverse City, moved to northern Michigan in 2011, Cain, who was pregnant at the time, had a jarring resolution: "I'm not here to teach math. I'm here to teach people."

Her transition into teaching about birth and death began with a certification in the Lamaze technique, which she still teaches alongside her workshops in birth and death. As she taught, she began to see that there were some holes in her personal experience with birth: She had never attended a birth other than her own. Her training as a birth doula began from a desire to offer even deeper knowledge and empathy to her clients.

Likewise, another life experience led her to expand her business to include not only guidance in birth but also in death. In particular, experiencing the death of her young goddaughter showed her how helpful it is to approach death in whatever way makes most sense to the person experiencing it. Death is certain, yet always feels unexpected.

Cain began training as— what she calls — a "death doula" in 2016, with an organization based in California called Bridging Transitions. The mother of one of its founders lived on the Leelanau Peninsula before she passed away in 2016. Cain was able to participate and assist the family during this time. She learned about both the scientific and social nature of death and dying.
Funeral Director and owner of Life Story Funeral Home, Vaughn Seavolt, worked directly with Cain during the funeral for a family who wanted to participate in all aspects of their father's death. He said he sees a lot of value for both the person passing and the loved ones left behind.

"Having a death doula participate made it very meaningful for the family," says Seavolt, "I think that it's very rewarding and very healthy for families who want to participate as much as they want to."

Cain says birth and death are extremely social experiences, and a doula helps with the social needs and pressures surrounding these major life transitions.

"A doula is a person who is skilled to walk beside you — your family, your partner — to meet your needs as you go through these changes," says Cain. She will help you and your family in whatever way you need, from deciding what sort of service you want (do you even want a service?) to finding a place in the refrigerator for all the casseroles you've received.

"It's not all about green burials," says Cain. "You can do this with a body preserved in formaldehyde. You can do this with someone who's been cremated." On her website, Cain talks about how the ceremony surrounding the death of a loved one can be exactly what you make of it. It can take place at a funeral home, the hospital, a loved one's home — whatever makes most sense for your situation. It can have as much or as little religion as is right for you and your family and friends. "There are religious traditions that guide the day, and there are ways you can walk alongside those traditions to serve the needs of the people who are carrying them out," says Cain.

Most importantly, she provides both information and validation for your personal choices. In birthing and dying, what is right for one person might not be right for another, and that's OK, Cain says.

Explains on of Cain's birth clients: "It is also refreshing to hear people talk openly and without judgment about 'taboo' topics like postpartum depression and mental health counseling, miscarriage and infertility."

Cain is adamant about empowering her clients through education. "We have a right to know about this stuff," she says, "[both the] transformative experience of it and the nuts and bolts."

A quick internet search reveals that end-of-life doulas are on the rise. There are lots of names for it: "end-of-life transition guide" or even "midwife of the veil," but Cain prefers to keep things simple and bypass the poetry.

"Right now I straight up say 'Death Doula.' The reason I say that is because it's really reallyclear. I don't want to have to be that blunt, but we've done such a good job at covering it up."

She's working to uncover these topics, though she recognizes that it takes a fair amount of bravery to approach them openly. Cain often hosts workshops in both life and death. Who are they for? "Anyone with a life span!" she says, laughing. "If you've got a life span, you might at some point want to consider thinking about these things."

Matters of Life and Death
Want to learn more about Cain, her services, or upcoming workshops? Check out www.sweetwaterdoula.com.
Trending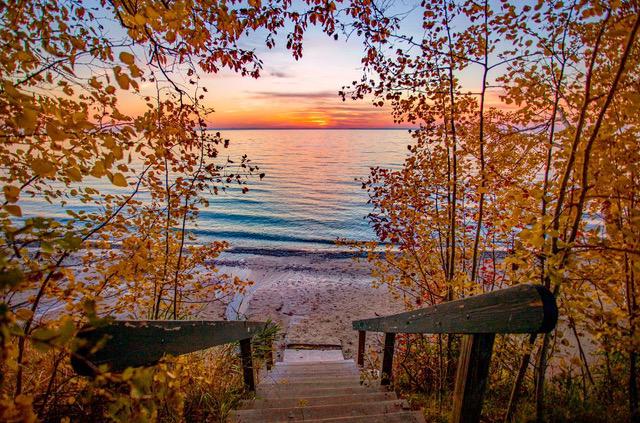 Cruisin' the Breezeway
Fall into East Jordan during the 15th Annual Autumn on the Breezeway! Choose from three different dates: Sept. 30, Oct. 7,...
Read More >>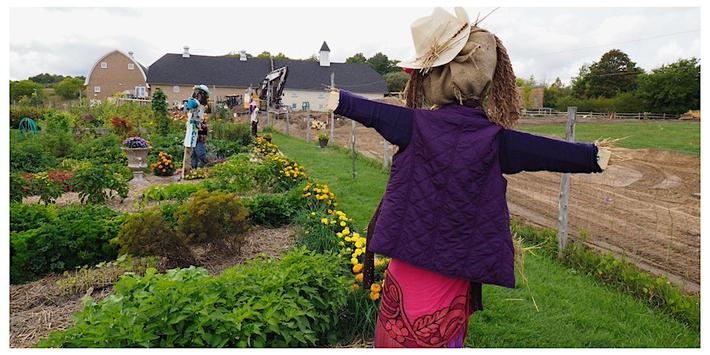 Scarecrow Szn
It may not be "spooky szn" (as the kids call it) just yet, but it does seem like it might be scarecrow szn. Th...
Read More >>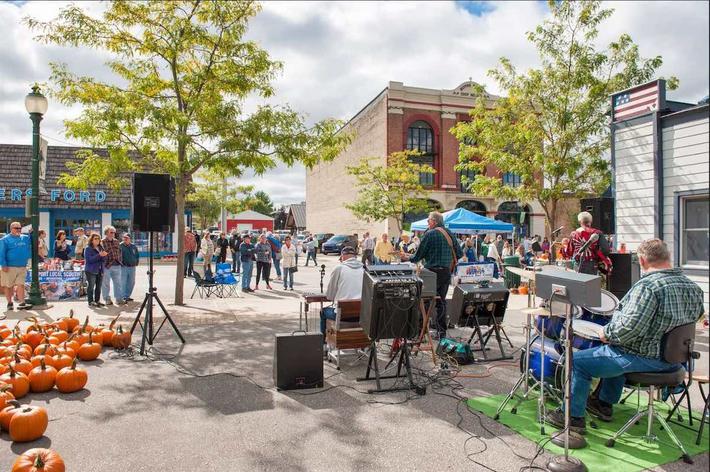 Celebrate the Harvest in Boyne City
Welcome to the season of harvest festivals! The days are getting shorter, the nights (and days) cooler, and it's tim...
Read More >>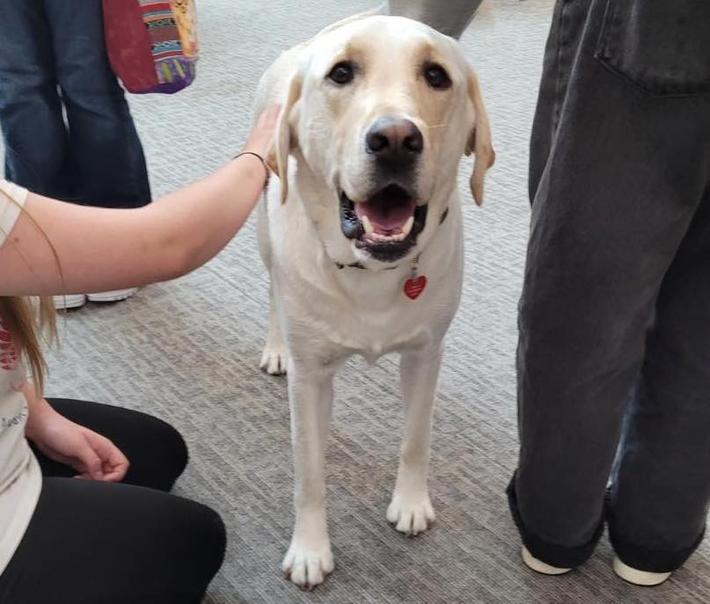 Pups on Campus
Traverse City West Senior High has brought on a very good boy as their newest staff member for the 2023-24 school year. Me...
Read More >>