The East in Eden
Adventures in Asian eats and drinks Up North
For decades in northern Michigan, folks with a craving for Asian cuisine had few options — generally, a Chinese buffet or two on the outskirts of town. But as the region's population and demographics have expanded, so too has its cultural reach. Thai and Asian-fusion eateries in Traverse City, Petoskey, and Frankfort led the charge, and today, you don't have to go far to find a market or menu featuring eats and drinks from several countries of the East — India, Japan, Korea, Indonesia, Laos, Philippines, and Vietnam among them.

If you're looking to venture beyond the Styrofoam clamshell of General Tso's chicken, your usual California roll, or an in-mouth squirt of squeeze-bottled sake at your local hibachi, consider letting one of these knowledgeable and passionate local guides to Far East food and drinks lead the way.
Matt Dursum
Blue Goat Wine & Provisions, Traverse City
In Japanese, "sake" simply means "alcohol." The beverage most Westerners consider sake is actually a spirit known as "Nihonshu." Loosely translated, Nihonshu means Japanese wine, and though it's not derived from grapes, its countless flavors and aromas also spring from a single source.
As Matt Dursum, the resident sake expert at Blue Goat Wine & Provisions explains, the base of all sake is polished white rice. "Every rice grain has a husk on the outside," he says, "and all of the sugars are concentrated on the inside." As such, the percentage of husk that's left intact is a style choice made by the brewer. Once polished, the rice is steamed and sprinkled with a traditional enzyme, called koji, which breaks the starch down into simpler sugars.
From there, the fully-formed starter is mixed with more steamed rice, water, and yeast before undergoing fermentation — it's here that alcohol joins the party. But, unlike typical fermentation, sake's fermentation is conducted at cold temperatures, which slows the process down. "Sake is fermented between six and 14 degrees Celsius," says Dursum. "It's similar to 'lagering' in the beer world and can take a long time."
What do you get when you mix cold conditions with a lengthy fermentation process? Survey says: more alcohol. "No other alcohol has a higher percentage when it's all said and done," says Dursum. "Sake can be up to 20 percent alcohol easily, so it's a pretty powerful brew."
From here, sake falls into four main categories. The first two, Ginjo and Daiginjo are subsets of the larger Junmai, or pure rice, style of sake. "Anything without added alcohol is called Junmai," Dursum says. "Then, you can divide it into polishing ratios: Ginjo is polished so that up to 60 percent of the rice grain remains, while Daiginjo is polished less, no more than 50 percent, making it a slightly more premium brew.
The third style, Honjozo, is defined by the addition of brewer's alcohol and water, resulting in a clean and easy-sipping spirit. "Then you have Nigoori sake," says Dursum, "which is the 'cloudy' sake. It has a little bit of fermented rice left in it to make it cloudy."
Blue Goat's in-house sake selection includes all four types, plus a few extras. "A few years ago, when the ownership changed, they expanded their alcohol selection in general, and sake was on that list," says Dursum. "Right now, we have about six types, and we're looking to expand."

For a beverage beginner, Dursum recommends serving sake with food. "Try a couple of them, compare them, and eat food with them," he says. Sushi and sashimi come immediately to mind as suitable pairings, but sake need not be limited to Asian meals any more than French wines are limited to French foods; seasonal pairings, like soft cheeses, asparagus, and even fried fish are great complements to sakes, says Dursum.

One warning if you're revisiting an already-opened bottle: Don't. Aged sake should be left to the brewers, not your bar cart. "Sake does not last long after opening," says Dursum, "so, unless it specifically says "aged sake," don't age it. Drink it fresh and drink it immediately."
But above all, don't be reluctant to try a variety of sakes. "Look at it as a journey into discovering something new," says Dursum. "Sake is so complex, and there's so much out there, it's a shame when people don't try it, because they're missing out on [that] journey."
Todd Chinnock & Colin Campbell
Pour Kitchen & Bar, Petoskey
The menu at Pour Kitchen & Bar in Petoskey has been spicing up the North from its start. "There's a heavy influence from [Eastern] areas on our food," says general manager and sommelier, Todd Chinnock. "It's just a flavor bank that has a lot to offer, a lot of complexity, and is really fun to both cook and consume."
Open since August 2016, Pour Kitchen and Bar has earned esteem among locals for its culturally eclectic food and beverage offerings — the latter of which you can as easily find Argentinian wine, Polish Vodka, and Hamm's as you can Mata Hari Absinthe and Shochu Mugi, a traditional Japanese spirit based distilled from barley.
The men's many Asian influences and options are no accident, says executive chef, Colin Campbell. "They're exciting, especially when you get more specialized," he says. "I love exploring specific regions, especially when you can get real-deal ingredients. There's a plethora of awesome stuff [in the Far East] that people aren't used to eating up here."
Pour's mission: to give diners good reason to explore. The bar's hand-picked selection of East Asian spirits, including both Japanese and Taiwanese whiskeys, is a great place to start. "We've had them since conception," says Chinnock. "In the past, we were just trying to source things that you certainly won't find most places, if anywhere else, up here. Specifically, the Japanese whiskeys are highly allocated, so having those on our menu sets us apart."
Still, it's the obscure stuff that gets this pair — and their patrons' — blood pumping. "I don't sell a ton of [our Taiwanese and Japanese spirits], admits Chinnock, "but things like the Yamazaki whiskeys make the people who already know them excited when [we] have them."
The bar program doesn't stop at Pour's beverage menu. "We're working with plum wine right now," says Campbell, "but we're not serving it [as a drink]; it's going into a few different applications." Originally ordered for a dish that didn't even make the menu, it's an ingredient that connects kitchen with customer.
A simple Kikkoman product — "higher-end products weren't necessary for cooking purposes," says Campbell — the menu features the plum wine as part of an unagi sauce. Diners can also find it in Pour's braised rhubarb, as well as a chocolate dessert glaze. "It has the profile of a rice wine, but with the benefit of a really fruity note to it," says Campbell. "I've found some really fun ways to use it, so that's been exciting."
For those looking to broaden their beverage horizons without jumping into a straight glass of whiskey, Chinnock recommends Pour's English Milk Punch. A staple of the cocktail menu, this punch features Arreck, a spirit native to the Asian continent.
Traditionally derived from sugar cane, coconut flours, or rice, Arreck falls outside of most classic spirit categories. "It really is unique," Chinnock says. "Think of rice wine, but it's a spirit." Structurally closest to a whiskey, Arreck is strong, savory, and packs a hint of peat — and we bet you've never tried anything like it.
Soon Hagerty and Tony Vu
The Good Bowl, Traverse City
Since opening its downtown Traverse doors in 2018, The Good Bowl's aim has been to give back — to the community and through culture.
Founded by Soon Hagerty in partnership with executive chef Tony Vu, The Good Bowl generously provides a $1 donation to one of three rotating charities for every bowl sold. It's also one of only a handful of area eateries offering traditional ethnic cuisine. "Overall, I love the effort we have made in this city to expand eateries to include different types of ethnic cuisine," says Hagerty, "but I feel we still have very few options for global cuisine."
The Good Bowl, however, is doing its part. Featuring a fresh take on classic Vietnamese fare — think crunchy Bahn Mi sandwiches, fresh Bun, and steaming bowls of Pho — The Good Bowl expertly incorporates farm-fresh ingredients into its palette of Far East flavors.
Of course, that traditional dining focus also extends to the Good Bowl's drink list — a task that is often more easily said than done, especially in the northern Midwest. "Finding Asian beers is not particularly difficult," says Hagerty, "but Vietnamese beer is a bit more challenging in Michigan."
Perhaps the most elusive to date is Saigon Export beer. An easy-drinking golden lager with a fun, hoppy kick, Saigon beer pairs well with almost anything — except local distribution. "We added Saigon beer late last year," says Hagerty, "and we were so excited because it took almost two years to find a local distributor that carried a Vietnamese beer!"
The pandemic's effects on overseas supply chains, however, nearly set Good Bowl's beverage list back to square one, as their distributor struggled to keep Saigon in stock. But fret not, lovers of international beer: Saigon Export re-entered Good Bowl's beverage ranks earlier this month. Says General Manager Corinne Slosernick, "We are very excited to have it as an option to offer our guests again."
In addition to Saigon, Good Bowl's extensive beer list includes the Singaporean Tiger Lager, as well as two longtime Japanese favorites, Asahi Super Dry and Sopporo.
COVID's global interruptions haven't been all bad for The Good Bowl's beverage menu. "One of the positive things that came out of the pandemic were the sales of our branded cocktail bottles," says Hagerty. While the Feisty Asian Margarita — a classic cocktail spiked with house Thai chili sauce — has proven most popular, other notable additions include the Don't You Lychee to Me Martini, and the citrusy-sweet Mekong Mule.
As for expanding our collective spice cabinets? Hagerty has no plans of slowing down. "My hope is that as Traverse City gains more diversity, this will not be as much of an issue," she says. "We take great pride in offering as many unique or culturally diverse options as we can. It's a constant balance."
THREE TO TRY
Asian-inspired English Milk Punch
Featuring Arrack, a savory Sri Lankan rice spirit, and Dragonwell Green Tea, Pour's Asian-inspired English Milk Punch easily earned a spot as a bar menu staple. Mixed with aged rum and absinthe, and finished with fresh lemon, clarified milk, and a plethora of warming spices (cinnamon, cloves, coriander, and fresh nutmeg), this multi-season sipper is truly unique. $12. Find it at Pour Kitchen & Bar. 422 E Mitchell St., Suite 5, in Petoskey. 881-9800, www.pourpetoskey.com
Don't You Lychee to Me Martini
The Don't You Lychee to Me Martini features Bushido sake as its base and is finished with coconut water, coconut milk, and lychee nectar, and garnished with fresh lychee fruit and a kaffir lime leaf. $12 per cocktail ($32 per 3-serving bottle). Find it at The Good Bowl 328 E. Front St., in Traverse City. (231) 252-2662, www.goodbowleatery.com
Starter Sake
For a crisp, summer sake introduction, Matt Dursum recommends Blue Goat's Jumnai Daiginjo sake (second bottle from left) from Joto Brewery. With a rice polishing ratio of up to 50 percent, this Daiginjo is smooth, clean, and easy to drink. For summer enjoyment, Dursum recommends serving your Daiginjo chilled in a small, stemless glass, and pairing with soft, French cheeses, sushi, and seasonal veggies. $30. Find it at Blue Goat Wine & Provisions, 875 E. Front Street, Traverse City. (231) 941-9463, www.bluegoattc.com
Trending
Pronouns 101
My first assignment in an online graduate-level class was to provide information about my background, including my pronoun...
Read More >>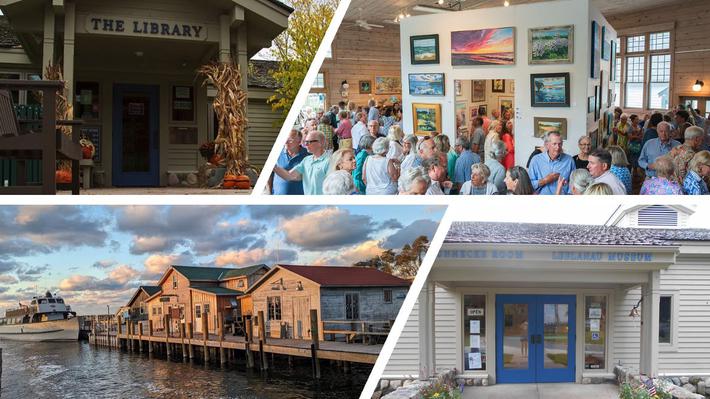 Collaboration Is the Name of the Game
How long does it take to create a cultural center? As few as three years, or as many as 170. Sometimes both. The organiza...
Read More >>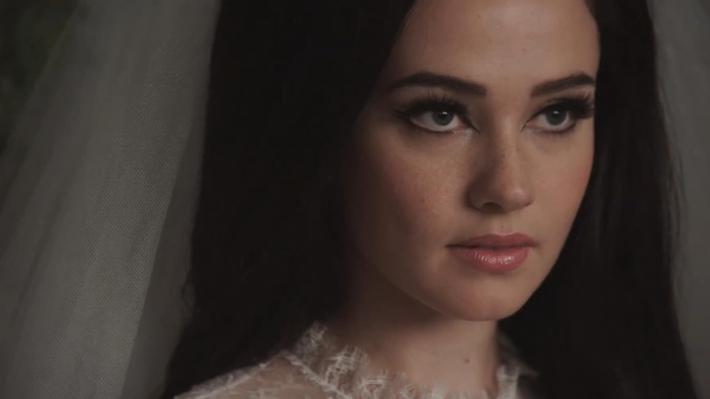 Film Review: Priscilla
While you will certainly be mesmerized by the haunting lead performance from newcomer Cailee Spaeny—and be impressed...
Read More >>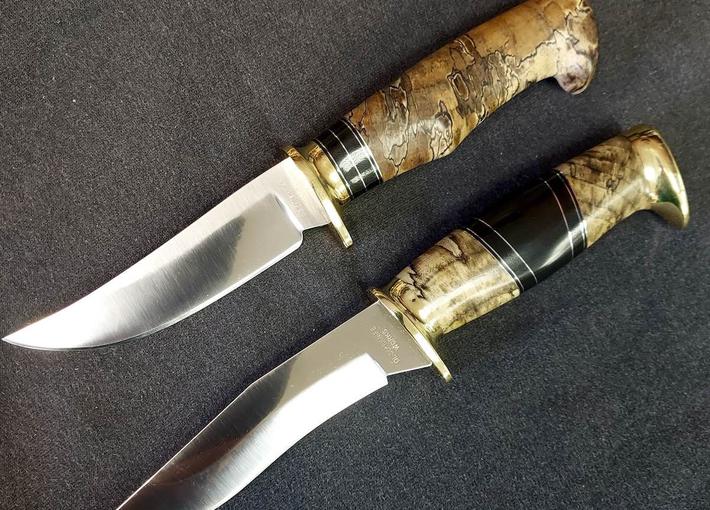 Bespoke Blades
What do you do with a battered ice skate, an old rubber puck, a cracked hockey stick, and a gob of tape? Pitch 'em, ...
Read More >>