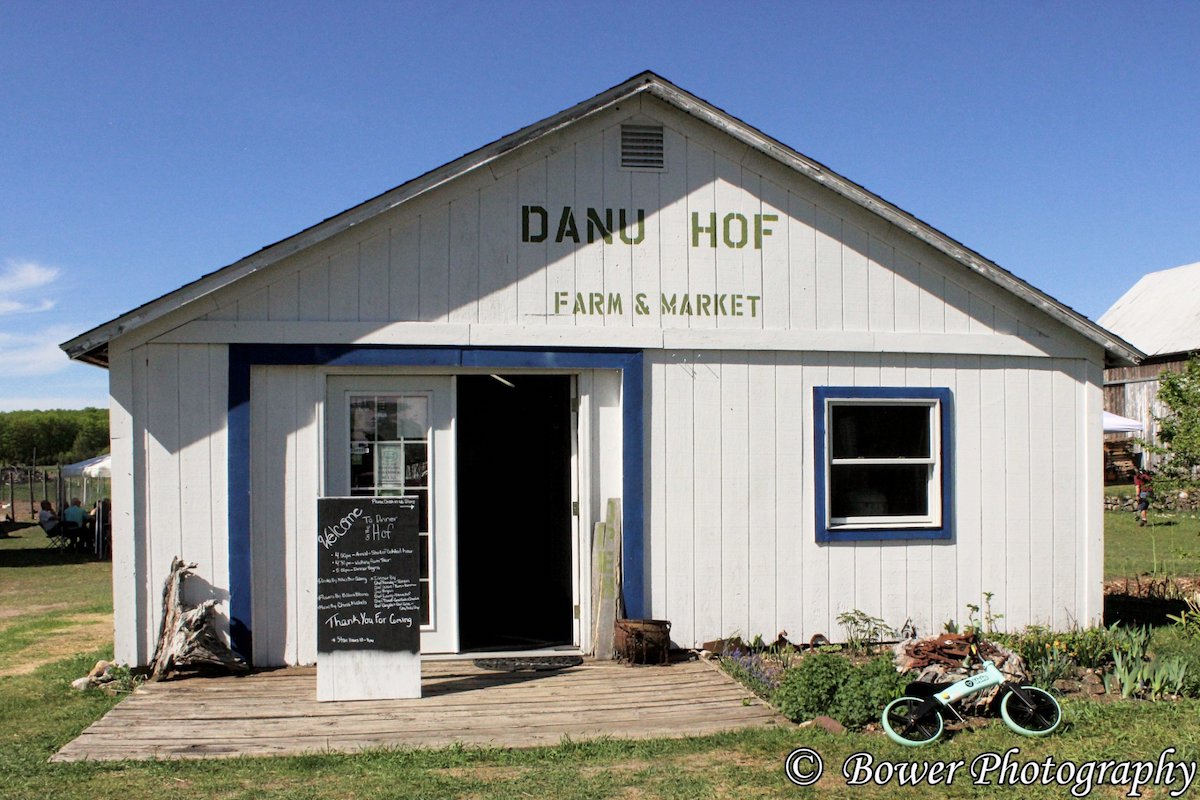 The Family Farm with a Purpose
Danu Hof Farm and Market puts community first
For Larry and Caitlin McSweeney-Steffes, owners of Danu Hof Farm and Market, agriculture is all about forging community. The pair got their start in local kitchens—Caitlin in hospitality and Larry as an executive chef—before switching gears to pursue their own farm.
"We wanted to find a space for our family and also help regenerate the local food systems we've lost over the years," Caitlin says.
That's exactly what they've done. Open year-round, Danu Hof Farm and Market offers all sorts of local goodies—including produce, proteins, and even bath products—catering services, and (weather permitting) overnight options for enroute travelers. Best of all, its Antrim County location means you're never more than a short drive away.
The Farm
Though the pair initially got some flak for moving to the "middle of nowhere," they can't help but feel like they arrived at the edge of the county's renaissance. "We've only been out here for five or six years, and Mancelona has already grown so much," Caitlin notes. "I feel like we were on that front cusp of newbies who are breathing life back into the area."
For the couple, that renaissance started with pork. Named for a multi-cultural combo of Danu, the Celtic earth-mother goddess, and "hof," the German word for "farm," the property got its start when Larry was tagged in a Facebook post for a pig.
"It was for one [feeder] pig, so we figured we could butcher it and fill our chest freezer," Caitlin explains. That "one pig," however, came with five piglets, which the family took on. From there, they attended their first farmer's market, before opening their farm store the following June.
Nestled at the intersection of US-131 and Doerr Roads, the Danu Hof property was originally purchased as a pair of 80-acre plots by German immigrants who arrived in the 1870s. From there, the homesteads bounced between owners, until Dan Makel (a founding family member) bought everything in 1919, forming the modern property lines.
Since then, it's housed a dairy farm, as well as the now-defunct Red Windmill Antiques. In the 1930s and early 1940s, sections of backfield were used to test fertilizer, and there are even stories to suggest that a few Victorian graves are tucked at the back of the property.
Fast-forward more than a century, and many of the homestead's structures are still intact. This includes two of the barns, which the McSweeney-Steffes have worked diligently to clean and restore. The largest of these, which dates to 1906, was originally a cattle barn but now houses Danu Hof's drove of pigs (whom they lovingly refer to as "the girls"). There's also a second, smaller barn, which is home to the farm's flock of heritage chickens.
A third space, once a garage, contains an office, as well as the iconic farm market which they've equipped with fixtures and freezer space. "The previous owners ran their shop out of it, so that building was an easy [transition]," Caitlin says. Other infrastructural updates include a new shed space, which the McSweeney-Steffes use for livestock, as well as countless yards of fencing, all of which they've installed themselves.
The Market
Inside, the store stocks an array of items—including eggs, condiments, and shelf-stable goods—from upwards of 17 area vendors, not to mention the farm's own meat and crops. "Even on a small family farm, you don't have to do everything," Caitlin notes. "Instead, we built relationships to complement our store, as well as other [local businesses]."
Those relationships, which the pair explain were largely forged through farmers markets, are also a driving force behind the products Danu Hof Farm produces. Their store features three lettuce suppliers, for instance, so they see no reason to grow it themselves. Instead, Larry and Caitlin seek out fruits and veggies they'd like to eat but struggle to find.
"We do a lot of Brussels sprouts, because no one else grows them," Larry explains. Patty Pan squash has also joined ranks, along with radishes and an assortment of beans.
As for the vendors their farm market features, hyper-local is the name of the game. In fact, the farm enforces a strict 50-mile cap when it comes to sourcing crops. As part of this, the pair also underscore the importance of making food accessible. They participate in budget programs like Double-Up Food Bucks and SNAP and happily use their store to advertise for their rural growing partners.
"Some other farms are more off the beaten path, but we already have this great setup. We wanted to utilize that and make it as accessible as possible," Caitlin says.
The Extras
The market, though, is just the beginning.
Visitors can also tour the farm anytime they stop in to shop. The couple call this the "50-cent tour," as it's often an impromptu affair and involves about 30 minutes of answering questions and guiding groups through the farm.
"There's a lot about farming people still don't know or understand, so being able to educate and bridge that gap is [important]," Caitlin notes. Structured tours for larger groups, like schools or camps, are also available, though calling ahead of time is encouraged.
For an even more immersive experience, guests can also spend the night on the farm through accommodation sites like Harvest Host and Hipcamp. These apps are similar to Airbnb, wherein hosts list a property online, and those with accounts can reserve a stay. Danu Hof offers eight camping slips: four for self-contained RVs and another four for those with tents, though Larry and Caitlin hope to construct at least one permanent campsite in the next year.
The farm also offers private chef services—done in a healthful and holistic way. For Larry especially, who's fed thousands in his previous chef gigs, this means smaller-scale dining events with a focus on farm-to-table cuisine. "We have all this great food in northern Michigan year-round, and we wanted to showcase it," Caitlin says.
To get started, clients contact the farm (there's a handy booking form on their website) and share the specifics of their event, which have ranged from private golf outings to at-home dinners and even wedding celebrations…though Larry admits that smaller shindigs allow for more creative flavors. From there, they plan a personalized menu, the specifics of which vary by season, before tapping their partner vendors for the freshest proteins, dairy, and produce.
The farm is also gearing up for their bi-annual Dinner on the Hof in the fall, which features a farm-to-table dinner and drinks prepared by local chefs (with a cameo from Chef Larry himself!). The evening begins with a tour of the farm before guests visit six chefs' stations to taste an array of local plates.
"It's just a really laid-back evening to enjoy out on the farm with friends," Caitlin says.
Find Danu Hof Farm and Market at 3775 Doerr Rd. in Mancelona. The store is open year-round, from 10am-6pm Tuesday-Sunday. (231) 916-2517. To place orders online or for information on community events, visit danuhof.com.
Trending
Pronouns 101
My first assignment in an online graduate-level class was to provide information about my background, including my pronoun...
Read More >>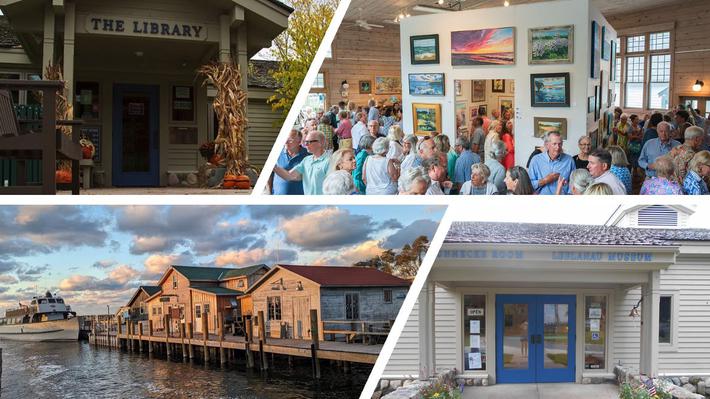 Collaboration Is the Name of the Game
How long does it take to create a cultural center? As few as three years, or as many as 170. Sometimes both. The organiza...
Read More >>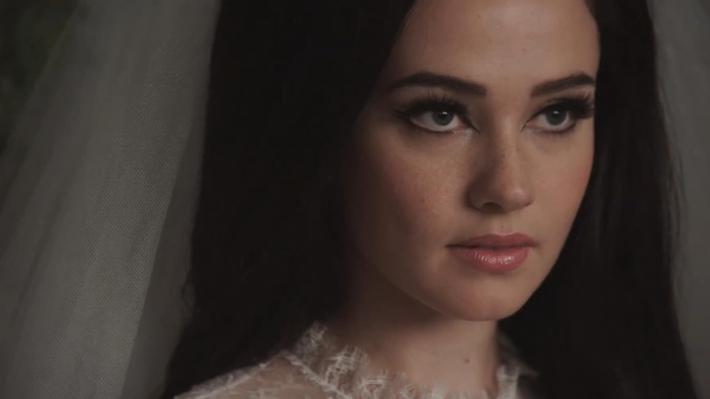 Film Review: Priscilla
While you will certainly be mesmerized by the haunting lead performance from newcomer Cailee Spaeny—and be impressed...
Read More >>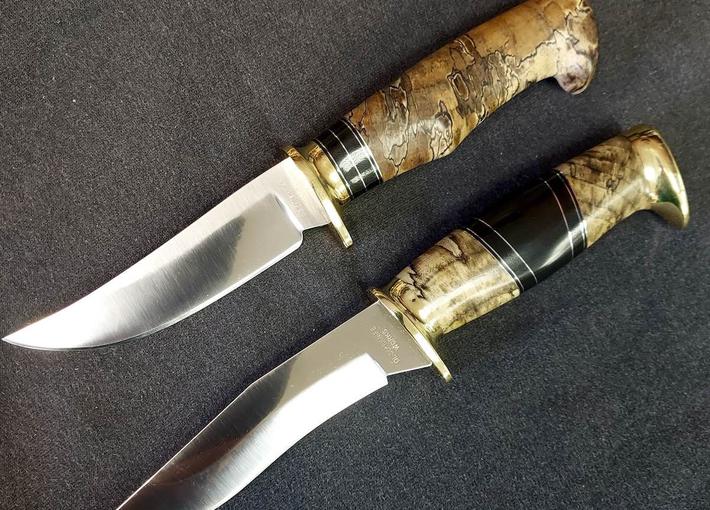 Bespoke Blades
What do you do with a battered ice skate, an old rubber puck, a cracked hockey stick, and a gob of tape? Pitch 'em, ...
Read More >>