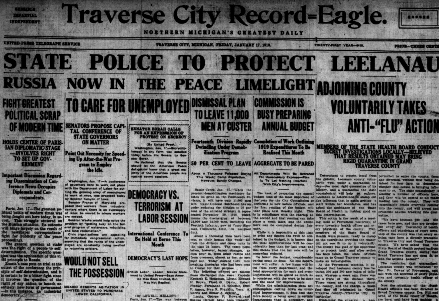 The Great Flu Pandemic of 1918
Two northern Michigan counties and the bitter battle to protect their own.
Imagine driving north from Traverse City, attempting to head into Leelanau County through Greilickville, but at the Grand Traverse County line, police have put up a blockade.

Leelanau County has been quarantined, and you face a choice: Turn back, or get arrested.

That might sound like a scene from a dystopian work of fiction, but it actually happened here during a panic caused by the 1918 Influenza Pandemic.

Leelanau officials had petitioned the state to quarantine their county after 200 to 300 new cases of flu sprung up in early January 1919. They blamed the outbreak on Traverse City and wanted to sever all ties until the disease went away. That meant, in order to travel into Leelanau County, a person had to agree to be detained for four days to show they were flu-free.

The closure underscored the bitterness between the two localities.

"We are satisfied that the disease was brought into Leelanau county from Traverse City and [Grand] Traverse county, and we are damned sore about it," one Leelanau County officials said.

That prompted an editor in Traverse City to accuse Leelanau officials of "passing the buck." The editor noted: "Some time ago, when the contagion had eased up a bit in Leelanau and was serious in Grand Traverse, there was a big double wedding and dance in the sister county. It was permitted by the health officials. Directly afterward, influenza broke out in that vicinity and spread rapidly."

How did things get so bad? If you think today's political climate is toxic and frightening, just look back 100 years ago as a war raging across Europe took untold numbers of lives, while a mysterious strain of flu emerged to cut down people at home.

BROUGHT BACK IN A BLACK CASKET
The year 1918 would have been a stressful, uncertain and frightening time to be alive even before the dark specter of the flu arose. It began with the United States' participation in World War I, which quickly ramped up as more soldiers were conscribed, trained, and sent to Europe to fight.

February brought news of the sinking of the Tuscania, sunk by a German torpedo as it carried American troops to Europe. Of the 210 who died, one was Clarence Allen of Traverse City.

But in what might have been a bad omen, many of the region's first casualties were victims of disease, not war.

In an April 11 headline, "WAR STRIKES LEELANAU AT HOME," the Traverse City Record-Eagle reported how Emil Priest, a recent recruit, had died of pneumonia at Fort Custer, an army base that had opened near Battle Creek a year earlier. Priest, of Lake Leelanau, was in perfect health just before he died at age 22.

Six days later, the newspaper reported that concerns were growing about the health of soldiers at Fort Custer, which saw 72 new influenza cases in one week. The "medical men," the newspaper reported, were growing concerned because they had no means to treat the flu and lacked a good understanding of how it spread — or how to stop it.

On April 24, the newspaper reported that another soldier from Traverse City had died, again in the United States. This time it was pneumonia; it struck down Hanley Wilhelm at a Naval base near Boston. He was the eighth Traverse City man to die in the war. Three days later the paper reported the death of Karl F. Umlor, the first Traverse City man to die in actual fighting.

Page through the front pages of the Record-Eagle in late 1918 and early 1919, and the
universal hardship and sacrifice the war brought home is undeniable. If there wasn't a column pestering residents to purchase liberty bonds (or else face public shame), there were announcements of new restrictions intended to conserve resources for the war effort.

For instance, in 1918, residents of Traverse City were ordered to observe "meatless Tuesdays" and "wheat-less Wednesdays," and to severely restrict consumption of sugar. By order of the police chief, Tuesday night parties were banned. Fuel shortages prompted government-mandated limits on business operating hours — restrictions enforced by police.

Early that year, Traverse City residents must have realized that many of the young men they were sending off to the war wouldn't return home. On Feb. 27, the newspaper grimly announced an event to celebrate six recruits who were called up to leave the following week, along with 350 others that were scheduled to depart in the coming month: "Traverse City and Grand Traverse county are going to pay homage to their soldiers and soldier heros, before they go away to war, instead of after they are brought back in a black casket to sleep the eternal sleep."

CONCERN OVER THE FLU GROWS
By the spring of 1918, with the brunt of the flu outbreak still months away, health officers already seemed to be on alert.
Army officials issued a warning to soldiers and citizens about, among other things, sneezing. They warned that sneezing spreads respiratory diseases like pneumonia, measles, meningitis, tuberculosis, and influenza. Their message: People should decide not to sneeze.

"All if these diseases mentioned are spread or communicated in the same way — through the transfer of nasal and mouth secretions," the Record-Eagle reported. "The sickness rates could be cut to the minimum if the soldiers, and the general public as well, stopped promiscuous coughing, sneezing and spitting."

When the flu season returned in the fall, it returned with a vengeance. What's considered the second wave of the pandemic is believed to have first appeared at Camp Devens, an Army base near Boston. Soon breakouts surged across the country.
At Fort Custer, a conduit for northern Michigan heading to war, 1,000 cases of flu appeared overnight.

Like so much of the reporting on the flu outbreak, the Record-Eagle's first story on this development was hopeful and reassuring, almost naively so: "Fortunately, the disease seems to be of the mild type. While the victims suffer considerably in the early stages, they show rapid improvement and not a death has occurred from the disease as yet."
The next day, however, a bleaker reality took over. The newspaper ran a wire store from New York that reported the illness — the "Spanish" flu — had swept through military bases and big cities and, in fact, 30,000 cases and 1,912 deaths had been recorded.

Disconcerting though the news of the Spanish flu was, it was likely overshadowed; newspaper front pages were already full of death and destruction in war. The Record-Eagle's own front page included "Today's Casualty List," a daily tally of those Michigan members of the military who had died in action, died from wounds, died of accidents or other causes, were wounded severely, or were missing in action. The list often included dozens of names.

So, on Oct. 8, when the newspaper's front-page headline read "INFLUENZA MAY VISIT THIS CITY," the story was crowded out by war stories, and likely didn't registered as a warning equal to the suffering the area's residents were about to endure.

Two days later, the newspaper announced that the disease had arrived in Traverse City. Ten people had fallen ill, and the writer sounded a cautious alarm: "While Traverse City has a few cases of Spanish influenza, and the state board of health does not consider the situation serious, it seems that something should be done by local health authorities to take every possible precaution against an epidemic, such has caused so many deaths and so much suffering in southern Michigan cities."

A VULNERABLE POPULACE JOINS THE PARADE
It wasn't until Oct. 24 that area's first flu death — a 14-year-old Buckley boy — was reported. Schools in Buckley were closed, and public gatherings postponed.
The next day, the paper reported that the son of James Frederick Munson, then the head of Traverse City State Hospital and the namesake of Munson Medical Center, died of the flu in New York at the age of 37.

Two days later, under a notice titled "CITIZENS!" it was announced that pool and billiard halls would be asked to close and that shoppers were asked to "keep moving" while in stores with other people.

Nevertheless, the war continued to overshadow the health concerns at home. While war stories were headlined at the top of the page, in bold capital letters two inches tall and spanning all five columns, flu stories remained small and secondary.

That was especially true on Nov. 8, when the allied victory over Germany was announced. No amount of concern over the spread of deadly germs would stop people from pouring into the streets to celebrate this news.

Police led a parade down Front Street that included "practically every motor car in Grand Traverse" and thousands took to the streets.

So perhaps it wasn't a surprise when only a few days later the Record-Eagle reported that 50 new cases of the flu had been diagnosed on Old Mission. The article noted that the lesson of the outbreak is that citizens need to remain cautious, something they had failed to do during the Armistice celebrations.

By Nov. 20, two on Old Mission had died. A week later, an outbreak in Maple City. Two days after that, news came that the disease had reached Cedar.

TWO DEATHS FOR EVERY BIRTH
In early December, with roughly 25 people suffering of the flu in Traverse City, the city's health officer urged citizens to be cautious. But questions arose about whether people — the ill and those taking care of them — were being cautious enough.

A special wing at the State Hospital had been set up to care for flu patients so that they could be isolated from others. A review by the Red Cross showed the agency had discovered some disturbing staff behavior.

The Record-Eagle reported: "For instance, it is asserted that, although the disease has a serious grip on the State Hospital to the extent that the institution has been placed under quarantine, the quarantine is repeatedly broken by certain employees who spend their evening patronizing theatres, dance halls, billiard parlors, etc.

"There are, it is stated, about thirty cases of influenza at the State Hospital. During the working hours, attaches wear anti-flu masks and exercise caution to prevent spread of the disease. When night arrives, some of them slip off their masks and go down town, where they mingle freely with the crowds with total disregard for the safety of others."
That wasn't all.

In homes where some flu sufferers lived in quarantine, the rules of quarantine were lax, and some people allowed visitors.

A half-dozen Red Cross canvassers spent almost a week in Traverse City going door-to-door, attempting to get an accurate count of the number of sick and making note of deficiencies.

While the canvassers found hundreds of cases and determined that many people were not getting treatment because of its cost, they helped people get medical care and made sure that houses where people were ill were marked and that those living in those houses observed quarantine rules. That was thought of as the best way to halt the disease's spread.

The county's health officer, Dr. E.L. Thirlby, attended a conference on the flu in Chicago and returned with some ideas about how to stanch his spread. Unfortunately, according to the Dec. 14 Record-Eagle, he also learned that "the entire medical profession is in the dark as to proper methods of combating it."

That said, he reported that he learned about the importance of handwashing, a flu-prevention means still employed today.

"It is urged that hands be washed always before sitting down for a meal, and after rising," Thirlby said.

Two days later, the paper reported that there had just been three more deaths in town and hundred new cases reported.

A day later, the paper reported — under the sub-headline "Epidemic Extends Tentacles to Practically all Sections of Grand Traverse Region" — that the flu had moved into Kingsley.

Even as two more dead were reported on Dec. 18, it was thought that that grip of the flu might be receding. The next day, Dr. Thirlby said the epidemic was improving, even as residents learned of 59 recent flu deaths in Petoskey.

The next day, the newspaper had to walk back some of its reporting on the spread of the flu into Kingsley. While there had been an outbreak, and the board of health had closed the schools and churches, businesses had not closed.

In the coming days, things got worse. On Dec. 26, a headline read "LOCAL SITUATION GROWS ALARMING DURING THE PAST FEW DAYS."

The article said that the Red Cross had made "the most urgent call for human aid in the history of Traverse City. … Human helpers are needed to care for families fighting pneumonia and influenza."

The next day, a story quoted Dr. Thirlby, who wanted to calm things down. He said: "The influenza and pneumonia situation in Traverse City is not as serious as wild stories now circulating would indicate."

On Jan. 4, however, the paper reported that the first two days of the new year saw an additional nine flu fatalities, following 34 in December. Those 34 deaths earned Traverse City an unprecedented statistic in 1918, the paper reported: an average two deaths for every birth.

THE LEELANAU BARRICADES
On Jan. 17, the state police announced they were going to protect Leelanau County.
The move came after a meeting in Lake Leelanau between state officials and every township health officer and every doctor in the county.

After months of outbreaks throughout the region, it's hard to imagine how they could have said with straight faces that they really believed all of the 200 to 300 new cases had originated in Traverse City, but that was the rationale for closing the border between the counties: Grand Traverse County had not protected itself, so Leelanau County needed to be protected against Grand Traverse County.

Over the next few days, state health officials conducted a "secret investigation" in Grand Traverse County, according to the Record-Eagle.

At its conclusion, the state health department director addressed officials in Traverse City: "Gentleman: you well know why I am here. You know that you have not handled the situation properly in Traverse City, and if you had, there would have been no occasion for my presence. … You have tried to make a joke of the State Board of Health. You have laughed at us and ignored our suggestions and orders."

Then he said something even more remarkable, since it was not true that any measures taken by local officials in 1918 would have prevented the spread of the disease: "Had you followed our instructions, you would have been free of influenza."

On Jan. 20, state officials announced that they had surveyed residents of Traverse City and discovered there were five times as many flu cases as had been reported to the state.

Dr. Thirlby resigned amid the criticism. While he defended the actions he took to ensure that the ailing were in quarantine, he admitted that he had neglected to fully report the conditions in Traverse City to the state.

By early February, cases were waning, and death rates were dropping. Instead of war casualty reports, the Record-Eagle's front page lead with "The 'Flu' Situation." On Feb. 3, there were 12 homes still in quarantine and a total of 21 old and new cases. By Feb. 7, there were just four quarantined houses and four existing cases.

It's unclear what good the quarantine of Leelanau County served. It was lifted Feb. 5 by order of the state board of health.

One state health official, Dr. S.R. Hill, though, told the Record-Eagle that he believed the quarantine was a success: "When the quarantine was put on, there was a danger of an alarming epidemic. It is only due to the fact that authorities in Leelanau county went after the disease with a hammer and tongs that they succeeded in checking it. I can safely say that conditions there have improved 95 per cent since the county was quarantined."

The Life — and Flu Death — of the Leelanau County Hermit
The lives of very few flu victims warranted examination on the front page of the Record-Eagle during the flu pandemic of 1918. Reporting on the disease was mostly straightforward and stuck to the facts. One exception was a Dec. 12 profile on the death of a legendary Leelanau County eccentric, a man whose notoriety has faded from history today, but who was apparently a fixture of the region at the time of his death. Here is the newspaper's account of the life of Roch Tybushewsky. May your obituary never read the same.

Roch Tybushewsky, the Leelanau county recluse, who is known to every tourist who has been up this way in the last twenty years, is dead. The mysterious old settler died yesterday of Spanish influenza, according to word reaching Traverse City. The passing of Roch removes from the county a human landmark and a psychological enigma.

Roch had two important distinctions: He was a real hermit and a recognized authority on the history of eastern Europe. He was a Pole, born in Plock, near Warsaw, and had lived for the past several years near Omena, with his family. His family consisted of a long-horned steer, a cow, and a calf.

Roch was a genuine, dyed-in-the-wool recluse. From 27 stony acres of state land in Leelanau county, he eked out his meager existence, in the shape of a few ears of corn and potatoes. He homesteaded his little patch of ground and owned it by virtue of five years' occupancy. For years he ploughed his fields with a crooked stick, as he had learned to do in Russia, many, many years ago. His big steer had pulled a primitive implement of cultivation, and Roch had ignored the modern appliances for farming.

The 73 years of his existence embody a pathetic story. His struggle has been one of hardship and never-ending disappointment. His mother died when he was an infant, and his stepmother refused to care for the baby boy. Until he was 10 years old he lived with his mother's parents. They died when he was 10, and he was sent to live with some of his father's people. The next seven years of his life he described as a living hell. He was beaten, taught to drink vodka and made to steal.

At the age of 17 he was working for $30 a year, minus 25 per cent for taxes. It was a condition that the young Pole, with a deeper understanding of life, could not endure. He decided to go forth into the world. For two years he labored in the German coal mines of Saarbruck, in Alsace-Lorraine, until he had saved enough to come to America. In 1865 he landed in New York. From there he went to Detroit, and from Detroit he walked to Alpena, where he had friends.

In the next few years he saved $300 and entered a convent in Indianapolis, where he perfected a knowledge of four languages, Polish, Russian, German and English. For years he then taught school in Polish settlements. His eyesight failing, he was compelled to abandon his work. He wandered to this section of Michigan, grasped an opportunity presented to homestead his little patch of stony land, and since that time has been successfully tilling the soil through a primitive process of development.

The seemingly inevitable woman is a character in his rather pitiful story. It is a subject of which he spoke only under pressure. She was Polish, and she was one of the bright lights of his baneful existence in Poland. He loved her – that is certain. And he promised her that he would send for her when he had made his fortune in America. He did succeed after several years in this country – and he wrote for her. But she had married another. It was another drop in his cup of bitterness.

He was a remarkable old character. Residents of this section and the thousands of tourists who annually come to the Grand Traverse region will miss him.


Trending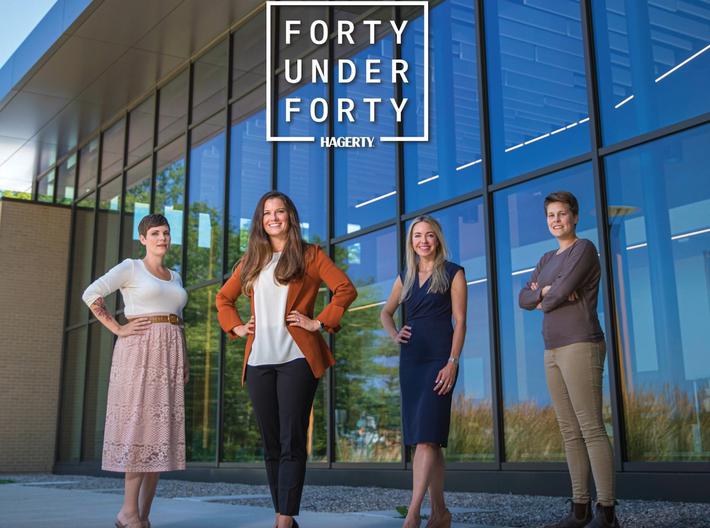 Nominations Now Open for the Hagerty/TCBN 40Under40
For 17 years, the Traverse City Business News, sister publication to Northern Express, has been celebrating the young move...
Read More >>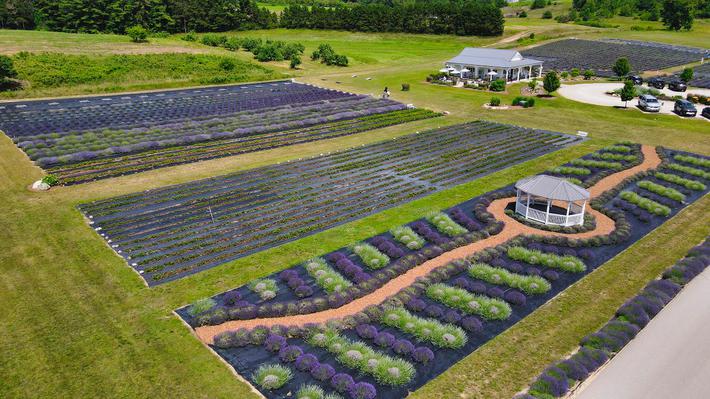 A Secret Garden
Sshh! This one is for your eyes only. The Secret Garden at Brys Estate has opened for the season, and it's time to c...
Read More >>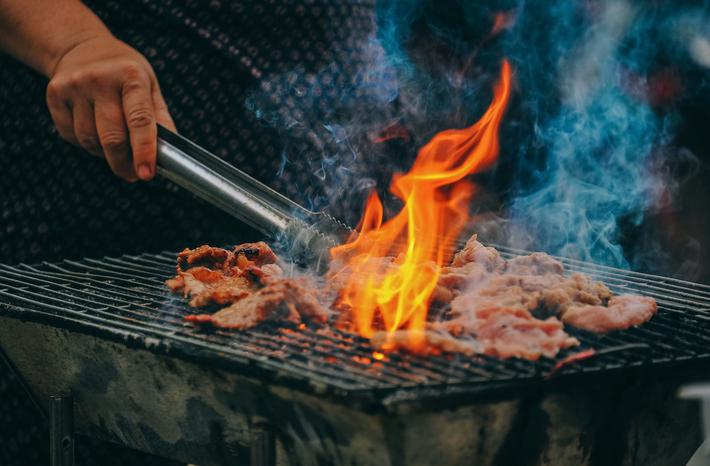 What's Cooking at Shady Lane
Celebrate your dad at Shady Lane Cellars' Father's Day Cookout. Offering a brat and Gruner Veltliner pairing f...
Read More >>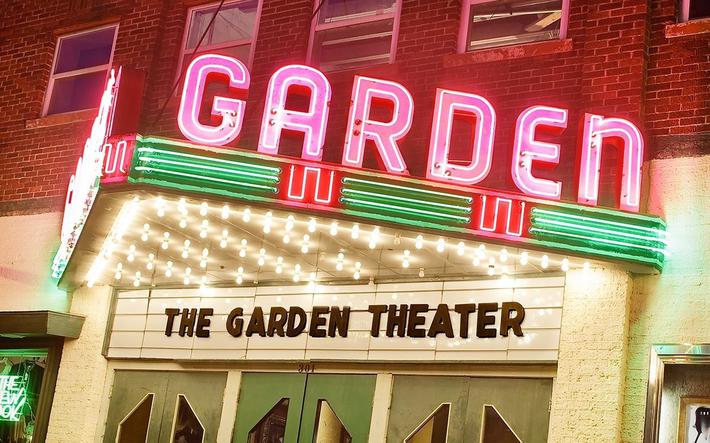 48 Hours in Frankfort
Roll the cameras—the Frankfort48 Film Contest is full of action this weekend! The contest is the trial grounds for t...
Read More >>