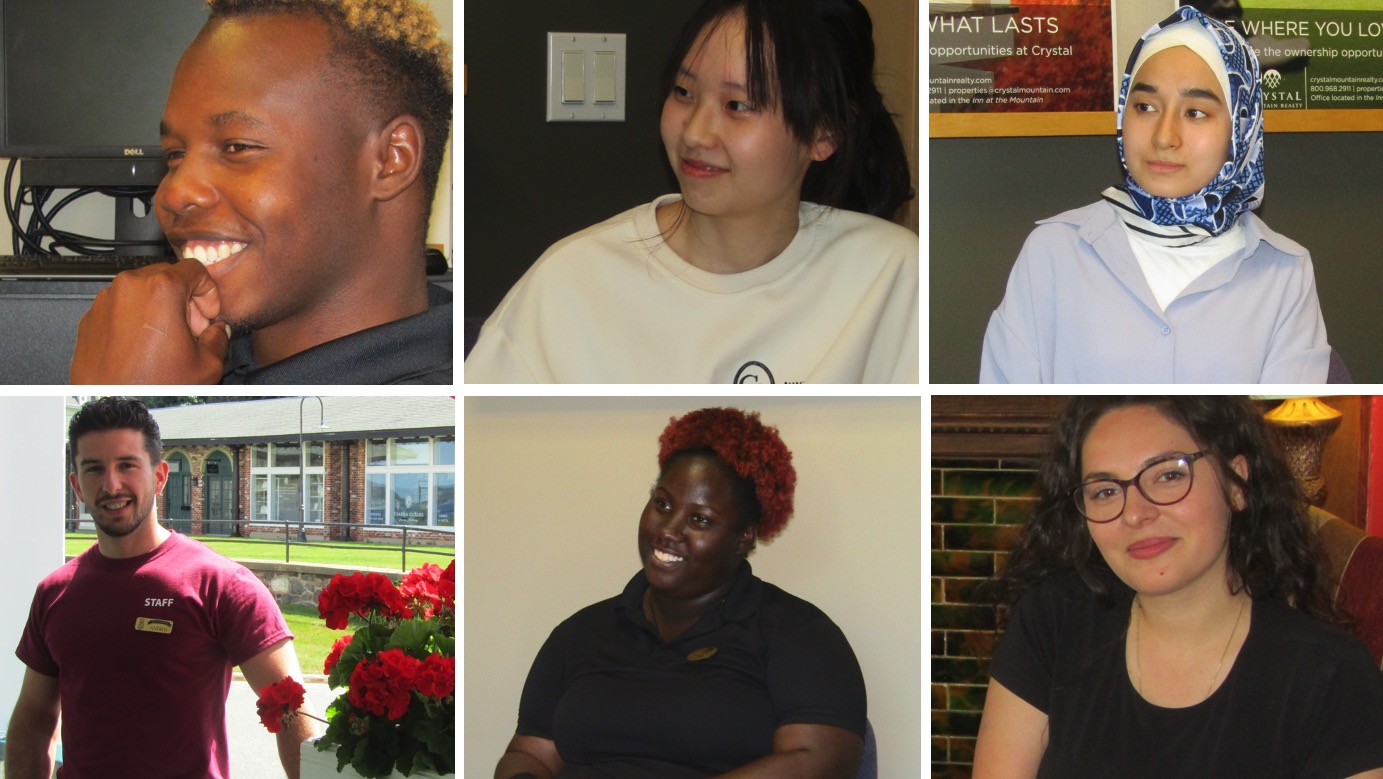 The J-1 Experience
Six international students share their stories
By Al Parker | July 22, 2023
Every summer, hundreds of college students from around the world trek to northern Michigan…and the local economy would be seriously diminished if they didn't make the trip.
These international students aren't just visiting—they're coming to northern Michigan to work under the J-1 visa program and spend May through September learning valuable career skills and experiencing summertime Up North.
A Cultural Exchange
"The J-1 students are absolutely critical to our operation," says Jennifer King, vice president of human resources at Crystal Mountain Resort near Thompsonville. "We rely on their efforts in so many ways. And sometimes they get into the hospitality industry and change their minds about their careers back home."
The college students—some are graduate students—come to the U.S. to gain valuable experience in their major fields of study, or sometimes in a completely different curriculum.
They provide many of the behind-the-scenes services that keep area eateries and resorts humming along. For example, at Crystal Mountain, J-1 students serve as lift operators, recreation attendants, golf groundskeepers, spa attendants, housekeepers, food servers, retail attendants, and culinary staff.
Crystal Mountain has 43 J-1 students from 17 countries, including Albania, Azerbaijan, Australia, Poland, Slovakia, Hungary, Thailand, India, Nepal, Spain, Lithuania, South Africa, Mongolia, Turkey, Mexico, Philippines, and the Dominican Republic, according to Human Resources Manager Agnes McNeil.
"It's really a cultural exchange to give them a chance to learn about American culture," says McNeil, who handles the day-to-day details of the program.
To help J-1s learn about northern Michigan, McNeil arranged a pool party, a trip to a Pit Spitters ball game, a Cherry Festival visit, a Platte River picnic, and a movie night in Frankfort.
Meanwhile, Stafford's Hospitality—which operates the Petoskey's Perry Hotel, the Bayview Inn, Crooked River Lodge, Noggin Room Pub, Pier Restaurant, and the Weathervane Restaurant—has 21 J-1 students from Romania, Montenegro, Macedonia, and Jamaica, according Beth Cottee, who handles human resources.
They fill positions like housekeepers, servers, prep cooks, dishwashers, laundry attendants, and hosts. "It's a fantastic program," says Cottee. "We get quite a few returning, and I love getting to know these kids."
Cottee tells of a former J-1 student from the mid-1990s who returned to train with Stafford's year after year. When she aged out of the program, the young woman acquired a student visa and attended North Central Michigan College. Eventually she became a U.S. citizen, now lives near Boston, and still comes back to visit Petoskey.
Northern Express recently talked with six J-1 students to learn about their experiences here and what they liked (or disliked) as they dipped their toes in American culture.
Tony Perez, Dominican Republic
"Everyone here has been so nice," says food server Perez, flashing a big smile. The 27-year-old is in his second year at the resort. "I learn things every day."
Back in the Dominican Republic, Perez is studying hotel management and says being exposed to all the operations at Crystal Mountain has been invaluable. He's rooming with other J-1s from India and Nepal, and he's learned from that experience too. "I tried some of their Indian food and Nepal food and I like it," he says.
When his visit ends in September, Perez is looking forward to visiting friends in Atlanta and New York City. "It's a great opportunity to travel," he says.
"At the end of the program, they have 30 days to travel [around the U.S.] before they go home," adds King.
Memee Pangisrisomboon, Thailand
The 19-year-old is studying accounting in her Thai hometown but works in the always-busy housekeeping department at Crystal Mountain. "It was hard at first and I was no good at it," she recalls. "But I've learned and it's better now."
Pangisrisomboon misses Thai food, especially pad Thai and Thai noodles, but has developed an appetite for some popular American delicacies. "I like barbecue and hamburgers," she says with a laugh. "America is very good with the fast food. It's really delicious here. And people here love their snacks."
She says it took a lot of courage for her to travel alone from Thailand to come to northern Michigan. But she's gained confidence and is looking forward to heading south when her term ends in September. "I'd like to go to Florida," she says. "Disney World!"
Aigerim Altai, Kazakhstan
"I haven't seen this many trees in my life," says Altai, whose homeland is dominated by mountains and grassy, sandy plains. (Kazakhstan is the world's ninth-largest nation and the largest land-locked country in the world.) "In my home, we have six to eight months of snow and mountains. I'm loving it here."
At Crystal, the 20-year-old works in the housekeeping department, but back home she's studying medicine, with no specific major yet.
She's had a chance to travel a bit around northern Michigan. "We went to Traverse City and it's so beautiful," says Altai. "For the first time, I saw a wild deer."
When her visit ends in September, Altai would like to see more of America. "I'd like to visit National Parks and see cities that are so big, like New York City and Chicago," she says.
Andrei Muresan, Romania
The 25-year-old food server at the Perry Hotel is learning skills that he's hoping to take back to his native country and put to practical use.
"I'd like to maybe open a business, a small pizza restaurant," says Muresan, who comes from Baia Mare, a city of about 125,000 in northern Romania. "I want to get information from everywhere. I'm always learning."
When he's not honing his serving skills in the restaurant, Muresan is often in search of a good cup of coffee. "It's very hard to find good espresso here," he confides. "I've only found one good coffee shop here. And the coffee's expensive—$5 for a cup, when the best back in Romania is $3."
And he's not really a big fan of American cuisine, either. "Everything is frozen or full of sugar," he says.
When his gig at the Perry Hotel ends, he'd like to travel to the West Coast, with a must-stop visit in Las Vegas.
Detrina Brown, Jamaica
Brown is studying to be a high school English teacher at her island school, but at Crystal Mountain, she's learning people skills as an attendant at Crystal Spa. "The spa is nice and the people I work with are so supportive," says the 20-year-old. "It's a very supportive environment."
Like Muresan, Brown is not a big fan of American food choices. "The beef and stuff, I don't know what's in it," she says with a laugh. "I enjoy the fresh seafood at home."
When her program ends in early September, Brown has no plans to travel, but says she's eager to return to Jamaica.
Diana Crefelean, Romania
The 24-year-old has already earned a bachelor's degree in communications and public relations but is interested in a career in journalism too. Meanwhile, for the summer, she's busy as a food runner and server at the Perry Hotel.
"It's wonderful here," she says. "It's really different than my country where it's mostly cities and not so much nature. And the people here are always smiling."
When she's not serving, you can usually find her exploring Petoskey or chilling at a nearby beach. "I have my bike, I take a book and go down to the lake," she tells us.
Crefelean misses some of her Romanian dishes, like beef tripe soup and vegetable soups. But she's developed a taste for a couple of American staples. "I like the food, especially ranch dressing and eggs Benedict," she says. "I like that the vegetables are fresh and not so expensive."

When her visa visit is over at the end of September, Crefelean would like to go west. "Los Angeles, San Francisco, the Grand Canyon, Hawai'i—I'd like to see," she says.
The Romanian native absolutely enjoys the J-1 experience and would urge other students to apply. "All this travel has been good for me, Others should not be scared. It's way better than I expected. Be brave, just come."
Trending
Pronouns 101
My first assignment in an online graduate-level class was to provide information about my background, including my pronoun...
Read More >>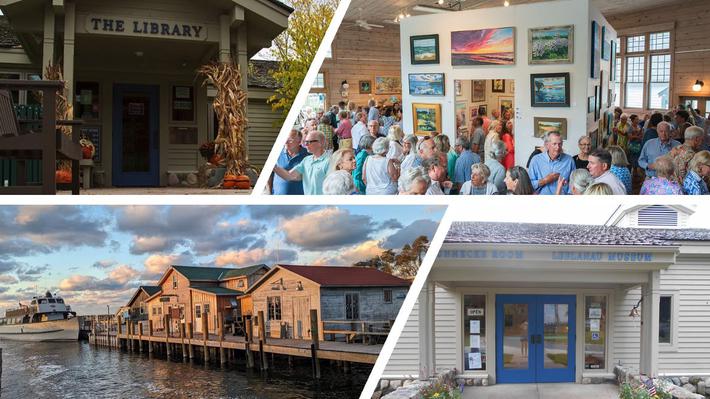 Collaboration Is the Name of the Game
How long does it take to create a cultural center? As few as three years, or as many as 170. Sometimes both. The organiza...
Read More >>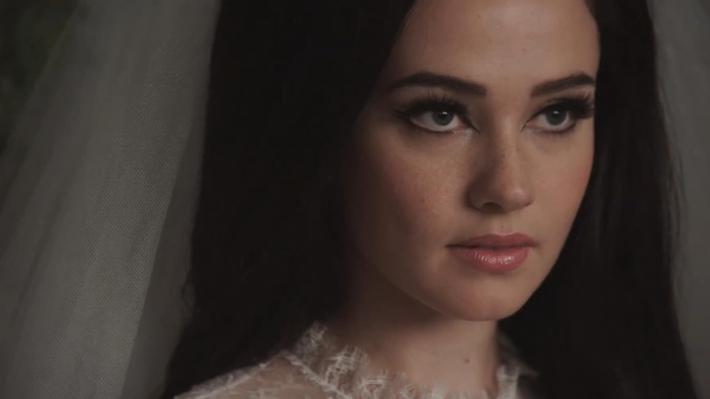 Film Review: Priscilla
While you will certainly be mesmerized by the haunting lead performance from newcomer Cailee Spaeny—and be impressed...
Read More >>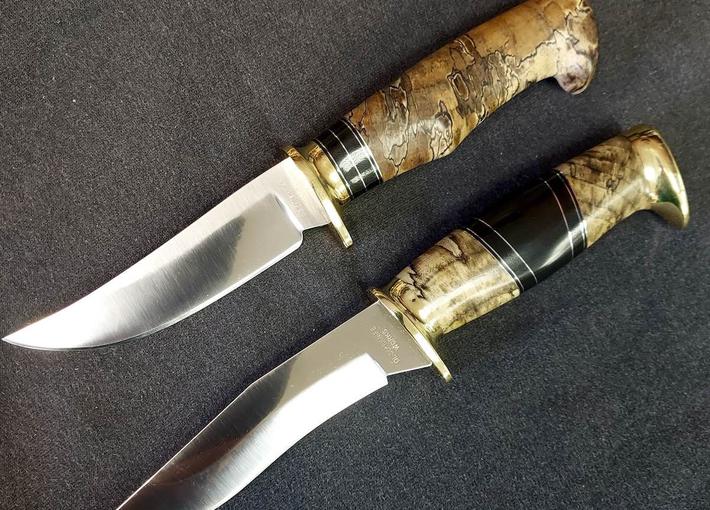 Bespoke Blades
What do you do with a battered ice skate, an old rubber puck, a cracked hockey stick, and a gob of tape? Pitch 'em, ...
Read More >>