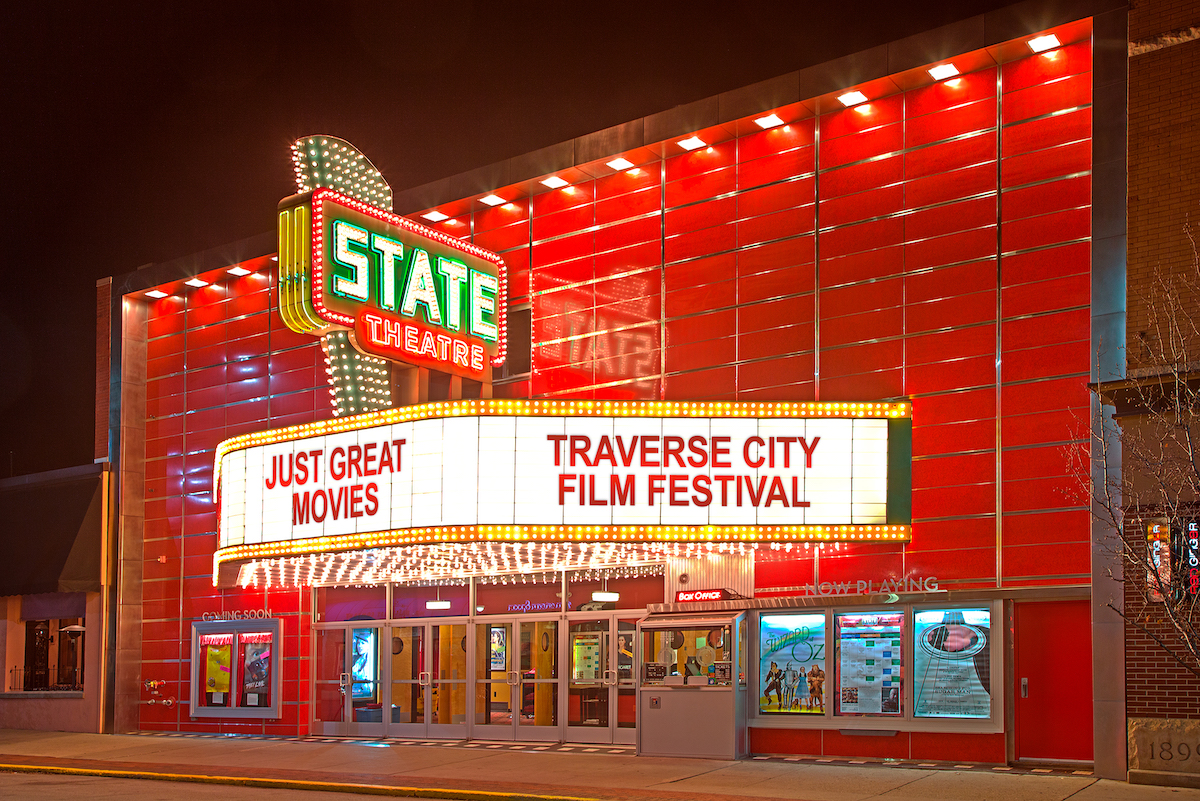 The Return of the Festival
TCFF 2022 makes its comeback
It's back: After a two-year pandemic hiatus, the Traverse City Film Festival returns to northern Michigan July 26 through July 31. While much remains the same about the festival we know and love, change is also in the air.
A New Face
We talked to TCFF's new festival director, Johanna Evans, as she was driving through Canada en route to Traverse City for her month-long stay Up North. (And we were sure to offer up recommendations for our favorite pizza joints and gave our sagest advice on summertime traffic.)
Evans is a film veteran, with experience as the film programming and operations manager for the Hopkins Center for the Arts at Dartmouth College; as an analyst working with Disney to dive into the metadata of their film catalog; and as a sales associate with Eventive, helping festivals, cinemas, and art centers in the virtual world. It was in the latter that she made her Traverse City connection.
"I had a sales meeting with Michael [Moore]," she recalls. "I was trying to try to pitch him on [Eventive] software. He was trying to think about whether they were going to do some more virtual programming, maybe do a movie night. And based on that meeting alone, six months later, he called me up and asked me if I wanted to run the festival. It was not exactly April 1, but it was very close. So there was a little part of me that thought, 'Is this an April Fool's joke?'"
Although TCFF is new to Evans, she sees strong parallels between the festival and the program she headed up at the Hopkins Center at Dartmouth.
"I had 10 years of running a program that had a very similar ethos to Traverse City Film Fest. Our tagline for our program at the Hopkins was 'Great Movies Every Weekend.' So coming to TCFF with 'Just Great Movies,' I felt really at home here," she says.
But planning the 2022 event has not been without its challenges. Movie theaters and film festivals have been slow to return to their pre-pandemic attendance numbers, a reality that forced the TCFF team to be "extremely cautious" with their budgeting this year.
Unlike other festivals, TCFF doesn't sell passes months in advance, but instead relies heavily on single-ticket sales, compounding the challenge of predicting just how many people will be in seats this week. Evans says that attendance is "kind of a question mark" until the week or two immediately preceding the event.
"We are reading the tea leaves about how other festivals are doing," Evans explains. "Even though our local audience is showing great enthusiasm, the numbers across the country for festivals are showing that attendance is about half of what it was in 2019."
A New Format
Working under the assumption of audience numbers being cut in half, the TCFF team also halved the usual slate of films from its usual 100+ to slightly more than 40.
"We've scaled down the festival proportionately with what we're seeing with other festivals around the country. There's also fewer films to choose from, because not as many were made in the pandemic. So we really felt strongly about just showing the best of the best selection of these masterpieces from the pandemic era that never got seen on the big screen," Evans says.
If you haven't already gotten your tickets, here are some of the top recommendations:
Evans' first pick is TCFF's opening night feature, The American Dream and Other Fairy Tales. "It's a documentary made by Abigail Disney examining her family's company and then expanding from there to comment on late-stage capitalism more broadly. What I like about the film is that it really addresses this sense of cognitive dissonance that we all collectively have about the American dream," Evans says.
Next up is God's Country, starring Thandiwe Newton as a Black professor dealing with two hunters trespassing on her land. Evans calls the film a "slow burn, character-driven thriller" that tackles issues around race and gun control.
Last but not least on her list is First Cow, a film she saw at the Telluride Film Festival back in 2019. "I have been striving ever since to get to share it with another audience," she says. "It's a wonderful, different portrait of masculinity about these two fur trappers who figure out that they can actually make more money by selling donuts."
Long-time volunteer and Milliken Auditorium venue manager Miles Kennedy seconds the First Cow pick and also adds Nosferatu (a silent film about vampires celebrating its 100th anniversary and paired with live musical accompaniment) and The Professor and the Madman, which stars Mel Gibson and Sean Pean.
"[This year's] selections, they are really worthy of the patrons," Kennedy adds.
A New Venue
So, where can you catch these films? Another big change for this year's festival—again, with the budget in mind—is a shift in venue. In years past, TCFF has held screenings at the State and Bijou Theatres, the Open Space, Milliken Auditorium at the Dennos Museum Center, Lars Hockstad Auditorium (aka the Kubrick) at Central Grade School, and the City Opera House, among others.
For 2022, only the State, Bijou, and Open Space made the cut, mostly because it's just too darn expensive to convert all those other spaces into movie theaters.
According to Evans, "We did as much as we could to crunch the numbers and try to make building out our theaters affordable. But the combination of supply chain issues and labor shortages just meant that the costs were not going to scale down for our scaled down festival the way we had thought they might. So we're looking forward to being back in those venues again in the future when we have a little bit more certainty about our audience."
With the loss of oldie-but-goodie venues comes the gain of an unexpected new ally: the AMC Cherry Blossom 14.
"A lot of people have been going to the AMC during the pandemic, while the State Theatre was closed," Evans says. "So many of our patrons are actually really excited that we're going to loop them in."
Evans explains that viewers will have a "great theater experience" at AMC, noting state-of-the-art sound and picture—and tasty popcorn—as big draws. TCFF will have their own projectionist team monitoring each show, and there are plans to have live guests and prerecorded intros from celebrities to make the experience feel customized to the festival.
Cecilee Dushkin, who manages film festival partnerships at AMC, is also excited about the joint venture. "This new partnership is very special," she says. "We're bringing the multiplex and arthouse cinema together to champion the movies. … [Cherry Blossom 14] is still relatively new, and this gives us an opportunity to be more closely part of the community now and for the years to come."
Four screens at the AMC have been specially renamed in honor of TCFF: The Coppola, The Lily, The Jones, and The Edison. Dushkin says that TCFF will have nearly an entire wing of the building, a dedicated entrance, merchandising, and an outdoor tent in the parking lot for people to enjoy between showings.
Dushkin has a few films on her must-see list too: Lakota Nation vs. The United States (chronicling the Lakota Indians' quest to reclaim the Black Hills), Never Rarely Sometimes Always (a Sundance award-winner about a teen seeking medical help for an unintended pregnancy), and another vote for God's Country.
The Same Heart
Even with so much changing, many of the best parts of the Traverse City Film Fest will remain the same. The Open Space will continue to host fun, family-friendly movies like The Wizard of Oz and The Princess Bride. Q&As with filmmakers and other interactive experiences will be offered throughout the festival. And the amazing volunteers who make it all possible will be back in action.
"It does take a village," Kennedy says of the volunteers who sustain the event. "We're really glad that they continued to return."
Evans agrees, crediting the strength of cinema binding Traverse City together. "It seems from all of the folks I talked to—from the friends, members, sponsors, volunteers, the staff at the State and Bijou—that [the] sense of community around cinema is really strong," she says.
The 2022 Traverse City Film Festival kicks off at 9am on Tuesday, July 26 and runs through Sunday evening. In addition to the 4 to 5 showings per venue each day, a film will also play at the Open Space every evening. The full slate of films, schedule, and tickets can be found at tcff.org.
Kennedy's final advice for moviegoers: "Set aside everything that's going on in our world today for one week. Come enjoy yourself and have a lot of fun. We think we're going to provide you with a really great time."
(Photo courtesy of The State Theatre)
Trending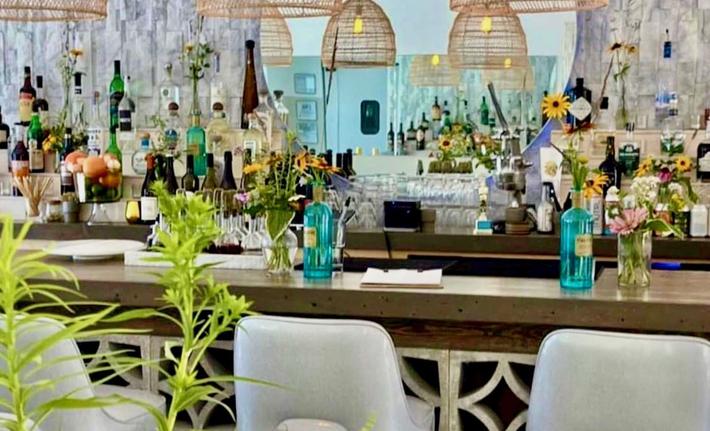 Your Fall Restaurant Guide: Six Spots to Stop for a Bite in Northern Michigan
The weather may be cooling down, but the culinary scene in northern Michigan is heating up. This summer, we explored six n...
Read More >>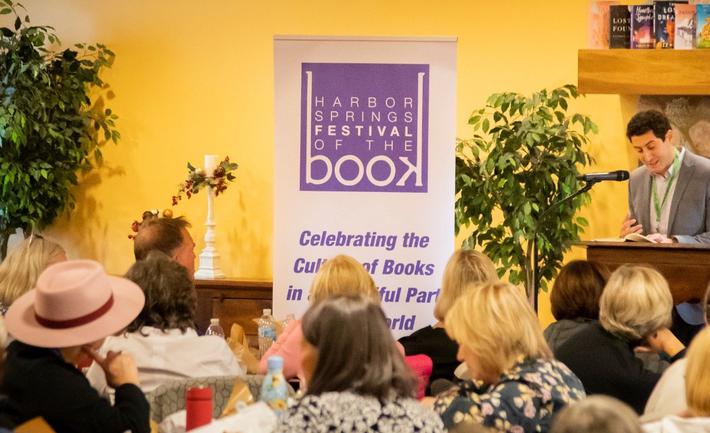 A Weekend of Books
It's a bookish weekend in Petoskey, Bay Harbor, and Harbor Springs! (Be still, our literary hearts!) First up is the...
Read More >>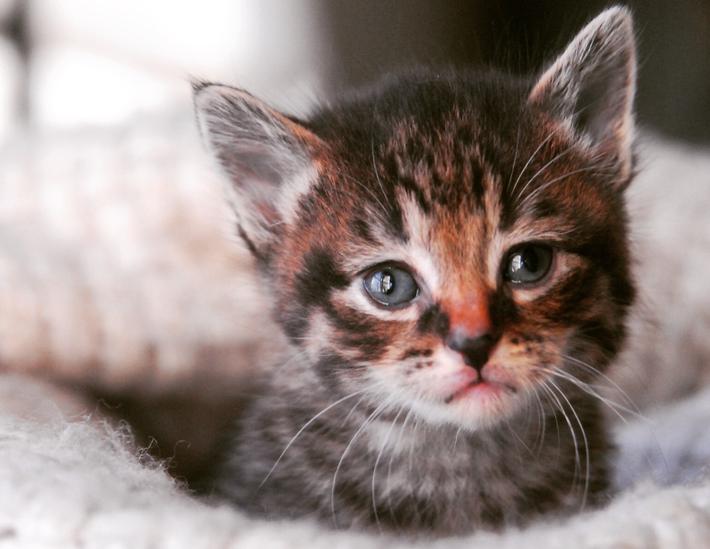 Make Your Pet Famous!
Every fall, Northern Express puts together our Pets Issue, which features stories about our beloved furry friends. As part...
Read More >>

Transformation on the Trail
It's no secret that the Boardman Lake Loop Trail in Traverse City is a popular spot for a stroll. And after a summer...
Read More >>