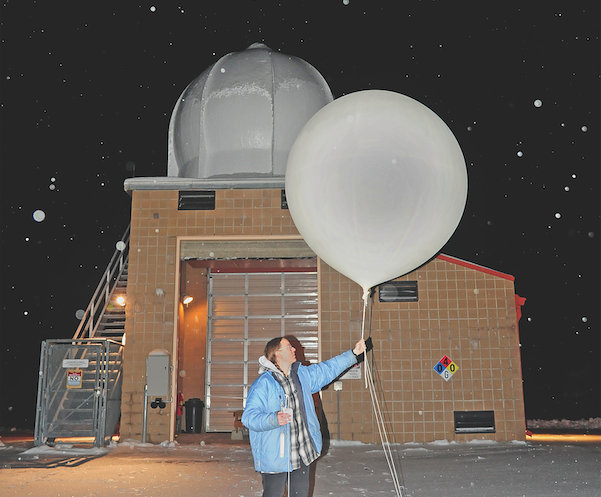 This Winter: A Whiteout or a Wash?
Experts weigh in on how much snow the region can expect this winter.
On a cold, snowy December morning at 6 a.m., National Weather Service meteorologist Sabrina Jauernic puts on her coat and gloves to walk about 200 yards to a building that resembles a small observatory. It houses several hydrogen tanks that are used to fill weather balloons twice a day that collect various data that help meteorologists forecast the weather.
The National Weather Service of Gaylord is one of 92 locations that launch weather balloons daily across the United States. In Michigan, there are only two locations — Gaylord and Detroit.
"In Florida, they wouldn't be wearing gloves," she said as she prepared to fill the balloon with hydrogen. Each time she spoke, her warm breath was visible as it came in contact with the crisp morning air.
Attached to the end of the balloon is a device called a radiosonde; it looks similar to a video game controller. It collects data like relative humidity, air pressure, and various wind information.
The balloon will float up 100,000 feet, or about 19 miles, and expand to the size of a two-car garage. Eventually, it will burst, and the radiosonde will fall back to earth tethered to a small parachute. Only a small percentage of the devices are recovered, but long before the balloon meets its demise, the data is transmitted back to the Gaylord National Weather Service office where Jauernic records it.
"We have a successful flight," she said, as a computer alerts her with two dings, and data streams in to one of seven computer monitors displaying radar and satellite imaging, and spread sheets and graphs.
Most meteorologists, like Jauernic, agree that northern Michigan will experience a milder winter this season due to a weak El Nino.
"As far as this upcoming season, since we're going into a weak El Nino, there stands a good chance we'll be a little warmer and drier than normal, which means we could be a tad bit below normal for snowfall. But remember, a below-normal snowfall for Gaylord could still mean 130 inches of snow, since normal is about 140," Jauernic said. "That is quite a bit. There are only a few other locations in the entire U.S. that get more than we do for the winter season."
As of Dec. 10, Gaylord had received 26.6 inches of snow.
Predicting the weather is most accurate two to three days out, especially for the northern Michigan region, which has a lot of factors to take into consideration.
"The accuracy will begin to decrease [more than a few days out]," Jauernic said. "There is more noise. There are potentially more things that can go wrong."
One of the most difficult challenges of forecasting weather in northern Michigan is lake effect snow. The first thing you need for lake effect snow is a relatively warm lake surface. The cold air picks up moisture in the form of water vapor and rises high enough to condense the moisture into little liquid droplets that eventually fall back to earth as snow.
"Relatively warm doesn't mean you can go swimming in it and it feels like a bath tub," Jauernic said. "Warm could mean upper 40s. It's warm relative to the air crossing over it. … The bigger the temperature difference, the more snow."
As of late November, the lake temperatures were in the 40s. As long as the lakes remain unfrozen and open, there is a chance of lake effect snow.
7&4 News meteorologist Joe Charlevoix said the struggle is real when it comes to predicting the weather for northern Michigan, especially long-term forecasts.
"We cover the largest area east of the Mississippi of any television station, from a geographical standpoint," Charlevoix said. "I have 26 counties to forecast for. It is a very diverse area to forecast, because you have Lake Michigan, Lake Huron, and Lake Superior all in play. And I have three minutes to tell all of the weather. It can be a bit of a challenge."
Nevertheless, he said that the early snow and cold the northwest lower region received so far is contrary to what he's predicting for the duration of the winter. "It has been very unseasonably cold and very cloudy."
As of December, Traverse City was running a bit below normal for snowfall. The official snowfall total is measured near Munson Medical Center. As of Dec. 10, the snowfall was at 11.2 inches.
Other places, like Sault St. Marie and Petoskey, are well above average. Petoskey has received 28.2 inches of snow this year, while Sault St. Marie is already at 39.1 inches.
"The Grand Traverse area, Gaylord, and south are running below normal, and I expect that trend to continue into winter," Charlevoix said.
Winter officially begins on Dec. 20.
Though technology has improved for predicting the weather, Charlevoix said some still rely on other methods.
"My grandma put a lot of stock into [the Farmer's Almanac]. She would read me what it would do that week," Charlevoix said. "I don't put a lot of stock into it myself. I am not saying it is completely wrong or a joke — I am not saying that. They have their way of doing it. … It is pretty generic."
Charlevoix doesn't worry too much about being 100 percent accurate when predicting the weather — Michiganders have come to expect the unexpected when it comes to the weather — but that doesn't mean he doesn't hear it when he's wrong.
"For northern Michigan, most people are kind and understanding," Charlevoix said. "People will write in, but it is not very often. You would think it would be more often. There is hate mail. I have a folder of viewer emails over the years, most are positive others are not. Sometimes we deserve it."
Charlevoix said it might be easier to determine who will become the next meteorologist rather than how much snow northern Michigan will get this year. He knew from an early age that he was going to be a weatherman, and he is not alone.
"I was drawing weather maps in kindergarten for show and tell," Charlevoix said. "I just had a fascination with the weather from a very young age. I remember getting caught in a pretty bad thunderstorm with my mother, and I remember that vividly. So, it was just what I wanted to do."
For Jauernic, she remembers sitting on the porch in Missouri with her grandfather watching thunderstorms as a way to overcome her fear of the booming sound of thunder.
"It is crazy," Charlevoix said. "The people who stick with this job, almost every single one, it is something they got when they were very young."
Scott Dickson has worked for the National Weather Service for 15 years. He knew he wanted to be a weatherman from a very young age after tornado sirens started wailing and his mother told him to get in the tub with a mattress over him in southern Illinois. Instead, he snuck outside and sat on a parked car's hood and watched the tornado.
"I [saw] a wedge. It was amazing," Dickson said. "At that point I said, I got to know how that happens."
All three meteorologists agreed that their love for the weather started with thunderstorms or tornadoes, but forecasting snow in northern Michigan has grown on them.
Despite his last name, Charlevoix actually grew up in the Upper Peninsula, in the town of Norway, on the Wisconsin border. He has lived in places in the U.P. that have seen more than 300 inches of snow a year.
"I swear to the good lord it is my last name. My dad is the sheriff in Dickinson county, and the prisoners there call it the Charlevoix Chateau," he said. "My name was never an issue until I moved into lower Michigan, where Charlevoix is a town and a lake. Everyone thinks it is a stage name. The truth is that it is my last name, and I am proud of that. If I lived in Nebraska, nobody would care."
He recalls his grandpa, who was a snow plow driver, telling stories about the legendary winter of 1978.
"There was a lot of snow — he said cars were buried," Charlevoix said.
But don't expect to see anything this season like that winter, he added.
"You can always be surprised, but I really don't think so," he said. "Even though we are a little cold and have had a little snow. We are certainly going to get snow and have storms, but I still think, when you add things up at the end of the year, we are going to come in above normal temperature and — by a fairly wide margin — come in below normal snowfall. I do believe we are going to have a much dryer than normal winter in regard to snowfall."
Trending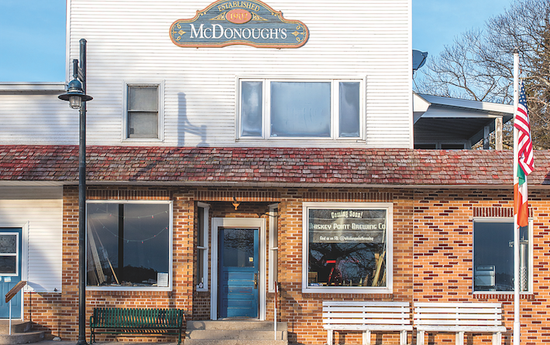 Welcome to Michigan's Most Remote Brewery
After years of planning and honing his beer-making skills, this spring, Patrick McGinnity plans to open Beaver Island&rsqu...
Read More >>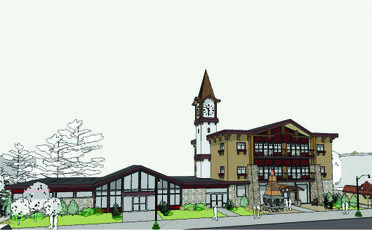 Gaylord: A boomtown Up North
Gaylord native Gary Scott had moved to Indiana, where he and some partners started a business to invest in distressed prop...
Read More >>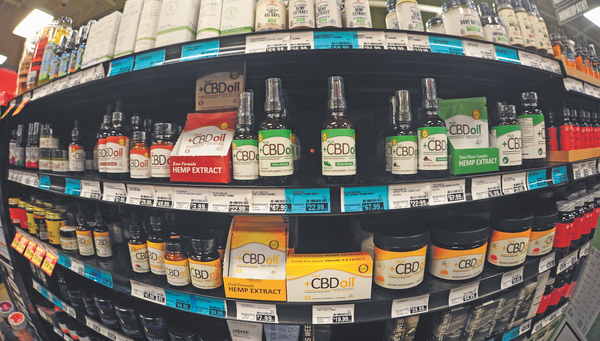 CBD Laws: Dazed and Confused
The sign outside of Family Video in Kalkaska lets drivers know the store has more than just movies. The sign reads: &...
Read More >>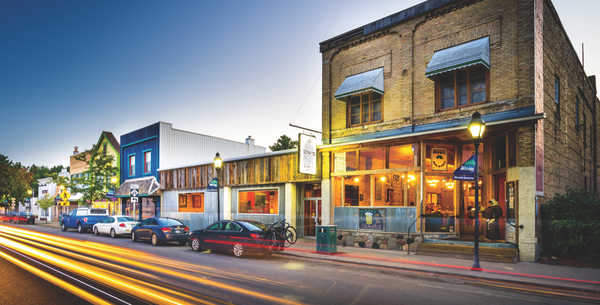 Small Up North Towns on the Rise
Spotlight on Bellaire (pictured)Seems Traverse City isn't the only place in the region making those "Best...
Read More >>
↑