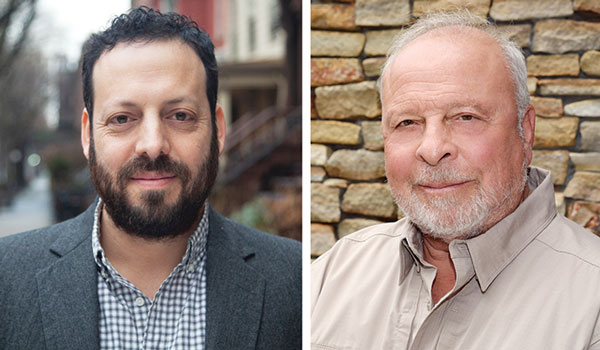 Thriller Time
Bestselling novelist Nelson DeMille and son Alex DeMille to talk tag-team writing and art of suspense at City Opera House
For Nelson DeMille, the thought of writing another thrilling action-adventure novel is — well, not so novel. He's written 20 of them, including 17 major national bestsellers, seven of which have hit the No. 1 spot on various best-seller lists.

This last book was different. He was teamed up with another writer, one who uses a much different approach that Nelson's well-honed 40-year practice of writing novels by #1 pencil on white legal pads: His son Alexander.

Alex DeMille, best known as a screenwriter, director, and filmmaker, leans a bit more to modern means, such as using a computer. "My brain goes faster than I can write by hand," he said.

"I use technology," Nelson said. "I use an electric pencil sharpener."

Bridging the gap for this particular father-son writing effort was Nelson's assistant, who scanned in each of the author's longhand pages and sent them on to Alex, who claims to be one of the few people who can actually read his father's handwriting. "We were able to bridge the analogue/digital divide. Everybody's brain works differently," Alex said.
ONCE UPON A CRIMINAL INVESTIGATION
The result is The Deserter, a 530-page novel and the first in a series that will team the DeMilles, as well as the series' protagonists, Scott Brodie and Maggie Taylor, of the Criminal Investigation Division of the U.S. Army. It follows their search for an Army deserter through numerous twists and turns from Afghanistan to Venezuela.

The two will discuss the book, their writing methodologies, and their careers with National Writers Series founder, fellow bestselling author Doug Stanton, on Oct. 27. Nelson, who has himself served as a moderator, said the back and forth with the two DeMilles benefits from an outside voice. "This tour's a challenge. We need a moderator for the two [of us]. It takes some pressure off," he said.

Nelson said writing a novel typically takes him about a year and a half. While that might seem like a long time to some (handwritten drafts notwithstanding), a large part of that is taken in doing research. With books set in various locales across the world, getting the details right is of paramount importance.

COLLOBORATION TAKE TWO
This was not the first book Nelson did with another writer. Mayday, written with onetime classmate and frequent editorial advisor Thomas Block, was a success, even resulting in a TV movie starring Aidan Quinn. But with "two alpha males butting heads," as he put it, their friendship suffered. "I said Never again."

But when his publisher suggested doing a three-book series with another author and three stand-alone novels, he agreed to consider it. Then his first choice as a co-author didn't work out. The option of working with Alex came up, and Nelson was intrigued. "There was some trepidation, but Clive Cussler works with his son Dirk," said Nelson.

Their mutual process included using an outline. Nelson said publishers like to have an idea of the story, and it serves as a guideline for the writer as well. He said most authors trying to sell an idea might need about 30 pages; he typically averages 10–15. "If you're James Patterson you can get away with one page," he said with a laugh.

"The outline helped me," said Alex. "It gave me direction without being too specific."

CRAFT SECRETS
Asked about his methods of building suspense and keeping readers' interest, Nelson said it's all about anticipation. "The whole idea is to keep the reader turning the page," he said. For example, building sexual tension between characters keeps the reader guessing. "You want to see if the hero and heroine get together. It's not formulaic, but it's a pro-forma setup."

Another of his favorite approaches: cliffhangers. They're as much a construction issue as is writing or pacing, he said. "You've got to know where to break chapters," said Nelson.

At the same time, he said you cannot foreshadow upcoming events too much and give too much away. "You can't telegraph it."

Most of all, you have to be able to appreciate the work as a reader, not just as the writer. "You have to trust yourself as a surrogate," Nelson said. "You know when things are working. If you're boring yourself [you'll bore your readers.] Some scenes need to be milked; some need to be cut."

ALEX ON BOARD
Alex said his father's work has always served as an inspiration, but he had other interests. That's what took him into film. "I started making movies as a hobby, and short story writing. It was adjacent to what Dad was doing."

Nelson said that his track record enables him to write a book with, basically, a guarantee of its being published; jumping on board with him gave Alex a leg up, as well as the confidence to write without worrying about trying to get it published.

"My experience at screenplays helped me to come back to this. I didn't imagine writing a book, but working with somebody with this career, following a book deal, was appealing," Alex said.

"Knowing this was going to be a book was the wind at my back. It's unique and a luxury, and I'm very grateful for that."

It's far different from his father's first book sale. "My first book was pretty much done on spec. I had interested a publisher and agent, but it was liberating to write it the way I wanted," said Nelson. On the other hand, once you have a contract and an advance, "There's a commitment. It's less crazy than the movie business. It's a nice business to be in."

Alex appreciates the atmosphere he was raised in. "I have a lot of friends who had to fight to write. I never got that. The greatest gift was valuing it [writing]."

Doors for the National Writers Series DeMille event open at 6pm; the authors take the stage at 7pm. A post-event book signing follows. For more information, go to www.nationalwritersseries.org.

Trending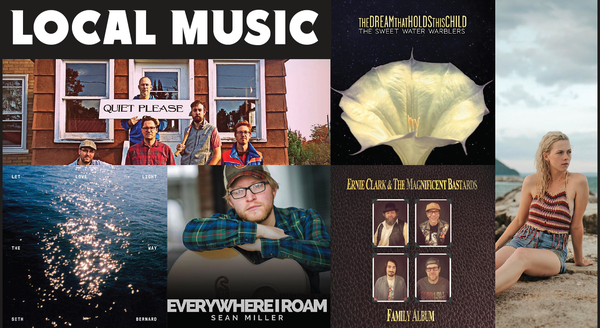 Listen Up: The Latest & Greatest Spins
So 2020 has not been a particularly great year for arts and entertainment. Film releases have been delayed. Concert tours ...
Read More >>

The Libertarians are Coming
Something in the ether, maybe, brought together a bunch of people who over the last year or so declared themselves Liberta...
Read More >>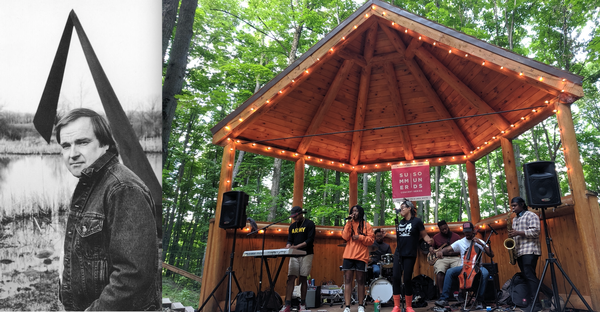 The Other Summer Sounds
As with virtually all venues, the enchanting forest-circled amphitheater inside Michigan Legacy Art Park — like its ...
Read More >>

Say You Were a Fan First
Who are the next big bright stars on the Michigan musical landscape? Who's the next band to become a local favorite ...
Read More >>
↑