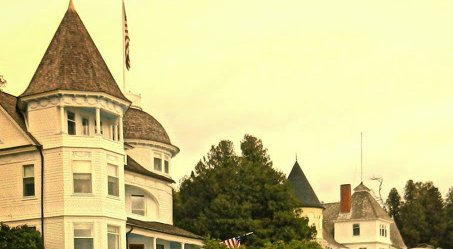 Mackinac Cottage Tours
Island cottage gawkers can get an insider's glimpse
Moira Croghan knows Mackinac Island right down to its roots. Her family has been there since the 1800s. Although she was raised in Washington, D.C. and later made her home in Richmond, Virginia, she's spent most every summer of her life on Mackinac.
Once she retired, she made the island her home, leaving only for a short time each winter to visit her kids, who still live in Virginia.
But she said that when she retired to Mackinac, she suffered a bit of culture shock.
As a child, Croghan's summers had been storybook-quality, reminiscent of Anne of Green Gables and filled with swimming, bicycling, roaming the meadows and forests, and relaxing with the family's close-knit group of fellow cottagers.
"We were the baby boomer generation, and I grew up going into all the cottages here in a really informal way," she said. "All of the neighbors would just wander in and out of each other's cottages — that's just how it was."

But when she moved back?

"Things were just so different, and I felt like people weren't seeing the 'true' Mackinac Island," she said.
Determined to show folks the way it was, Croghan launched her own specialty tour business, Mackinac Revealed, which would leverage Croghan's background, experience, and knowledge to delve deeper into island life.
IN FOCUS
Croghan, who majored in cultural anthropology as an undergrad, said she wanted to go beyond the usual Mackinac lore for her tours. She wanted to explain the island's geology, history, Native American history, how people live in the winter, how the cottages were built, and discuss shipwrecks, military events, and the island's horses.
And she can — and does — share much of that information in her tours. But mostly, she found, her guests wanted to feel like they were … watching HGTV.

"I realized that most people were interested in the cottages, above all other topics," she said with a laugh.
Croghan didn't mind meeting her vistors' wishes. Her great-grandfather had built two of the summer cottages on West Bluff; they still stand today. And she herself has a childhood full of memories created in cottages all over the island. So she's shifted her focus to cottage tours and packed them with a wealth of fun facts and insider info.

"The cottages here really are unusual for many reasons," Croghan said. "First of all, Mackinac Island is 80 percent state park, so most cottage owners are essentially leasing land from the park [a few are on private land]. This is because, back in the day, the military didn't want to relinquish ownership in case the land was needed in a time of war; obviously that's not an issue now."

The materials to build the cottages had to primarily come over on boats, of course. Most of the 'original' cottages were built in the 1880s and 1890s, and they were truly built to serve.

"They built these cottages big," said Croghan. "We're talking 10 bedrooms, six bathrooms, stables for the horses. The summer season then was only two months long, and it was a long and perilous journey to get up here, so you brought your whole entourage — family, friends, servants, dogs. You had to bring food and provisions for the entire two months as well."

Croghan offers both walking and bicycling versions, geared to the guest's particular interests. Mackinac Revealed's cottage tours don't go indoors for obvious reason — Croghan respects the privacy of the residents. But you'll get to see the outside of cottages all over the island up close, and Croghan has photos of many of the interiors to share.

VICTORIAN TIMES
"As mentioned, the cottages were built in the Victorian era, but another interesting thing is that they weren't necessarily built in Victorian style," she said. "They're actually all different styles. And generally, every side of each house is different from the others — they didn't really go for symmetry back then. Shingles, as well, were made in all different shapes. And you'll see lots of embellishments on all of the houses, like metalwork and stained glass."

The arrival of the Grand Hotel on the island in 1887 amped up the prestige of the area, which led to changes in many of the cottages as society folk tried to 'keep up with the Joneses.'

"Some people added on different features to their cottages, while other people tore their cottages down entirely and started over," Croghan said.

Many features are common to the majority of the cottages, although in the current day and age some of them really wouldn't fit in any more.

"All of the cottages have two sets of steps — one for the family, and one in the back for the servants," Croghan said. "All of the cottages have porches upstairs, usually several. People back then, and now too of course, really liked spending time outside."

Playhouses were another cottage necessity in Victorian times.

"Kids were very much meant to be seen but not heard back then," said Croghan. "So if parents had plans to go out or company coming over, the children were sent out to the playhouse to study with their governess [nanny]."
People attending Mackinac Revealed's tours are usually full of questions about all of the above, plus what Mackinac Island is like in the winter. Croghan has a ready answer for pretty much everything for those who want more behind-the-scenes information.

"My favorite thing about doing this is being able to tell people things about this island that I love that they haven't heard anywhere else," she said. "I have a very complete knowledge of Mackinac Island, and I'm a local — and that makes all the difference. Plus I just love meeting people from all over."

For more information on Mackinac Revealed's Mackinac Island tours, visit mackinacrevealed.com. Advance ticket purchases strongly recommended, tours run approximately 1 hour and 45 minutes, and start at $36 per adult, $17 for kids ages 5­–10, with kids under 5 free.
Trending
Very Busy Very Fast
This isn't going to be easy. President Joe Biden and his thin congressional majority are walking into troubled times both ...
Read More >>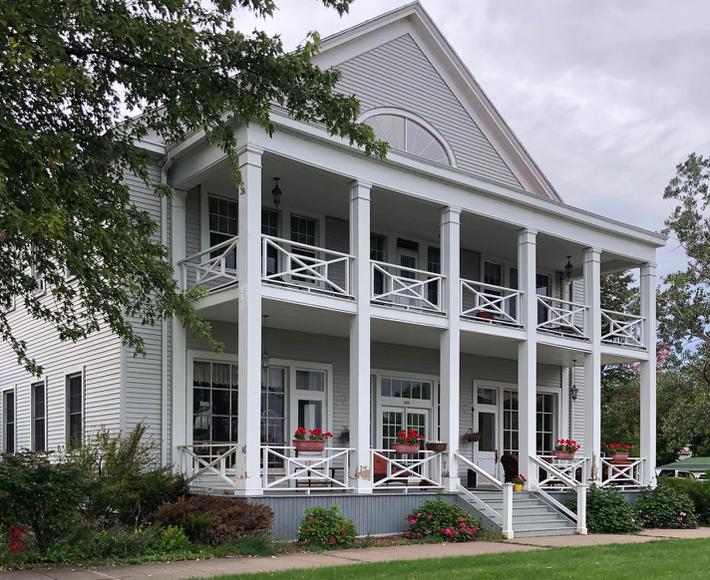 Thunder Bay Inn
Former playground to Henry Ford and part of a famous film and novel based on a real-life murder in the town, the courtroom...
Read More >>
Forty Acres' Spa Day Martini
Myriad methods of cocktail creation are on display at bars around the world. There are flaming drinks, compotes laden with...
Read More >>
He's Gone, Now What?
Wounded and fearful, America watched the 45th President leave the nation's capital. On a hastily arranged stage at a...
Read More >>
↑