The Accidentals Land Sony Label Deal
On the way to Tucson, Arizona, last week while on tour, a van broke down, the battery spent and the trailer hitch nearly severed. But the van's inhabitants – Traverse City-based band The Accidentals with band members Savannah Buist and Katie Larson, traveling with their touring and studio bandmate drummer Michael Dause – took everything in stride. They stopped for the night to get their transportation repaired and made use of the time to get some unexpected rest, check out their temporary surroundings and do a few interviews by phone. "Well…at least we're in the chile capital of the world!" Buist quipped.
The reason for this journey is a big one for the musical friends. Buist and Larson met in high school, where they both performed in school ensembles. Mixing together a wide range of instruments – between them, they play violin, cello, mandolin, banjo and kazoo, to name just a few – they released their first self-produced album, Tangled Red and Blue, in 2012. They met Dause in 2014 at the local music festival Blissfest and added him as their drummer ("Sav and I both still own The Accidentals, but Michael is definitely part of the band," Larson said.)

The accolades started arriving fast and furious for The Accidentals, with many finding it difficult to believe music as complex as theirs was being crafted by musicians still in high school. Once they both graduated (Larson in 2012 and Buist in 2013, a year Larson spent studying audio tech at Northwestern Michigan College), things really took off. They'd managed to catch the ear of '80s singer-songwriter Marshall Crenshaw and music producer Stewart Lerman and signed a production deal with them.
"That deal ended last spring, and we decided to pursue our music independently," Larson explained. In 2016 alone, The Accidentals played 240 live shows, steadily gaining fans and causing a buzz about their music. "Then we released a new EP, and it started getting some interest from the labels," Larson continued. "Sony Masterworks really liked it and liked the way we were marketing ourselves, so we flew out and met with them so we could all talk and get to know them."

Those conversations went well, to say the least. The Accidentals just signed a deal with Sony Masterworks, a division of Sony devoted to non-mainstream music. That makes The Accidentals brand new labelmates with such talent as trumpet player Bria Skonberg, new age artist Yanni, opera singer Jonas Kaufmann, '80s vocalist Bobby McFerrin and Trump inauguration performers Jackie Evancho and The Piano Guys.

Then things went crazy, making the last few months of 2016 a whirlwind for the band. "We started recording a new album at Echo Mountain Recording in Asheville, North Carolina; then we drove 14 hours north for a gig in Traverse City; then out to the East Coast for a tour with (Virginia alt-country band) Carbon Leaf; then back to Nashville to record more at Addiction Sound and at the House of Blues Studio," Larson related.
"And all of that happened over just three months, so it went like Halloween, Election Day, Thanksgiving, Christmas and then New Year's, and us doing all that stuff in the middle!" Buist added. "It was crazy."
Meanwhile, rumors were running rampant locally. Which label had The Accidentals signed with? Were they already on tour in different countries? When would the album be out? "Some people thought we'd actually moved to Nashville," Buist laughed. "But nope, we're still in Traverse City – we just go to Nashville a lot, because we have team members based there."
Those team members are now helping The Accidentals with their next steps – mixing the new album, getting album and promotional materials together and figuring out how to translate the album's new songs into their live show.

The title of the album and first single are as yet undecided, although fans can expect to hear that first single surfacing some time this March. "The album release date depends on how well the single is received," Buist said. "But the full album will be out in 2017, for sure. This album is a representation of the past couple of years of touring for us – there have been hard times, but we've come out on the other side stronger, so we're calling 2017 'the year of no fear.' That's not to say we're don't have any fear," she laughed, "but we're working to be powerful, brave and strong, and we're trying to infuse that into our new music."

The songs on the album draw on much of their past efforts in both writing and performance. "Some of the songs on the new album go back three, four years," Larson said. "They really capture the evolution of our sound."
And they have quite a supporting cast helping them perform those songs. On the album will be special appearances from Jack White's bass player, Detroit native Dominic Davis; Carbon Leaf's steel guitar player Carter Gravatt; The Decemberists' Jenny Conlee; and Keller Williams, who plays on a song The Accidentals wrote specifically for him titled simply "KW."
A separate single was also recorded during these sessions with Lily and Madeleine, up-and-coming Nashville musicians who could be Accidentals dopplegangers. "We recorded a special cover song with them," Larson said. "We can't tell anyone what it is yet, but it will be released separately from the album."
While all these things simmer on the back burner with their respective debuts coming a little later this year, the band is wrapping up its West Coast tour before heading back to Traverse City in February for some quiet time prior to hitting the road again for another series of tour dates in anticipation of the major label album release. If you thought The Accidentals was a band to keep an eye on a few years ago, you'd better pay even more attention now.

"Every time we drive into our state and see that 'Welcome to Michigan!' sign, we get a happy feeling," Larson said. "It's always so good to come back here, even as something wildly different and amazing is happening every day."
To find out more about The Accidentals and the band's upcoming new album, visit its official website at Moreaccidentals.com.
ACCIDENTAL FAVORITES

Favorite instrument to play on stage:
Buist: "Bass! It's fun because it functions like an upside down violin."
Larson: "My weird electric cello. Plus it's got a harness so I can jump around."
Favorite place they've performed so far:
Buist: "Colorado – we played a great folk festival there, and I really like the mountains."
Larson: "We did some awesome shows in Portland, Oregon – we're actually heading back there now, and I'm looking forward to it."
Favorite band/artist they've opened for:
Buist: "Keller Williams. Everyone in his band is incredibly talented."
Larson: "Last January, we played the Ann Arbor Folk Festival and shared the stage with Joan Baez. She held my hand when we walked off stage, and it was so cool!"
Favorite road food:
Buist: "I'm really, really bad about buying jalapeños and anything with hot sauce."
Larson: "I try to buy a weird kind of candy that I've never seen before at every gas station we go to."
Favorite travel item:
Buist: "Noise-canceling headphones and my journal; I've been keeping a journal this entire time, and I've gone through 400 pages already."
Larson: "I'm glued to my phone when we're on the road, and I also have my knitting projects along; I'm usually making socks or gloves."
Favorite thing they miss about Michigan:
Buist: "I really miss the way Traverse City looks. The architecture of other places wigs me out. It's culture shock in a big way. But I miss family and friends most."
Larson: "Definitely family and friends. All the people who support us, but every time I'm back in Traverse City, I also have to go to Moomers to get ice cream."
Trending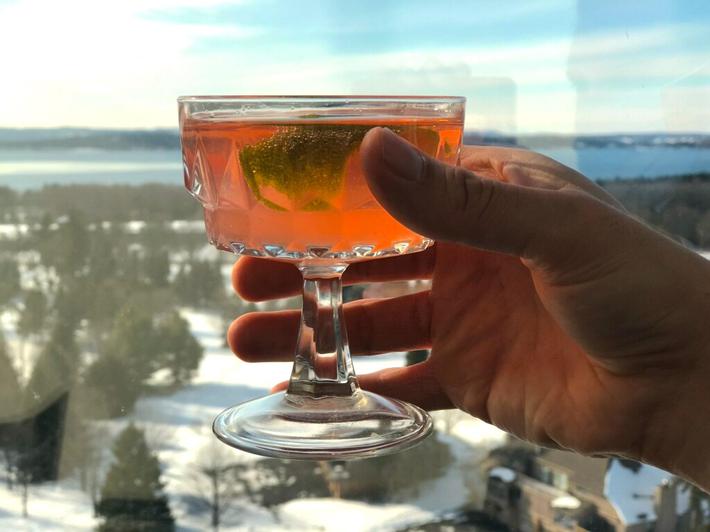 Tiny Pink Bubbles
Hey, ladies, do we have the pink drink for you: Aerie's Tiny Pink Bubbles. With a taste and body as delicious as its...
Read More >>
The Power of Our Example
Every new president faces a daunting array of problems, but 2021 will go down in the history books: Our country is under s...
Read More >>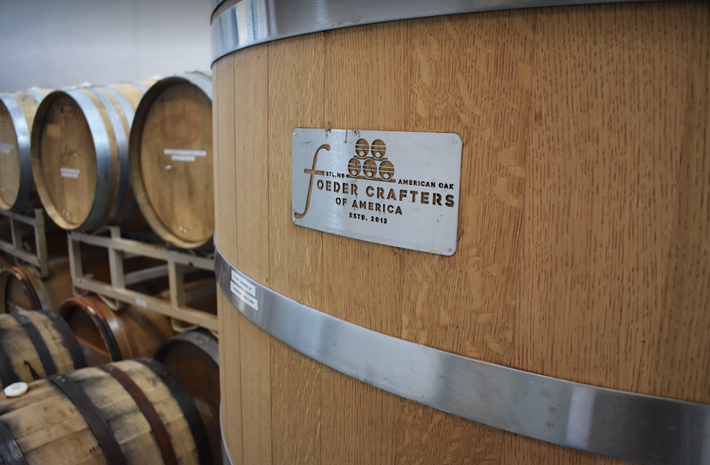 Getting Wild with the Foeder
Drinkers with a discerning eye may have noticed a couple interesting-looking wooden containers in the back of Traverse Cit...
Read More >>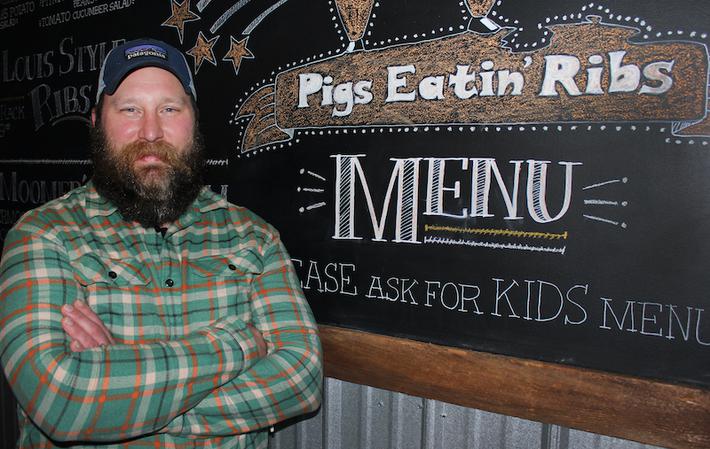 Charlevoix's Pigs Eatin' Ribs
By 2008, Charlevoix Chef Adam Kline had seen and tasted enough. The Northern Michigan food scene had stagnated, he said, i...
Read More >>
↑