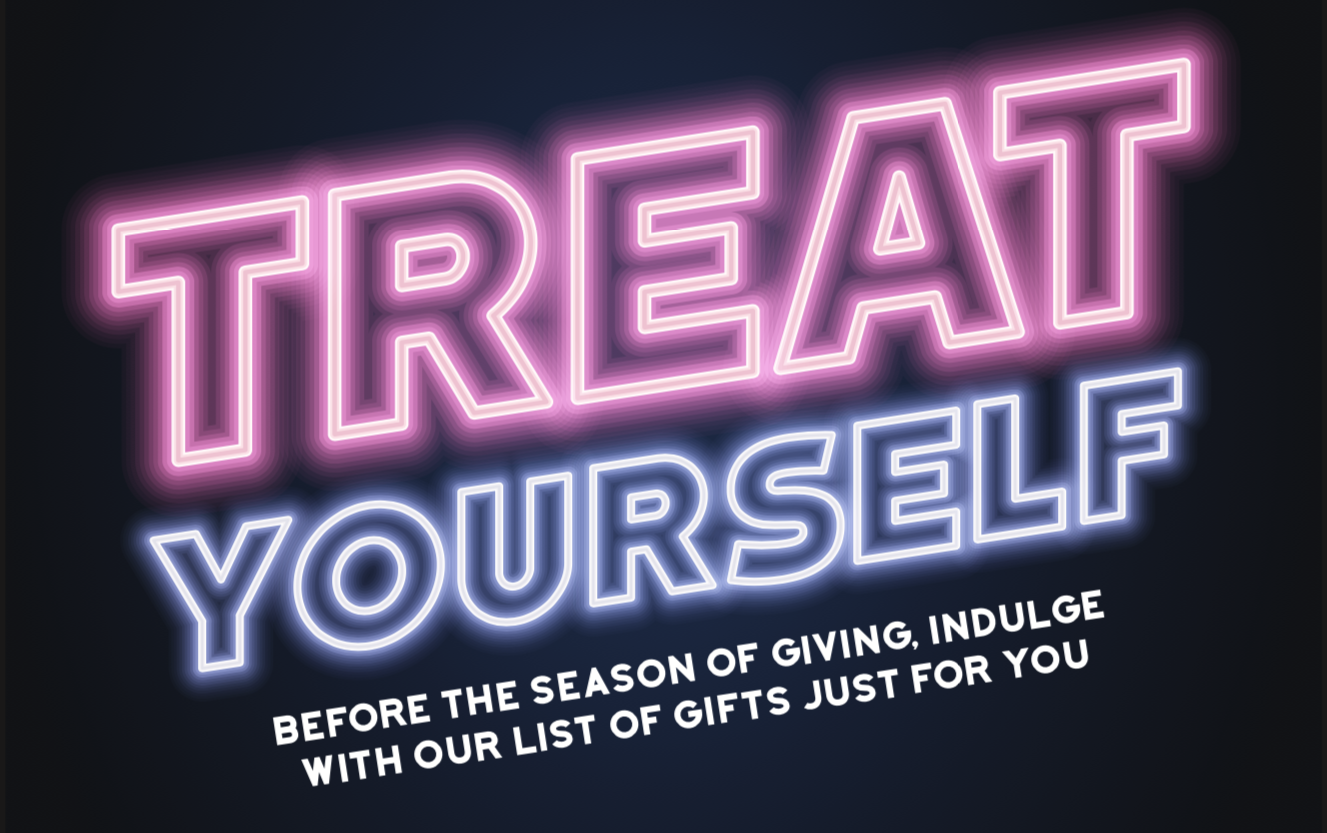 Treat Yo'Self
Let's be honest. The next six weeks are all about giving — giving gifts to your parents, your kids, your kid's teacher, a Secret Santa, maybe your mail guy. Somewhere in there, you're going to give a big dinner. And because you live Up North, you'll probably give up a bedroom, or at the very least, a pull-out couch, to some overnighting out-of-towner. You're going to drop change in a red bucket, buy a toy for a tot, write a check to a nonprofit, and hand off countless bottles of wine to a series of hosts. You're going to give your time, your money, and your energy in a dozen different ways — all of them worthwhile; none of them for you.
That's why, in this brief window between giving candy and giving your all, we suggest you pre-tip the scales a bit. Take advantage of the milquetoast time that is mid-November's literal gray area and do a little something — or, more heartily recommended, a whole lot of somethings — for yourself. Here, a few of the latest indulgences we love, newly available Up North.
GIVE YOURSELF THE GIFT OF …
Liquid Gold
Turns out, bottling sunshine is possible. And before you bestow a bottle of it on anyone else this season, gift one to yourself. Shady Lane Cellars' Pomeranz is one of our favorites of the orange wine that's swept the North's wine regions this autumn. (To be fair, Shady Lane was at the forefront, selling Pomeranz since 2016.) If you aren't yet familiar, a quick lesson: Orange wine is not wine made from oranges, but rather, wine made from white grapes that are fermented with skins on, much like red wine, to extract color and tannins. Shady Lane Cellars Winemaker Kasey Wierzba's 2017 version is far more bold than its soft amber glow would suggest. Aromas of apricot and orange peel uplift the heft of raw honey, white tea, and other earthy notes, waltzing over the tongue with a surprisingly dry but heavily textured step. Shady Lane's rep tells us it pairs well with just about anything, but we find it goes best — served slightly chilled — with a good book and a warm fire. $26, www.shadylanecellars.com
Time
Shipt, InstaCart, and Amazon Prime all have their place, but let's face it: Sometimes you need a plate of Apache Trout Grill's Pecan Crusted Whitefish in your face. And a new taillight for your car. The dog is out of food. And your car isn't big enough to haul six 8-foot planks of pine board home. That's where Gimme A List Errand Services — serving Interlochen, Lake Ann, Honor, Grawn, Buckley, Kingsley, Karlin, Acme, Williamsburg, and Traverse City — comes in. The independently owned Interlochen-based errand service not only offers grocery shopping and delivery but also pick up and delivery from restaurants, pharmacies, pet stores, dry cleaners; office supply, auto parts, and hardware stores; and lumber yards. Delivery is just $25 for up to $150 worth of receipts, and additional stops add just $5 each. Restaurant pick-ups are cheap — 15 percent of your total bill, plus $6 for delivery up to 12 miles from the restaurant, then $.50 per additional mile. The best part: There's no minimum order requirements, no annual fee, and no price hikes on purchases. Day-of deliveries are possible Monday through Friday, 9am–7pm, and emergency and weekend deliveries are accommodated whenever possible. Bonus: Veterans, seniors, and active military enjoy a 10 percent discount. Search "Gimme a List Errand Services" on Facebook, www.wegoshop.com/53-gimmealist.html, or call (231) 640-0370.
Youth
Mushrooms that work magic on your face? Believe it. Western skincare's new (and the Far East's longtime) "It" ingredient, mushrooms — rich with anti-inflammatory properties, vitamin D, selenium, and antioxidants — are gaining popularity for their demonstrable success with wrinkles, discoloration, acne, rosacea and eczema. Crystal Mountain's Crystal Spa has gone all in and then some on this fungus-for-the-face trend. Its Organic Oxygen Facial brings the heat with a detoxifying organic blueberry peel and a to-die-for Hungarian facial massage, then some heavy lifting from its Intraceuticals Oxygen Machine paired with a low-weight hyaluronic acid. Together, the latter creates a hyperbaric bubble of pure oxygen on the skin that spa manager Gretchen Schnell tells us sanitizes, penetrates the dermis, and deeply, deeply hydrates. After the infusion, the shroomy side of the popular Eminence line is brought in to ensure your skin absorbs and retains its clean and supple goodness with snow mushrooms, birch water, Reishi mushrooms, and botanical collagen, plus some super-hydrating Mushroom Cloud Eye Cream. What all this gets you: a visibly lifted and toned appearance — eye bags included — and a noticeably refreshed-looking you, no acne lying in wait. We think that's priceless; Crystal Spa tags it at $235 for 50 minutes or $295 for 80 minutes. (800) 968-7686, www.crystalmountain.com
Puppy Love
You know how you want to feel like you've gone out but don't actually want to leave the house? Consider the Hoppy Hound Coffee Co. in downtown Boyne City your home away from home. The newly opened hot spot next to Outdoor Beerdsman will not only marry three exceptional indulgences in one spot — baked goods, coffee (from Leelanau Coffee Roasting Co.), and liquor (from Long Road Distillers' in-house tasting room) — it also welcomes your best friend and significant other, your dog. Seriously. A special, super cozy dog lounge where you and Fido can curl up and hang out on someone else's sofa is reality here, as are specially made "Fancy" dog treats for him, and treats like a Hazlemutt cold brew, Mocha Java da Mutt frappucino, and much more for you. Find it at 120 Water Street or search "Hoppy Hound Coffee Co." on Facebook. (231) 497-6488
Wellness
Typically the not-so-secret weapon of emergency rooms and Hollywood celebs, intravenous therapies — different combos of vitamins, minerals, antioxidants, and amino acids delivered via an IV drip or shot, for immediate symptom relief and enhanced health — have arrived in northern Michigan by way of RevIVe Hydration Wellness and IV Spa in Traverse City. Whether you have a nasty hangover, jet lag, a migraine, a cold or flu, or simply want to lose weight, age slower, look fabulous, or dominate in your next race, it works like this: You choose your drip or injection accordingly, walk in (or schedule an appointment) at the spa, fill out a waiver, then sit in a recliner. A registered nurse, overseen by a board-certified physician, will review your health history, then administer your shot or hook you up to a drip for 30 to 45 minutes. Too weak (read: hungover) to get there? For $50 more, RevIVe offers a concierge service that sends the nurse to you. Mini drips start at $89; full drips are $129+. Monthly memberships; weight loss, wedding-prep and bachelor-/bachelorette-party-recovery packages, and Ketamine therapies are also available. Learn more or make an online appointment at www.revivedhydration.com, or text or call (231) 645-9123.
Trending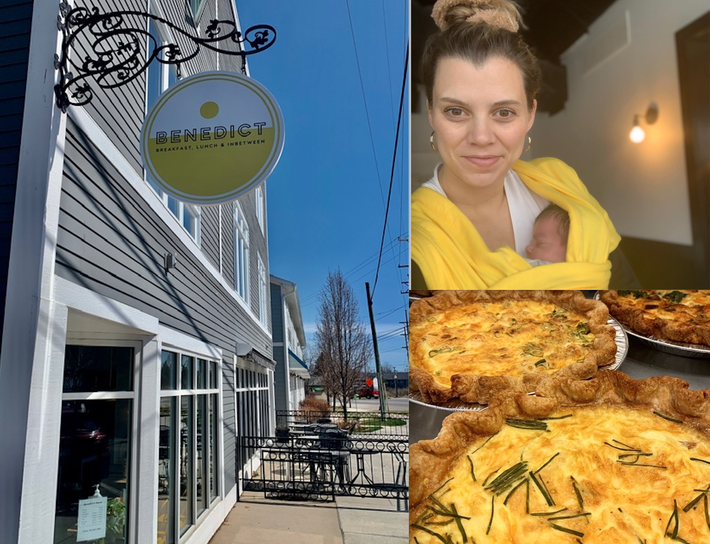 Benedict
No matter the weather, Traverse City's newest breakfast and lunch restaurant, Benedict, radiates a welcome as warm a...
Read More >>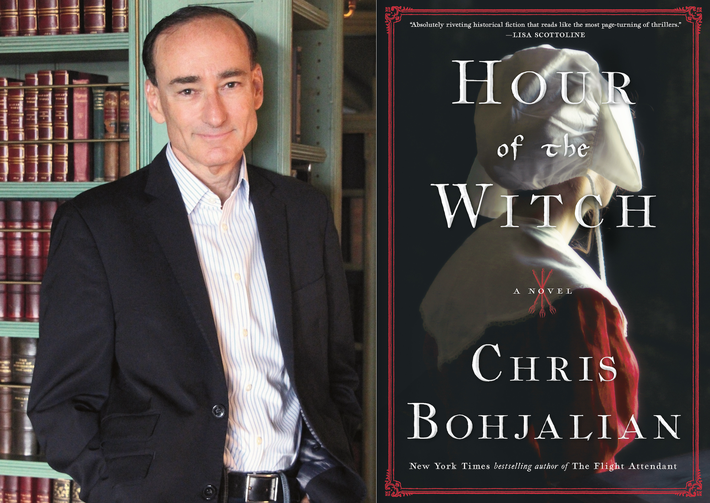 Sneak Peek: Chris Bohjalian to Talk with Locals Before Next Novel Drops
Award-winning author Chris Bohjalian is one of those people who was born to write. A schoolroom hobby-turned-carefully-hon...
Read More >>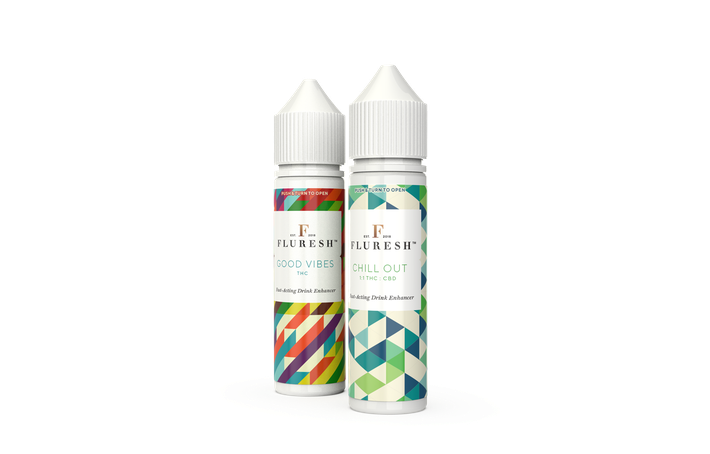 Eat, Drink, Rub: THC Products Review
Progress, thy name is marijuana. Despite what for any other industry would be major stumbling blocks — major disrup...
Read More >>
The DIY Lobotomy
"Did you read the review in The New Yorker of the new Philip Roth biography?" I asked my well-read conservativ...
Read More >>
↑