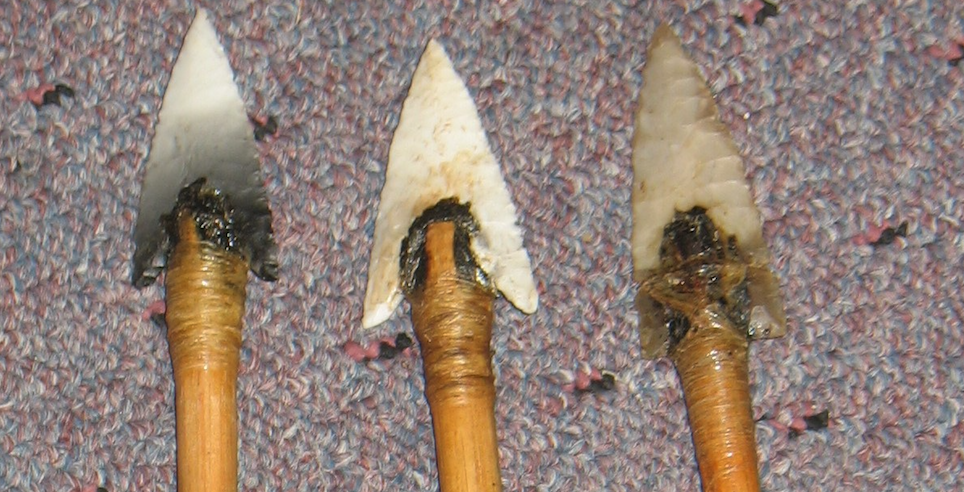 Tribal Architect Steve Feringa Transforms 4.6-billion-year-old Rock into Tools for Today.
Set in stone
By Al Parker | Oct. 28, 2017
Steve Feringa grips a deer antler tool in his right hand and presses down hard against a piece of ancient rock held in his left until there's an audible snap. A a quarter-inch sliver of the novaculite chips off and falls to the floor.
He'll do it dozens of times until he's fashioned an arrowhead … or a knife … or a cutting tool out of this stone, a sharp piece of sedimentary rock formed in the precambrian age and unearthed from deep deposits in the Ouchita Mountains of Arkansas.
That's the essence of flintknapping, the age-old art of making stone tools by patiently chipping rocks apart with force.
"I like making smaller arrowheads to hunt with," said Feringa, a member of the Grand Traverse Band of Ottawa and Chippewa Indians who got started in flintknapping in 1998 in his hometown of Grand Rapids.
But it wasn't other tribal members who sparked Feringa's interest in creating arrowheads and other stone tools.
"As a kid I was always outdoors hunting or fishing. I was making homemade bows and arrows when I was seven or eight years old. In '98, I saw an article in a magazine about flintknapping, and it had a phone number. I called and got in touch with other guys who were doing this.
"I hung out with these guys a couple of times a year," said Feringa, who now lives in Suttons Bay. "And they would show me their techniques and give me tools and materials to get started. Ironically, they were mostly older, non-native guys who I was learning my own culture from."
In 1999 Feringa moved to northern Michigan and now works as a corporate architect for the GT Band. And he continued in his hobby of flintknapping, staying active in the Michigan Flintknappers, a statewide group of stone chippers. Each year the group meets at locales around the state, including an annual September gathering in northern Michigan.

Feringa passes on the flintknapping tradition through sessions with Leelanau County youngsters, teaching students in Suttons Bay Schools and at some informal gatherings.
Feringa said the best stones for making arrowheads include flint, chert, obsidian, jasper, and quartzite — stones that are somewhat brittle and have a fine-grained, uniform texture that is free from cracks, fissures, and fractures.
"One of the best stones to work with is novaculite," said Feringa. "It's fairly easy to work and chips predictably, and that's important. You just hit it and hit it, shaping as you go."
Feringa's arrowheads are not just decorative. He uses them on the 28-inch handmade arrows that he uses for deer hunting. Using sinew and hide glue, pine pitch, and charcoal, he carefully attaches the arrowheads. The fletchings are made of turkey feathers.
Feringa coats the arrow shafts in bear oil that has been rendered from fat given to him by a friend who took a black bear in another state. The bear oil protects and conditions the shaft.
When he's not out hunting or working on his flintknapping, Feringa does other artwork, including leather works and drawings, all of which reflect his love of the outdoors and his heritage.
Flintknapping takes practice and requires decent motor skills. But even the most experienced knapper can make mistakes and — after a lot of work — ruin a piece when it's near completion. With almost two decades of experience, it takes him only 15 or 20 minutes to make a small arrowhead, a couple of hours for something bigger. He works on his hobby sporadically, sometimes taking a week or two off, then resuming. "It's really relaxing, and I get a lot of satisfaction out of it."
Feringa said that beginning flintknappers can practice on an old sink or a porcelain toilet.
Some experienced flintknappers can tap a stone and listen carefully to the pitch it gives off. Stones that produce a higher pitch when tapped are generally better for knapping.
To break apart and shape his material, Feringa uses an assortment of simple tools. The bigger tools are hammer stones, fashioned from elk antler. Smaller tools used for delicate work are made of antlers from pronghorn deer or whitetail deer. Some have hard stone tips; others feature a copper tip.
All are stored in a handmade leather valise gifted to Feringa years ago, a gift from one of his flintknapping mentors. It's well stocked, akin to a fisherman's tackle box with a jumble of tools.
"And there are Band-Aids in there, too," said Feringa with a laugh. "You get cut doing this."
To learn more, visit michiganflintknappers.com.
Trending
Very Busy Very Fast
This isn't going to be easy. President Joe Biden and his thin congressional majority are walking into troubled times both ...
Read More >>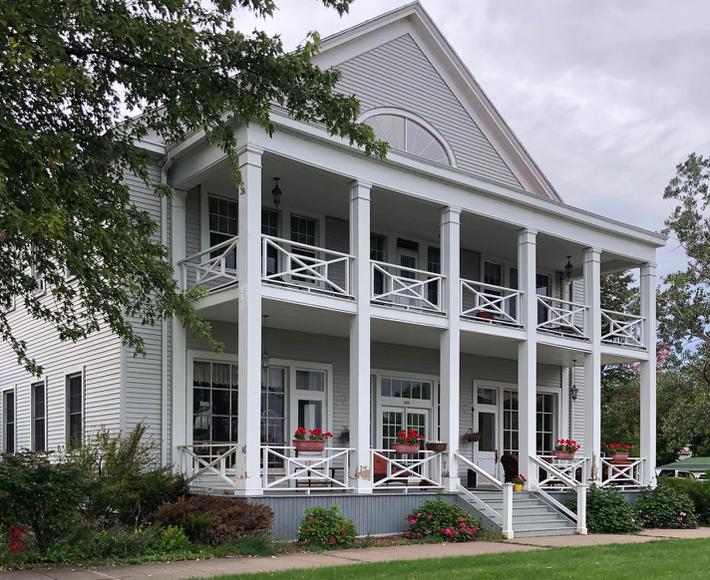 Thunder Bay Inn
Former playground to Henry Ford and part of a famous film and novel based on a real-life murder in the town, the courtroom...
Read More >>
Forty Acres' Spa Day Martini
Myriad methods of cocktail creation are on display at bars around the world. There are flaming drinks, compotes laden with...
Read More >>
He's Gone, Now What?
Wounded and fearful, America watched the 45th President leave the nation's capital. On a hastily arranged stage at a...
Read More >>
↑