Unique Paths of Great Lakes Culinary Institute Grads (and its Former Leader)
Life after GLCI and Traverse City
By Eric Cox | Feb. 23, 2019
For good (read: delicious) reason, we write a lot about Great Lakes Culinary Institute grads who launch their own restaurants in the program's backyard: Chris Hoffman's The Towne Plaza, James Bloomfield's Alliance, Henry Bisson's Smoke + Porter, and S2S Sugar to Salt's Stephanie Wiitala are just a few who have helped build Traverse City's reputation as a foodie haven. But what of those whom we don't hear so much about, chefs that head off to restaurants and opportunities unknown? Here's a look at a few dropping jaws and delighting palates in altogether different ways.

EDWARD SURA
A farm boy from Shephard, Michigan, Edward Sura (pictured third from left, above) initially thought he wanted a job in agriculture, but he wound up cultivating an award-winning culinary career that's taken him from Traverse City, to Chicago, and now Austin, Texas.

In his nationally recognized approach, both farm and table remain friendly neighbors with Sura's talents, producing bold, rustic flavors that have critics — and customers — paying attention.
Mentored as a student by Ted Cizma, then Grand Traverse Resort's executive chef, Sura employed his elder's advice to find work in a metropolitan market. Chicago was a natural next step, and the 34-year-old found himself in some of the Windy City's swankest eateries, including Graham Elliot, Perennial Virant, and NoMi Kitchen in the Park Hyatt Chicago.

Not missing a chance to nurture his knowledge, Sura didn't blink after he sniffed out an opportunity at Uchiko (an offshoot of Texas' world-famous Uchi restaurants, which The Wall Street Journal dubbed "The best sushi this side of Japan"), in the heart of Austin. The 2009 GLCI graduate has been there just over a year now and said he couldn't be happier. That makes sense because it appears that in Uchiko he's found a rich culinary soil in which his own roots might prosper.

"It's an ever-evolving restaurant group," Sura told Northern Express. "The culture here is huge, and it's a great company to be part of."

JARED PONTIUS
Serving a thousand people a day at an exclusive, on-mountain Park City, Utah, ski resort may be the pinnacle for some, but not for Jared Pontius (pictured, far right). Weary of corporate culinary's sizzling pace, the 2010 GLCI graduate traded in his big-restaurant chef's whites for a single, eight-seat table in Suttons Bay.

Yep, eight. And he's totally cool with that.

Miners Camp, the 400-seat mountainside Park City restaurant he helmed for three years, is still there, of course, with all its upscale bustle. But, Pontius and his wife, Jillian, whom he met in Park City, have returned to Michigan — to enjoy a slower pace they find refreshing and more intimate.

In April, they'll celebrate their one-year anniversary as the new proprietors of Korner Kottage Bed & Breakfast in Suttons Bay, with four guest rooms and a rustic dinner table on which Pontius can work his magic — for eight mouths at a time, not 800.

"We both agreed there should be a sense of intimacy in hospitality," said Pontius, touching on the couple's departure from the corporate setting. "You lost that connection with (Miners Camp) guests, especially when you're serving that many people. We have four rooms — no more than eight people. It's nice to sit down and talk to people and make those connections. That's kind of what hospitality is."

Korner Kottage guests can expect a gourmet breakfast of eggs benedict or French toast with creme Anglais. "Everything's made from scratch," Pontius said, "Even my English muffins.
Picnic lunches and pop-up dinners are hopeful experiments the couple plans to try this summer. Find out more at www.kornerkottage.com.

MATT DAVIS
The word "epic" might be overused in today's hyperbolic times, but in Matt Davis' case, it's neither noun nor adjective. It's simply where he works.

A Gaylord native and a 2007 GLCI graduate, Davis has been at Epic Systems, a medical records software company in Verona, Wisconsin, for six years. He fell in love with his entry-level start in the company's kitchen — just one of two on Epic's sprawling campus, which employs almost 10,000 people. He's since risen to corporate chef.

"In a typical day, we'll see 1,900 to 2,400 people," Davis said of his massive cafeteria wing, which can seat up to 700 at a time.

To some, serving that many in a cafeteria setting might fall short of more glamorous goals. But Davis doesn't mind. In fact, he digs the place, its ever-changing menus, and all the other cooks who surround him daily.

"Another of the best parts is getting to work with so many other like-minded chefs in one place. To have such a breadth of knowledge of cooking and experience in one single kitchen — I've never really experienced that."

Though he's on the other side of the lake now, Davis got his start in this area. After graduating from GLCI, he was at the Boathouse Restaurant on the Old Mission Peninsula, then he moved on to Chandler's in downtown Petoskey, a popular casual fine dining spot.

BROOKE MALLORY
Most career paths are described as an arc — one that rises gradually to its peak before descending gracefully to retirement. In Brooke Mallory's case, however, that arc has already come full circle.

Two weeks after leaving GLCI, she was hired for her first gig after only a phone interview: lead line cook at 3030 Ocean in Ft. Lauderdale. After bouncing back to her native Ohio (at Cleveland's Amp 150) for a while, she ricocheted southwest to Asador in Dallas, Texas. Today, she's back in the Florida city where she got her professional start: She's now chef de cuisine at Ft. Lauderdale's Burlock Coast in the Ritz Carlton – less than a mile away from 3030 Ocean.
Don't think for a minute Mallory has commitment issues. Each restaurant has been under the Marriott properties umbrella; she's simply in demand and celebrating her ninth year with the company.

No doubt, she showed promise early on. Mallory, a contestant on the inaugural season of Beat Bobby Flay, was the youngest ever to compete on the show. She didn't win, but said the experience was interesting and valuable. Now, she's in charge of a large, seaside restaurant that rang up a gulp-inducing $7 million in sales last year alone.

Television appearances and profit margins aside, Mallory said sharing her love of cooking with subordinates and pleasing guests is what really scrambles her eggs: "I enjoy teaching my cooks my passion and just really working closely with them. That way they can grow and do what I did, which is creating really good food and making guests happy — and still having fun while you're doing it."

Bonus:
Where in the World is Fred?
The guy who most agree is responsible for transforming Northwest Michigan College's Great Lakes Culinary Institute (GLCI) into a nationally recognized cooking school is officially enjoying retirement. Fred Laughlin guided GLCI for 27 years, and when he departed in December, he left in his wake a smorgasbord of successes and only a hint about "a few irons in the fire" in regards to what he had planned next. We checked in with Laughlin to learn more.

Northern Express: We know it's only been a few months since you retired, but what projects have you been working on since then?
Fred Laughlin: I'm assisting with Long Lake Teaching Kitchen in the old Long Lake school where Food for Thought is located (7738 N. Long Lake Rd., near Coffield Lake). It's something I've been working on for the last several months, and it kind of overlapped with NMC. The teaching kitchen is a bi-product of a medical conference we did in 2017. The goal is to teach healthy cooking — getting people off processed food. The model for this comes from the Harvard School of Medicine's Healthy Kitchens-Healthy Lives project. We're hoping to build on that model. The "Whole Foods as Medicine" movement is becoming bigger and bigger. It's certainly always been a passion of mine and, though it's not a full-time thing by any means, it's certainly something I enjoy doing. I trying to avoid working full-time!

Express: That sounds like a lot of work. Any time for play?
Laughlin: For the last two weeks, my wife, Linda, and I have been in Seattle with our son and daughter-in-law and our two grandkids. I'm looking forward to doing more visiting out here. I had my bicycle shipped out, so I ride a lot out here. Seattle is one of the top cycling cities. They have 150 miles of trails around the greater Seattle metropolitan area. Our grandkids are still very young, so we take them to the parks and sometimes we just hang out at my son's house.

Express: Upon your December retirement, you said you needed to "scale back," in terms of work. Lots of retirees say they're busier since retirement than they were during their work days. Has that been the case with you?
Laughlin: Yeah, I have scaled back. It was very, very busy at the culinary institute — at least 50 hours a week. I had a lot of responsibilities. There was community outreach, working with students, and all the various events we put on. That kept me extremely busy. I'm definitely scaling back and, of course, that was a goal of my retirement.

Express: Has spending more time with family rejuvenated you?
Laughlin: It certainly has. Having grandkids 2,500 miles from Traverse City, we were seeing them only once or twice a year. Now we definitely spend more time with them. I'm really, really enjoying family time a lot.

Express: Do you miss the pace at Great Lakes Culinary Institute?
Laughlin: The thing I miss most is interaction with the students, which is why I get into teaching. I also miss teaching. I've always loved working with the college-age student. They're a fun group. I thoroughly enjoy working with people that age.

Express: How do you fill in all that free time? What hobbies occupy your hours?
Laughlin: I cross-country ski. I bike. I've only been retired [six] weeks, so … But, I've been catching up on my reading, too. I like playing with cooking and experimenting with different recipes. I'm currently reading "Grant," by Ronald Chernow. He also wrote a good book on Washington. Oh and I'm re-reading the "Flashman" series, too, by George McDonald Fraser. These are historical novels that take place in Victorian times, and they're very humorous.

Express: What are you cooking lately?
Laughlin: Well, I've been honing in on my Italian recipes. I've been to Italy with the GLCI students. So, I've been doing a lot of the same cooking we did in Sicily. It's very Mediterranean — lots of fish, beans, whole grain stuff. I taught baking, so lately I've been playing with some ancient grains: einkorn, spelt, and kamut [Egyptian wheat]. They're all wheat grains, but they're ancient grains. They're usually raised on very small farms because they're not bred to produce a lot of wheat berries.

Express: Six weeks in, what is the secret to a happy retirement?
Laughlin: I think it's about being content with your retirement and your decision but staying busy. I thought I was gonna be able to binge-watch a lot of TV, a lot of Netflix and HBO, stuff I haven't seen. Well, I haven't had time to do that. I've been enjoying the winter. I've been out skiing. There are lots of things I'm doing. Really, I've been enjoying my free time and being able to get up in morning and decide what I want to do for the day. A retired friend of mine used to say, 'Every day is like Saturday morning.' I never paid attention to that, and now I do. That's a good thing.
Trending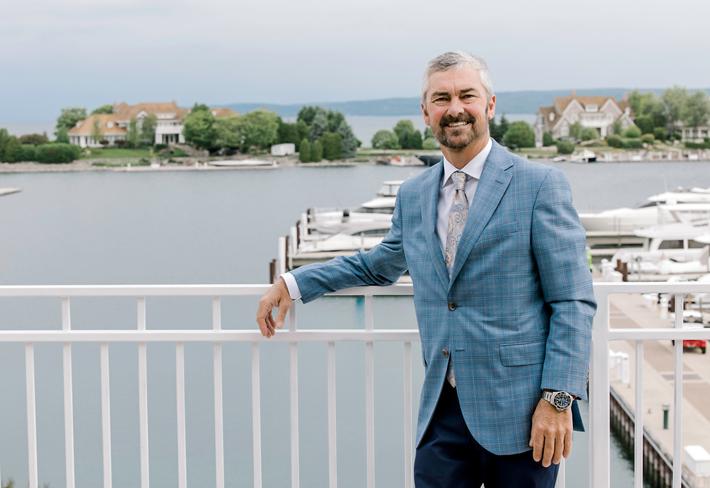 Selling the Dream House
Real estate is part finance, part therapy, and part vision. The ability to combine those aspects has served Pat Leavy duri...
Read More >>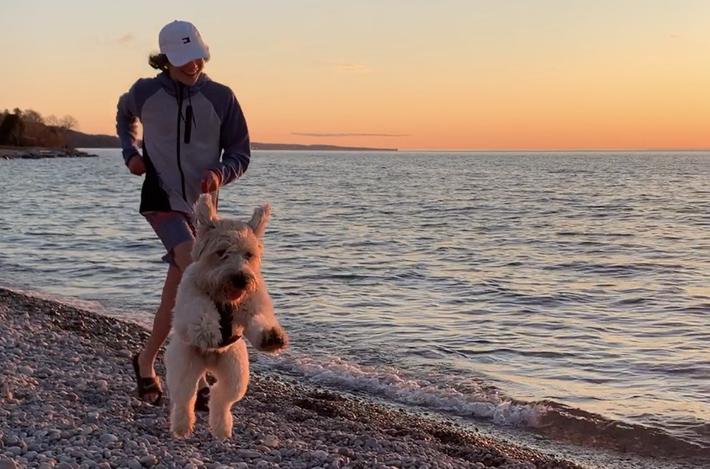 See Your Pet in Print!
Every fall, Northern Express puts together our Pets Issue, which features stories about our favorite furry friends. As par...
Read More >>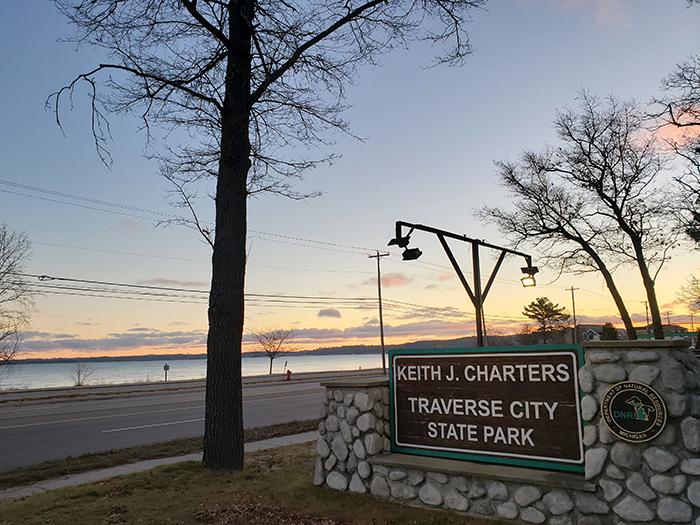 Harvests and Haunts in the Park
Harvest festivals are popping up all over the region, and if you plan your autumn schedule just right, you can hit at leas...
Read More >>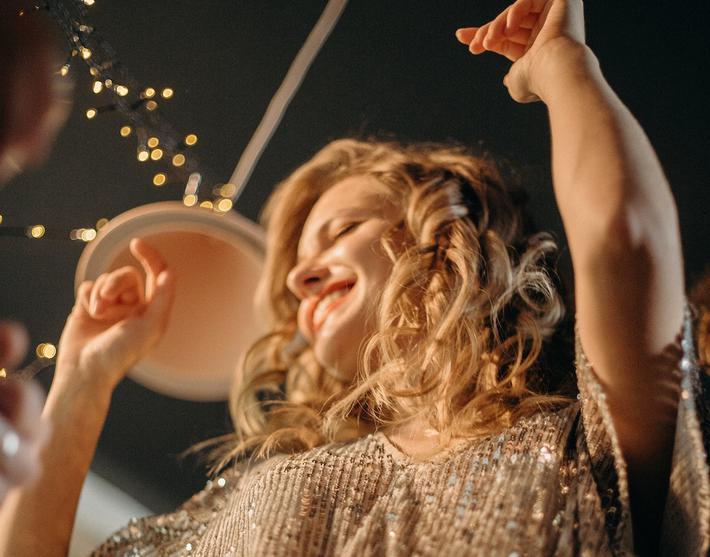 Illuminate the Night
Do you still have that old prom dress hanging in the back of your closet? A tux from days gone by? (And the hair, makeup, ...
Read More >>