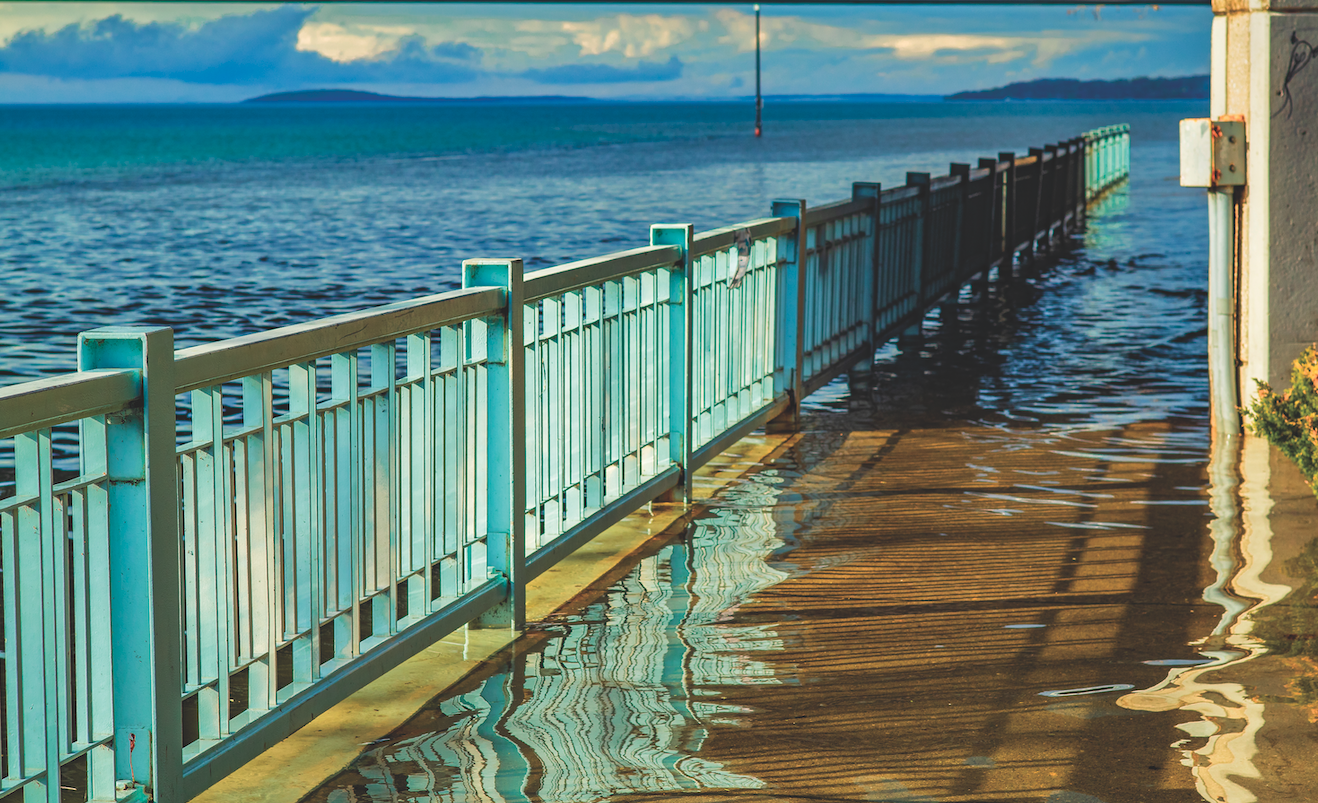 We've Been Here Before
In 1986, Lake Michigan's Up North shores looked a lot like now. Will 2020 be worse?
People were caught off guard when Lake Michigan reached record highs in 1986, the last time lake levels were near the level they are today. That year, like this year, the lake crept onto highways, washed away beaches and trees, and tumbled homes from bluffs into the unpredictable inland sea.

What did we learn from the havoc created by record-high lake levels 33 years ago? Apparently not much. Lakeside development continued unabated for years while coastal wetlands, natural features that can mitigate the damage from high water, were filled across the region.

Northern Express looked back at 1986 and scanned each day's edition of the Petoskey News-Review from that year (thanks to an online archive Greenwood Cemetery offers free to the public) and talked to people who witnessed the high water then and now, and others who are concerned that in 2020, things will get worse, and we might see lake levels unprecedented in the modern era.

The first mention of high lake levels in the Petoskey News-Review in 1986 occurred on Jan. 9, when the newspaper published a brief on page three in the "State Briefing" column. The headline: "High water puts homes in jeopardy." The wire service item said projections indicated that water levels would be record-setting over the next six months, and 200 homes across the state were considered to be in jeopardy. (In two months, that number would rise to 1,500). The single-paragraph item warned that Lake Michigan could see levels two to three feet higher than average. "We have just a terrible potential for disaster," one state official said.

This year, Lake Michigan saw high water that nearly reached the record set in 1986.
Depending on a lot of variables, that record could be broken in 2020. One ominous sign is that water levels are predicted to start off much higher in January 2020 than they did in January 2019.

Mark Breederland, extension educator with Michigan Sea Grant, said predictions for 2020 are not good for people who hope the water will recede.

"It's going to be about 10 inches higher than we started last year," Breederland said. "Even if we go up just average, it's going to be some quite high levels in 2020."

If, for example, 2020 is like this year, and the water rises from the January level at the same rate, in many places, there is nowhere left for the water to go. This year, the water already lapped at lakeside roads and consumed beaches.

"The bathtub is just filling up," Breederland said. "You're starting with a full bathtub. And what do the wind and the waves do to the shoreline?"

Water levels are predicted through a complicated calculation that takes into account precipitation and evaporation, variables that can be heavily affected by air and lake temperature.

Detailed records go back to 1918, Breederland said, compiled in partnership between the U.S. Army Corps of Engineers and Environment Canada. That means there are around 1,200 monthly records water levels on file. Among the 10 highest of those, all but one was recorded in 1986 or in 2019.

What's perhaps most astonishing about those records is not how close 2019 came to breaking the high-water record of 33 years ago but the fact that the low water record was set in 2013, just six years ago. Between October 1986 and January 2013, lake levels dropped six feet, four inches; in the years since, they've rose almost as much.

Though the 1986 News-Review published several short notices for DNR workshops about shoreline protection and a short article about a proposal to divert water from the Upper Great Lakes (by constructing a canal between lakes Erie and Ontario), the first bylined local news story about water levels didn't appear until March 24. The headline read, "Charlevoix Co. maps strategy as lake levels continue to rise." Snow was melting and the water was rising. Peaine Township, on Beaver Island, was the first locality to apply for disaster status in order to qualify for aid. Basements just to the north, in St. James, were already flooding.

Dave Dempsey, a senior advisor at FLOW, a Traverse City-based Great Lakes advocacy nonprofit and the biographer of the late Gov. William Milliken, worked as the environmental policy director for Gov. Jim Blanchard in 1986, when the high-water record was set.

"It was very dramatic and basically an emergency for a lot of people," Dempsey recalled.
When homes started to fall into Lake Michigan that year, Dempsey said he helped the Blanchard administration craft a policy to offer low-interest loans for homeowners to protect their shoreline or move their home away from the edge.

Ultimately, Dempsey said, lessons from 1986 were not learned. Lawmakers did not address the possibility that the new high-water level could come back or even be washed away by a new record.

"You've got to adapt and learn lessons from the experience," he said.

Instead, the yearlong crisis played out mostly in slow-motion, and when the year was done, the Great Lakes quickly receded to average and then below-average levels, so folks didn't think much more about what could be done to combat high water in the future.

"Within two years, by 1988, the water had fallen dramatically, so people went back to their normal routine," Dempsey said.

As for that radical solution to high water in 1986 — the proposed construction of an outflow canal between Lake Erie and Lake Ontario so that the upper lakes could be lowered at will … ?

Dempsey said he sees that idea, which has not been raised this year, as potentially dangerous.

"You shouldn't make permanent hydrological changes," he said. "There are always unintended consequences when you monkey around with the Great Lakes."

Changes to other, more reasonable water diversions were also considered in 1986, but all of them only had the capacity to affect the water level by a couple of inches, a drop in the bucket in Great Lakes' terms.

Dempsey also warned that diversions made to lower the lakes could create other problems.

"I think we have to be cautious about something else," he said.

If water gets too high, some might propose diverting water through the canal in Chicago. That might lower water levels a few inches, but Dempsey said it could be a disaster for the Great Lakes. Once that water is diverted and sent into the Midwest, interests there might come to depend upon it, claim legal rights to it, and fight to keep the tap turned on.

"Turning on the spigots and sending our water elsewhere in high-water times could come back to bite us in low-water times," he said.

In 1986, alongside stories about high water levels, the News-Review also covered a series of measures passed in townships to prevent waterfront condominium developments. In the end, condos were zoned out of 16 miles of northern Emmet County shoreline. The argument in favor of the measures was that attached condo developments ruined the lake views in a way that single family homes didn't. At the same time, controversy surrounded a proposed 140-home lakeside development on Lake Charlevoix called Water's Edge. The development would have meant the destruction of 51 acres of wetlands on the shore of the lake, which, as an inlet of Lake Michigan, was also experiencing record high water levels. A scaled-down version of the development would be built later, after state regulators objected to so much wetland destruction.

Among the measures that can be taken to fend off the destruction high water can cause are regulation of lakeside development and protection of coastal wetlands.

There really are not a lot of other options, Dempsey said. We can regulate shoreline development to prevent erosion, preserve and restore shoreline wetlands, and think about ways to recreate the shorelines of cities that are already built to the edge of the water to make them more resilient.

"We're kind of left crossing our fingers and hoping for the best. There's not much we can do, except prevent construction in vulnerable areas," Dempsey said.

John Nelson spent years as the Grand Traverse Bay Keeper for the Watershed Center Grand Traverse Bay. He didn't live full-time in northern Michigan in 1986, but he visited a family property on Lake Michigan near Northport that year.

"I remember having to tie my boat to a tree, and you could not walk along the shore," Nelson said.
While 1986 and 2019 are comparable in terms of water level, the consequences are worse this year because so much building has been allowed to take place close to the shore since 1986, Nelson said.
"People were building where they never should have built, too close to the water," he said. "It's dramatic right now because there's just a lot more people having issues with their structures that were built too close to the water."

The best shoreline protection, Nelson said, are deep-rooted plants and coastal wetlands. Manmade structures like seawalls are ineffective and can be damaging, he said. Riprap, at least, absorbs waves rather than reflects them.

Perhaps the high water proves one thing above all else, Nelson said: Nature — including water levels and severe weather — has become unpredictable due to climate change.

If anything, Nelson said, the water level of 2019 and possible record levels next year prove that people need to adapt to and accommodate the Great Lakes, that we cannot make them adapt to us.

"The lake does what it likes to do. It's very dynamic," Nelson said. "Humans just have this tendency of putting their own judgment on what nature does, and to me, nature just does what it does, and we just need to be resilient."

Dempsey agrees that in 2019, high water is a symptom of climate change that could portend only the beginning of new extremes.

Fifteen years ago, climate change models predicted that warming would lower the Great Lakes. Today appears it that the opposite is true — that a chaotic climate will churn up much more precipitation than was originally predicted and could keep feeding the Great Lakes more water, Dempsey said.

The biggest lesson that wasn't learned in 1986, from Dempsey's perspective, was the warning that the high water signaled about climate.

"If we, as a global society had started doing something about climate change in 1986, that might have made a difference," Dempsey said.

One frightening fact about the high water of 2019 and the potential for more high water in the coming years is that we don't know where the cap is. How high can the water get?

We don't know. Traverse City, for instance, was once under water.

"Our assumptions as a society goes back to 1880," Dempsey said. "Our records are based on a blink of an eye. We're entering a new world here."

Fall and early winter storms, as well as continued heavy rain, took a toll. A Dec. 10 feature on the front page of Petoskey's newspaper announced: "NORTHWESTERN MICHIGAN'S VANISHING WATERFRONT: Petoskey shoreline battered." The story described lost lakefront and how a sanitary sewer line that ran parallel to the water was under threat from erosion. In the Dec. 31 edition of the News-Review, the top 10 stories of the year listed the fight against lakeside condos as No. 1, and lakeshore erosion as No. 2.

There is one place in northern Michigan that is more vulnerable to high water than others: Leland's Fishtown. Just like in 1986, the high-water levels of 2019 put parts of Fishtown underwater.

Asked about the projections that the water will rise even higher next year, Amanda Holmes, executive director of the Fishtown Preservation Society, took a long, deep sigh.

"It's been all the tougher because there are other water issues that we're dealing with in Fishtown," she said.
The historic docks and shanties that make up Fishtown needed to be shored up before the high water presented itself this year. Fishtown is also challenged by its location at the outlet between Lake Leelanau and Lake Michigan. Water currently rushes over the Leland dam as part of a a legally required, annual drawdown of Lake Leelanau, which sends a churning and violent flow of water through Fishtown, putting more stress on the aging wooden structures.

Some of those structures have spent part of this year under water; frequent seiches have aggravated the problem. Fishtown restoration plans have been in the works for several years, but the events 2019 made them more expensive and more urgent.

They've got plans to improve drainage throughout Fishtown, increase permeable surfaces around Fishtown, and to replace some docks.

There are two shanties in particular that need attending to: The Village Cheese shanty, which was built in 1958, and the Morris shanty, the oldest of them, built in 1903.

The Morris shanty spent most of the summer flooded; unlike many of the structures in Fishtown, it was not lifted from the water in 1986.

"When it's not flooded, it's filled with river scum," Holmes said. "Our new goal is, we've got to get that building out of the water."

What happened to structures in Fishtown as a result of the high water of 1986 depended on who owned which structures. Some of them were raised, some were not.

Preserve Historic Fishtown bought the Morris shanty to preserve it in 2016. In 1986, it was owned by a summer resident who wanted to preserve Fishtown as a fishing village and leased it to fishermen.

Instead of raising it that year, the fishermen who leased it merely put in a false floor so that they could work above the water. When that false floor was removed three years ago, Holmes said, a family of otters was found living inside.

Originally, Holmes said, they looked at everything they needed to do in Fishtown as one big project, and they submitted a single permit request with the U.S. Army Corps for all of the work. As 2019 progressed, they submitted emergency applications for permits for those projects that urgently need to be started before winter. They hope to get those requests approved by the end of November so that they can start work right away.
Holmes said the high water has made it crucial to get some of the work done before the lake freezes.

Before the high water came, the restoration project was estimated to cost $1.6 million. That went up to $2.5 million this summer. Holmes said they've raised $750,000 so far. You can find out more about making donations at the group's website.

"The scope and severity of what's needed is just bigger than any of us could have imagined," she said.

Throughout 1986, experts and newspaper writers predicted that the high water was here to stay, and society would have to adjust. In March, a story reported that a century-long dry spell had ended, and high-water levels "will be with us for quite a while." Toward the end of the year, an editor would write: "Hopefully in a few years, when high water becomes old hat, we will have learned to cope with our new environment."

Tim and Jane Louise Boursaw run Old Mission Gazette, a newsletter that covers Traverse City's Peninsula Township. They've chronicled high water throughout the year in vivid photographs and anecdotes, and have an excellent frame of reference to compare 2019 to 1986; 33 years ago, they were renting a house on the Old Mission Peninsula's Bluff Road, about a half-mile from where they live today.

"We have a very large boulder on our beach, and even though [the boulder] is probably three or four feet high, and there was usually five feet of beach in front of it, in '86 I could shallow dive off of it, into the water," he said.
This year, he said, that boulder is under water.

Boursaw said he believes 2019 is perhaps worse than 1986 because, while the water might not be quite as high, persistent, pounding winds have pushed that water onto shore throughout the year, making the water harder to live with.

"It seems to be as high or more when we get a good wind going here, as compared to '86," he said. "There seems to more damage along the shoreline than '86."

It's caused problems on the shore, breaking up dock sections and sending kayaks and paddle boats out to sea. Boursaw said that if water levels rise again next year, he doesn't know where the water will go. It already laps at Bluff Road in places. It closed Peninsula Drive in October.

"It's going to be a real severe problem for Bluff Road, because there's no more leeway for erosion — the next thing that's going to go in is going to be the roadway," he said.

Nonetheless, he said his many years living on Old Mission, and his family's long history there, have inured him to fear over what the lake is going to do.

"For people like us who have been out here forever, we find it amusing when people panic because it gets too low or panic because it gets too high," Tim Boursaw said. "We know it's going to go down. It always does."
*Photo above courtesy of John Robert Williams.
Trending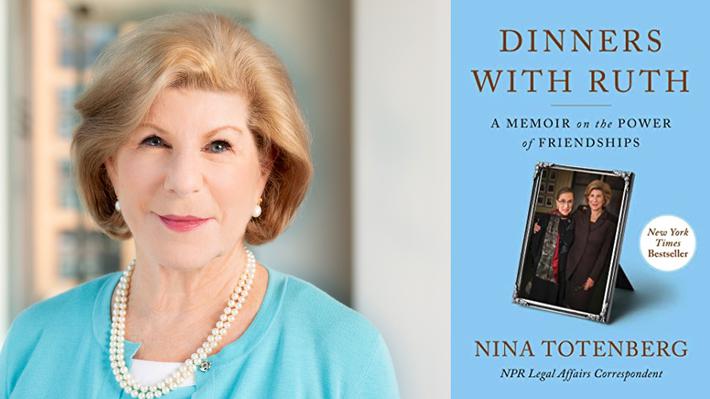 Dinners with Ruth
In the theme of Galentine's Day and female friendships is NPR legal affairs correspondent Nina Totenberg's boo...
Read More >>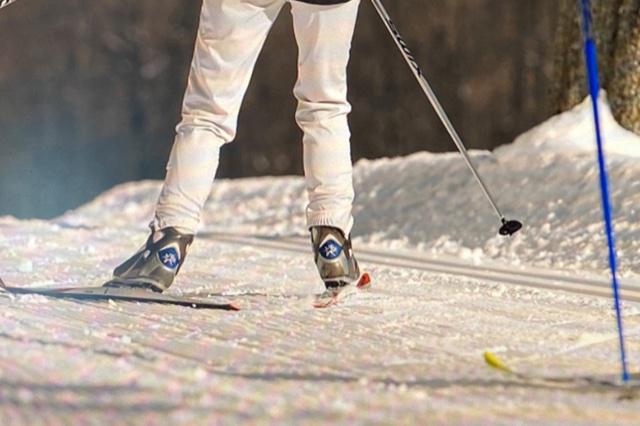 Shooting Ski-t
Take aim when you pair cross-country skiing with airsoft during Crystal Mountain's Airsoft Biathlon on Sunday, Feb. ...
Read More >>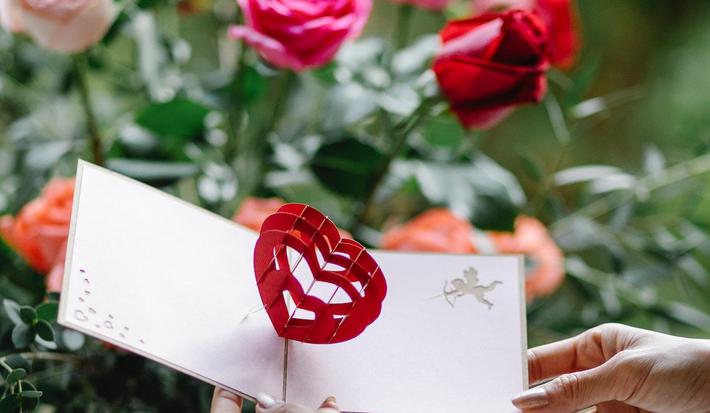 The Lost Art of Valentines: Three spots to find (or make) the perfect card
Remember the days of giving valentines in elementary school? Of perfecting each card and sentiment and placing each sparkl...
Read More >>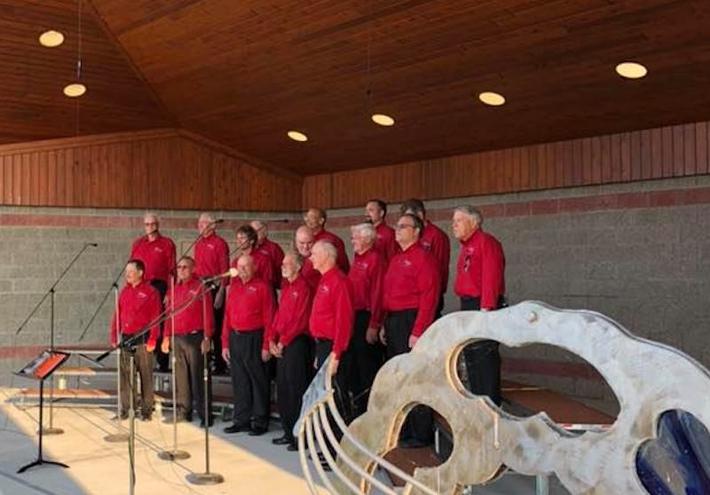 Singing Valentines
If you need a fresh way to show your love and gratitude this season, then perhaps a singing valentine is up your alley. Th...
Read More >>