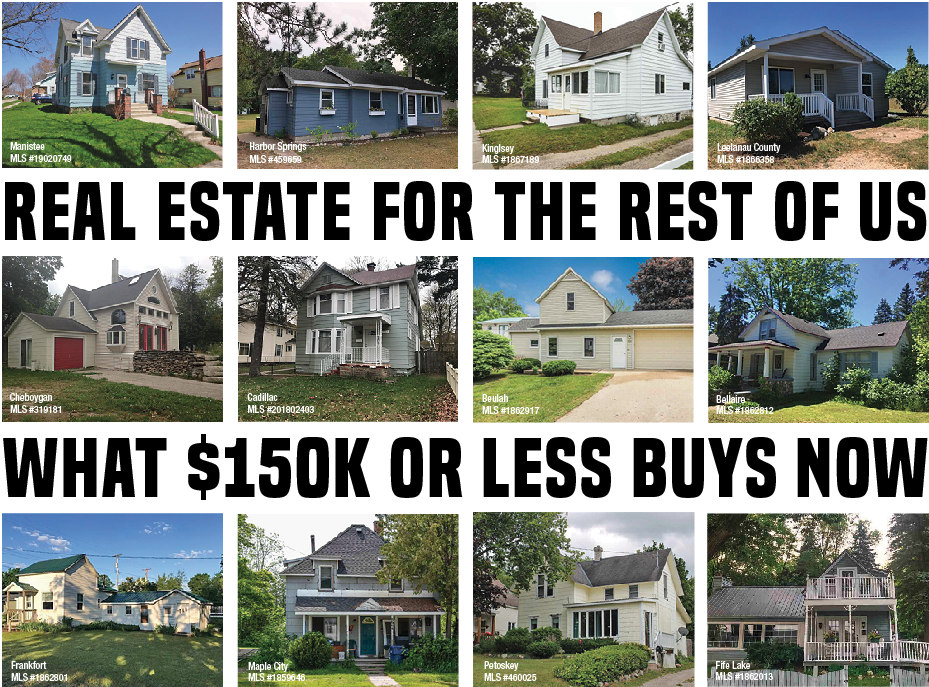 What $150K (or Less) Buys Now
Real estate for the rest of us
Hunting for a home between $100,000 and $150,000? Something in or near town —whatever town that might be?

If so, you probably already know you're not alone. Across the region, homes at that price point are hard to find. And if you find one, you're probably bidding for it against someone else.

Thanks to several years of a booming real estate market, the market segment for homes under $150K is increasingly tight, the homes are moving fast — faster if they're even remotely near a city or town.
That's why we've scoured the property listings from south to north and found homes for sale in that increasingly popular price segment. But don't delay. Just because these were available at writing doesn't mean they won't soon be gone, snapped up by one of those other anxious buyers.

Start in Traverse City, where MLS #1866363 at 4119 W. Blair Townhall Rd. is available for $144,900. The three-bedroom, one-and-a-half bath home is 10 minutes from downtown, offers an open floor plan, and plenty of room to play: almost four acres. Pole building, garage, and unfinished basement add to the space. Listed by Reichard & Hack, EXIT Realty Paramount, (231) 409-0771.

Here's a Traverse City three-bedroom home in Leelanau County at 10870 S. Orchard Way, MLS #1866358, offered at $159,900. You like new? The home is like new, with new floor coverings, new paint, new kitchen, and all new appliances. Sip your coffee on the front porch while looking out over the countryside. Call Matt Dakoske at RE/MAX Bayshore, (231) 590-7722.

You can't get any more downtown than MLS #1859646 at 8664 Maple City Rd. in Maple City. It's next door to Pegtown Station and across the street from Gabe's Country Market, and post office. The farmhouse-style home has three bedrooms and one-and-a-half bathrooms, for $109,000. Call Mark Hagan at Coldwell Banker Schmidt Realtors at (231) 929-7985.

Does Kingsley appeal to you? From MLS #1867189 at 207 Blair St., you can walk to everything — school, library, post office, bank, and even three parks. Lots of renovations here, from kitchen and laundry room to plumbing and furnace, in a three-bedroom, one-bath Victorian offered at $125,000. Call Sally Roeser, Key Realty One, at (231) 499-5075.

In Benzie County, here's a home at 323 Benzie Ct. in Beulah at $149,500. MLS #1862917 is close to downtown and the bike trail. Walk to everything the charming town has to offer, including Crystal Lake. The two-bedroom, one-bath home has a large double-lot backyard, perfect for the kids and a garden. Christine Stapleton at
Stapleton Realty, (231) 499-2698.

Elsewhere in Benzie County, this three-bedroom, one-bath home at 211 Ninth Street in Frankfort is a short walk to the welcoming downtown: restaurants, churches, shops, and — that's right — the Lake Michigan beach. MLS #1862801 at $139,900 is a cottage or year-round home, your choice, with a bonus log cabin. Contact John Judge at Coldwell Banker Alm Realty, (231) 645-9379.

There's nothing like a classic wrap-around porch for relaxing. This four-bedroom two-bath home in Bellaire at 409 Bridge St. is just $89,900. MLS #1862812 is a craftsman style with hardwood floors indoors, and a gazebo and arbor frame outdoors. Walking distance to village, park, and schools. Call David Ciganick, Coldwell Banker Schmidt Realtors, 231-533-8641.

In Kalkaska County, this charming two-bedroom, one-bath home at 321 Bates St. in Fife Lake is within walking distance to the public beach, restaurants, and other local businesses. This home is atop a hill on a double lot, with amazing views of the water from the balcony. MLS #1862013 is $139,500. Contact Rebecca Daniels, City2Shore Real Estate Northern Michigan, (231) 570-0675.

Head north to Gaylord, and you'll find this cozy two-bedroom, one-bath home in town at 412 N Court Ave. With a charming front porch, and near to schools, the hospital, and shopping. What more could you ask for? At $79,000, not much. Call Meghan Lawton at Chesley & Co. Realtors at (989) 619-2119 about MLS#321018.

If you're interested in Petoskey, there's a charming three-bedroom, two-bath home on a quiet side street with views of Little Traverse Bay. Original hardwood floors in the spacious living room, plus a formal dining room and a great fenced yard with lots of perennials, concord grapes, strawberries, raspberries, maples, and lilacs. MLS #460025 is at 312 Fulton St. at $169,900. Call Tammy Hutchinson, Alpine Realty Group, at 231-838-2071.

On the other side of Little Traverse Bay, you can walk or bike to downtown Harbor Springs from this two-bedroom, one-bath home priced right at $150,000. Beaches, parks, and schools are all near this well-maintained and freshly updated home at 628 E. Lake St. Contact Graham Real Estate at (231) 526-6251 about MLS #459659.

It's a short walk to schools and downtown from this three-bedroom two-bath home at 518 Grant St. in Boyne City. It has hardwood floors and features a first floor bedroom and bathroom; the second floor master bedroom includes an attached master bath. MLS #460188 is $147,500. Call Northern Michigan Premier Properties, (231) 459-4404.

Huron Street is one of the most gorgeous tree-lined streets in the city of Cheboygan, and this home at 605 S Huron has a sun-filled entry room with a cathedral ceiling opening into the bright kitchen, while the formal dining room is perfect for entertaining. There are three bedrooms and a full bathroom upstairs, as well as an office and a bathroom — complete with claw foot tub — downstairs. Gorgeous woodwork throughout. All for $90,000. MLS# 319181, Angela Chastain at Berkshire Hathaway, (231) 627-7186.

What else but a Victorian in the Victorian Port City? This home on a corner lot at 270 Fifth St. in Manistee has five bedrooms and two baths. Original wood floors and trim, and a beautiful oak staircase and landing in the front parlor, all at $88,900. MLS #19020749; call John Hanson, Lighthouse Realty, 231-510-5543.

Head east on M-55 from Manistee, and when you get to Cadillac, you'll find this five (5!) bedroom home in a quiet neighborhood at 519 E Division. Loads of room for a big family. It has an updated kitchen, hardwood and tile flooring, and is close to downtown. MLS # 201802403 is $110,000. Call Barb Collisi at Whitetail Realty, (231) 878-1387.

While these were all active listings at press time, some might be under contract by the time you read this. So if there is something that strikes your particular fancy, don't be surprised if it struck someone else's as well. Take comfort: There are more where these came from — just not necessarily a lot.

Regional & National
By the Numbers
There's no doubting the Up North real estate industry has recovered from the Great Recession; in many areas, it's pushing to new heights in terms of individual prices and total sales.
Sales figures for the five counties covered by the Traverse Area Association of Realtors — Kalkaska, Antrim, Grand Traverse, Leelanau and Benzie — show continued gains. Last month there were 396 residential sales totaling $129,790,866, where last year's August totals were 384 sales for $110,338,794. The greatest gain was in Antrim County, with 66 sales totaling $20,085,520, compared with 43 a year ago for a total of $12,069,200.

For the first two quarters of this year, there were 1,327 residential sales, compared with the 1,282 homes sold in the first two quarters of 2018. However, those figures still lag behind 2017 (1,403) and 2016 (1,446). But the $380,266,934 in sales volume this year tops all previous figures going back to at least 2014.

On a larger scale, Zillow reports existing home sales nationally rose 1.3 percent from July to August, according to the National Association of Realtors — up 2.6 percent from a year ago. Existing home sales rose in August to their highest level since March 2018. The median price for existing homes in August was $278,200, up 4.7 percent from a year earlier ($265,600). It was the 90th straight month of year-over-year price gains.
Trending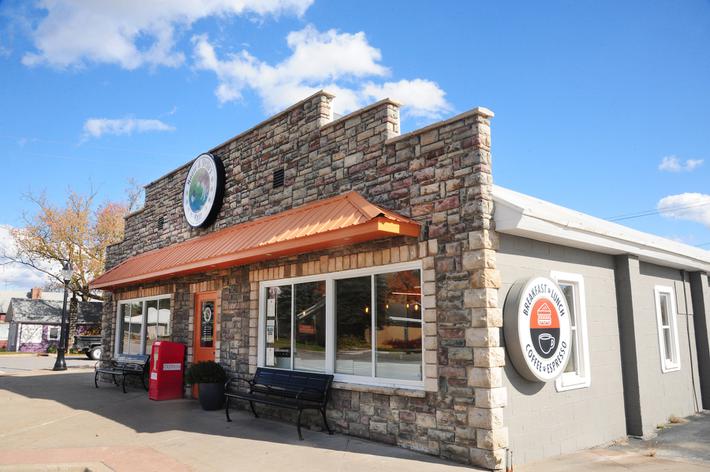 Kalkaska's Moose & Stella's
Dan Bloomquist and his wife, Evamarie, bought Breakfast & Burger Express in downtown Kalkaska at a great time: Decembe...
Read More >>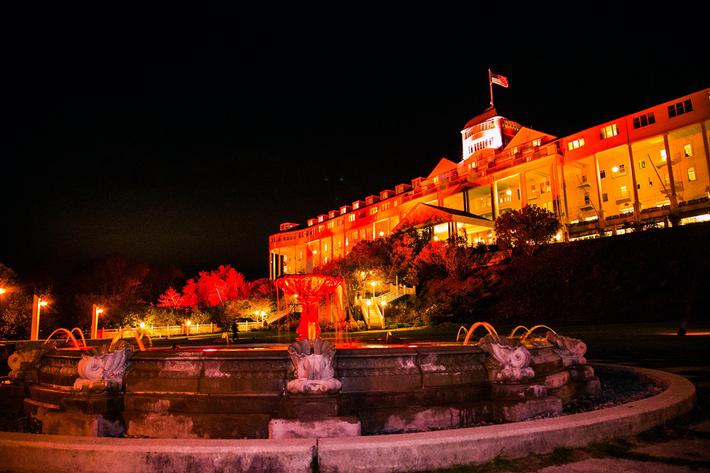 Halloween Rising
While the pandemic continues to impact lives and prevent mass gatherings, some Halloween events Up North, much like your a...
Read More >>
Hope and Vote
With mail-in voting well underway for many, and a trip to the polls just days away for many more, the gravity of the outco...
Read More >>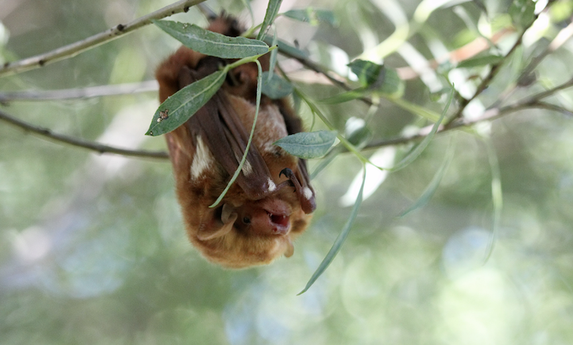 A Nightmare for Michigan Bats?
If you're seeing more decorative bats this Halloween than you saw of their live counterparts this summer, there&rsqu...
Read More >>
↑