What Happens When Weed is Legal?
The November ballot proposal looks likely to pass. Here's what it means for northern Michigan.
Voters in Michigan will decide Nov. 6 whether to legalize recreational marijuana, a measure that observers on both sides believe is likely to pass.

What's it going to mean for northern Michigan? Mark Clark, an attorney who specializes in marijuana at Traverse Legal in Traverse City, said he believes the legal recreational marijuana marketplace will look a lot like the medical marijuana marketplace did before the state cracked down on dispensaries.

That means some local governments will allow the production and retail sales of the drug; others won't. The law does not allow smoking in public, so there shouldn't be a lot obvious signs of legalization. And Clark said many of the negative impacts assigned to marijuana have been overblown.

But Traverse City Police Chief Jeff O'Brien is worried that legalization would bring with it plenty of negative side effects, including improving teenagers' access to the drug, causing more deadly crashes, and fueling bad behavior around town.

PAST IS PROLOGUE
Clark said if recreational marijuana passes, he expects many of the businesses set up to supply and sell medical marijuana will simply shift to recreational marijuana.

Those businesses were shuttered in northern Michigan earlier this year amid a crackdown, but many medical marijuana businesses are expected to open early next year under new rules the state legislature recently passed to ensure the state's 10-year-old medical marijuana act can function. Those businesses would be in position to get into recreational marijuana when those licenses begin to get approved about a year later.

Clark said he predicts that recreational marijuana would arrive in northern Michigan like medical marijuana — with some localities embracing it and others eschewing it entirely.
The Village of Kalkaska, for example, has gone all in on marijuana, essentially turning over its industrial parks to marijuana growers. Acme Township has opened up to medical marijuana, too. Traverse City is in the process of developing an ordinance. The vast majority of local governments in northern Michigan, however, have so far decided to opt out.

"There have been very few others who have opted in," Clark said. "I have clients who have attempted to obtain 'opt-in permissions' in several Leelanau townships and have been turned down."

Other places have gone even further in opposition to marijuana. The boards of commissions of Otsego and Crawford counties recently passed resolutions opposing recreational marijuana. The county resolutions are symbolic, however; they wouldn't affect the implementation of legal recreational marijuana if the legalization proposal passes.
Those boards might be more resolute against marijuana than many of their constituents. Under the online publication of the article about the Otsego County resolution in the Gaylord Herald Times, there were nine comments, every one of them critical of the commission's resolution.

SOME PERILOUS PROSPECTS
Even though O'Brien predicts the marijuana proposal will pass, he doesn't like it.
As Traverse City officials have mulled over what will and won't be allowed under its medical marijuana ordinance, O'Brien has been there at every turn, citing studies and news articles that chronicle problems experienced in Colorado after that state legalized recreational marijuana in 2014.

When O'Brien cited a federal government study of Colorado legalization that highlighted increased marijuana-caused traffic fatalities, he said he was told that that study was framed with an anti-marijuana bias. He returned at the next meeting with mainstream media stories about increases in Denver's homeless population connected to legalization.
"There's some concerning articles about one woman that was murdered because of a transient person in Colorado," O'Brien said.

O'Brien said he is worried that when marijuana can be produced legally in the state, Michigan will become a black market supplier for states where marijuana remains prohibited. Moreover, because federal law prevents marijuana businesses from using banks due, they are cash businesses, which invites crime and affords owners the means to avoid paying taxes, he said.

But even if marijuana was legalized in every state and by the federal government, and the black market and cash economy disappeared, O'Brien said he would still oppose legalization, because he worries that it will mean more children would be able to access marijuana, that there will be more traffic deaths, and that his officers will more often encounter deranged and dangerous people on the street who have consumed some combination of extremely potent pot and alcohol.

"When I worked the road, we didn't see marijuana a lot — it wasn't prevalent. But now, our officers are seeing it every day," he said. "Some of the biggest concerns I have are the TCH levels. This isn't the dope that was around when I was in high school. This is highly concentrated."

Clark said marijuana critics exaggerate the ills of the drug. People don't overdose on it, and it's far less dangerous than alcohol.

"Even if you don't buy into the fact that it's therapeutic and has medical benefits, there really isn't any harm in it," Clark said. "We're really to the point where education is going to convince the majority of the people that there aren't harmful side effects that the critics have claimed."

TEST-CASE STATE
So, what's it like in Colorado, where weed is legal? And what could that experience say about how life might change in northern Michigan? Attorney Michael Spencer graduated from Traverse City (Central) High School in 1989 and lives in Colorado today.

A libertarian supporter of marijuana reform, Spencer said there have been problems, but he said he believes legalization has been good overall for society.

Spencer is the operational director of pain management clinic in Parker, Colorado. His business is not directly involved in marijuana sales, but it does help patients find marijuana-based solutions to pain and addiction.

Many of the problems experienced in Colorado came because the state was the first in the country to legalize and because the federal government remains hostile to marijuana, cutting off business owners' access to banks and overburdening them with taxes.

Spencer said Colorado did experience a growth in its transient population because of legalization, but that was because Colorado was first to legalize. That brought a lot of people to the state, and some of those people lacked resources. Being the 10thstate to legalize, Michigan would see far less of those kind of impacts, he said.

"I would say you're going to see a lot more of a balanced impact right now, because when there's a small number of states that have legalized, there's a big influx of people who want to take advantage of it," he said. "Now that there are far more states where you can go and have legal marijuana, that's changing things."

Spencer agrees with O'Brien that federal prohibition causes problems for legalization, particularly by forcing business owners to deal in cash. That invites break-ins and robberies and causes crimes rates to go up.

Also, Spencer acknowledged that some means to reduce drugged driving needs to be found because there is no question that marijuana use impacts user's response time and causes deadly crashes.

"I'm not usually a huge fan of additional regulation, but we do need something there to protect people," he said.

Ultimately, though, Spencer said he doesn't believe legalization would change life that much in northern Michigan.

"From a day-to-day life standpoint, I don't think you're going to see a tremendous change," he said.

STILL, THERE IS OPPOSITION
Despite the momentum, legalization stillhas serious opposition, and no one expects the anti-marijuana side to give up.

Up until now, Healthy and Productive Michigan, a group formed to oppose the proposition, has worked quietly to oppose the measure. In northern Michigan, the group wasbehind the resolutions opposing legalization approved by commissioners in Otsego and Crawford counties.

As of the most recent disclosure deadline in July, Healthy had raised $278,561, nearly all of that from one donor, Virginia-based Smart Approaches to Marijuana Action. Messages from Northern Express seeking an interview with the Healthy group were not returned. A spokesman, however, told the Detroit Free Press in July that the group planned to begin a fundraising drive as the election neared.

The supporter of the ballot measure, Coalition to Regulate Marijuana Like Alcohol, had amassed $1.74 million by the same deadline date in July, raised from numerous organizations and individuals. It reported 800 contributors compared to 13 for Healthy, according to data compiled by the Michigan Campaign Finance Network.

The numbers don't mean the resources of each side are a lopsided as they appear, however.

Craig Mauger, executive director of MCFN, said that the pro-marijuana group needed to raise a lot of money up front in order to collect signatures and get the proposition onto the ballot. He said he expects the "no" side to start spending money on a campaign in the coming weeks.

"It's an expensive task if you don't have enough volunteers," he said. "The 'no' side hasn't had to do anything, yet."

What Happens if Proposal 1 Passes?
When will marijuana stores open?
The Michigan Department of Licensing and Regulatory Affairs is directed to begin accepting applications for marijuana business licenses within one year of the law taking effect.

What does it mean for individuals?
The proposal would allow individuals over the age of 21 to possess up to 2.5 ounces of marijuana, including up to 15 grams of marijuana concentrate, on their person; and to possess 10 ounces of marijuana at their home. The act would allow a person to cultivate as many as 12 marijuana plants. A person over the age of 21 could give another person over the age of 21 up to 2.5 ounces of marijuana as a gift, as long as the giver doesn't take any payment for the gift.

What does it mean for landlords and employers?
Landlords could prohibit tenants from smoking marijuana inside their homes, and employers could demand that employees refrain from marijuana use or being high while at work.

What does it mean for marijuana businesses?
Anyone who wants to open a store to sell marijuana comes under additional regulation.
They have to get a license from the state and approval from their local unit of government, such as a city, township, or village. Localities can also regulate things like what their signs look like and where they are located.

Localities could also allow for the establishment of what would essentially be marijuana bars — places where people over 21 would be allowed to consume, so long as no one under 21 was allowed on the premises.

Local governments could also require their own licenses for marijuana businesses and charge an annual fee of up to $5,000 for those licenses.
There is also a provision for "marijuana microbusinesses." These would allow small sales operations involving up to 150 plants.

Mark Clark, an attorney at Traverse Legal, said this language was added so that people who were caregivers under the medical marijuana laws — meaning they could possess up to 12 plants and serve a limited number of patients — could take part in the marijuana economy on a small scale. Otherwise, Clark said, it takes investments of hundreds of thousands of dollars to become licensed to be a marijuana grower or seller.

Are people with prior marijuana convictions prevented from getting licenses?
Marijuana business operators must pass a background check, but prior marijuana convictions would not disqualify a person from getting a license, according to the act. Marijuana convictions are specifically exempted from being a disqualifying factor "unless the offense involved distribution of a controlled substance to a minor."

What about the children?
Aside from prohibiting marijuana possession and use for people under 21, the measure also takes steps to protect children. Marijuana-infused candy that looks anything like candy for children is prohibited. Also, when sold, marijuana must be put in opaque, child-resistant packages.

How will marijuana be taxed?
There will be a 10 percent tax on the sale of marijuana, in addition to other taxes.

What will happen to the money?
The money will be used to implement, administer, and enforce the act. Also, for at least two years, it will provide $20 million per year to be used to study how marijuana can be used to treat "the medical conditions of United States armed services veterans and preventing veteran suicide."

After that, remaining balances would be split up between municipalities that have approved marijuana businesses (15 percent), counties where businesses are located (15 percent), the state school aid fund (35 percent), and for road maintenance and repairs (35 percent).



Trending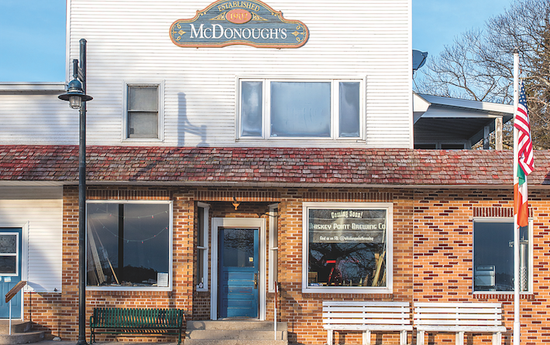 Welcome to Michigan's Most Remote Brewery
After years of planning and honing his beer-making skills, this spring, Patrick McGinnity plans to open Beaver Island&rsqu...
Read More >>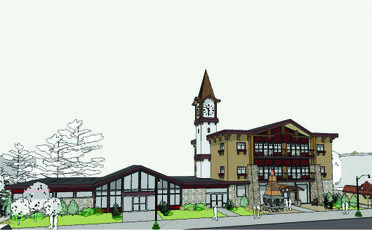 Gaylord: A boomtown Up North
Gaylord native Gary Scott had moved to Indiana, where he and some partners started a business to invest in distressed prop...
Read More >>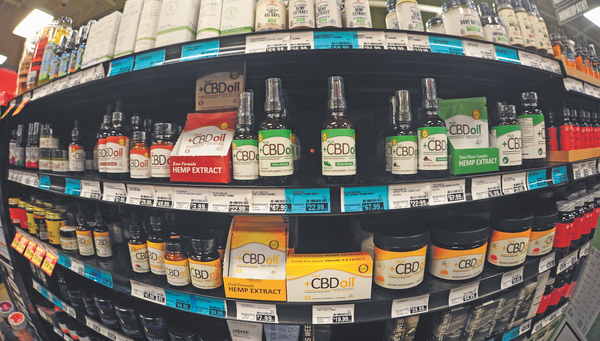 CBD Laws: Dazed and Confused
The sign outside of Family Video in Kalkaska lets drivers know the store has more than just movies. The sign reads: &...
Read More >>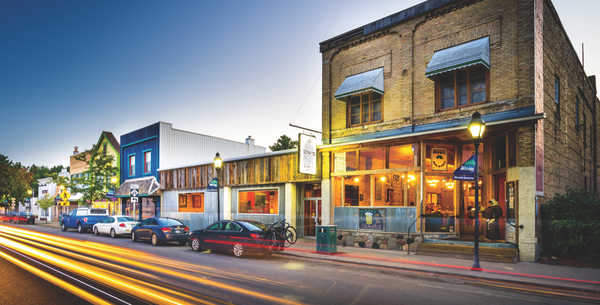 Small Up North Towns on the Rise
Spotlight on Bellaire (pictured)Seems Traverse City isn't the only place in the region making those "Best...
Read More >>
↑