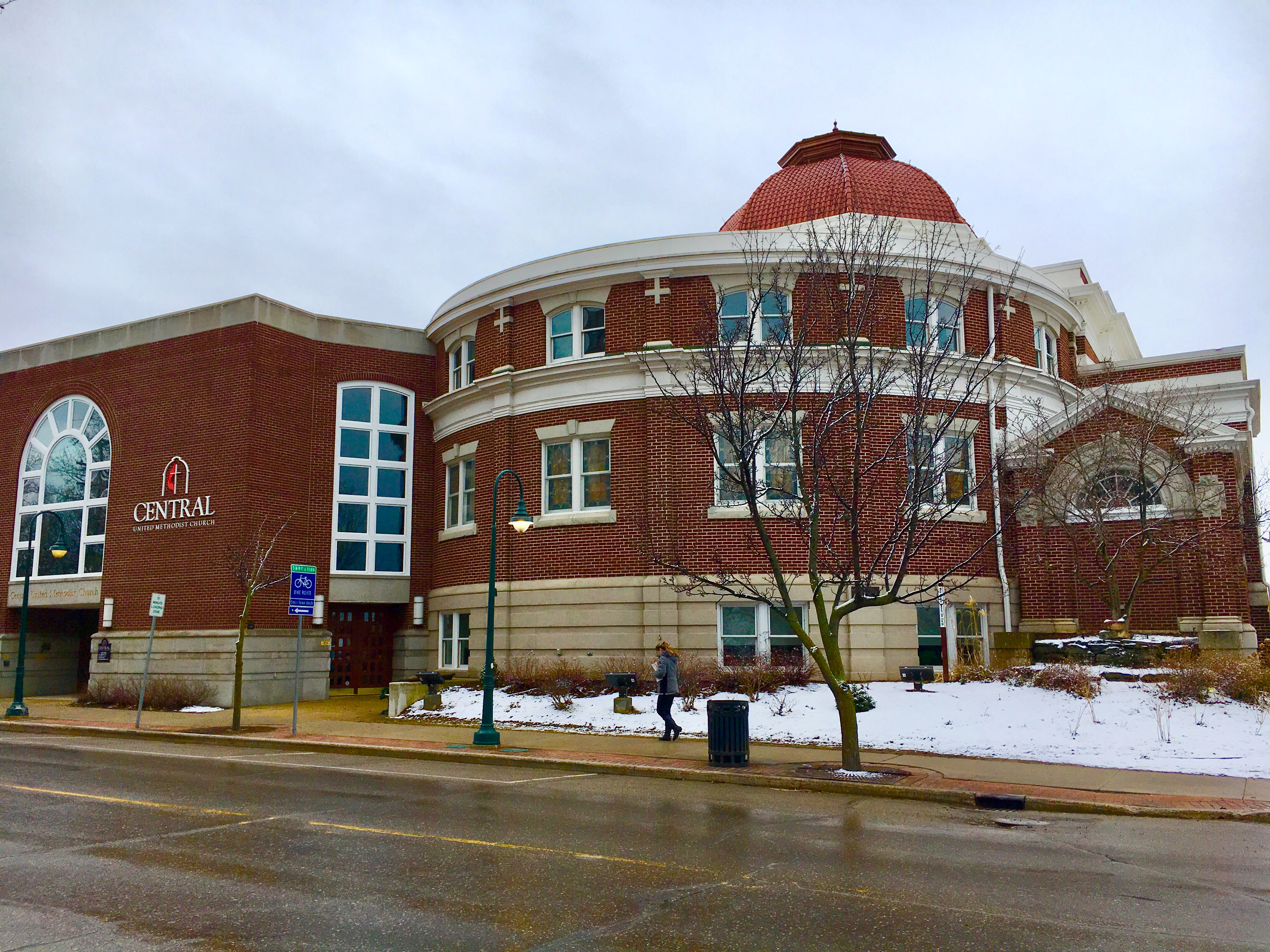 What Would Jesus Do?
A local Methodist Church pushes on as its international denomination faces split.
Traverse City's Central Methodist Church's might be part of an unprecedented split within the denomination — one likely to threaten ruptures in organized religion as a whole.

Last year, the congregation at Traverse City's 150-year-old Central United Methodist Church in downtown Traverse City made a revolutionary vote: to become a registered Reconciling Congregation with the Reconciling Ministries Network (RMN).

RMN is an international organization of congregations within the worldwide denomination of the United Methodist Church (UMC) that has actively decided to welcome members of the LGBTQ community.

Of more than 800 UMCs in the state of Michigan, fewer than 20 have registered with RMN; Central United Methodist is the first UMC member church north of Grand Rapids to take the step.
The Way Forward
Nan Horstman of Central United Methodist is leading the church's "Central's Way Forward Task Force," which is dedicated to helping the congregation navigate the shifting landscape of the UMC denomination. The task force formed last year after the UMC voted to retain and enforce language in the church's legislative rules — known collectively as "the Book of Discipline" — which bars LGBTQ individuals from full inclusion in the church.

Specifically, the Book of Discipline states that homosexuality is "incompatible with Christian teaching," prevents "self-avowed practicing homosexuals" from being ordained as members of the UMC clergy, and prohibits same-sex marriage ceremonies from taking place within UMC buildings, or with UMC ministers as officiants.
The Book of Discipline is not set in stone. It is a document of law and doctrine originally published in 1784 and can be updated or changed every four years by the General Conference, a gathering of delegates from across the UMC denomination. In February 2019, the General Conference held a special meeting for the specific purpose of addressing how the Book of Discipline handles homosexuality and LGBTQ issues — matters that had become increasingly contentious in the church in recent years.
Horstman said the Conference vote was close, but that the "traditionalist" model of the church ultimately won. A majority of delegates voted not only to retain the existing language in the Book of Discipline but also to add new sanctions for violations of the rules.
"For some of us, that was heartbreaking," Horstman said. "At Central United Methodist, our congregation decided that we wanted to affirm that we were a welcoming congregation, despite what our denomination had said."
On July 7, 2019, a membership vote at Central United Methodist resulted in an 87 percent majority in favor of becoming a Reconciling Congregation. It's a decision that has led to considerable upheaval within the local church, on both sides.
FALLOUT & UPSHOT
"There are people in our congregation who have pulled back or even left because they have felt we were not moving forward fast enough, as a denomination," Horstman said. "There are other people who have said, 'This is not where I want to be; I want to be in a place that embraces a more traditional model.' And then we've also had a lot of people come because of this. People have said 'This is where I want to be; this church is saying what I want to say; they're supporting what I want to support; I want to be a part of that.'"
According to Dale Ostema, one of Central United Methodist's pastors, the decision to become a Reconciling Congregation has certainly helped bring more LGBTQ members to the church — and back to organized religion in general.
"In this day and age, LGBTQ individuals in many churches wonder if they are really welcome," Ostema said. "They are uncertain about that, and so they often don't bother with congregations at all. So it's important for us to say 'You are welcome here.'"
Still, even churches that decide to join the RMN network don't have full freedom in welcoming and embracing LGBTQ members. Because of the sanctions, the General Conference added last year any UMC ministers who perform wedding ceremonies for same-sex couples could face "church trials," with consequences as extreme as being stripped of their clergy credentials. Also, homosexuals still have no path toward ordination as members of the UMC clergy. (Transgender Methodists, meanwhile, can and have served as UMC ministers.)
A fight to break these restrictive policies once and for all is underway. Since last year's General Conference vote, Horstman says a group "representing many of the factions within the church" has been working with a mediator to come up with proposals that could put an end to the impasse between the progressive and traditionalist sides.
The proposal that has gained the most traction is called "the Protocol for Reconciliation and Grace Through Separation and Restructuring." If affirmed, it would effectively split the UMC into two different branches: a traditionalist branch, which would maintain the current stance on LGBTQ issues; and a more progressive branch, which would revise the Book of Discipline to remove the restrictive language.
SPRINGTIME SPLIT?
Whether the UMC breaks in half will likely be decided in May, when the General Conference holds a regular meeting in Minneapolis. Horstman says the Protocol for Reconciliation missed the initial deadline for consideration at the General Conference. However, UMC rules dictate that an "annual conference" — essentially a gathering of church delegates from across a specific state or territory — can vote to send legislation to the General Conference on a shorter deadline.
On Saturday, March 7, the Michigan Annual Conference convened a special meeting in Albion — at which Horstman was one of the delegates — to vote on the issue. The result: 91 percent of the 1,000+ delegates in attendance voted to send the separation proposal to the General Conference. The majority of delegates at annual conferences in Sierra Leone and the Philippines voted for the same. Now, churches across the UMC denomination — and organized religion as a whole — are watching to see what happens in Minneapolis this spring.
"Either way, there's a long road ahead," Ostema said. "If the protocol does pass, and separation happens, then UMC churches will need to make a choice of how they will align themselves. You might say that's when the real work begins."
"There's a sense of sadness in the church that it's come to this," added Horstman, who will be in attendance at the General Conference, albeit as a volunteer rather than a delegate. "Many of us had hoped that we could stay together as a denomination, but that does not appear to be the case anymore. My father, who was a Methodist pastor, is deceased now, but he would be heartbroken at what's going on in the church. Not surprised, but heartbroken. He was very aware of these issues, and I was raised to be very open and accepting. So I guess I'm sort of living out my dad's wishes."

For Carolyn Waters, the battle raging at the heart of the UMC has deep personal resonance. Today, Waters lives locally and is heavily active in Traverse City Elks Lodge #323. She was the lodge's "Exalted Ruler" during the 2018–19 term and was recently elected for a five-year stint as a member of the board of trustees.

For 37 years, though, Waters was a member of the UMC clergy. When she began ministry in the mid-1970s, Waters says she "didn't have any idea" who she was. Then, in 1986, while serving at a UMC church in Nebraska, she realized she was homosexual. Ever since, she has been involved in the RMN and pushing to turn the denomination into a more open and welcoming place. Despite UMC's policies, she says she's performed numerous marriage ceremonies for same-sex couples and has seen openly gay pastors ordained in many churches nationwide. She even served as part of the delegation that, in 2016, elected a San Francisco pastor named Karen Oliveto as the first openly gay bishop in UMC history.
Knowing that there are now reconciling congregations all over the country makes a huge difference for Waters. "It means everything in the world to know you can go into that church and not be shamed," she said. Still, as the UMC nears a vote that could fundamentally reshape its structure and future, she is more than ready to see that bigger change take root.
"It's been a long struggle," Waters said of fighting for LGBTQ equality across the UMC denomination. "It will continue to be a struggle in certain parts of the country, no matter which direction the congregations go. But it's time for this division to happen. The church will move on. It's happened before: It happened during the Civil Rights movement, and it happened in the Civil War when the church was divided, North and South. It's just part of the journey of being a church and ministering to the people that are in the world. My stance on the issue all along has been that a church in Denver — which is where I was when I retired — and a church in south Alabama shouldn't be required to follow the same guidelines. I believe you serve the people who are in your church."
Trending
Moving Dirt And Stone
This year is taking a toll on me. I'm more sluggish. It's harder to get out of bed each morning. I have muscle pain that I...
Read More >>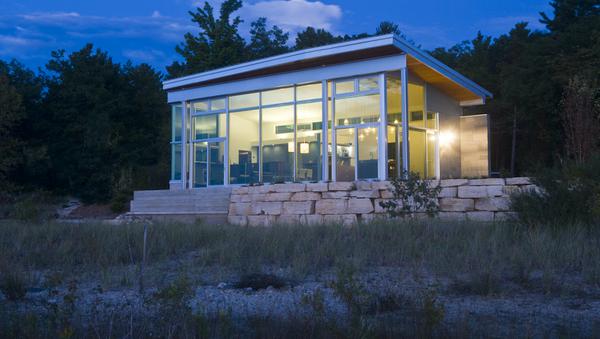 Northern Michigan Modern
From rustic log cabins to Victorian-style homes all the way to more traditional suburban-like developments, northern Michi...
Read More >>
Warts And All
Project 1619, a product of New York Times Magazine writers, is a potential public school curriculum that attempts to redef...
Read More >>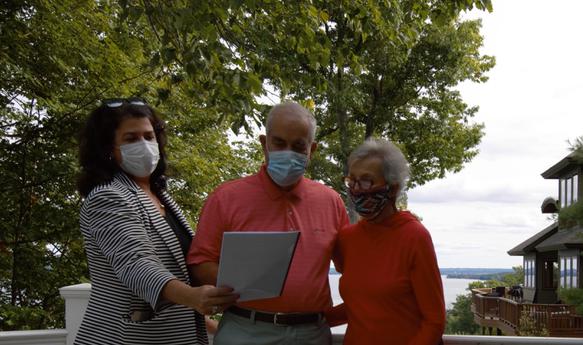 Pandemic Brings Even More Heat To A White-Hot Real Estate Market
There's a mad dash going on in real estate: companies bailing on their massive corporate office buildings, families ...
Read More >>
↑