What's New, Now and Wow
Wedding Trends We Love
Each year, with its subsequent wedding seasons, brings new moods, looks, ambiance, and trends in everything from dresses to décor, table settings to menu choices, gifts to getaways. Here are a few takes on what we're seeing in local wedding trends this year:

PASSIONATE PATTERNS
Don't shy away from the unusual when it comes to selecting fabrics for your wedding. While traditionally the eye might first go to plain fabrics, keeping the variety instead all in the color, this year's weddings are leaning far more on textures and patterns, including everything from herringbone and satins to polka dots, ikat, or miniature flower prints in the décor. "Fun textiles and patterns are a trend we really anticipate being big throughout the 2018 wedding season," said Miranda Wruble of Sincerely, Ginger Weddings and Events (sincerelyginger.com). "Velvet linens specifically are extremely trendy right now, and they pair perfectly with the natural setting of northern Michigan!"
ACRYLIC AMOUR
After several years of "the rustic look," replete with burlap, candles in mason jars, and lumberjack plaid, the wedding décor pendulum has swung once again, and we're on to a brand new aesthetic. "We are definitely getting away from rustic," said Kate Walski of 307 Events (307events.com). "The big thing is acrylic — we're seeing everything acrylic, from welcome signs to table signs and place cards."

The appeal of acrylic and lucite materials is that they're completely translucent, so can blend in beautifully with any color scheme, said Walski: "It's such a nice clean, clear look."

Ideas: Surrounding anything acrylic with candles adds even more depth to a table setting (you can even get clear acrylic multi-taper candlesticks). Acrylic wedding invitations with frosted white lettering (pictured above; try acrylify.com) make a truly modern statement. And if you really want to go big, clear acrylic furniture is an option. "We've been looking at getting things like clear acrylic chairs for receptions," Walski said. "There's definitely a trend going on for those across the country."
FOOD TRUCK FONDNESS
The food truck trend isn't slowing down at all, and has in fact increased its presence at special events, from proms and all-night graduation parties to corporate gatherings and yes, weddings. Locally, you'll find places like Pigs Eatin' Ribs (pigseatinribs.com), Betty's Hot Dish (facebook.com/dishbetty), and Planetary Coffee (planetarycoffee.com) ready to truck on over to your reception to offer unique and delicious service to your guests. If you're feeling more formal for the sit-down dinner, you can still add in a food truck later in the evening as a special treat; places like Planetary can offer coffee and coffee desserts, so you get the novelty factor without having to ask people to stand in line for their main meal. Instead, you can have the truck on site, ready to offer up a freshly-made espresso beverage or sweet treat whenever the mood strikes one of your guests.
DEVOTED DARK TONES
"2016 was all light, romantic golds and airy, misty photos; 2017 was a lot of greenery and white, a very 'northern Michigan' look; and for 2018, we're seeing a real return of color," said Stacy Horn of Juniper and Lace Events (juniperandlaceevents.com).
Horn said the trend is showing itself primarily in darker, richer colors: from burgundy and dark peach to deep brownish-gold and navy. "It's more of a jewel tone palette, much deeper in tone," she said. This color scheme, she added, also arrives alongside the complimentary trend in wedding photography; more saturated-looking photos with the focus being on bringing out those jewel-box colors, a distinctive Kodachrome look made modern. "This photography is more sophisticated than what we've seen the past few years," she said, "and creates some really interesting emotions in the photos as well as striking contrast."
EMOTIONAL ELEMENTS
Flowers will always be a wedding staple, but this year, according to Sheila Dodson-Wright of Tableau Events (tableauevents.com), there's just something about greenery. "We're seeing a lot of natural greenery elements being added to luxury items," Dodson-Wright said, "that beautiful juxtaposition of nature with glossier things like glass and metals really creates great transitional spaces at a wedding event."

But don't think that greens are solely limited to your centerpieces or floral arrangements (although they look great there, too). Dodson-Wright's suggestions include draping them in big swaths around the edges of your reception tent; mixing hanging cafe lights with dangling vines; or artfully arranging long swags of greenery around the arms of a big hanging crystal chandelier. "We like using local foliage and then also adding in some natural wood — it's all about the contrast," said Dodson-Wright.
Trending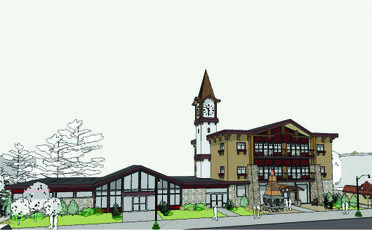 Gaylord: A boomtown Up North
Gaylord native Gary Scott had moved to Indiana, where he and some partners started a business to invest in distressed properties. He was talking to a banker in Detroit about real estate in Bloomington when he asked what kind of deals might be available in northern Michigan. ...
Read More >>
How Beer Revived Bellaire and Other Northern Michigan Towns
Even though Don Hoyt grew up in Gaylord, he never visited Bellaire until he met his future wife, a chiropractor from California who had moved to the Antrim County town for a job. That's the thing about Bellaire – it's not on the way to anything. People ...
Read More >>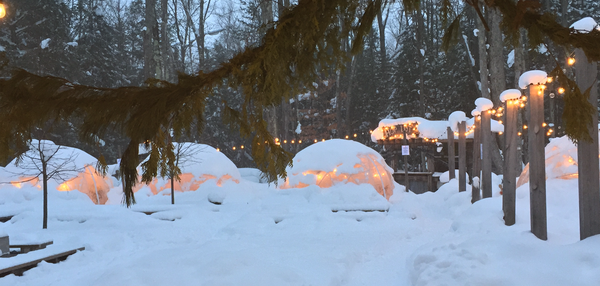 Hop Lot Brewing in Suttons Bay
Brothers Steve and Drew Lutke knew they wanted to do something special with their microbrewery on the south end of Suttons Bay. Even before building their facility, they had begun researching the style and aesthetic they wanted to draw in customers. So they decided to showcase what ...
Read More >>
In The Crosshairs: Home Rule In Michigan
Under the specter of a populist-fueled authoritarian regime installed at 1600 Pennsylvania Avenue, the concept of home rule is now more imperiled than ever in our fragile democracy. Here the term "home rule" refers to local control — the singular place where the endangered species of a ...
Read More >>
↑