Whiskey's Treasure Island
Mammoth Distilling sowing Prohibition-style whiskey with heirloom seeds on South Manitou Island
Whiskey aficionados take note: You may soon be able to taste what whiskey tasted like in the midst of the Prohibition era — or, at least, closer to that flavor profile than anyone has gotten in the better part of a century.
The key to the past, in this case, is a specific type of whiskey grain: Rosen rye, a celebrated varietal of rye that was extremely popular among Prohibition-era moonshiners — especially in the eastern United States. And while it's Bourbon County in Kentucky that is often thought of as the epicenter of U.S. whiskey history, Rosen rye came from a different part of the country: Michigan.
A TRIP BACK IN TIME
Right now, the Central Lake-based craft spirits company Mammoth Distilling is leading a charge to revive Rosen rye as a staple in the world of American whiskey. According to Mammoth Founder and CEO Chad Munger, the company has been striving throughout the years to make all of its spirits with pure heritage grains and with ingredients grown right here in northern Michigan. The goal? To make whiskey with the same kind of unique terroir — often explained as "taste of the place" — that wine grapes have.
As Munger tells the story, Ari Sussman, Mammoth's head distiller, has been "spending a lot of late nights combing the internet for all kinds of knowledge in the spirits area," looking for new ways to lend unique character to Mammoth's Michigan-made products. One of those late-night trips down the rabbit hole brought Sussman to the fascinating history of Rosen rye.
"He stumbled across some information in the archives at Michigan State University (MSU) of a grain that was brought from eastern Europe to Michigan Agricultural College [the former name of Michigan State University] in the very early 1900s by guy named Joseph Rosen," Munger says. "[Rosen] came, took a job at Michigan Agricultural College, and brought with him just a pocketful of seeds that would become, eventually, Rosen rye. His dad had sent the seeds with him because it was known where he came from as a very characterful and very highly productive variety of rye."
At the time — and still, largely, to this day — Munger says that rye was far more likely to be grown in the U.S. as a cover crop than as a cash crop. Still, when Rosen showed the seeds to a fellow professor at the college, the professor was intrigued. Together, the two propagated the seeds, planted them in a greenhouse, grew Rosen rye in college greenhouses, and got it certified as a pure strain of rye by the Michigan Crop Improvement Association.
"Sure enough, [the crop] was unusual," Munger says. "It was unusually productive and had lots of character. So MSU introduced it to farmers all over the state, and by the mid-1910s, there were almost three million acres Rosen rye growing in the state of Michigan, which made it at that time the largest rye-producing state in the country."
Despite its value and popularity to the market — including as a grain for distilling purposes — Rosen rye's dominance didn't last. While the grain was productive and rich in character, it also cross-pollinated so easily that growing pure strains of Rosen rye proved difficult for Michigan farms. That hybridization process, Munger explains, "just destroyed the character of the Rosen and took away what made it unique."
SOUTH MANITOU ISLAND: ROSEN RYE'S SAFE HAVEN
Just as quickly as it had risen to prominence, Rosen rye fell out of favor and disappeared from Michigan's farmland. Everywhere, that is, except for South Manitou Island, where a single farm was able to keep growing Rosen rye without any of the problems that everyone else was experiencing.
The conditions on South Manitou made it perfect for Rosen rye. There was nothing on the island for the crop to cross-pollinate with, which meant it stayed pure and retained its character instead of hybridizing over time. Thanks to westerly winds, the island was also far enough from the nearest significant landmass — i.e., Wisconsin — that a breeze wouldn't carry a stray spore far enough to contaminate the South Manitou crop.
For years the island's Hutzler farm served as a seed farm for Rosen rye seeds. While mainland Rosen rye crops hybridized and lost their appeal over the course of several seasons, farmers who planted fresh Rosen rye seeds from South Manitou Island — rather than using seeds from the crops they themselves had grown — could continue producing rich Rosen rye crops without any of the cross-pollination worries that had caused the strain to fall out of favor.
For more than a decade, Hutzler farm would take its Rosen rye to a seed show in Chicago. Repeatedly, the farm claimed the annual title for best rye in the United States. And because of that acclaim, when Prohibition struck, whiskey bootleggers in Pennsylvania, Maryland, and all up and down the East Coast continued to rely largely on Rosen rye to craft their spirits.
In the nearly century-long period that has elapsed since those days, Rosen rye has fallen out of favor once more. Hutzler Farm failed, pure Rosen rye died out, and became impossible to find, and large commercial distillers that had always used it, such as Seagram's, opted for alternatives. At this point, it's been so long that there might not be anyone left alive who can definitively describe what kind of character or flavor profile Rosen rye imparts on whiskey made from it.
"The last company that made rye whiskey in the United States using identified Rosen rye as the type of rye that was in the mash was Michter's, and I believe that was 80 years ago," Munger told the Northern Express. "That was the last time anybody could find any reference to that particular ingredient. So, probably very few living people have ever actually tasted [Rosen rye whiskey]."
RECLAIMING ROSEN RYE
Mammoth wants to change that. Last year, the company planted Rosen rye on the historic Hutzler and Beck farms on South Manitou Island. It's a complicated project, one that Munger says is only possible because multiple pieces fell into place just right. First, the USDA agreed to hand over a small handful of Rosen rye seeds — 56 in total — to help the project get started. Second, MSU agreed to partner with Mammoth on the project, thanks in part to the historic roots that Rosen rye has at the college. Finally, the National Park Service (which owns and manages South Manitou Island as part of the Sleeping Bear Dunes National Lakeshore) agreed to issue a permit that allows Mammoth and MSU to cultivate 14 acres of South Manitou farmland for Rosen rye.
Even with all those pieces in place, though, the project hasn't been easy. While the National Park Service has kept the farm buildings and land on South Manitou maintained over the years, Munger says the soil hadn't been tilled in decades, which meant it needed a lot of work to pave the way for a successful crop. One problem? Extremely dense vegetation all over the island, including a "six-inch-thick carpet of poison ivy" to which several Mammoth team members fell victim.
Despite the hurdles, though, work is now well underway. Munger shipped his tractor out to the island to help with the process of prepping the soil, and the team planted a "garden-size plot" of Rosen rye last year. That plot — about 500 rows of Rosen rye in total — will be harvested in the next few weeks. When coupled with the Rosen rye MSU has been cultivating in greenhouses, the small seed crop from the island should supply Mammoth with enough seeds by next year to plant all 14 acres of South Manitou's farmland.
"And then every year, we'll pull the crop out," Munger said. "It comes out in late July or early August. You clean it and dry it, and then we'll disperse [the seeds] to a small handful of growing partners here in Antrim and Grand Traverse County — people we trust as excellent farmers — and they will actually grow the crops we use to make the rye that we're actually going to distill. And that'll be the cycle. Every year, we'll take part of the crop, plant seed, some will come off and plant crop for production, and then there's a variety of things we'll do with it, in a variety of styles. We're particularly interested in the techniques that distillers used back during the Prohibition era, the last time Rosen rye was really a thing."
Ultimately, Munger says the goal is for South Manitou Island to function as a seed nursery for Rosen rye, always supplying fresh, pure seeds that can then be cultivated into usable rye crop on the mainland. That strategy should stave off cross-pollination and hybridization concerns, just as it did when Hutzler Farm was winning "best rye in the United States" titles a century ago. It will also mean that Mammoth has enough Rosen rye to make whiskey that has true Michigan-made terroir, with all the forgotten character that distillers fell in love with in the 1910s and 1920s.
A NEW (OLD) AMERICAN WHISKEY
For his part, Munger can't wait to see what flavor Rosen rye imparts upon the whiskey — and what customers have to say about it when the time comes. A lot of whiskey on the market right now, he says, pulls much of its flavor from the barrels in which it has been aged. While that barrel-rich taste can be extremely pleasing, his dream for Mammoth is to make spirits where more of the flavor comes directly from the grain. And while big players in the whiskey industry are eyeing the Rosen rye project with interest, Munger is proud that Mammoth will be the first distillery in the country to get back to the heritage of this once-beloved, almost-forgotten grain — and to make a whiskey truly unique to Michigan.
"We're going to do a single malt version of Rosen rye," Munger said of Mammoth's early plans. "So instead of making a rye that has both corn and rye in it — which is typical of most bourbon and rye on the market — we'll be using just the rye so that what you're tasting is the rye grain character. We're really trying to make the grain stand up on its own, so that everybody tastes it, and so that we can really differentiate it from an American southern kind of style."
Trending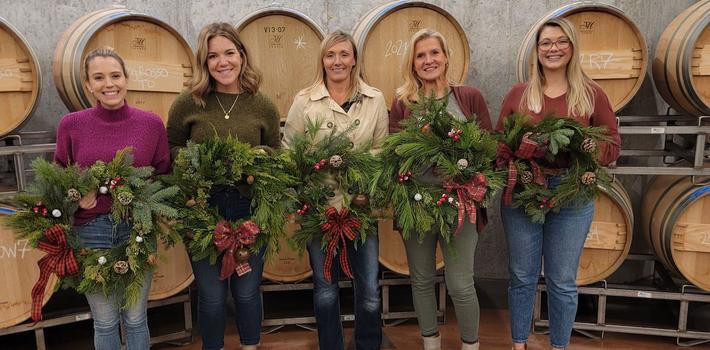 Wine & Wreaths at Mari
If you like wine and wreaths, you'll want to head to Mari Vineyards on Old Mission Peninsula. A 90-minute wreath-mak...
Read More >>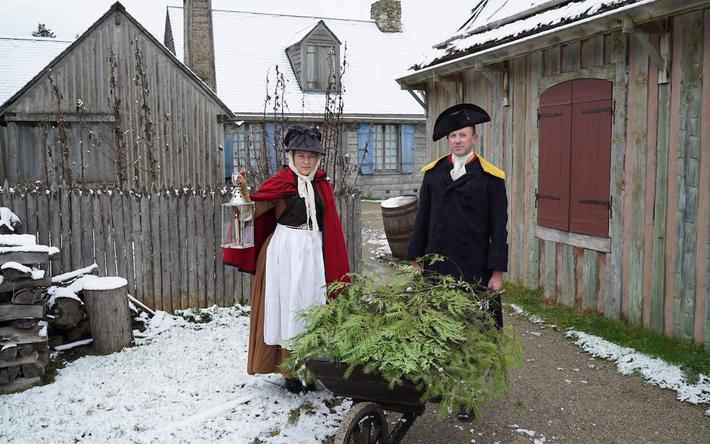 A Colonial Christmas
Christmas is coming to Colonial Michilimackinac in Mackinaw City on Dec. 9. Storytellers will bring to life the stories of...
Read More >>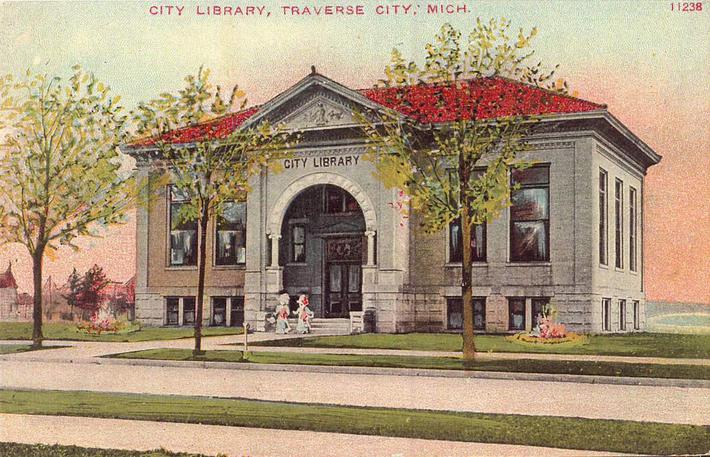 A Literary History of TADL
Next year, the Traverse Area District Library (TADL) will celebrate 155 years of lending books and knowledge in northern M...
Read More >>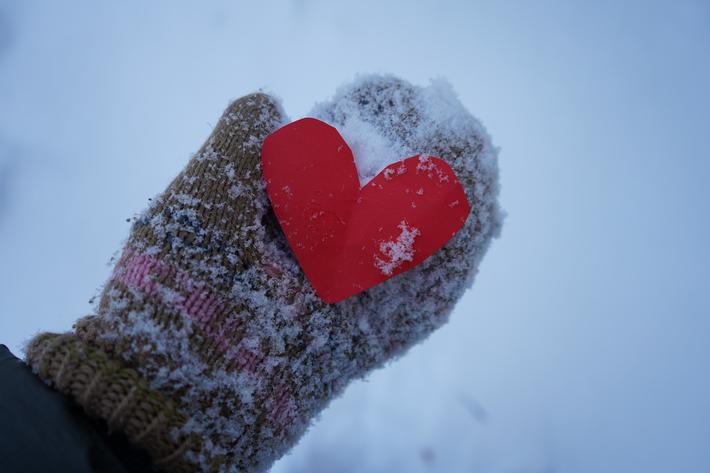 Merry Mittens
The Mitten Real Estate Group of Traverse City is helping make the season bright by kicking off their first Mitten Drive, w...
Read More >>